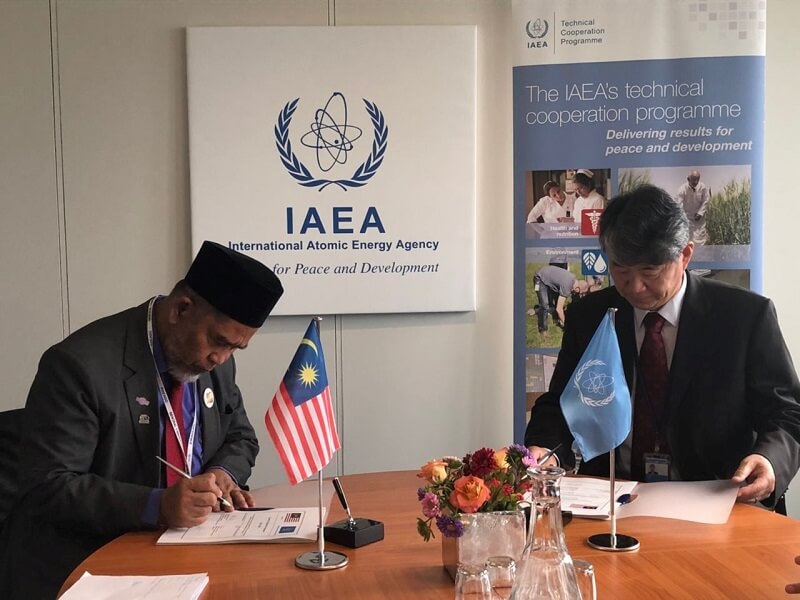 VIENNA, SEPT 29TH, 2022 - Dr. Abdul Rahim Harun, Director General of the Malaysian Nuclear Agency, Mr. Hua Liu, Deputy Chairman of the IAEA and Head of the Technical Cooperation, signed the Malaysian Country Programme Framework (CPF) for the period 2022-2027 during the 66th IAEA General Conference.

The CPF is used as a reference frame for Member States and the IAEA to identify priority areas for nuclear technology transfer and technical cooperation resources to meet the country's development goals. For the record, Malaysia has been a member state of the IAEA since 1969.
Nuclear Safety and Security, Radiation Technology and Industrial Applications, Human Health and Nutrition, Food and Agriculture, Water, Natural Resources, and Environment are the five priority areas identified in the CPF for the period 2022-2027.

These priority areas will be implemented and addressed through national technical cooperation programs, to be complemented by projects under regional and inter-regional cooperation programs, including regional agreement programs with the RCA, Asia, and Pacific Cooperation Agreement for Nuclear Science, Development, and Training Related to Nuclear Science and Technology.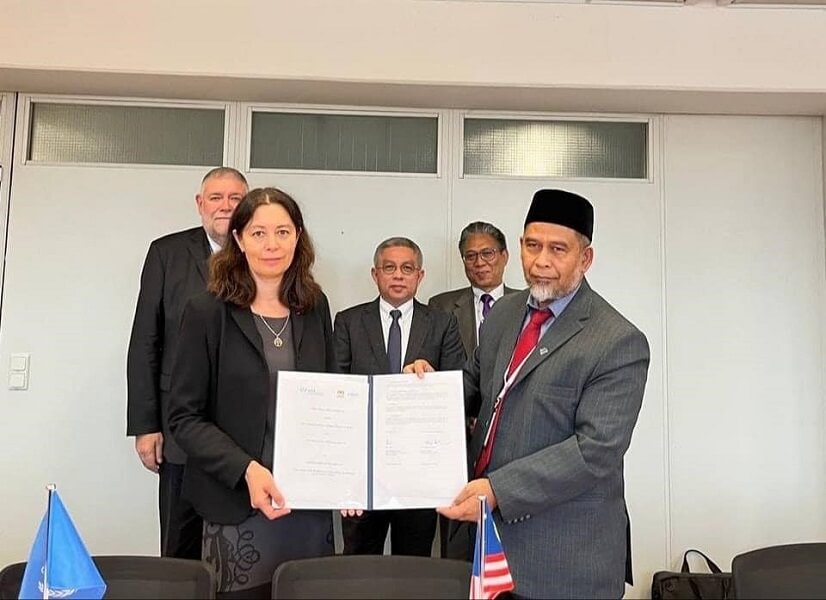 VIENNA, SEPT 28TH 2022- Malaysian Nuclear Agency, and the International Atomic Energy Agency (IAEA), based in Vienna, Austria, signed a Practical Arrangement (PA) today to establish cooperation between the two organisations in the fields of radiation education and training, transport, and radioactive waste.
The ratification was signed by Dr. Abdul Rahim Harun, Director General of the Malaysian Nuclear Agency, and Mrs. Lydie Evrard, Deputy Director General of the Department of Nuclear Security and Security. The signing ceremony was witnessed by Dato' Sri Dr. Adham bin Baba, Minister of Science, Technology, and Innovation.
The agreement outlines areas of cooperation between the two parties in the Asian and Pacific regions, including education and exercises in radiation safety, transportation, and residuals. The PA also emphasised the importance of cooperation and collaboration in promoting a unified approach to the development of education and training, supporting more effective technical elements in the process, and ensuring alignment and complementary activities.
Malaysia and the IAEA will continue to collaborate to assist other IAEA member nations with exercise and capacity building, investigation activities, and the exchange and dissemination of valuable information.At the 66th IAEA Supreme Court held in Vienna, Austria on September 27 to 30, 2022, Dr. Adham also delivered a State Statement emphasising Malaysia's commitment to fostering closer cooperation with the IAEA towards achieving common goals and interests.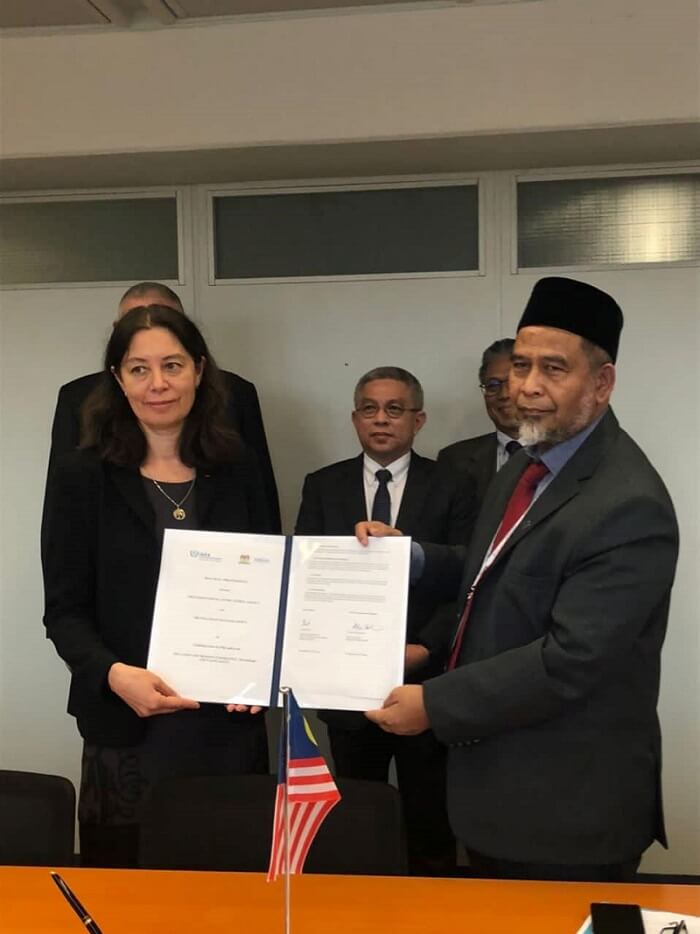 "Malaysia appreciates the IAEA's support in coordinating scientific programmes that promote the exchange of scientific and technical information. Malaysia is also thrilled to have been designated as an IAEA Cooperation Centre in the disciplines of radiation processing, advanced non-destructive testing, and inbreeding of plants inducing mutations. "In this context, Malaysia wishes to renew its status as an IAEA Cooperation Centre so that Malaysia's experience and expertise can continue to be shared with other member countries," he said.
Malaysia has engaged with the IAEA in medical and health, food and agriculture, industry and manufacturing, the environment, radiation safety, education and training, regulation, and other areas of interest for over 50 years.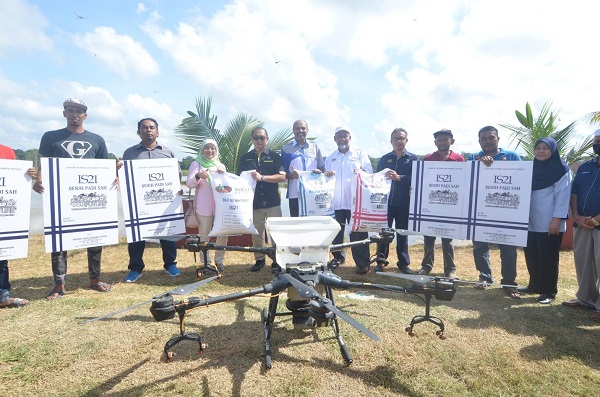 MACHANG, JULY 24TH 2022:Dr. Nagulendaran A/L Kangayatkarusu, Deputy Secretary General (Planning & Science Culture), MOSTI, was attending for the handing over ceremony of the new Paddy Seed IS21 to the farmers of the Machang Area Farmers' Organisation on July 24th, 2022 at the Bukit Tiu Sawah Site, Machang, Kelantan.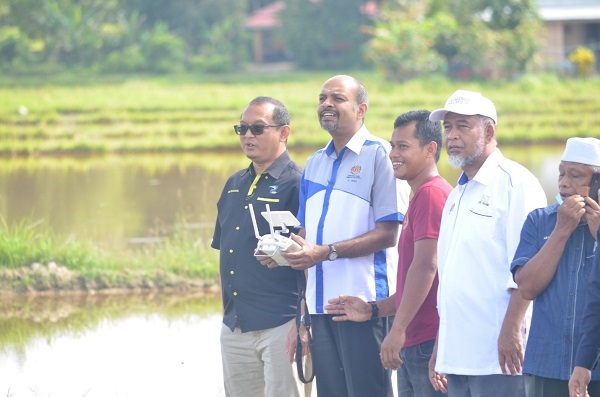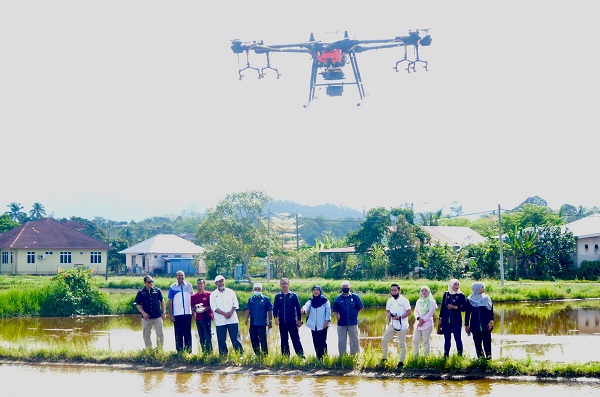 The MOSTI program was implemented in collaboration with the Lembaga Pertubuhan Peladang Kelantan in conjunction with the Jelajah Aspirasi Keluarga Malaysia (JAKM), held from 22 to 24 July 2022 at the Sultan Muhammad IV Stadium Compound in Kota Bharu.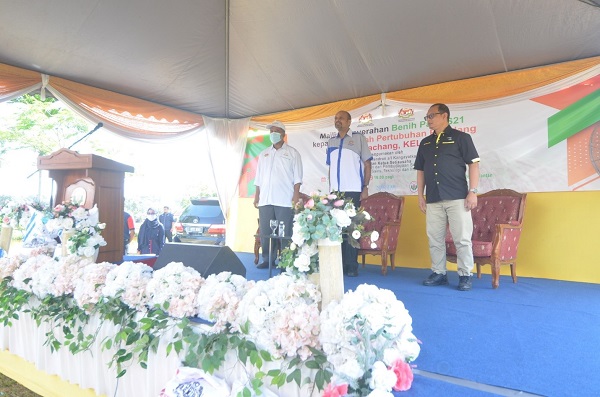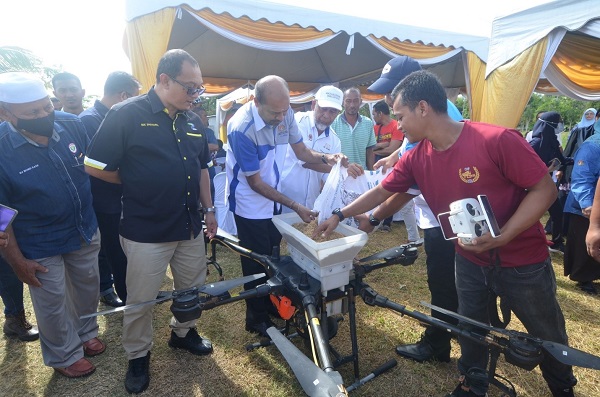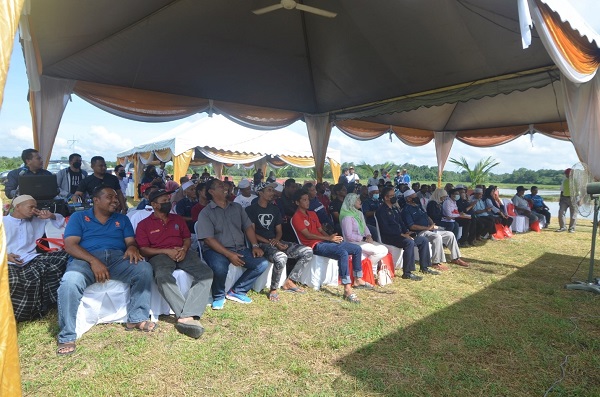 The distribution of IS21 rice seeds to the farmers is one of the corporate social responsibility efforts for the people of Kelantan, reflecting Nuclear Malaysia research for the people.
This impactful program is expected to improve strategic collaboration and rapport between Nuklear Malaysia and local communities.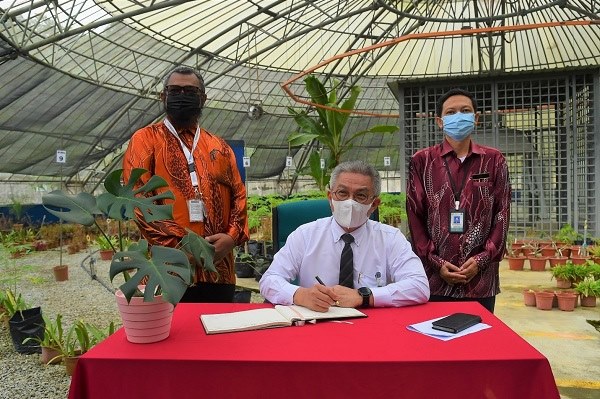 DENGKIL, JUNE 23rd, 2022 - The Minister of Science, Technology, and Innovation (MOSTI), YB Dato' Sri Dr. Adham Baba, visited the Gamma Green house (GGH) at the Dengkil Complex, Nuklear Malaysia, today for a working visit. The International Atomic Energy Agency (IAEA) has designated GGH as the IAEA Collaboration Center (ICC), making it the only greenhouse with chronic irradiation facilities in Malaysia.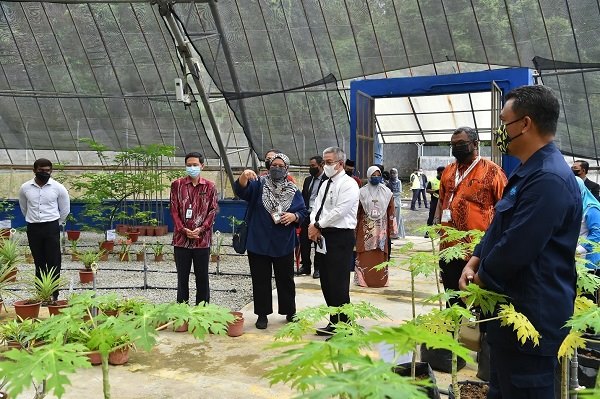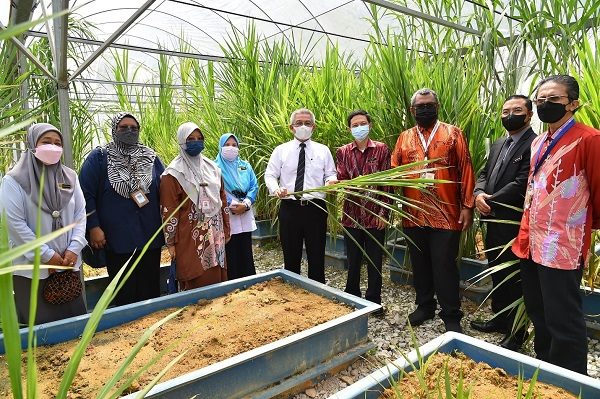 The caesium-137 radiation source used by this GGH, which has a radius of 15 metres, emits low-dose gamma radiation. In this GGH, plant samples were set up on isodose lines and exposed to light at low dose levels for a protracted length of time (chronic irradiation). There will be random genetic or mutagenic modifications. In order to find variations with the needed properties, these samples will be evaluated and screened.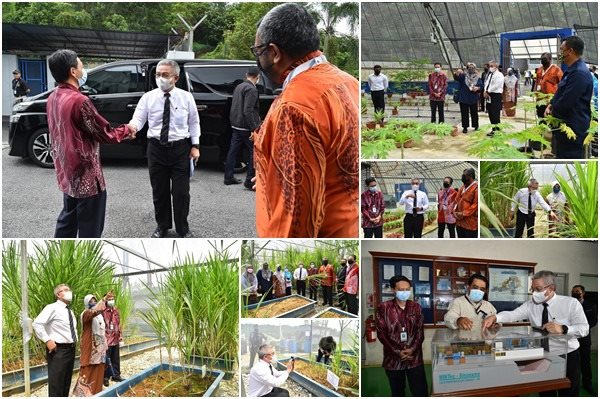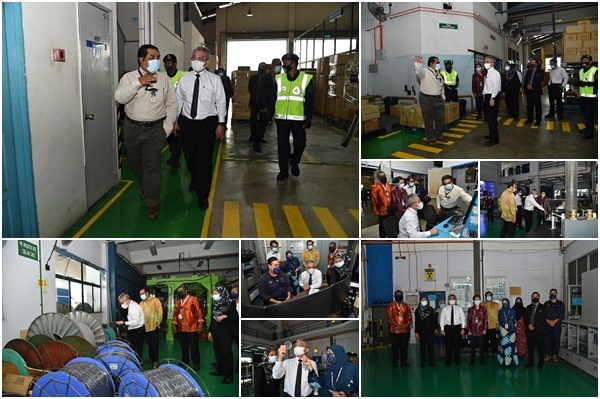 Researchers, university students, and instructors from local and abroad are concentrating on this GGH for their research-related work to advance their skills and understanding in the aberration of novel plant kinds employing mutagenesis methods.
The Minister was also taken to ;
Alurtron Irradiation Plant (ALURTRON), a facility for commercial and R&D electron groove irradiation services.
The MINTEc-Sinagamma Irradiation Plant, which employs gamma radiation, an ionising form of energy, from Cobalt-60. This radiation facility, known as the JS10000 (IR-219), is used in this irradiation plant and can be used to simultaneously expose variety of items requiring various dosages.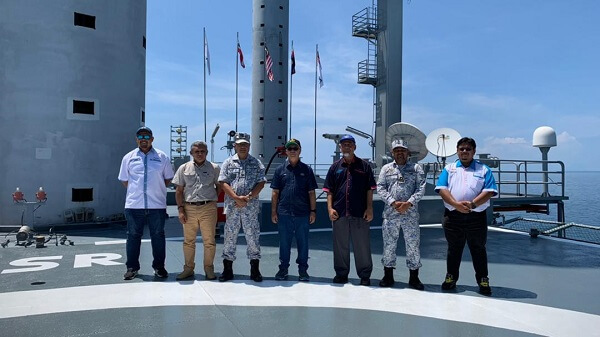 SEMPORNA, JUNE 11th, 2022- Datuk Zainal Abidin bin Abu Hassan, Secretary General of MOSTI, accompanied by Dr. Abdul Rahim bin Harun, Director General of Malaysian Nuclear Agency were seen attending for project monitoring to the Biocomposite Floating Project for the operational and logistical used of the Malaysian Armed Forces at Pengkalan Laut Tun Sharifah Rodziah. Semporna, Sabah. The delegation was welcomed by the Deputy Commander of Marine Region II, First Admiral Hj Jamaluddin bin Hj Sairi and Lieutenant Commander, Anis bin Abdul Khakim.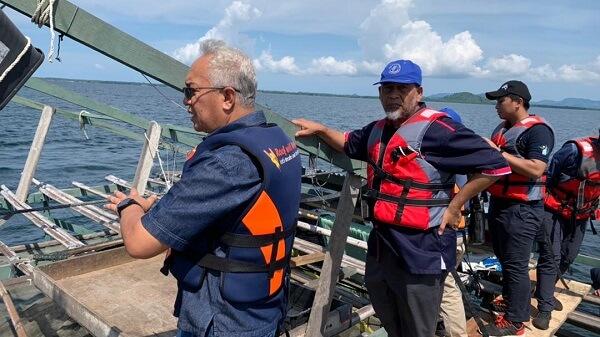 The delegations also visited:
SEAPLAST Project: Sustainable Eco-Remediation Via Aquatic Plastic Waste Recovery; one of the Aquatic Plastic Trap System Development Project and plastic recycling process to develop tiles and panel products. Local communities from Kampung Terusan Tanduk, Pulau Bum Bum, Semporna were closely involved.
Bagang Bilis Biocomposite Floating Jetty Project developed together with locals from Kampung Tanjung Kapor, Semporna employing biocomposite floating jetty components through the MOSTI's Social Innovation, a joint collaboration between Malaysian Nuclear Agency and Yayasan Inovasi Malaysia.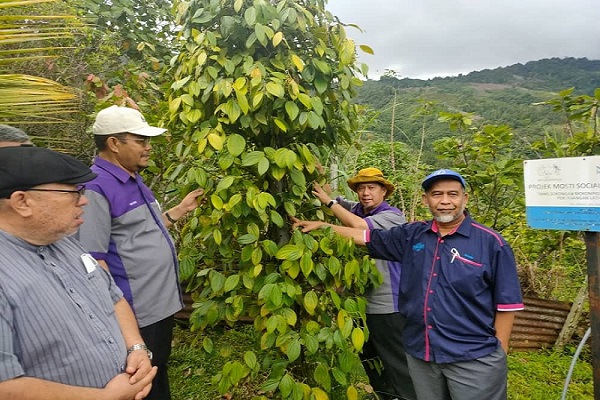 KOTA KINABALU, MAY 22, 2022: Dr. Abdul Rahim bin Harun, Director General of Nuclear Malaysia, as well as delegation paid an official working visit to Sabah from May 22nd to 23rd, 2022. During the visits, several cooperation projects and joint ventures with locals were visited to review the development of projects involving nuclear technology, all for the benefit of Sabahans.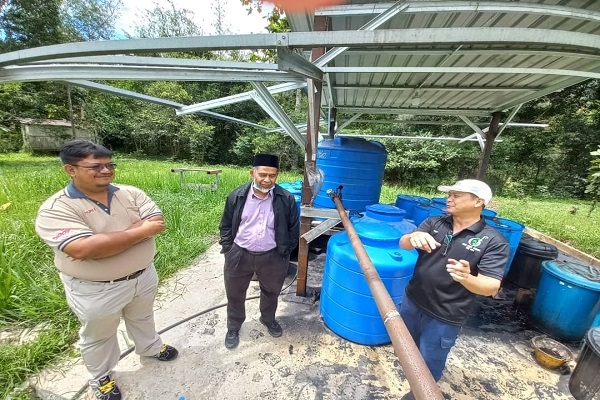 Among those visited were the Biocomposite Floating Anchovies Capture Project in Kota Belud, the Black Pepper Plant Support Pillar Project in Kg. Lokos, Tuaran, and the Liquid Smoke Development Project in Ranau.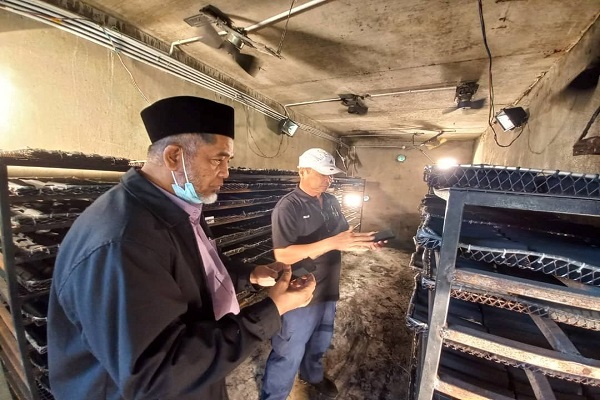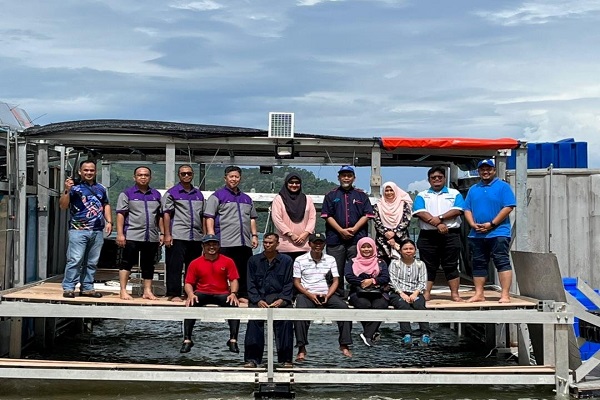 Ab Aziz bin Ab Kadir, Chairman of the National Kenaf and Tobacco Board (LKTN), with Idris bin Mohd Salleh, Director General of LKTN, and Baharuddin bin Dato' Mokhsen, Chairman of the Malaysian Pepper Board, with Vincent Sawat, Deputy Director, Malaysian Pepper Board, are also participating in this official working visit.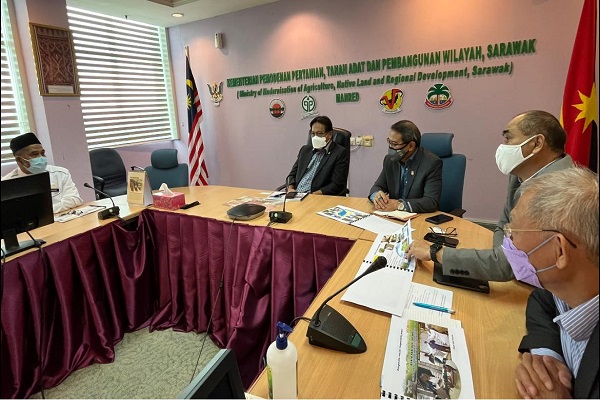 KUCHING, APR 27TH, 2022- Dr. Abdul Rahim Harun, Director General of Nuklear Malaysia, continued his tour in Sarawak with a courtesy visit to the Sarawak Ministry of Agriculture, Customs, Land, and Regional Development (MANRED). Datuk Dr. Haji Abdul Rahman bin Haji Ismail, Deputy Modernization of Agriculture and Regional Development (Modernization of Agriculture) was there to welcome the delegation. Datuk Edwin Abit, Permanent Secretary of the MANRED, Senior Ministry Officers, and the Director of the Sarawak State Agriculture Department were also present at the meeting.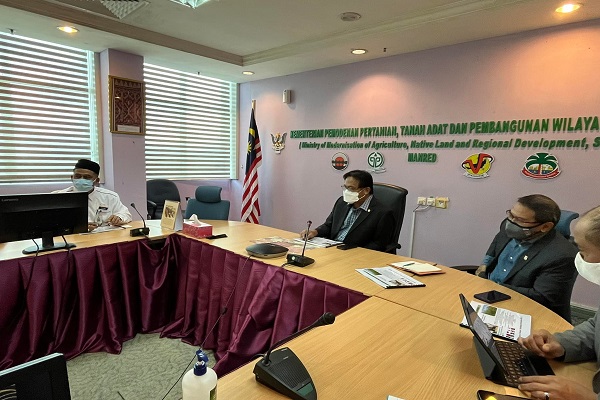 The goal of this visit was to forge further strategic collaboration between Nuklear Malaysia and the Sarawak State Government to produce and grow the new IS21 rice seeds.
During the visit, various opinions were exchanged in order to identify potential and opportunities in the rice industry for the benefit of Sarawak development as well as economy.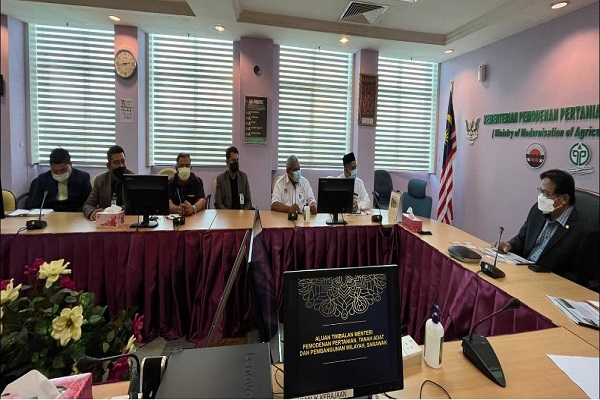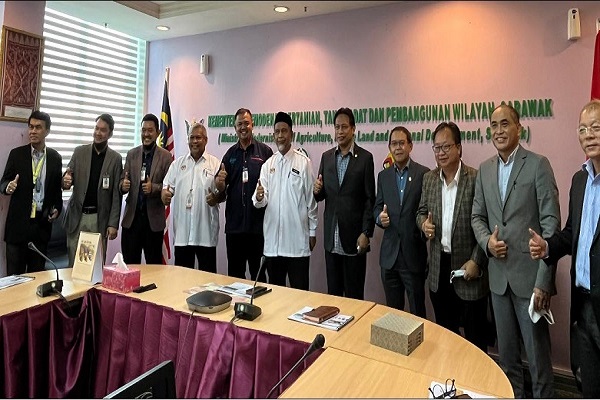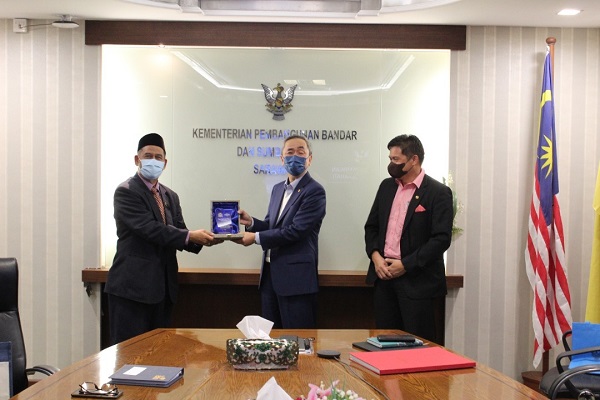 KUCHING, APR 26TH, 2022- Dr. Abdul Rahim bin Harun, Director General of Nuclear Malaysian Agency, paid a courtesy visit to Datuk Sri Zaidi bin Haji Mahdi, Permanent Secretary, Ministry of Natural Resources and Urban Development of Sarawak (MUDENR).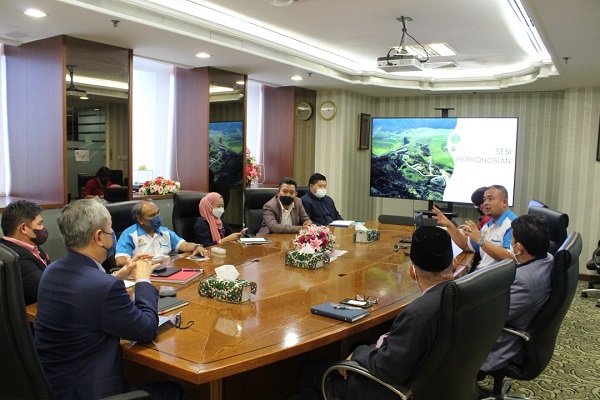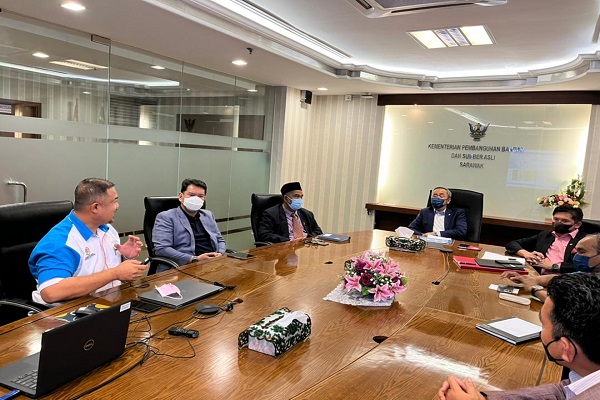 The visit was aimed to discuss technical issues and offering Nuklear Malaysia's expertise and facilities in the field of conducting preliminaries screening for rare earth elements exploration in potential areas. Such methods including safety assessment and radiological pollution to the environment and workers. Impact on soil structure and groundwater studies for potential areas, as well as the study of the rare earth extraction quality were also discussed.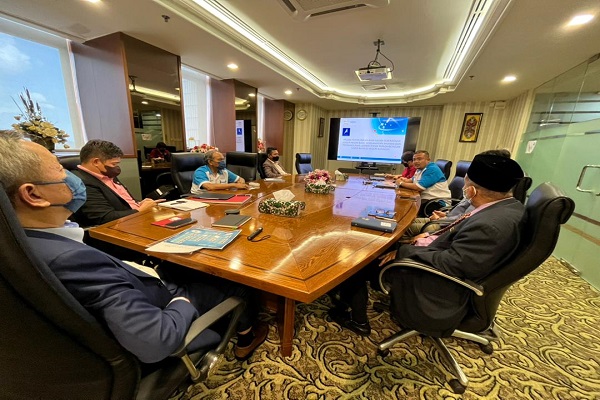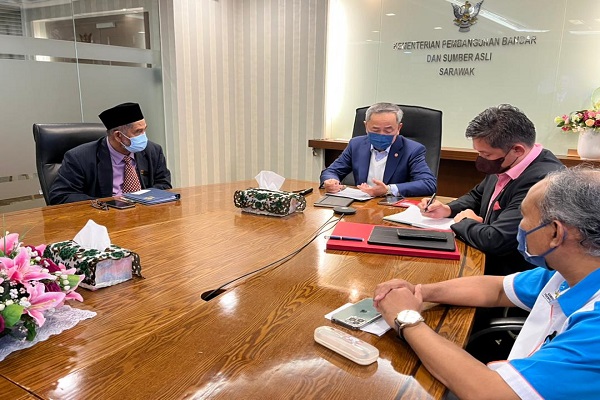 This meeting is expected to serve as a platform for Nuklear Malaysian to expand its strategic collaboration, while together promoting its expertise to key industrial players.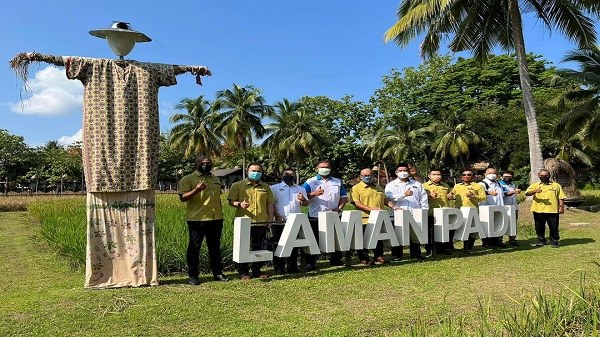 LANGKAWI, APRIL 10TH, 2022: Dr. Abdul Rahim bin Harun, Deputy Director General (Research and Technology Development), has paid a courtesy visit to Tuan Haji Nasaruddin bin Abdul Muttalib, CEO of the Langkawi Development Authority, (LADA) along with delegation from Nuclear Malaysia.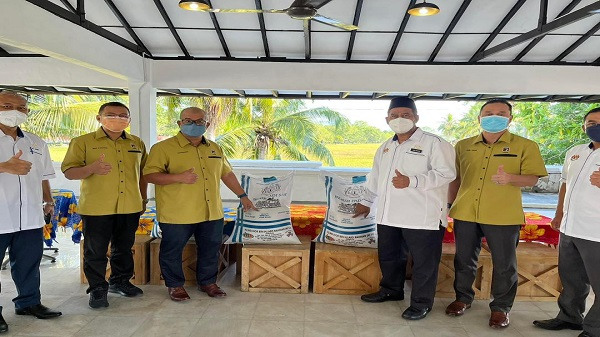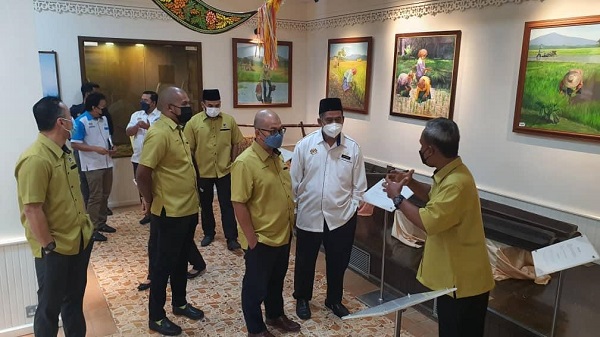 The delegation was taken to the Laman Padi site in Cenang, Langkawi, to explore the potential and opportunities of IS21 rice seeds being planted in the area as part of a promotion to introduce the new rice seeds to local and international tourists who visiting the attraction site.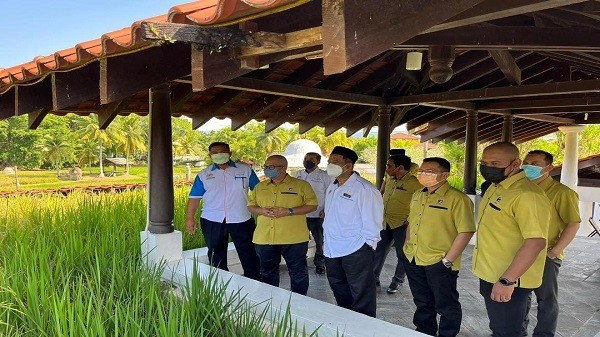 Throughout this visit, various perspectives, ideas, support, and proposals for future strategic cooperation between LADA and Nuclear Malaysia were shared. Future potential collaboration for the benefit of Langkawi Island's development and economy in the rice industry were also discussed.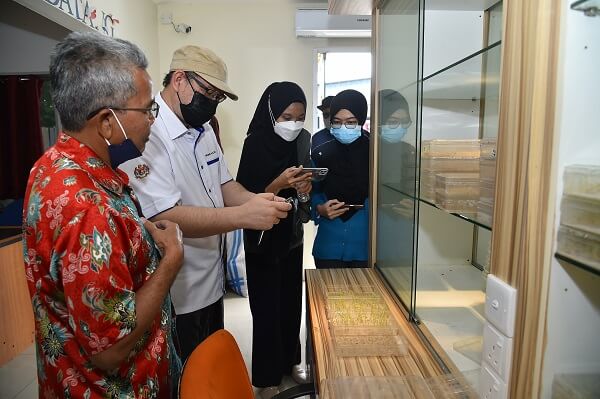 SEKINCHAN, MARCH 16TH, 2022– After a brief visit to the local plant in Nuklear Malaysia, The Strategic Planning Division of the Ministry of Science, Technology, and Innovation (MOSTI), continue to show their interest and paid a visit to a paddy seed production plant in Sekinchan, Selangor.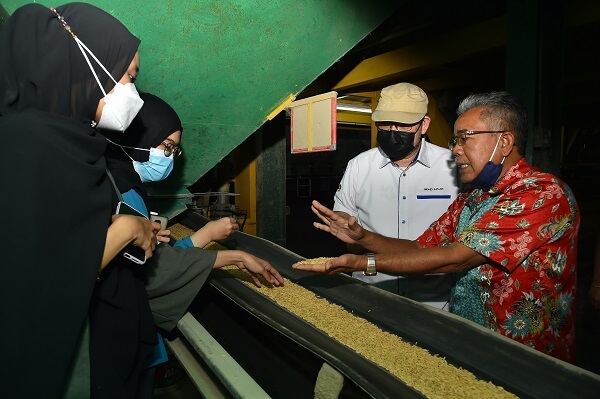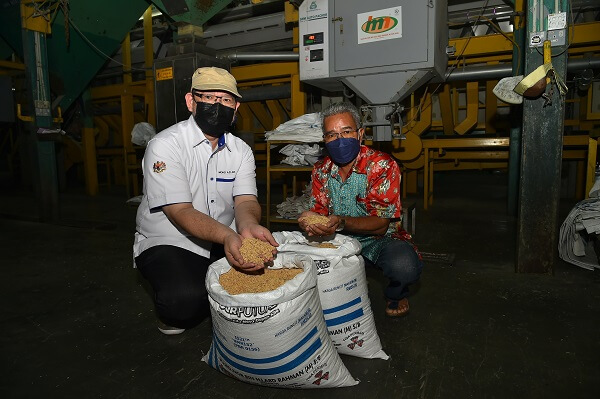 The site visit was held in response to Nuclear Malaysia's accomplishments in producing the NMR 152 rice seed variant through the induction mutation process using nuclear technology known as IS21, which officially launched in November 2021 by the Prime Minister, Dato' Sri Ismail Sabri Bin Yaakob.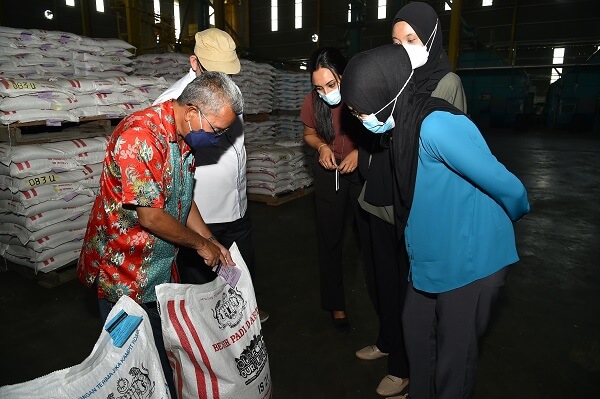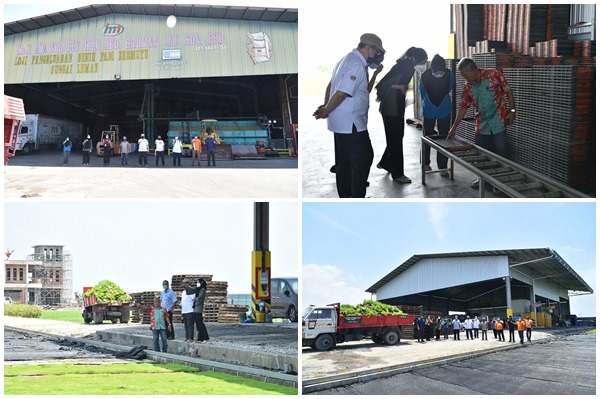 Dr. Sobri Bin Hussein, representing Nuklear Malaysia, as well as a representative from HMN Sdn. Bhd, were also present during the site visit.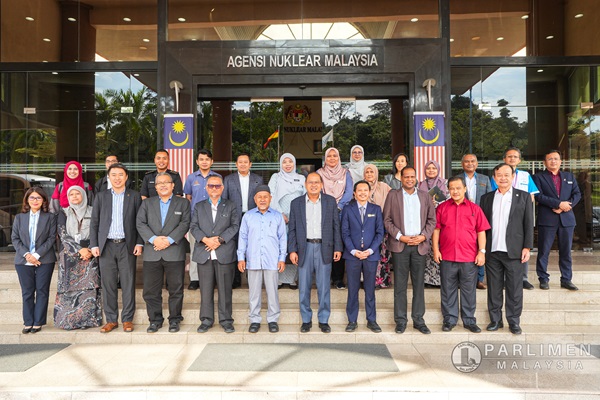 KUALA LUMPUR, FEB 24TH, 2022- Malaysian Nuclear Agency in collaboration with the Structural Forensic Service Division of the Public Works Department (JKR) had performed materials examination using non-destructive test (NDT) method on selected posts surrounding National Parliament building. Inspection works were carried out for four (4) days from February 21 to 24, 2022, led by Dr. Nor'Paiza bin Mohamad Hasan, the Director of Industrial Technology Division, with the involvement of research officers from Nuclear Malaysia.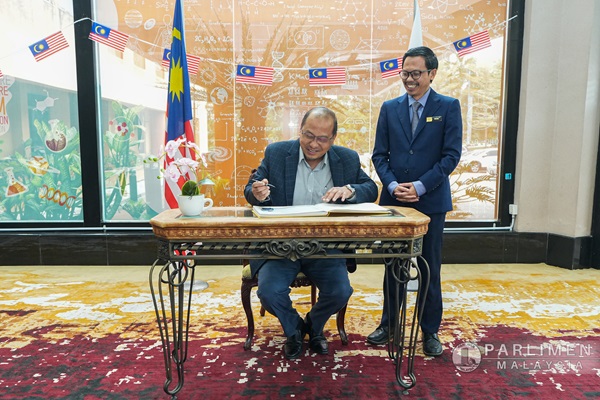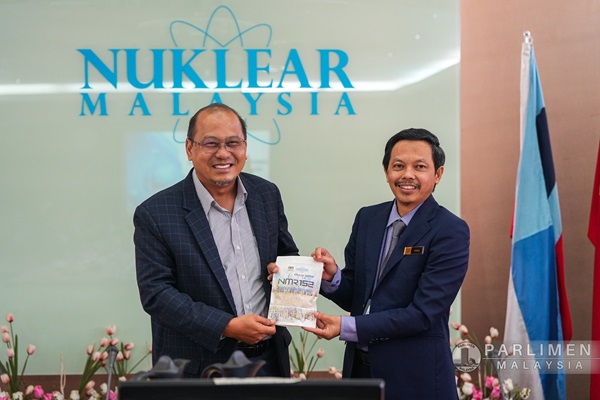 This material investigation work was carried out as part of strategic collaboration and CSR approach using nuclear technology to assist in the maintenance and conservation of the National Parliament building, which is considered a national heritage asset.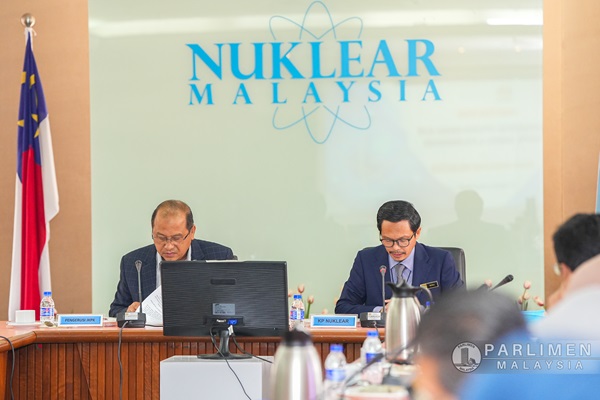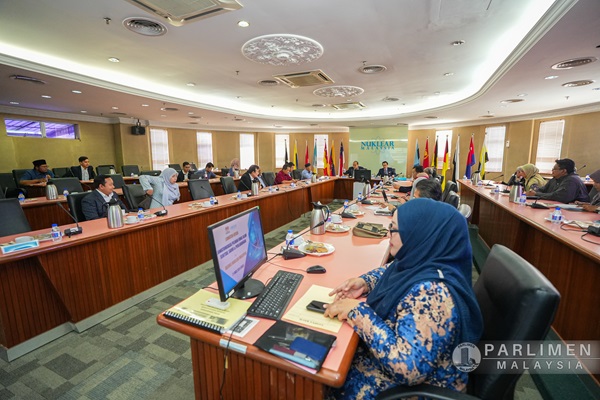 The NDT method utilised computed tomography (CT) to analyse the material composition and internal structure of building. The mobile gamma ray computed tomography system (Gamma CT) was used on the post to produce 2D cross-sectional images to assess material condition.