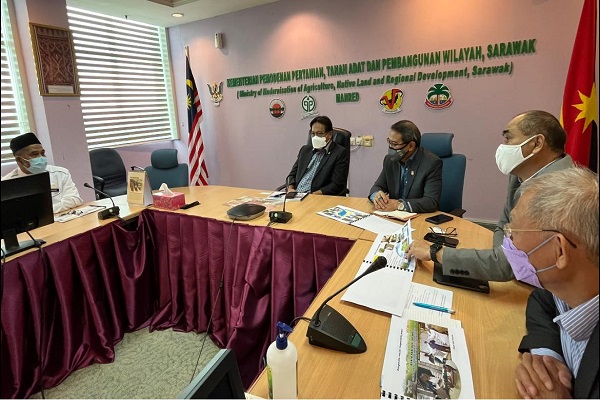 KUCHING, APR 27TH, 2022- Dr. Abdul Rahim Harun, Director General of Nuklear Malaysia, continued his tour in Sarawak with a courtesy visit to the Sarawak Ministry of Agriculture, Customs, Land, and Regional Development (MANRED). Datuk Dr. Haji Abdul Rahman bin Haji Ismail, Deputy Modernization of Agriculture and Regional Development (Modernization of Agriculture) was there to welcome the delegation. Datuk Edwin Abit, Permanent Secretary of the MANRED, Senior Ministry Officers, and the Director of the Sarawak State Agriculture Department were also present at the meeting.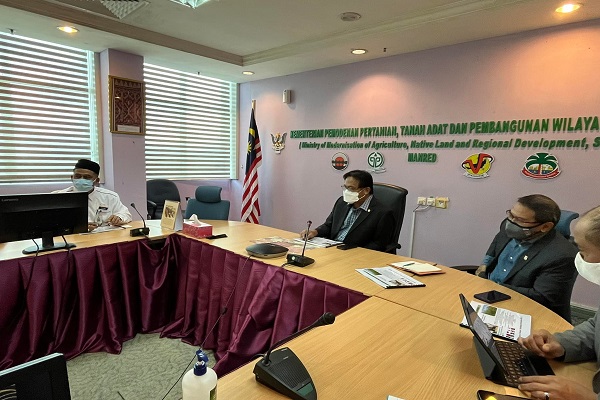 The goal of this visit was to forge further strategic collaboration between Nuklear Malaysia and the Sarawak State Government to produce and grow the new IS21 rice seeds.
During the visit, various opinions were exchanged in order to identify potential and opportunities in the rice industry for the benefit of Sarawak development as well as economy.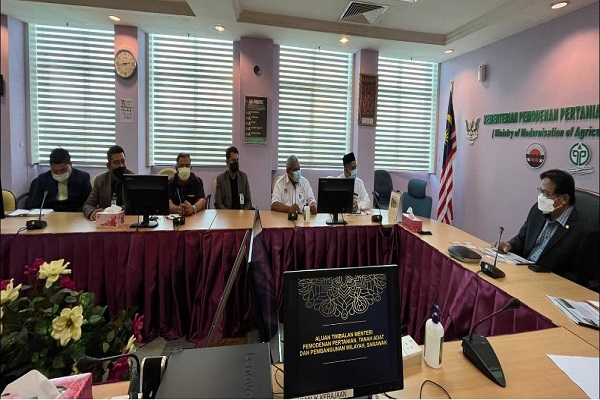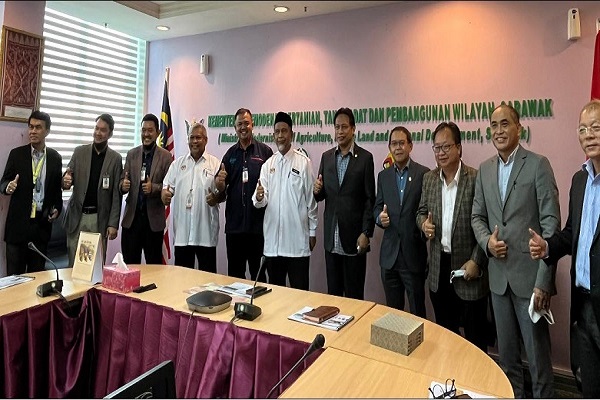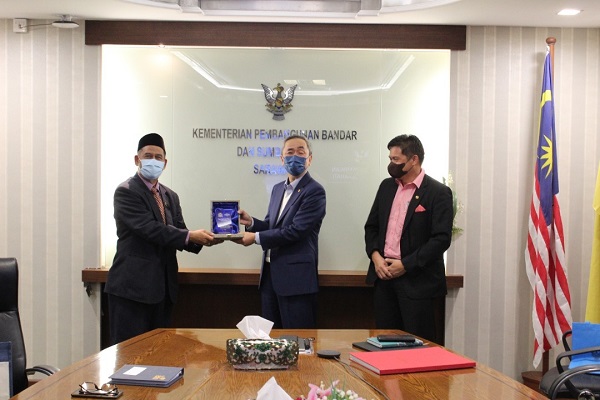 KUCHING, APR 26TH, 2022- Dr. Abdul Rahim bin Harun, Director General of Nuclear Malaysian Agency, paid a courtesy visit to Datuk Sri Zaidi bin Haji Mahdi, Permanent Secretary, Ministry of Natural Resources and Urban Development of Sarawak (MUDENR).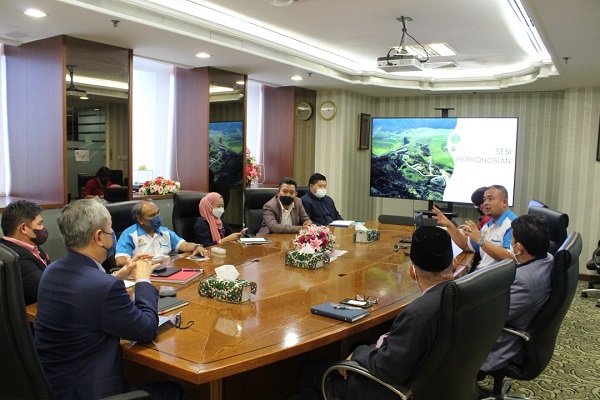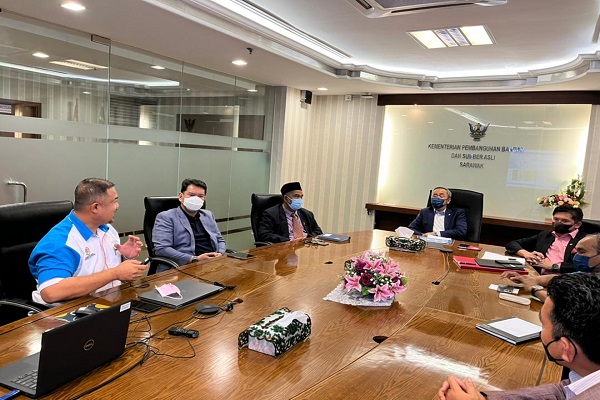 The visit was aimed to discuss technical issues and offering Nuklear Malaysia's expertise and facilities in the field of conducting preliminaries screening for rare earth elements exploration in potential areas. Such methods including safety assessment and radiological pollution to the environment and workers. Impact on soil structure and groundwater studies for potential areas, as well as the study of the rare earth extraction quality were also discussed.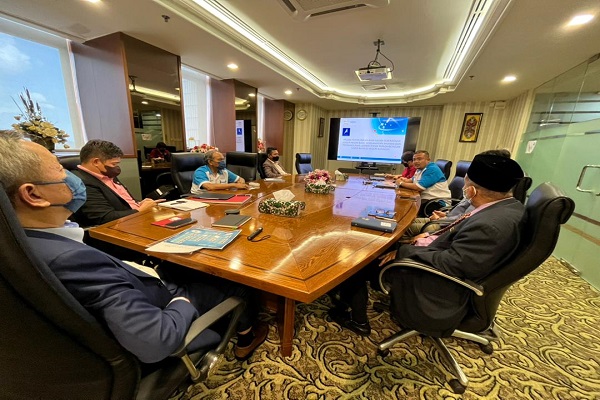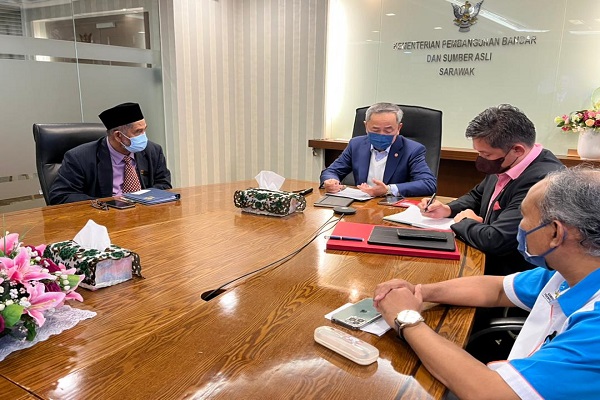 This meeting is expected to serve as a platform for Nuklear Malaysian to expand its strategic collaboration, while together promoting its expertise to key industrial players.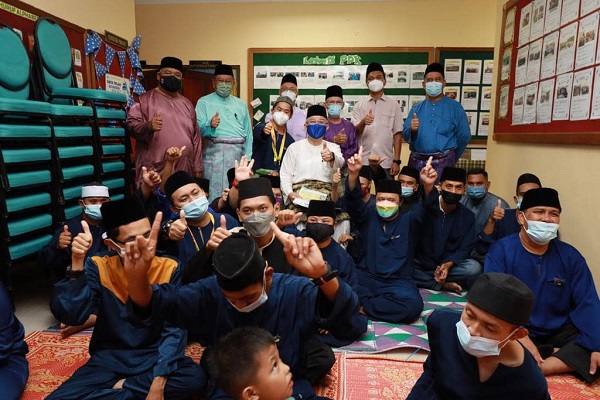 BANDAR TENGGARA, APR 24TH, 2022 - Dato' Sri Dr. Adham Baba paid a visit to 65 inhabitants of local community rehabilitation centre (PDK), Bandar Tenggara during Corporate Social Responsibility Programme (CSR) and Ihya' Ramadan jointly organised by the Malaysian Nuclear Agency and the Atomic Energy Licensing Board (AELB). PDK is a center providing development programmes for rehabilitation, training, education, equalisation of opportunities, and social integration of people with various special needs.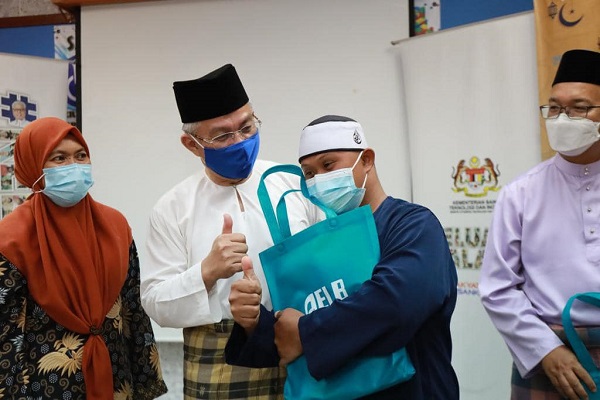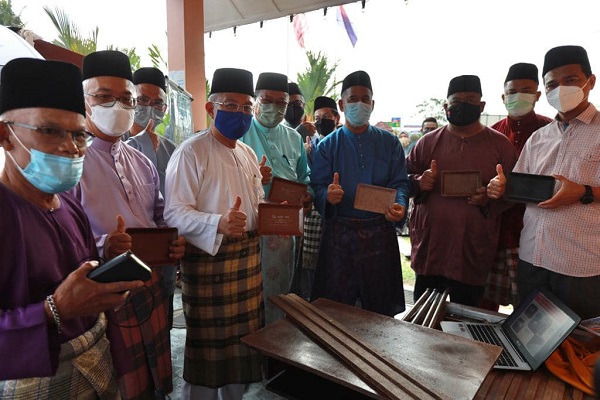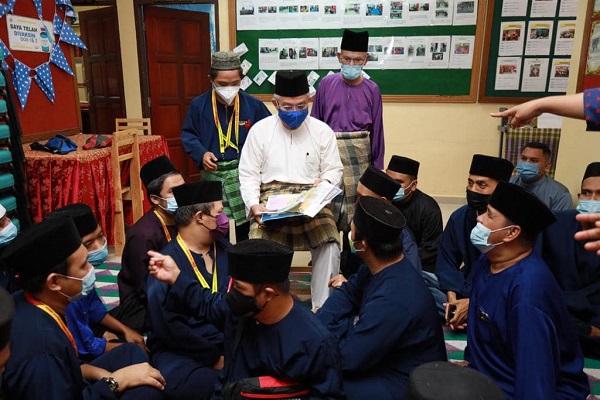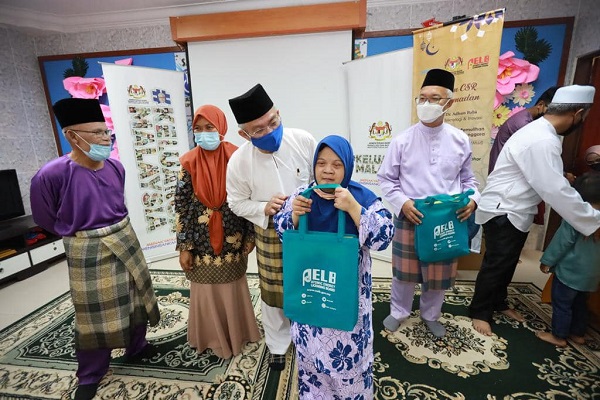 The programme was aimed as part of an effort to strengthen the rapport aligned with the concept of "Keluarga Malaysia", one of MOSTI's commitments, and as an informative delivery platform to reach all level regardless of their physical ability.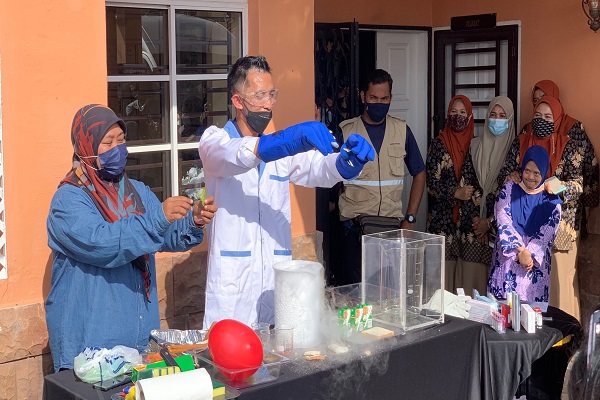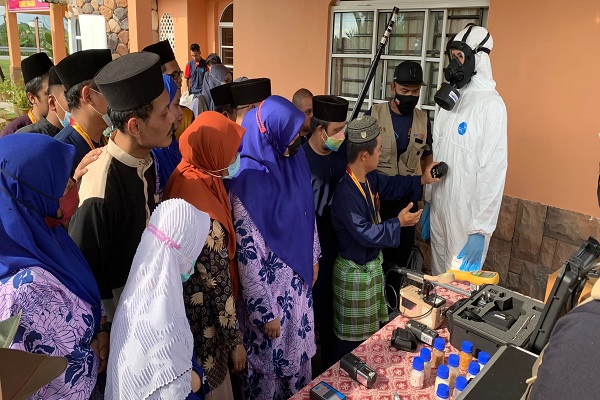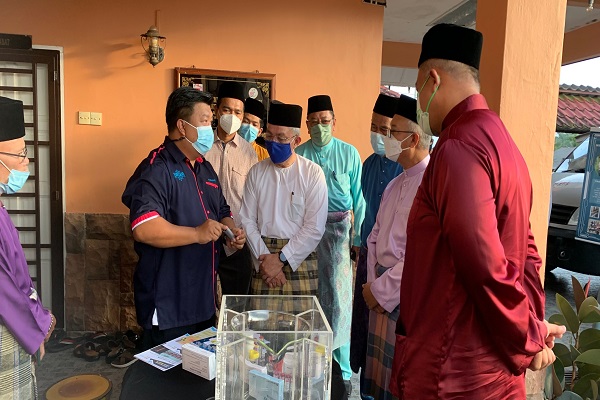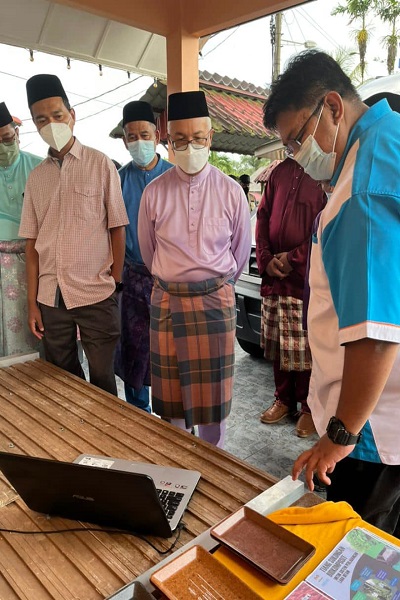 Also present were Datuk Zainal Abidin bin Abu Hassan, Secretary General of MOSTI; Datuk Ts. Dr. Mohd Noor Azman bin Hassan, Deputy Secretary General (Technological Development) MOSTI; Dr. Abdul Rahim bin Harun, Director General of Nuklear Malaysia; Ts. Hasmadi bin Hassan, Director General of AELB; and other senior officers.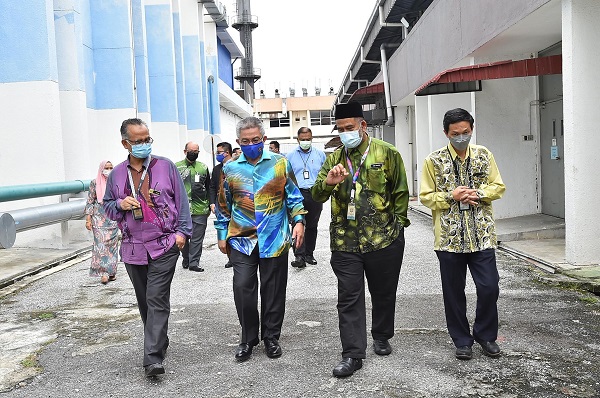 BANGI, APR 22ND 2022- Nuklear Malaysia welcoming Dato' Sri Dr Adham Baba for his visit to the Medical Technology Division on April 21, 2022. The MOSTI Minister was welcomed by Director General of Nuklear Malaysia, Dr. Abdul Rahim bin Harun.
Dr. Mohd. Azlan bin Zaharudin, Deputy Secretary (Strategic Technology and Applications), Dr. Rosli bin Darmawan (Deputy Director General of Technology Research and Development Programme), Dr. Ishak bin Mansor, and other Nuklear Malaysia officers were also present during the visit.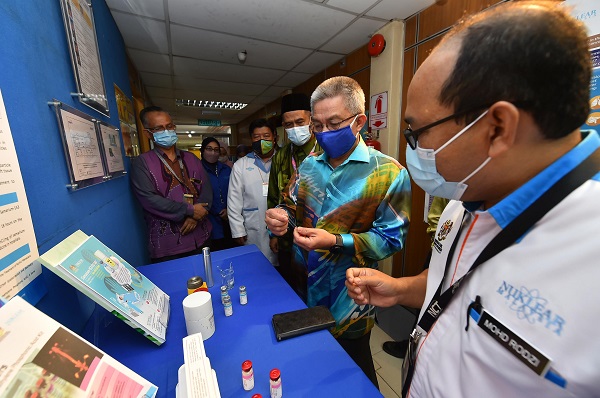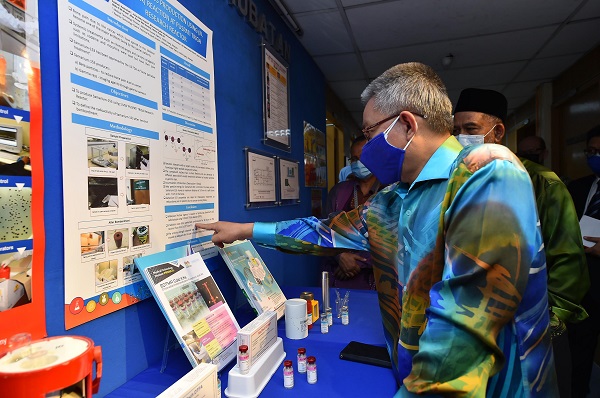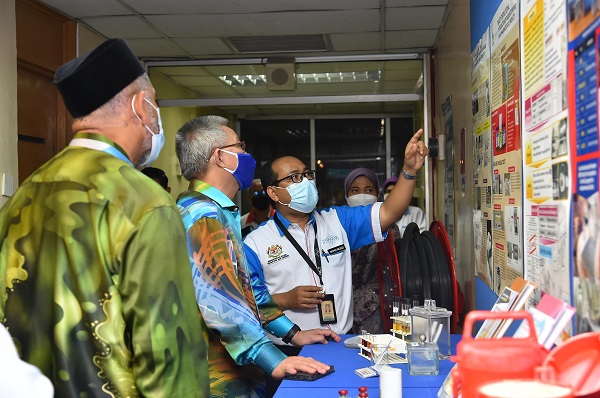 The purpose of the visit was to learn more on the role of nuclear applications in specialised medicine for disease detection and treatment. The Minister was taken to survey several facilities on site, including the Sm-153 production laboratory, the Tecnetium-99m production facility, and the Iodine-131 capsules manufacturing. Finally, the delegates were taken on a tour of the quality control laboratory.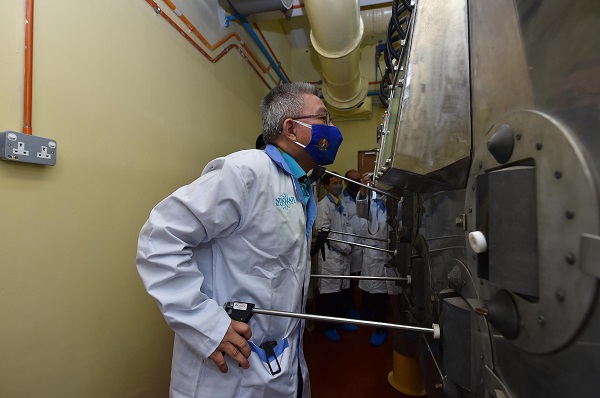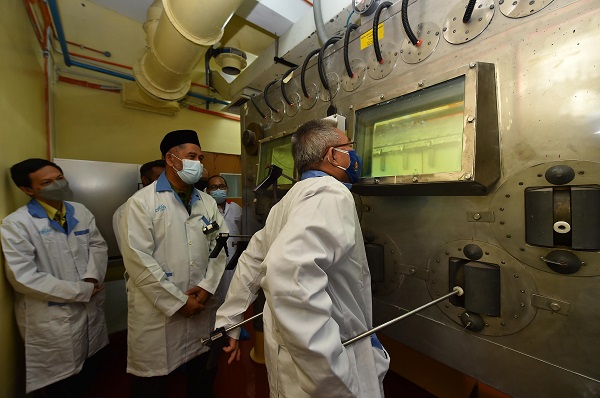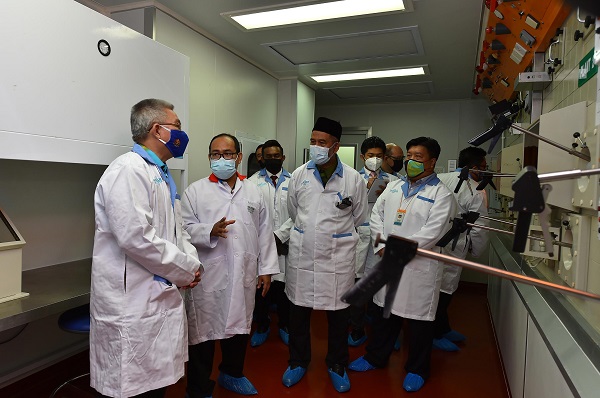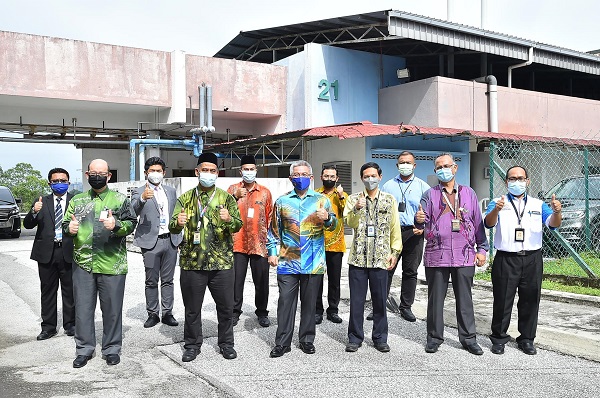 Nuklear Malaysia manufactures radioisotope and radiopharmaceutical products subjected to stringent quality control to ensure quality and its safety for medicinal use.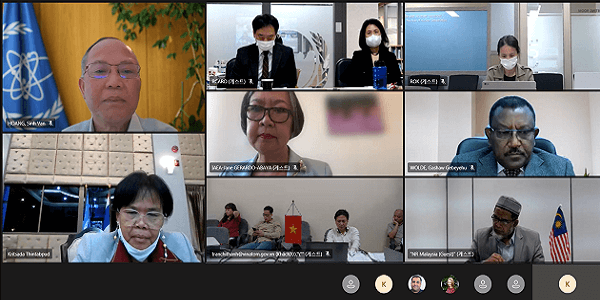 The 44th Regional Meeting of National RCA Representatives (NRM) was held on last 19-21 April 2022 virtually in the same manner as the previous NRM due to the prolonged Covid-19 pandemic. Malaysia was represented by Dr Abdul Rahim Harun, Director General of the Malaysian Nuclear Agency who acts as the National RCA Representative for Malaysia (RCA NR). Delegates from 22 RCA Government Parties, the Chair of the RCA Programme Advisory Committee and Working Groups, and representatives from the RCA Regional Office participated in the meeting. It was also attended by the Director-General of the IAEA, Deputy Director-General and Head of Technical Cooperation Department, Deputy Director-General and Head of Nuclear Sciences and Applications Department, Director and Section Heads of Asia and the Pacific Division, RCA Focal Person, and other relevant IAEA officers. Deputy Minister of the Ministry of Science and Technology of Vietnam and Director General of IAEA delivered their statements during the opening ceremony. The meeting was chaired by the RCA NR of Vietnam as the current RCA Chair to discuss issues relating to policies, overall management, and planning of the RCA Programme, including the upcoming RCA 50th anniversary celebration.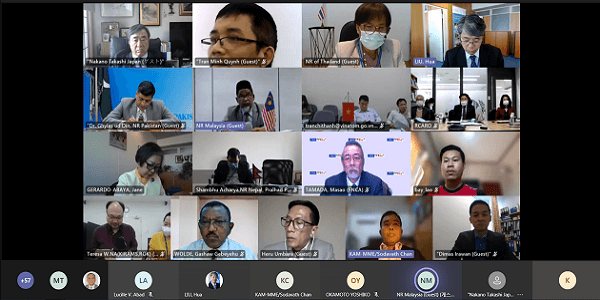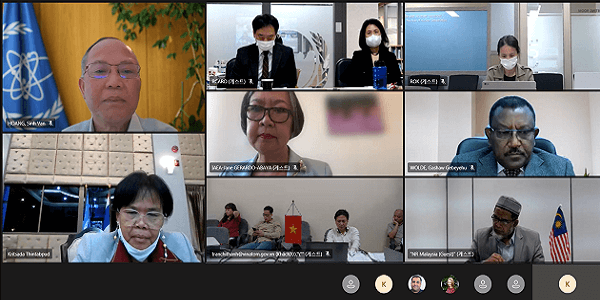 On-line participants of the 44th RCA Meeting of National RCA Representatives
(Bottom right: Dr Abdul Rahim Harun, Director General of Nuklear Malaysia).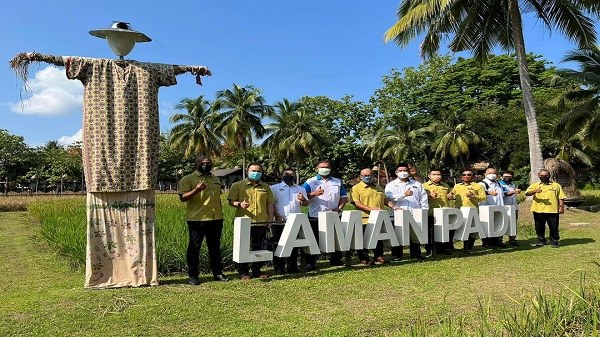 LANGKAWI, APRIL 10TH, 2022: Dr. Abdul Rahim bin Harun, Deputy Director General (Research and Technology Development), has paid a courtesy visit to Tuan Haji Nasaruddin bin Abdul Muttalib, CEO of the Langkawi Development Authority, (LADA) along with delegation from Nuclear Malaysia.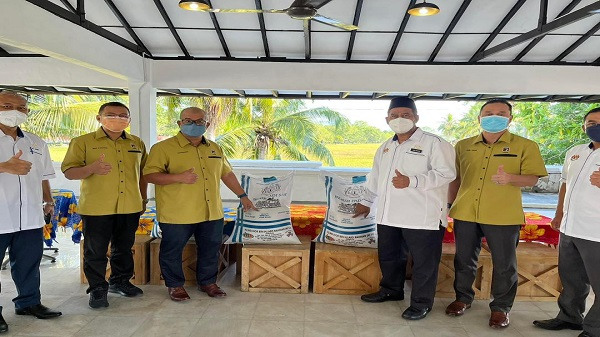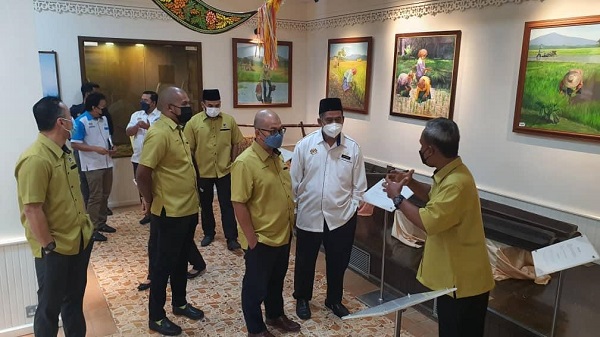 The delegation was taken to the Laman Padi site in Cenang, Langkawi, to explore the potential and opportunities of IS21 rice seeds being planted in the area as part of a promotion to introduce the new rice seeds to local and international tourists who visiting the attraction site.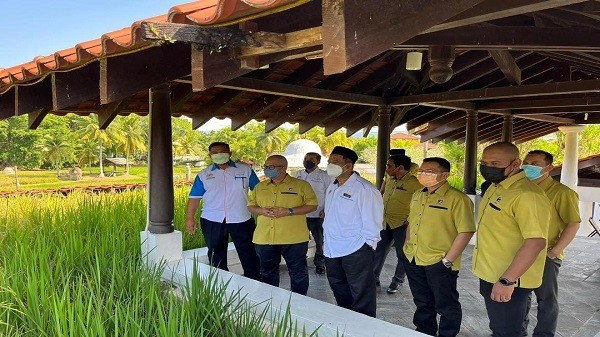 Throughout this visit, various perspectives, ideas, support, and proposals for future strategic cooperation between LADA and Nuclear Malaysia were shared. Future potential collaboration for the benefit of Langkawi Island's development and economy in the rice industry were also discussed.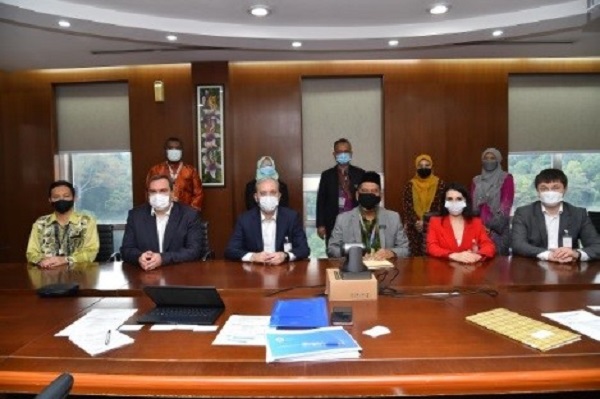 BANGI, APR 7th,2022 - Malaysian Nuclear Agency (Nuklear Malaysia) received a courtesy visit from the Rusatom Automated Control System (RASU) delegation last 7 April. The delegation consists of 4 representatives of RASU, namely Mr. Butko Andrei (CEO of RASU), Mr. Egorov Alexander (CEO Advisor), Ms. Kravchenko Yulia (Project Manager) and Dr. Anton Tyurin. The courtesy visit aims to explore opportunities for cooperation between RASU and Nuklear Malaysia in the field of nuclear instrumentation & control (I&C).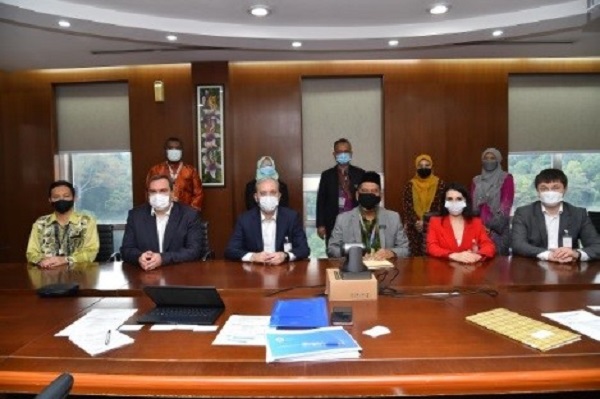 Courtesy call by the RASU delegation to Nuklear Malaysia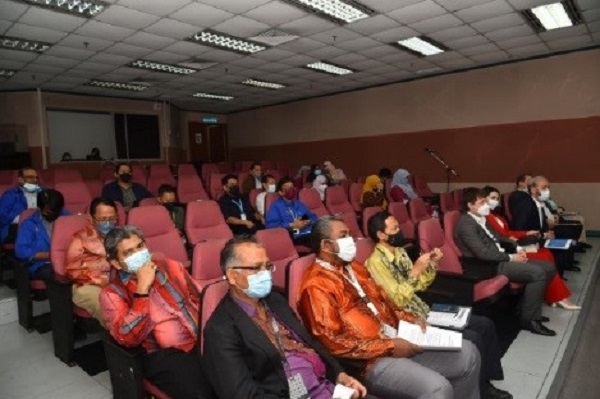 The seminar by RASU was attended by staff of Nuklear Malaysia
RASU is a subsidiary of State Atomic Energy Corporation Rosatom (ROSATOM) which is the foremost leader for I&C and electrical engineering industries in Russia. ROSATOM is one of the pioneers of the nuclear industry and has been at the forefront of the international nuclear market, with new high-tech products for hydrogen energy, nuclear medicine and composite materials.
In conjunction with the RASU visit, a seminar was also held for Nuklear Malaysia. Representatives of RASU presented their activities in RASU covering engineering, design, delivery and commissioning of I&C systems and electrical equipment related to nuclear industry in Russia as well as abroad.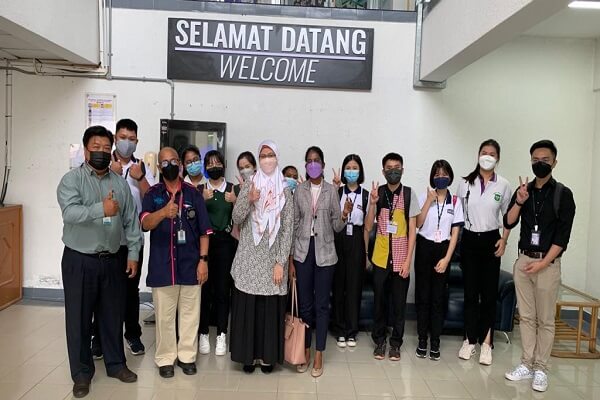 BANGI, APRIL 5TH, 2022 - Malaysian Nuclear Agency has received yet another visit from the Healthcare Management Programme, University Tunku Abdul Rahman (UTAR), led by Dr Hemaniswarri Dewi a/p Dewadas and Dr Nik Raihan bin Nik Mansor. A number of 10 students currently enrolled in the program were also participating.This visit is intended to expose students to the technology related to the use of radioactive materials in medicine, radiation safety, and radioactive waste management, all to fulfill the course requirements.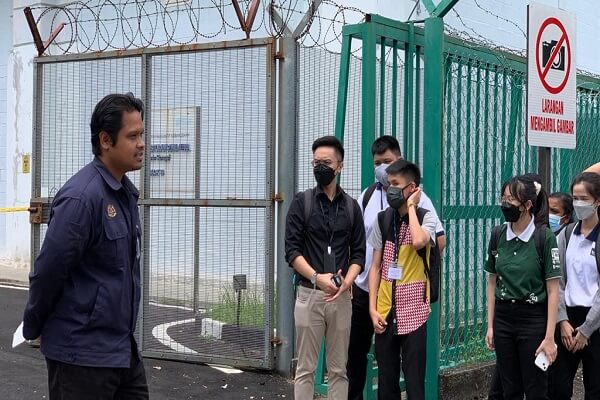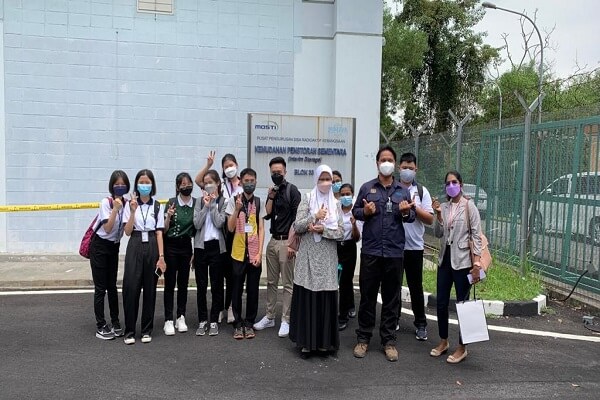 Prior to the visit, a briefing was delivered by Muhammad Asyraf bin Mat Siliji from the Corporate Communications Unit on matters related to the facilities and services offered. Dr. Siti Najilah binti Mohd Janib and Dr. Azahari bin Kasbollah, both prominent Research Officers from the Medical Technology Division (BTP) also delivered key points related to their products and services. Participants were also brought on a tour to several laboratories in the BTP and Waste Technology Development Center (WASTEC).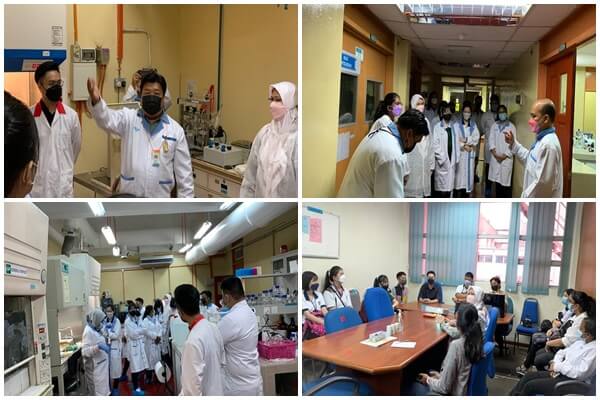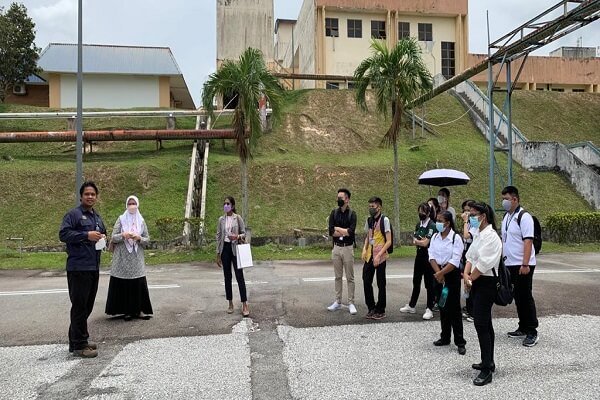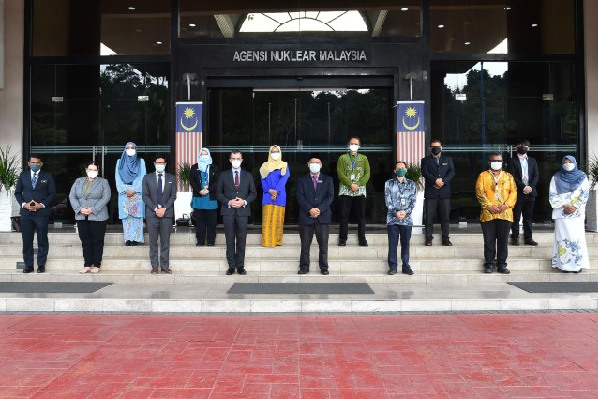 On 24 March 2022, the Malaysian Nuclear Agency (Nuklear Malaysia) received a visit from the Ambassador for Arms Control & Counter-Proliferation, Australia Mr. Ian Biggs. He is welcome by Dr. Abdul Rahim Harun, the Deputy Director General of the Research and Development Program. His visit to Nuklear Malaysia was to explore an opportunity for a strategic partnership between Australia and Malaysia in various fields related to nuclear science and technology, especially in the area connected to the non-proliferation of nuclear weapons.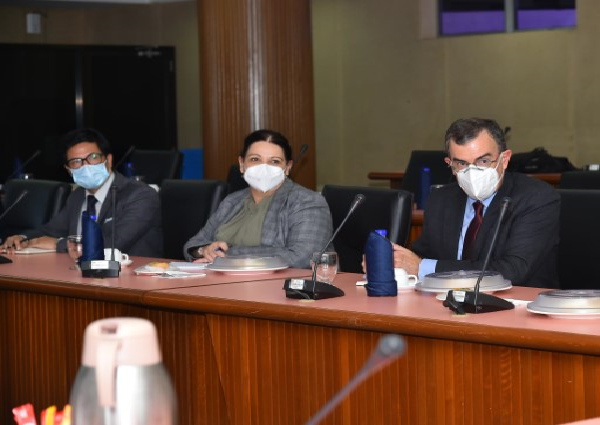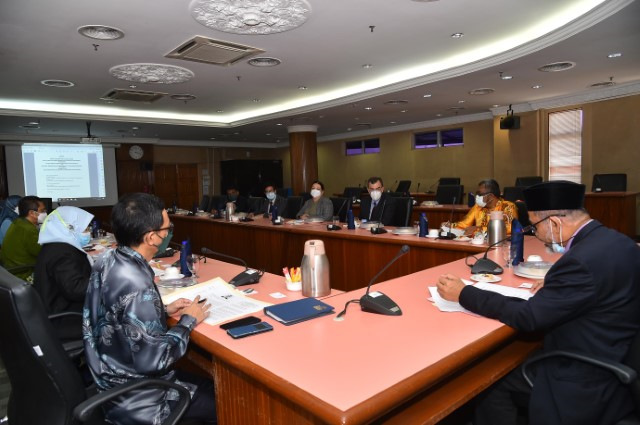 Nuklear Malaysia is the liaison agency between Malaysia and the International Atomic Energy Agency (IAEA) and the National Authority for the Comprehensive Nuclear Weapons Testing Treaty's (CTBT) implementation in Malaysia. Malaysia signed the Nuclear Non-Proliferation Treaty (NPT) in 1968, the Comprehensive Nuclear Weapons Testing Treaty (CTBT) in 1998, and the Nuclear Weapons Prohibition Treaty (TPNW) in 2017. Malaysia is among the countries that have proposed and developed the Weapons Free Zone Agreement. Nuclear Southeast Asia (SEANWFZ) or the 1995 Bangkok Agreement under the auspices of ASEAN. Nuclear Malaysia welcomed the visit and see it as the opportunity to strengthen collaboration between the CTBT Malaysia National Data Center (My-NDC) and the CTBT Australia National Data Center. This visit also as an opportunity to explore new strategic partnership in the relevant areas. Apart from areas related to the non-proliferation of nuclear weapons, Malaysia and Australia have also collaborated through the RCA/IAEA Project led by Australia as the Key Coordinating Country through the following projects:
• RAS7031 Assessing the Vulnerability of Coastal Landscapes and Ecosystems to Sea-level Rise and Climate Change
• RAS7037 Enhancing Wetland Management and Sustainable Conservation Planning
• RAS5091 Assessing and Mitigating Agro-Contaminants to Improve Water Quality and Soil Productivity in Catchments Using Integrated Isotopic Approaches
Representatives from the Ministry of Foreign Affairs (KLN) and the Ministry of Science, Technology & Innovation (MOSTI) also joined the visit.