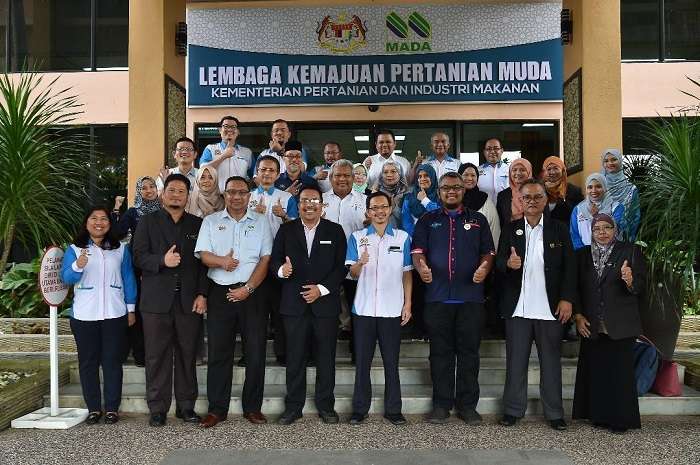 DECEMBER 5TH 2022 : A Malaysian Nuclear Agency delegation led by Dr. Rosli bin Darmawan visited the Muda Agricultural Development Authority (MADA) in Alor Setar, Kedah. On September 8, 2022, MADA held the first of several working excursions to the Malaysia Nuclear Agency with the aim of seeing firsthand the potential for collaboration at MADA, particularly the technology and research capabilities in the nuclear field that may be used to support the growth of the agriculture industry in Kedah.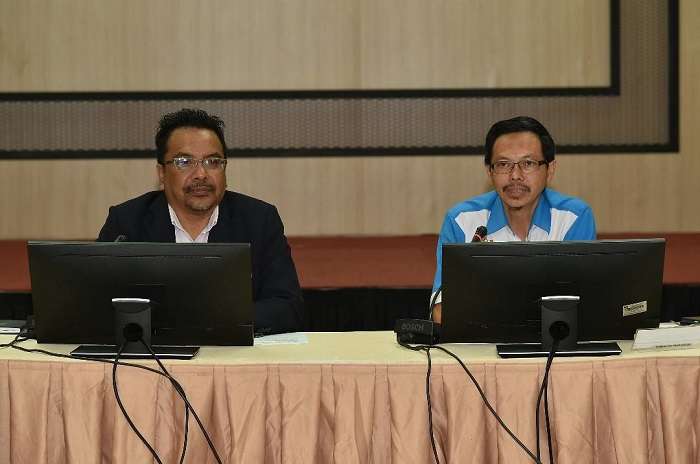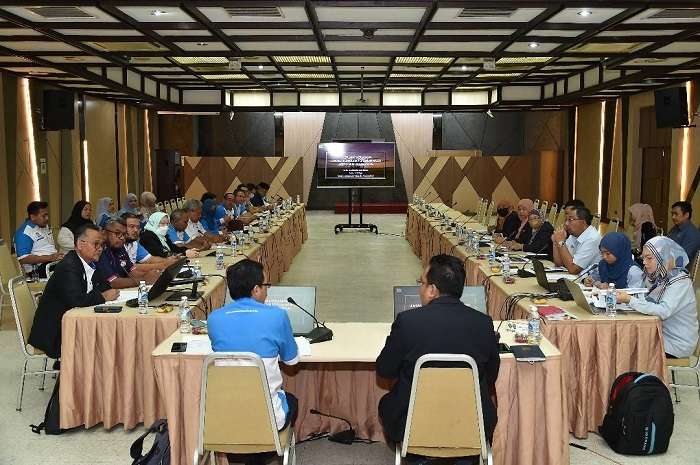 Ir. Nik Kun Bin Nik Mat, the Deputy General Manager (Technical), and the branch heads of the MADA Units welcomed the presence of the Malaysia Nuclear Agency delegation. The counter-visit was also attended by the senior director of the management program, Dr. Muhammad Rawi bin Mohamed Zin, and the directors of the Nuclear Malaysia divisions.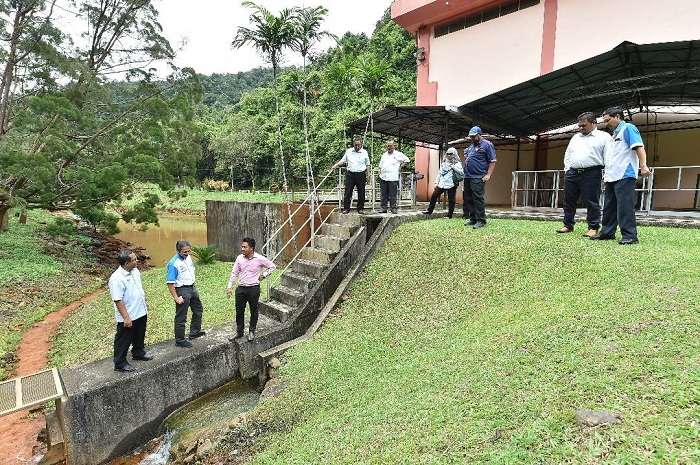 The development of new rice varieties, the study of dam diffusion and the main channel, the investigation of dam deposition, research into the durability of food goods for the entrepreneurial sector, and research into minimizing the breeding of golden apple snails in the fields, which is one of the primary causes of crop damage, were among the research suggestions and areas of collaboration that were presented during the interaction session and bilateral discussion conducted at the Syed Nahar Hall.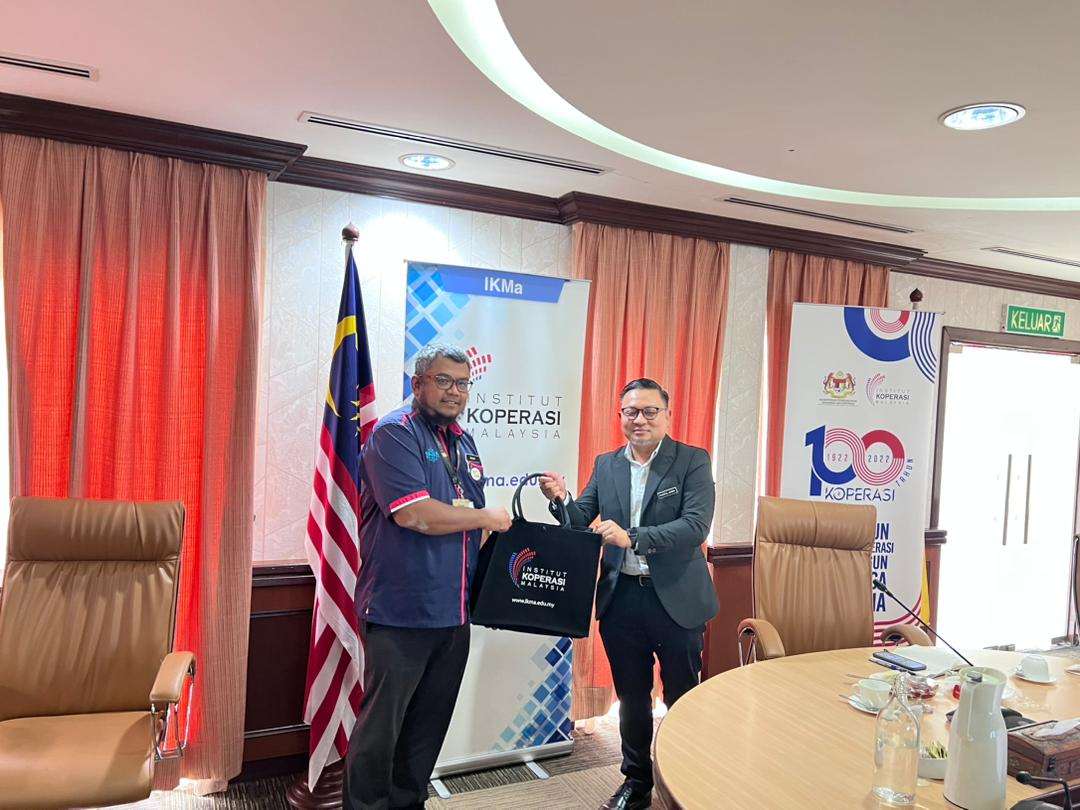 PETALING JAYA, NOV 23rd 2022 - Nuklear Malaysia today has visited the Institut Koperasi Malaysia (IKMa) in the effort to bolster Nuclear Knowledge Management (KM) initiative. The technical visit led by Dr. Muhammad Rawi Mohamed Zin was organized as part of the benchmarking process to learn the best practice applied to other organization in regard to KM.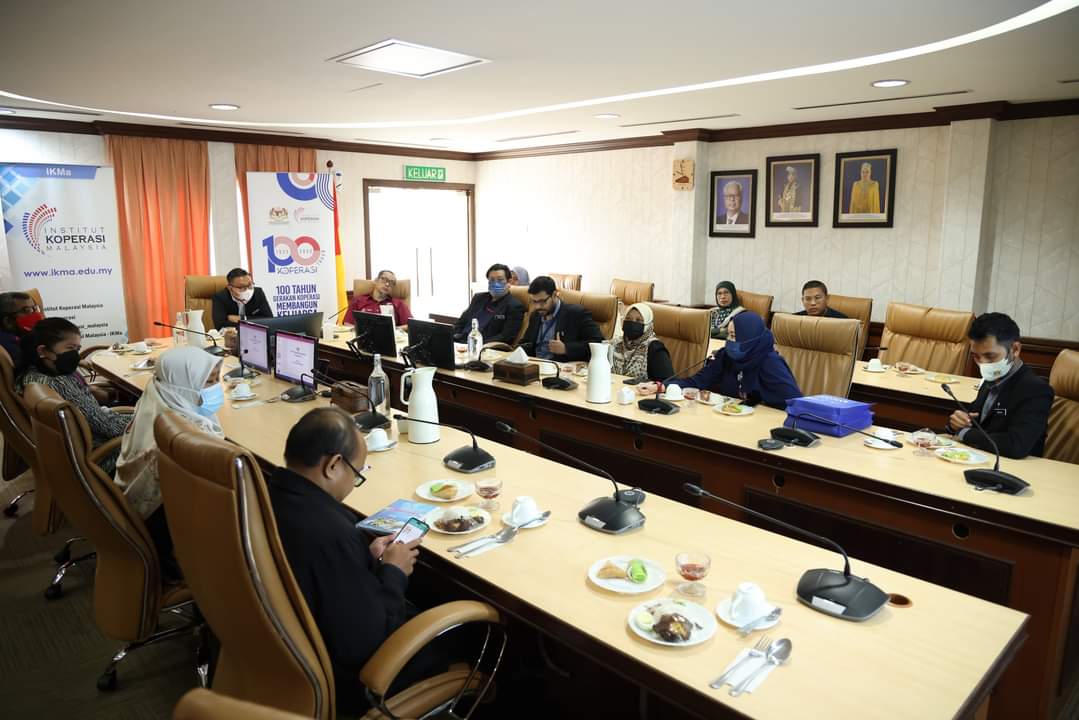 The annual visit was aimed to identify similar organization which actively practicing KM in order to improve the initiatives in Nuklear Malaysia. A number of 9 delegates were participating in the visit, all of which are members of the KM Committee Members.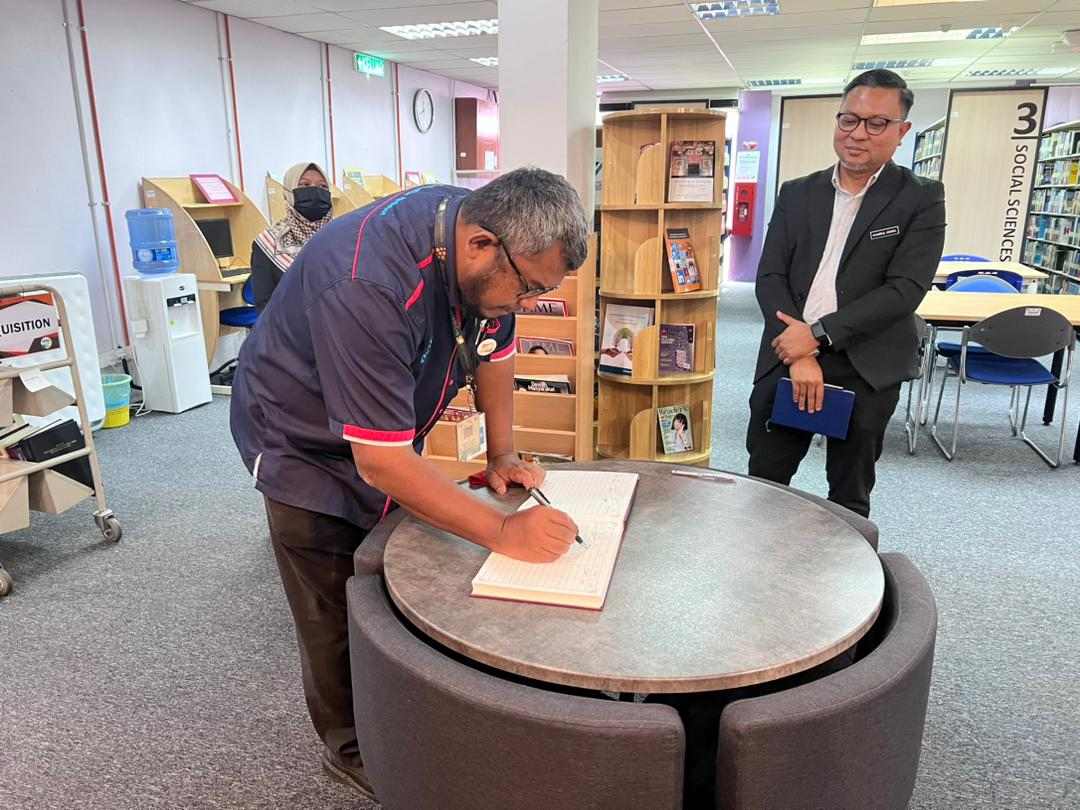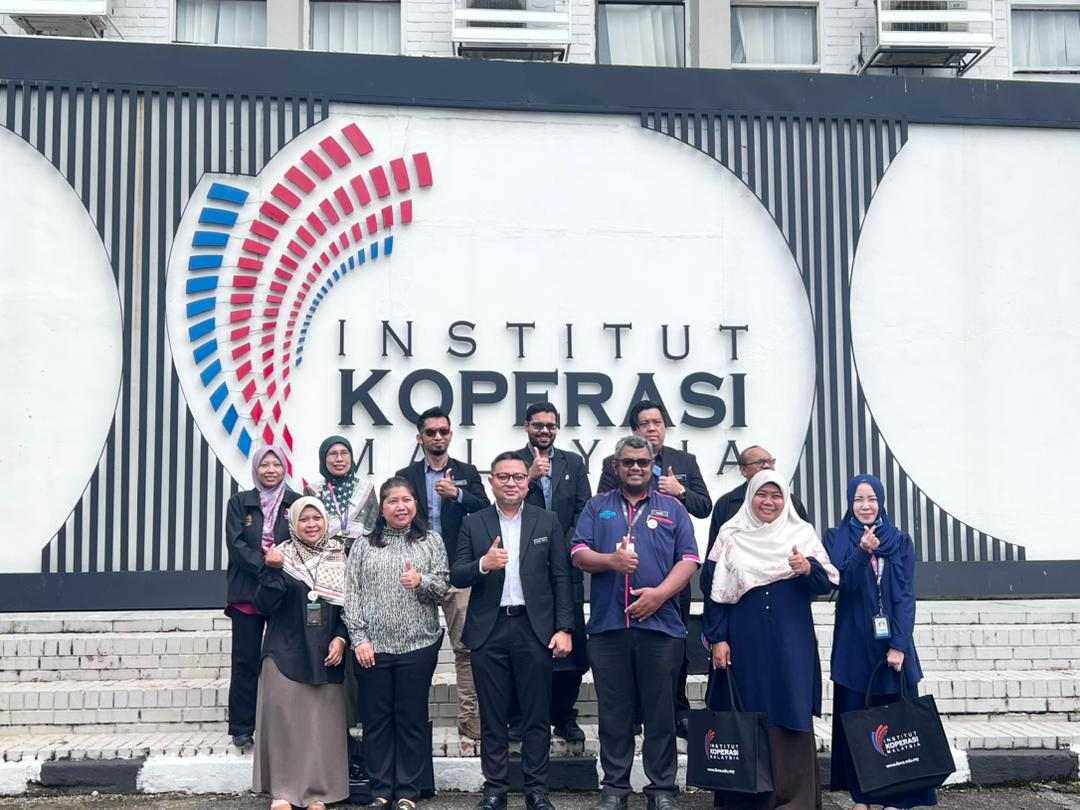 Among the topics highlighted were developing the knowledge sharing culture within organization and introduction to Knowledge Management System employed by IKMa. At the end of the visit, a token of appreciation was exchanged between Dr. Muhammad Rawi Mohamed Zin, Senior Director and Khairul Akmal Saim, Senior Assistant Director IKMa.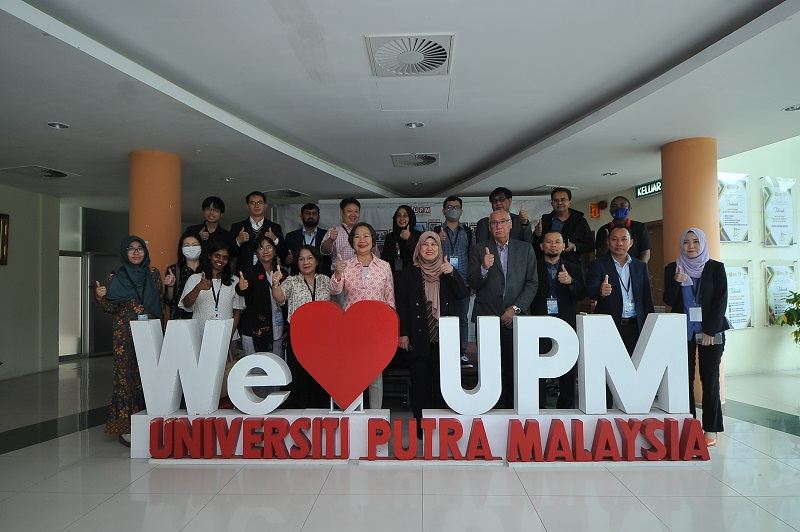 PUTRAJAYA, NOV 2022 – Malaysia through Malaysian Nuclear Agency (Nuklear Malaysia) hosted the regional IAEA meeting on Advancing Nuclear Science Education for Sustainable Development for Asia Pacific. The meeting was hosted in collaboration with Technical Cooperation for Asia Pacific Division of International Atomic Energy Agency (IAEA) from 31 Oct to 4 Nov 2022, held at Everly Hotel Putrajaya.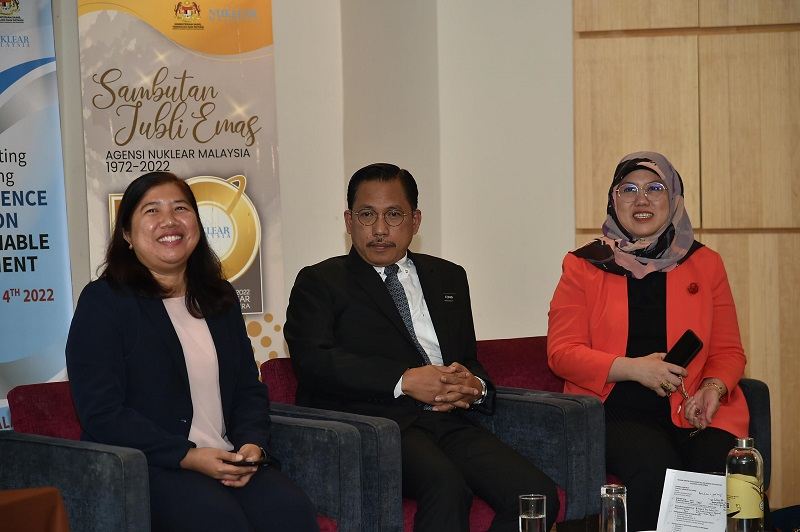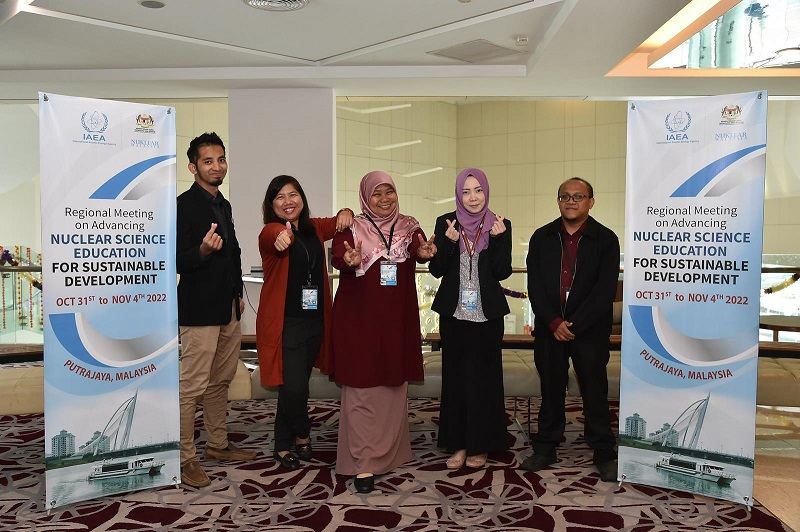 The meeting was attended by almost 50 miscellaneous officers from tertiary education as well as ministry of education from their respective countries. Malaysia was represented by Nuklear Malaysia as well as officers from the Ministry of Education (MoE). Among the topic discussed was improvement and best practice sharing on propagating nuclear science and education to tertiary education.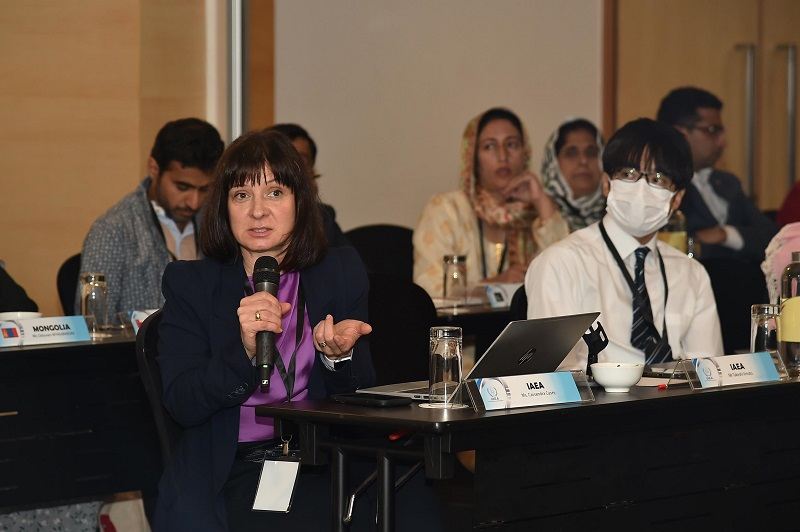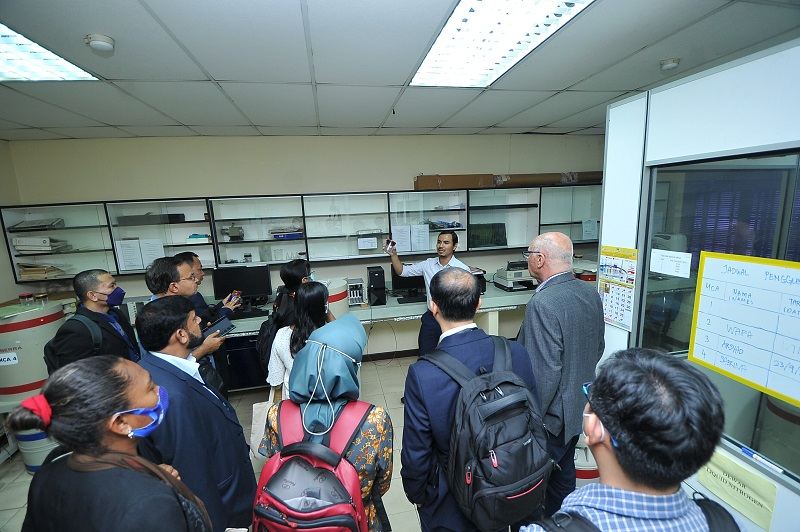 Hj Azman Hj Adnan, Director of Curriculum Development Division of MoE was also attending in the opening ceremony for his remark. For the record, MoE was conclusively designated as the main strategic partner in this program which otherwise known as RAS 0091.
Meeting participants were engaged in multiple discussions focusing on improving nuclear science and technology education for tertiary level. Other than that, they were also brought to visit higher learning institute in Malaysia which offering nuclear science courses for discussion and networking session. Finally, a visit to the National Science Center and facilities in Nuklear Malaysia were also arranged for the participants.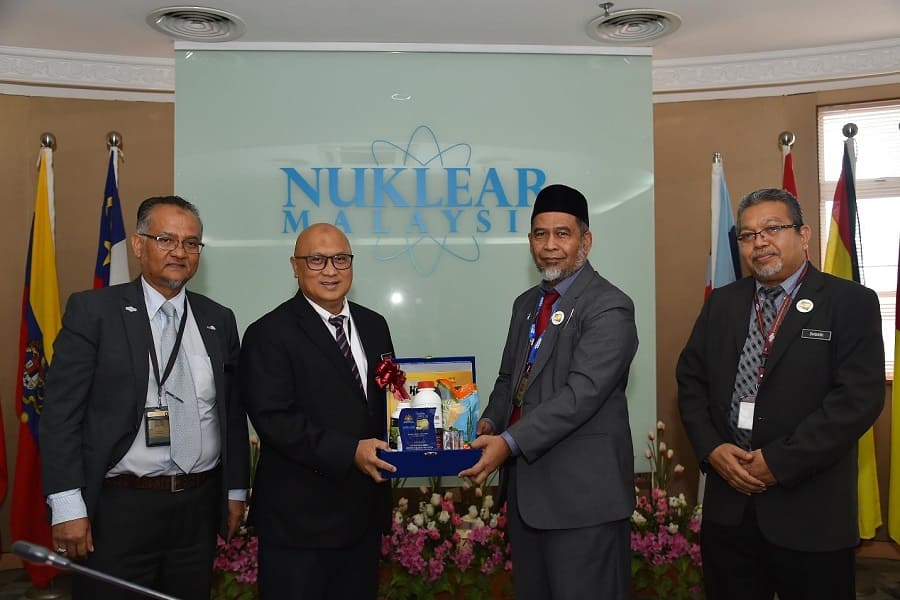 BANGI, OCT, 5TH 2022 -The Secretary General of the Ministry of Science, Technology, and Innovation (MOSTI), Datuk Ts. Dr. Haji Aminuddin bin Hassim, paid visit to Malaysian Nuclear Agency this afternoon, along with senior MOSTI management, Mr. Olli Gunalan A/L Manickam, Senior Division Secretary (Management), Dr. Arwan bin Sabri, Deputy Secretary of Division 1 (Strategic Technology and Application Division), and Mr. Isa bin Nikmat, Head of Corporate Communications Unit.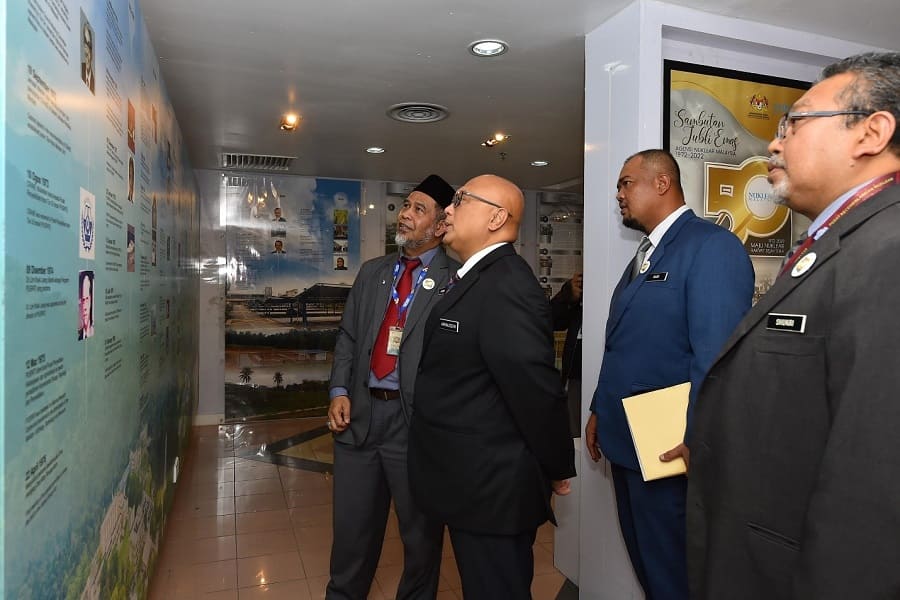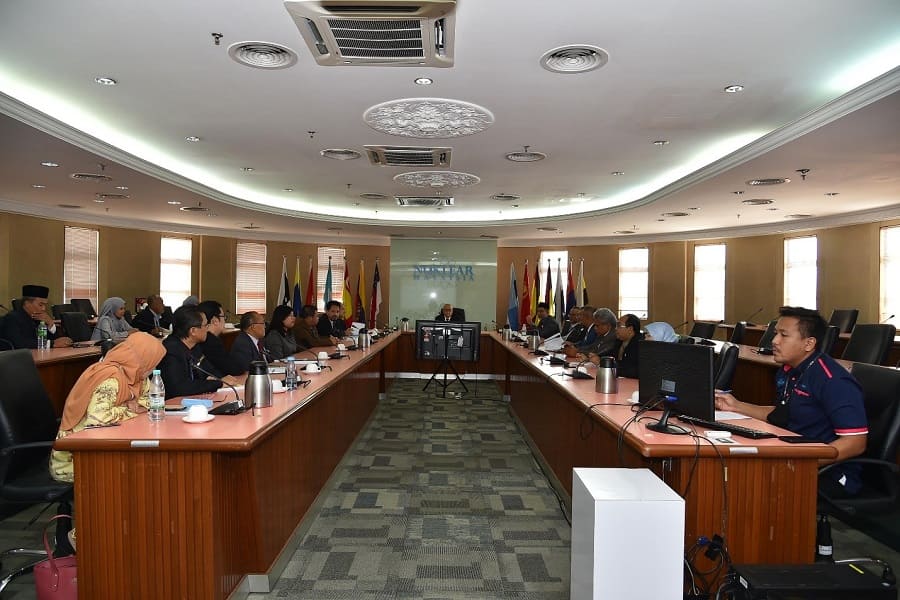 This visit was part of a series of visits to MOSTI agencies after he was appointed as the new Secretary General, familiarizing himself and seeing the latest developments, with closer attention to the Nuklear Malaysia.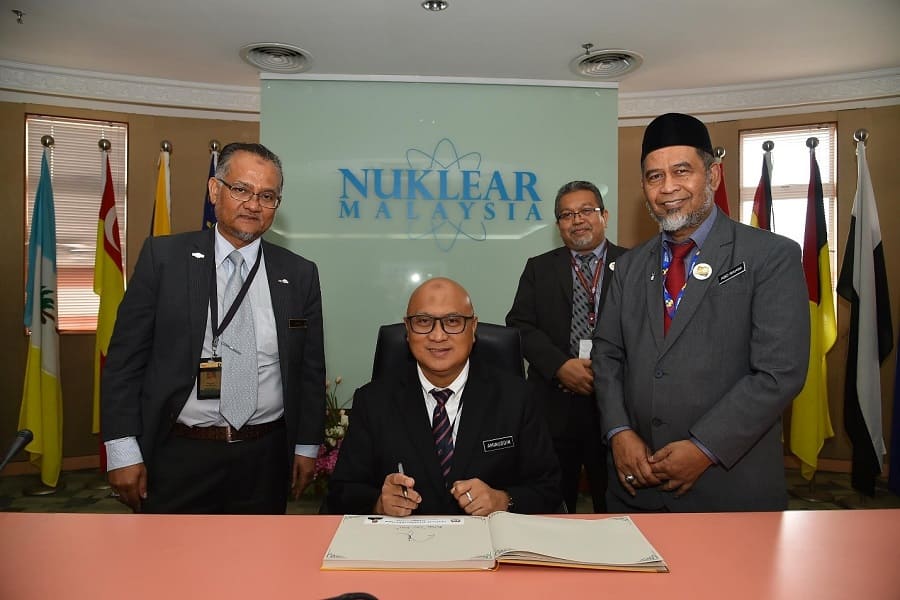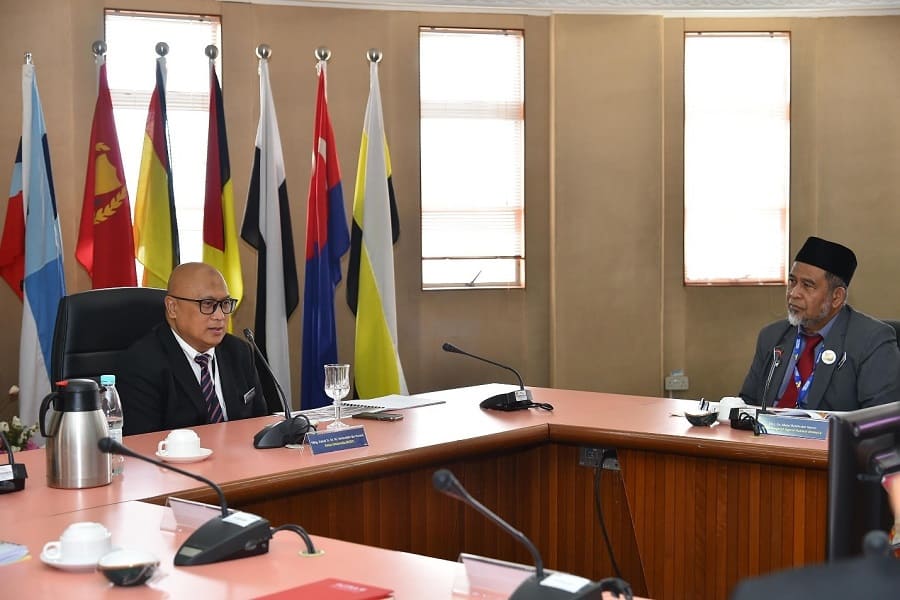 His arrival was welcomed by Dr. Abdul Rahim bin Harun, Director General of Nuklear Malaysia. He was later taken to the Gallery of Excellence for a brief review of the chronology, history, and latest products of Nuklear Malaysia. Following that, he was briefed on Nuklear Malaysia by the Director General, followed by an interactive session with the agency's top management.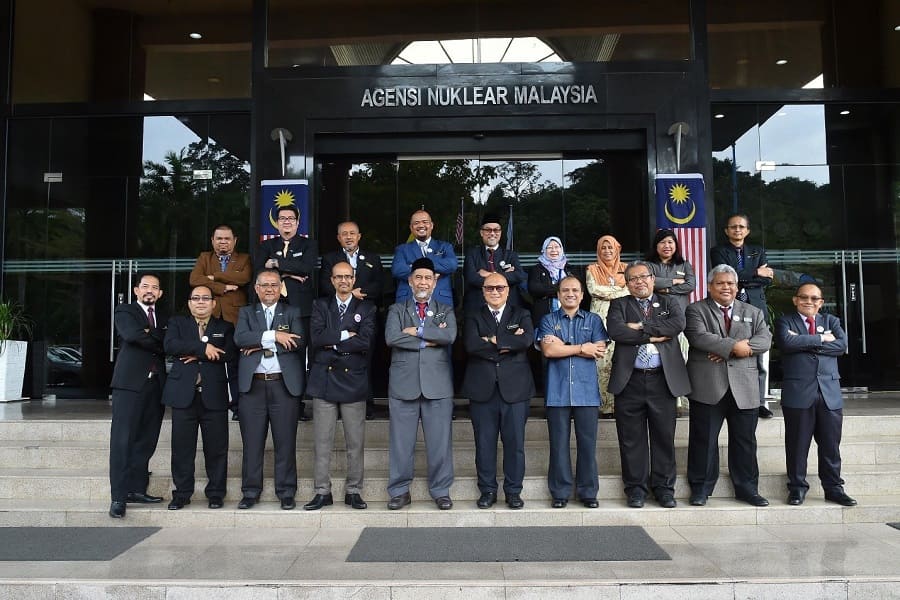 During the session, he expressed hope for Nuklear Malaysia to continue its excellent services and enhancing the capabilities of research in the field of nuclear technology which may benefited the country.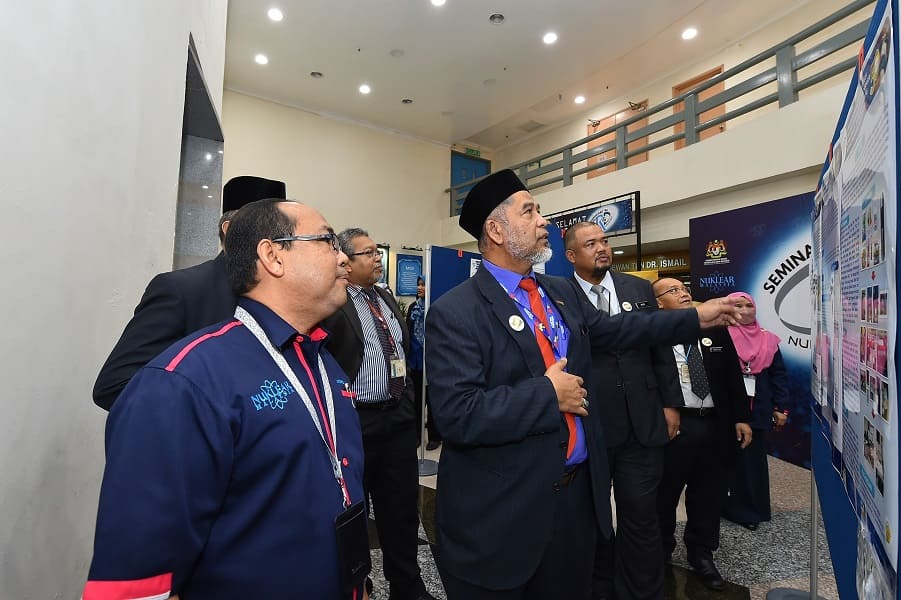 BANGI, OCT 4TH 2022 - "50 Years and Beyond: Paving the Future With Nuclear Technology" was chosen as a theme for this year's R&D Nuclear Malaysia Seminar 2022, in which Dr. Abdul Rahim bin Harun, Director General of the Malaysian Nuclear Agency was present for opening remarks. This seminar is a biennial event organized by the Research Management Centre (RMC) in collaboration with the Medical Technology Division (BTP), Malaysian Nuclear Agency.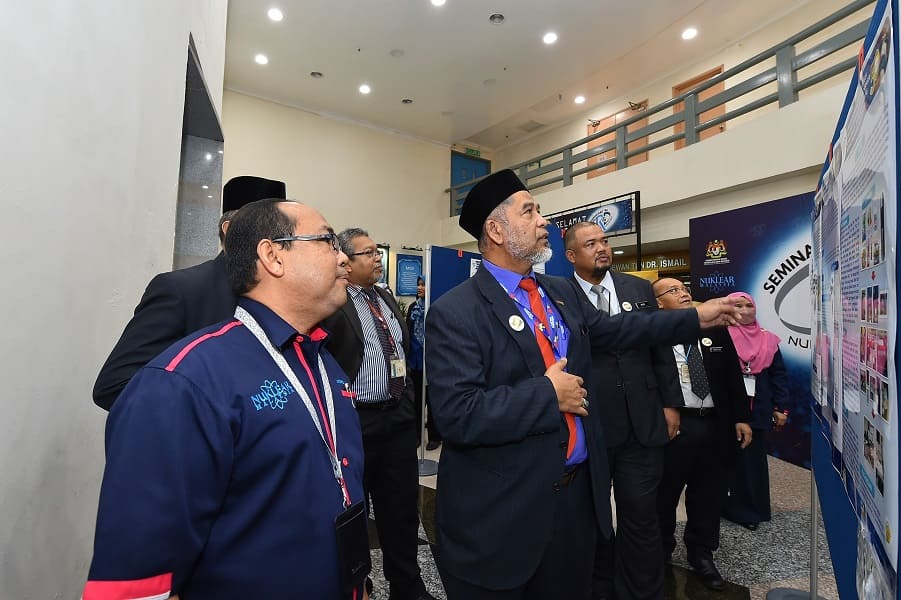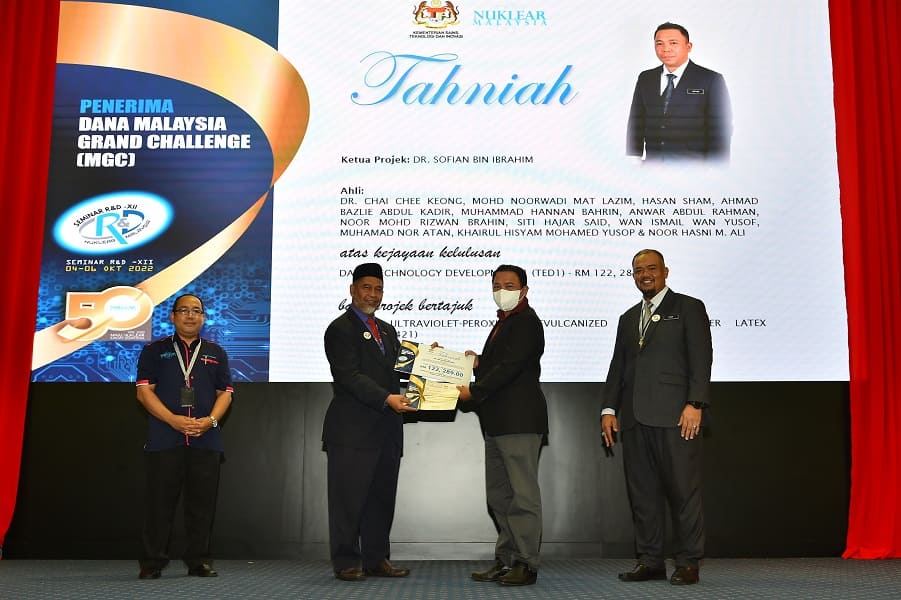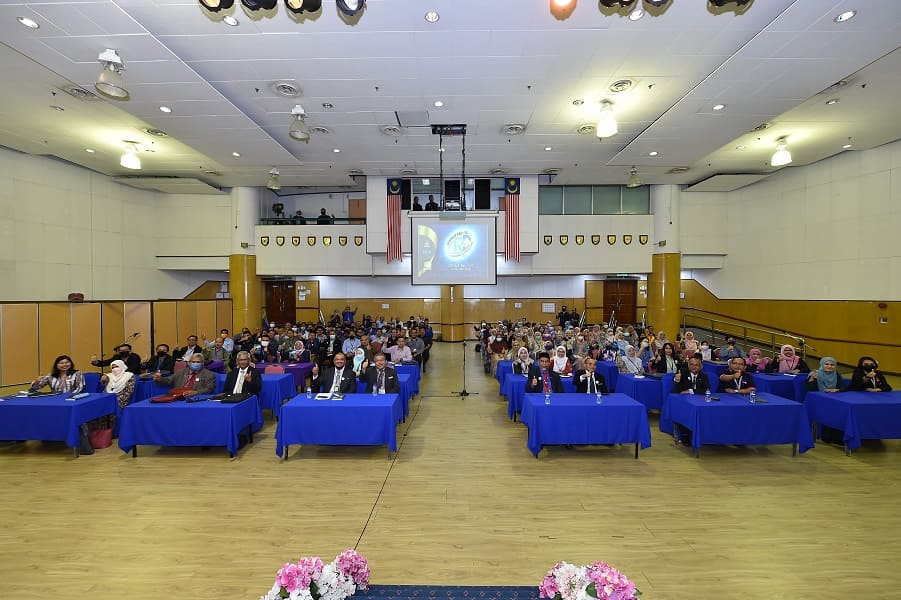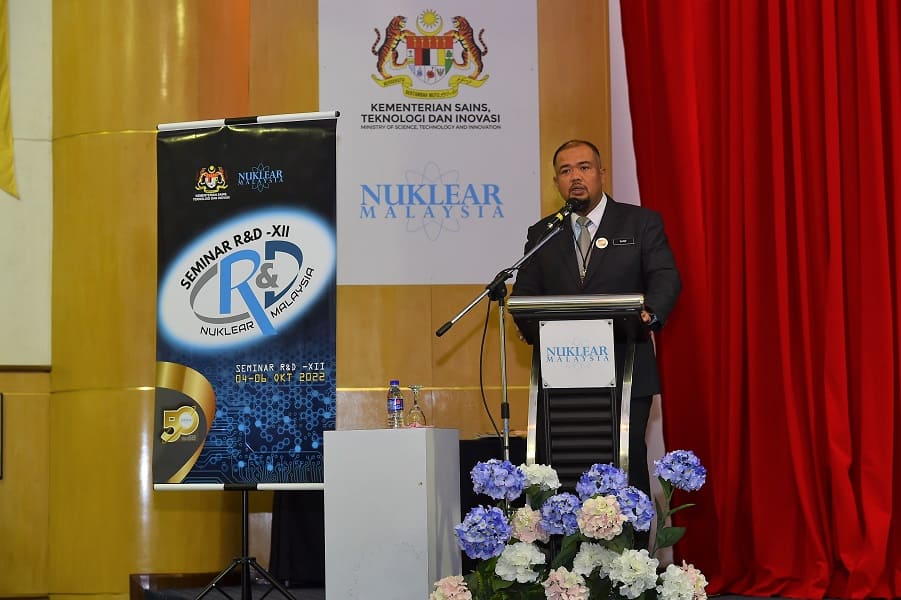 The three-day seminar, which took place from October 4 to 6, 2022, involved the presentation of 122 research papers, 67 oral presentations, and 55 poster presentations. This seminar serves as a platform for Nuclear Malaysia researchers to highlight research findings as well as providing a channel for sharing ideas and skills related to the goals of the National Science, Technology, and Innovation Policy.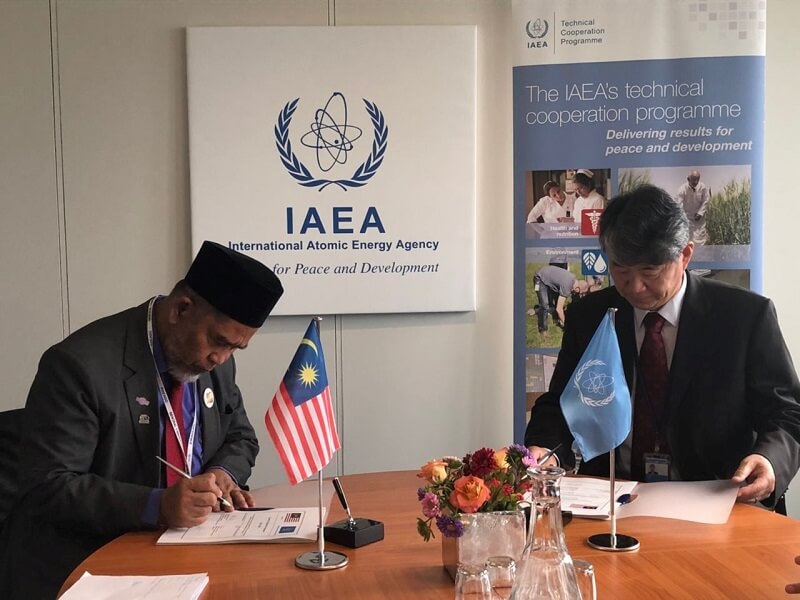 VIENNA, SEPT 29TH, 2022 - Dr. Abdul Rahim Harun, Director General of the Malaysian Nuclear Agency, Mr. Hua Liu, Deputy Chairman of the IAEA and Head of the Technical Cooperation, signed the Malaysian Country Programme Framework (CPF) for the period 2022-2027 during the 66th IAEA General Conference.

The CPF is used as a reference frame for Member States and the IAEA to identify priority areas for nuclear technology transfer and technical cooperation resources to meet the country's development goals. For the record, Malaysia has been a member state of the IAEA since 1969.
Nuclear Safety and Security, Radiation Technology and Industrial Applications, Human Health and Nutrition, Food and Agriculture, Water, Natural Resources, and Environment are the five priority areas identified in the CPF for the period 2022-2027.

These priority areas will be implemented and addressed through national technical cooperation programs, to be complemented by projects under regional and inter-regional cooperation programs, including regional agreement programs with the RCA, Asia, and Pacific Cooperation Agreement for Nuclear Science, Development, and Training Related to Nuclear Science and Technology.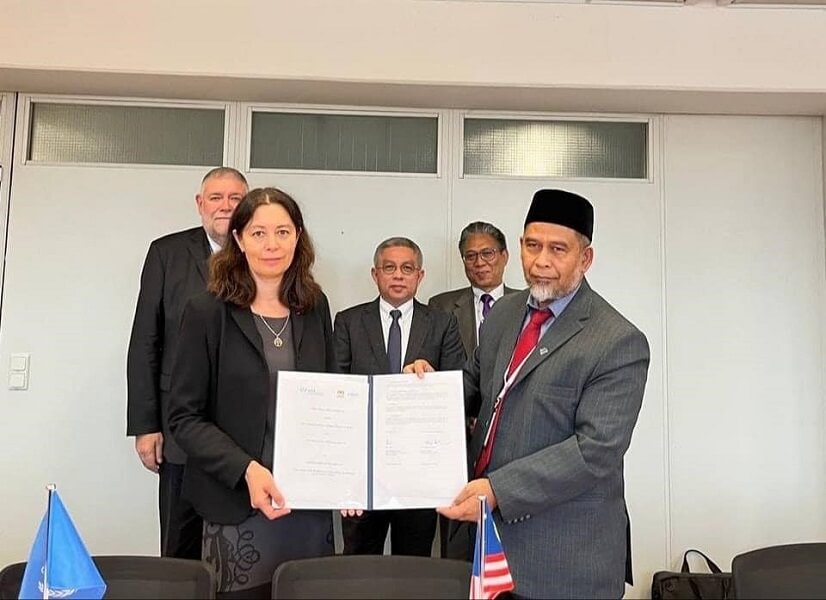 VIENNA, SEPT 28TH 2022- Malaysian Nuclear Agency, and the International Atomic Energy Agency (IAEA), based in Vienna, Austria, signed a Practical Arrangement (PA) today to establish cooperation between the two organisations in the fields of radiation education and training, transport, and radioactive waste.
The ratification was signed by Dr. Abdul Rahim Harun, Director General of the Malaysian Nuclear Agency, and Mrs. Lydie Evrard, Deputy Director General of the Department of Nuclear Security and Security. The signing ceremony was witnessed by Dato' Sri Dr. Adham bin Baba, Minister of Science, Technology, and Innovation.
The agreement outlines areas of cooperation between the two parties in the Asian and Pacific regions, including education and exercises in radiation safety, transportation, and residuals. The PA also emphasised the importance of cooperation and collaboration in promoting a unified approach to the development of education and training, supporting more effective technical elements in the process, and ensuring alignment and complementary activities.
Malaysia and the IAEA will continue to collaborate to assist other IAEA member nations with exercise and capacity building, investigation activities, and the exchange and dissemination of valuable information.At the 66th IAEA Supreme Court held in Vienna, Austria on September 27 to 30, 2022, Dr. Adham also delivered a State Statement emphasising Malaysia's commitment to fostering closer cooperation with the IAEA towards achieving common goals and interests.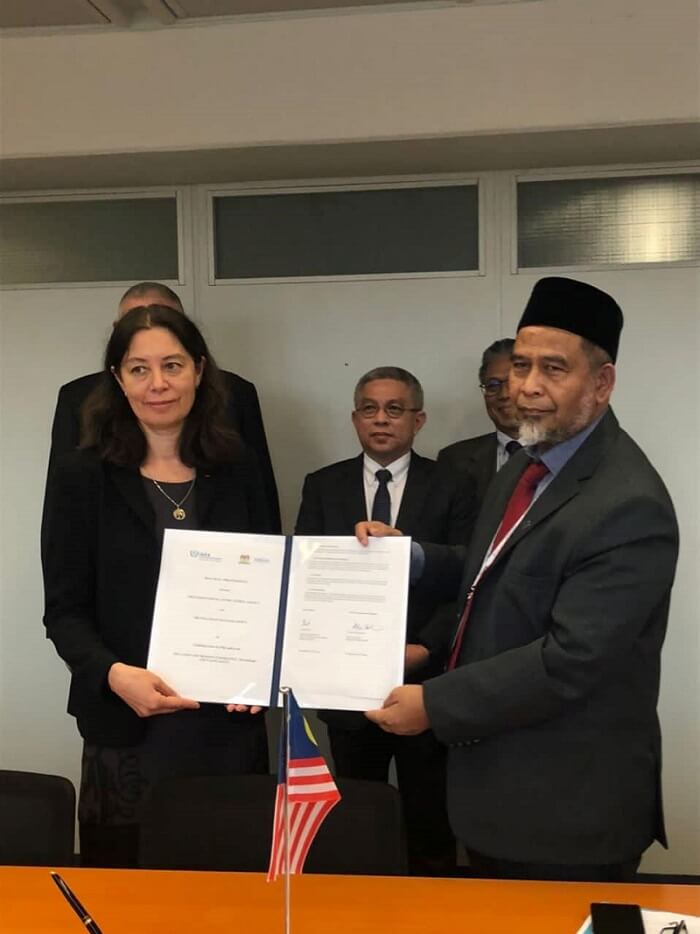 "Malaysia appreciates the IAEA's support in coordinating scientific programmes that promote the exchange of scientific and technical information. Malaysia is also thrilled to have been designated as an IAEA Cooperation Centre in the disciplines of radiation processing, advanced non-destructive testing, and inbreeding of plants inducing mutations. "In this context, Malaysia wishes to renew its status as an IAEA Cooperation Centre so that Malaysia's experience and expertise can continue to be shared with other member countries," he said.
Malaysia has engaged with the IAEA in medical and health, food and agriculture, industry and manufacturing, the environment, radiation safety, education and training, regulation, and other areas of interest for over 50 years.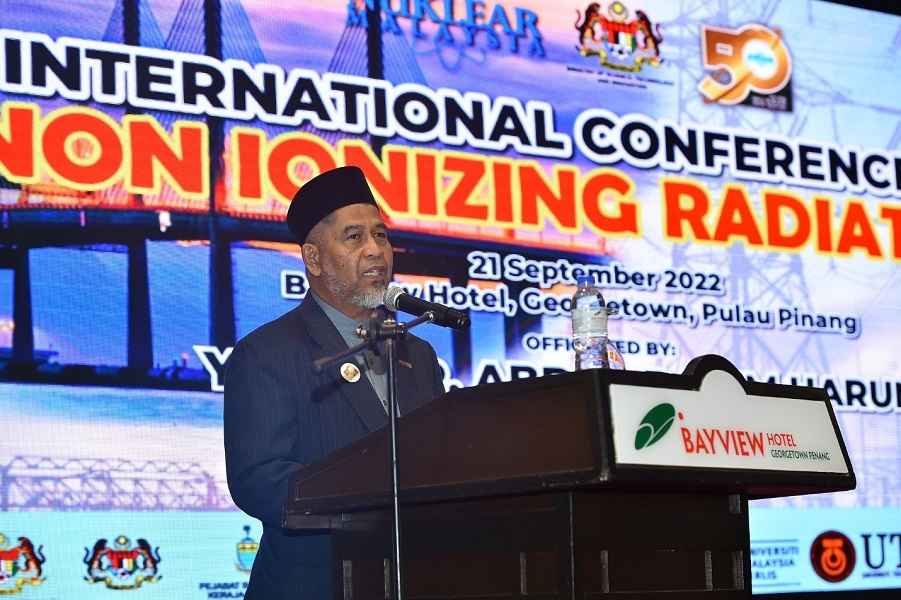 GEORGETOWN, Sept 21 st 2022 - Dr. Abdul Rahim bin Harun, Director General of the Malaysian Nuclear Agency, attended the 𝗜𝗻𝘁𝗲𝗿𝗻𝗮𝘁𝗶𝗼𝗻𝗮𝗹 𝗖𝗼𝗻𝗳𝗲𝗿𝗲𝗻𝗰𝗲 𝗼𝗻 𝗡𝗼𝗻𝗜𝗼𝗻𝗶𝘀𝗶𝗻𝗴 𝗥𝗮𝗱𝗶𝗮𝘁𝗶𝗼𝗻 (𝗜𝗖𝗡𝗜𝗥𝟮𝟬𝟮𝟮) as the guest of honor, held at the Sri Mas Ballroom of the Bayview Hotel in Penang. Malaysian Nuclear Agency, in partnership with the Malaysian Communications and Multimedia Commission (MCMC), organised the two-day conference, which took place on September 21 and 22, 2022.
This conference exposes participants to non-ionizing radiation safety practises, thereby offering a true picture of the health impacts and benefits derived from the use of non-ionizing radiation in daily life and other businesses. It is envisaged that this conference will serve as a platform for experts to form bilateral engagements on the most recent breakthroughs in this field, in keeping with the worldwide development of 5G communication technology.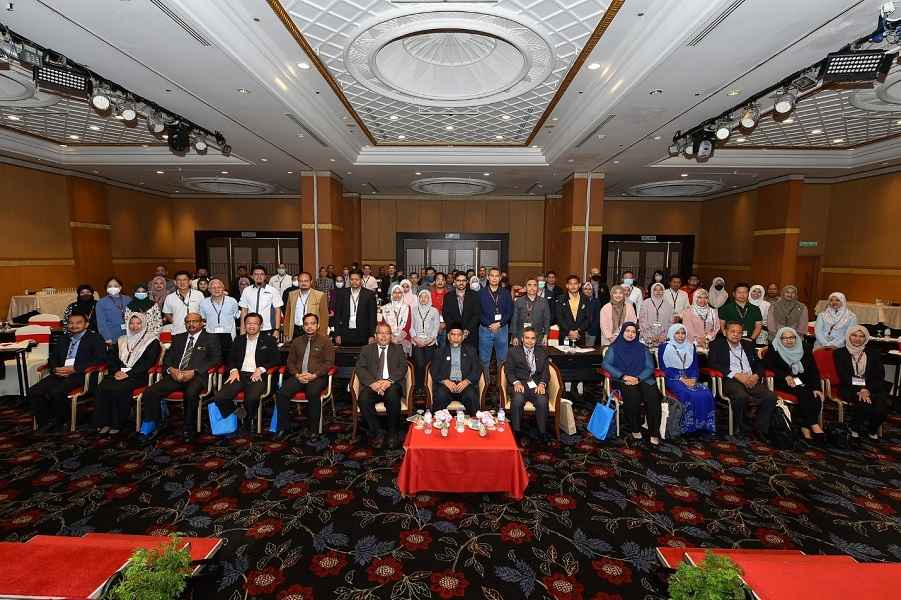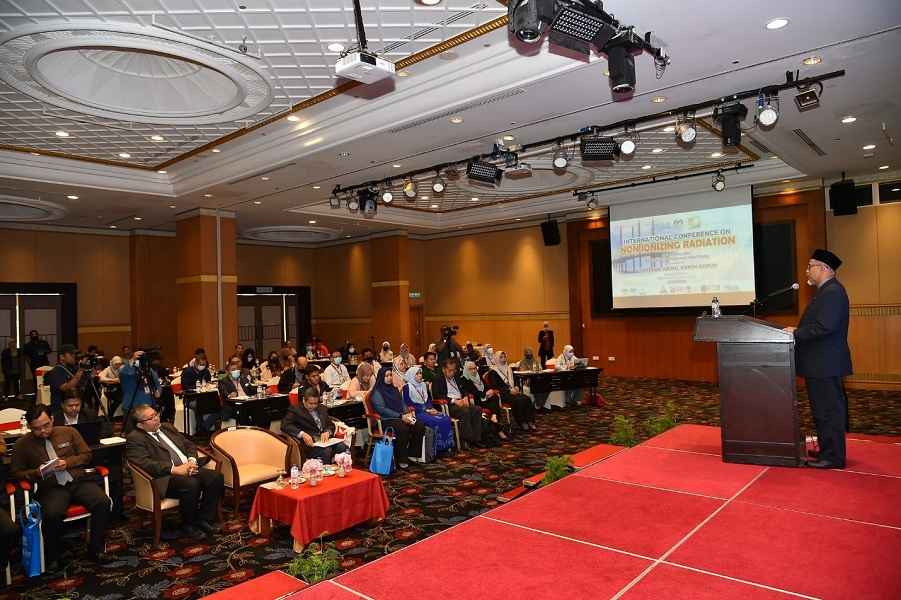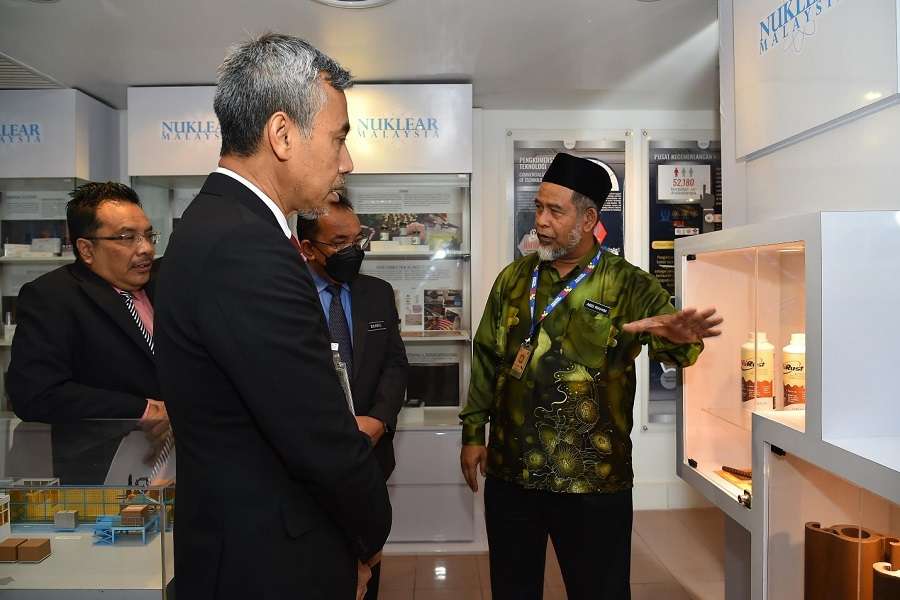 BANGI, SEPT 8th 2022 - A delegation from MADA paid a visit to Dr. Abdul Rahim bin Harun, Director General of the Malaysian Nuclear Agency, in an effort to strengthen ties and bilateral collaboration between Nuklear Malaysia and MADA. The delegation was led by Haji Kamarudin Bin Dahuli, General Manager of MADA.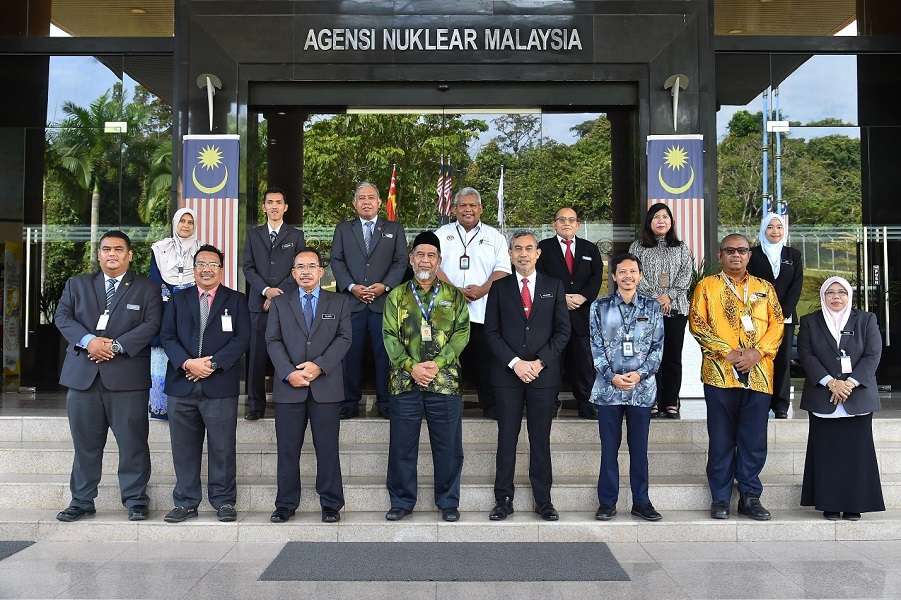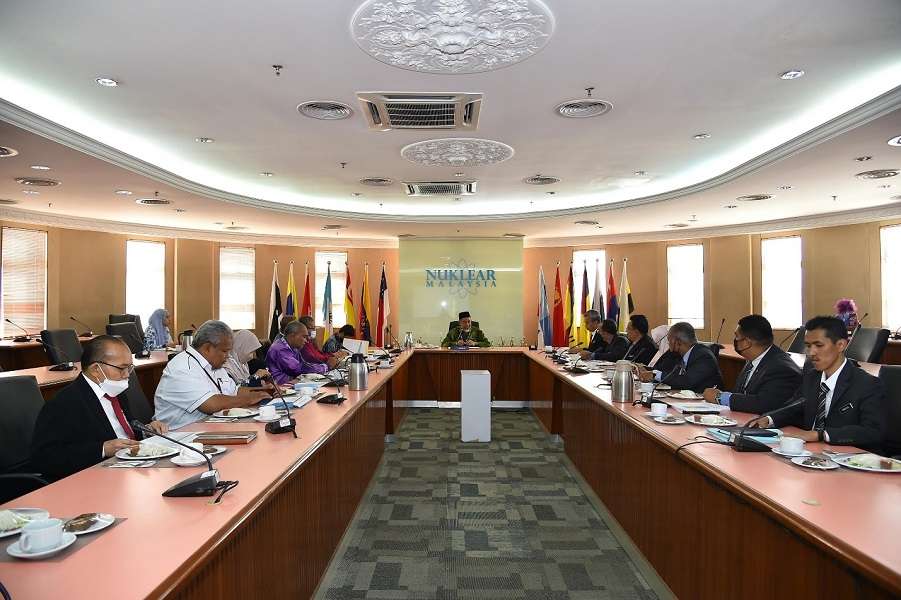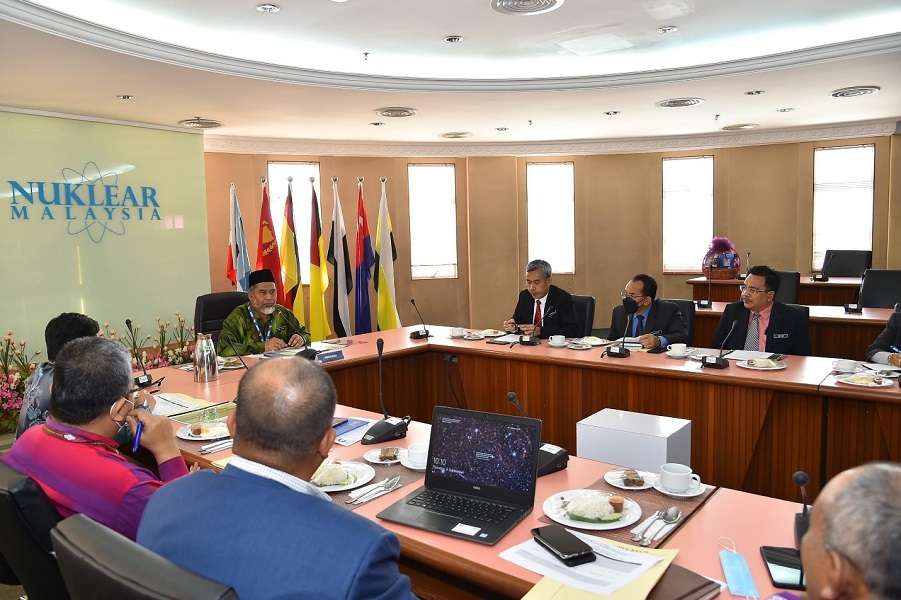 One of the main topics covered during this visit was the development of a sustainable rice industry sector, in line with the national goal of improving food security. Another important topic was obtaining the necessary guidance and experience from Nuclear Malaysia in order to apply nuclear research and technology elements to all economic sectors in the MADA region.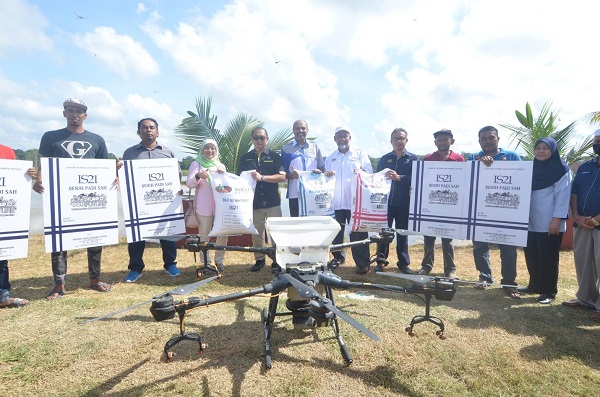 MACHANG, JULY 24TH 2022:Dr. Nagulendaran A/L Kangayatkarusu, Deputy Secretary General (Planning & Science Culture), MOSTI, was attending for the handing over ceremony of the new Paddy Seed IS21 to the farmers of the Machang Area Farmers' Organisation on July 24th, 2022 at the Bukit Tiu Sawah Site, Machang, Kelantan.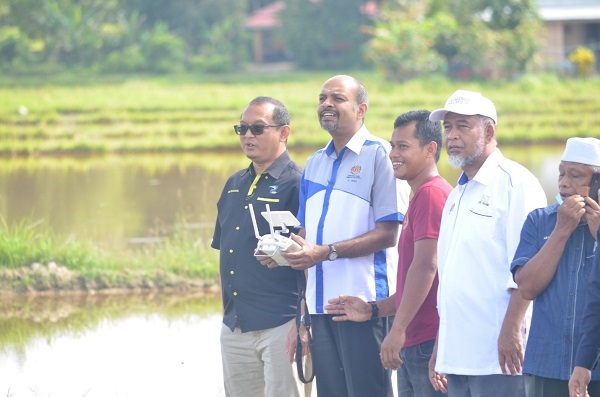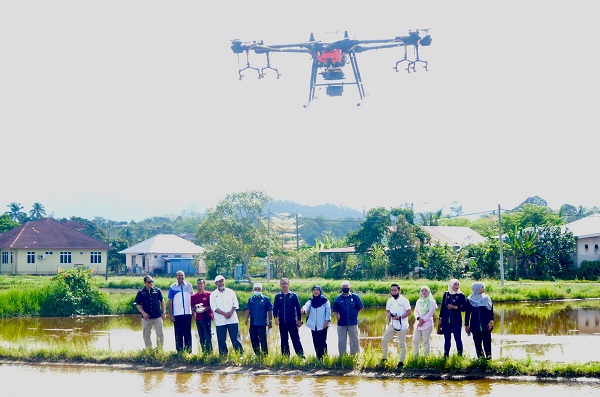 The MOSTI program was implemented in collaboration with the Lembaga Pertubuhan Peladang Kelantan in conjunction with the Jelajah Aspirasi Keluarga Malaysia (JAKM), held from 22 to 24 July 2022 at the Sultan Muhammad IV Stadium Compound in Kota Bharu.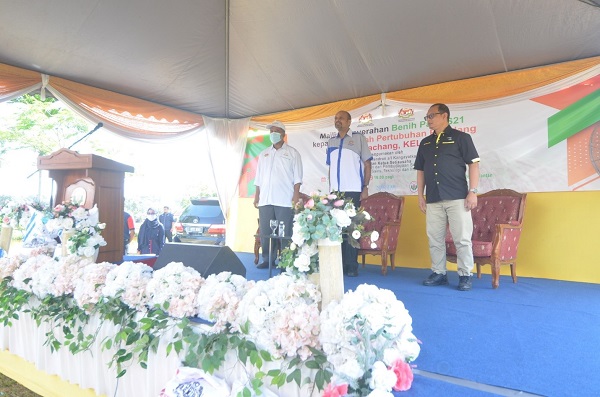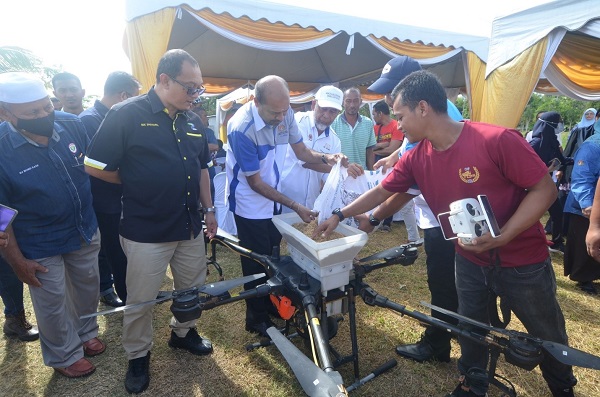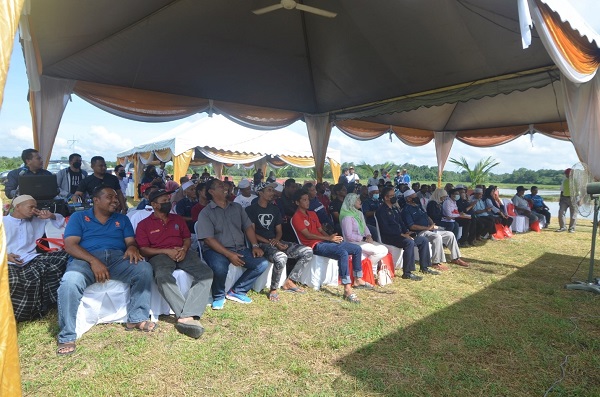 The distribution of IS21 rice seeds to the farmers is one of the corporate social responsibility efforts for the people of Kelantan, reflecting Nuclear Malaysia research for the people.
This impactful program is expected to improve strategic collaboration and rapport between Nuklear Malaysia and local communities.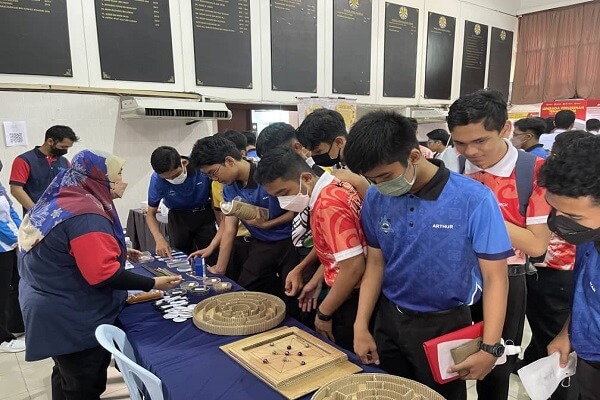 CHERAS, JULY 8th, 2022 – Nuklear Malaysia took its Nuclear Education Outreach (NEO) programme further with SM Sains Alam Shah yesterday. The programme was organised in conjunction with ASiS STREAM Carnival 2022 which focussed on attracting youth and students to choose Science, Technology, Engineering & Math (STEM) for their tertiary education. The programme was also attended by teachers and students from Sekolah Menengah Sains Seri Puteri and Sekolah Menengah Sains Selangor.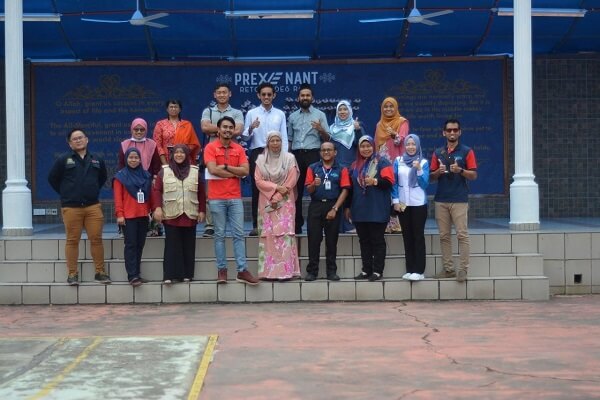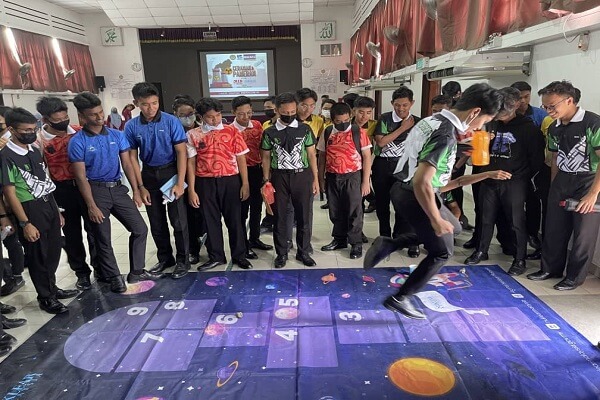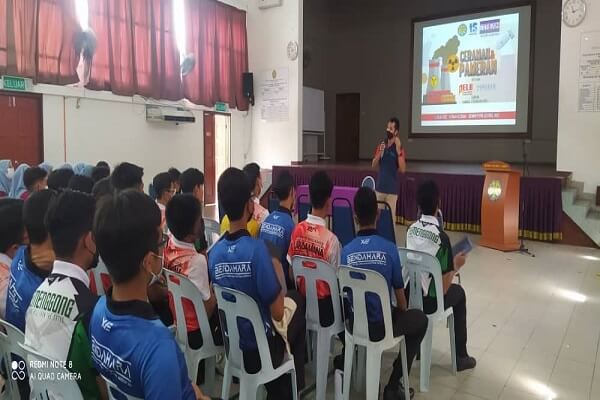 The carnival started with a radiation talk presented by Atomic Energy Licensing Board (AELB) officer, Abdul Shukor Abdul Aziz, followed by Nuklear Malaysia officer, Nasaai Masngut who shared an enormous benefit of being a nuclear scientist through career talk. With the recorded attendance of approximately 640 participants, students later took part in exhibition activities conducted by both agencies.
This programme is expected to boost students' interest in STEM fields for tertiary education while taking the opportunity to reset the community's stigma on nuclear.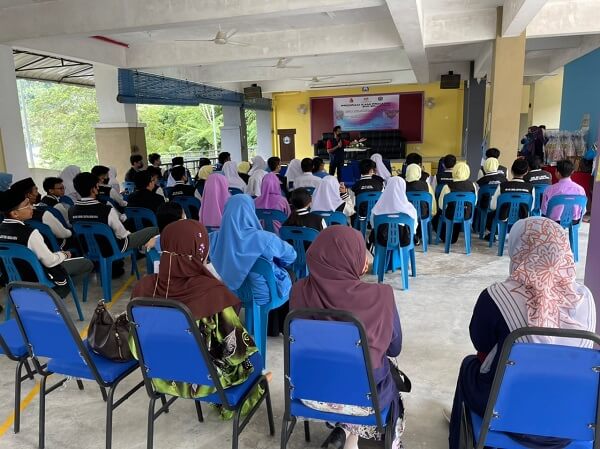 GENTING HIGHLANDS, 30th JUNE 2022 –Nuklear Malaysia actively promotes the Nuclear Education Outreach Program (NEO) in fostering interest and exposure to nuclear technology to school students. This time, Nuklear Malaysia collaborated in "Kami Prihatin Program" of SMK Sri Layang in conjunction with the corporate smart interweaving with the Aminuddin Baki Institute Genting Highlands Branch organized by SMGH Class 4 NPQEL participants (2022).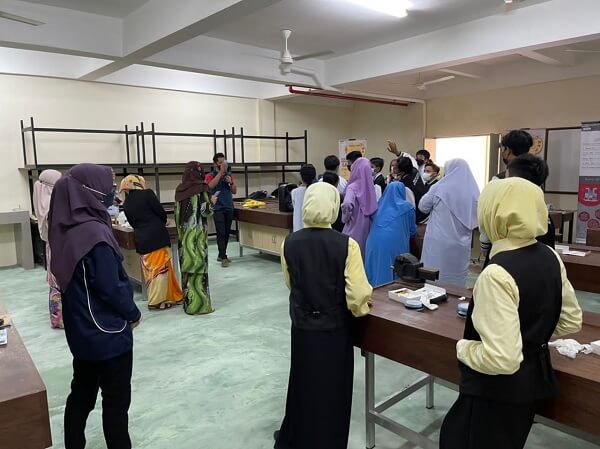 Nuklear Malaysia was invited to deliver a career talk and conduct hands-on activities for the students. The program started with the career talk delivered by Mr. Nasaai Masngut. Later, the program continued with hands-on activities involving two activities. Students were divided into two groups for background monitoring and cloud chamber activities. This activity was conducted by Mr. Nasaai Masngut, Mrs. Nor Azlina Nordin, Mr. Mohd Sha Affandi, Mrs. Siti Aishah Ahmad Fuzi and Mrs. Norhazirah Azhar.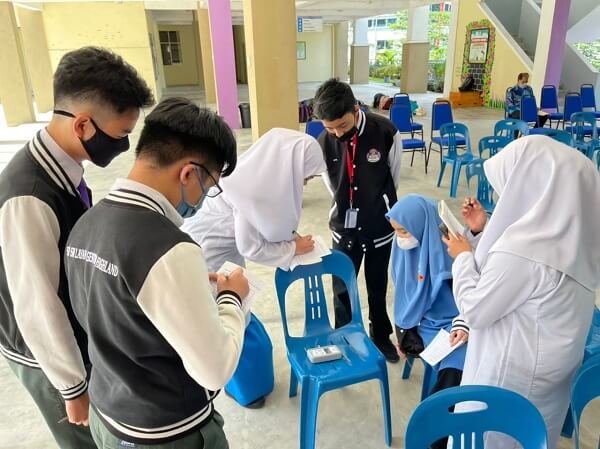 For the record, a total of 84 students participated, with program ended at 1.00 pm with the prize giving ceremony to all participants.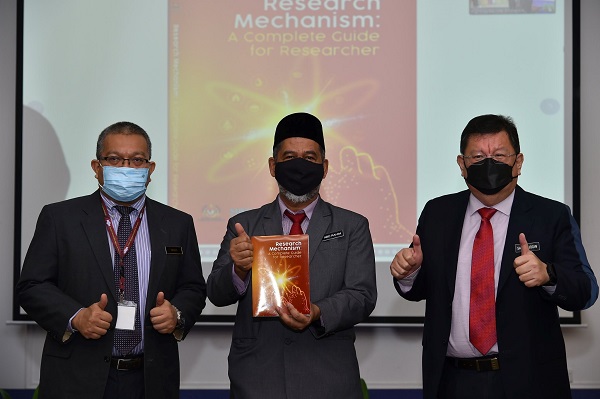 MELAKA, JUNE 28th, 2022: Dewan Bahasa & Pustaka (DBP),The Malacca State Development Corporation (PKNM), MARA University of Technology (UiTM), Technical University of Malaysia, Melaka (UTeM), Malaysian Book Publishers Association (MABOPA), and Majalahsains.com all have pledged their support for the Scientific Publication and Writing Forum 2022, hosted by Nuklear Malaysia. Dr Abdul Rahim bin Harun, Director General of the Malaysian Nuclear Agency, present for the opening ceremony.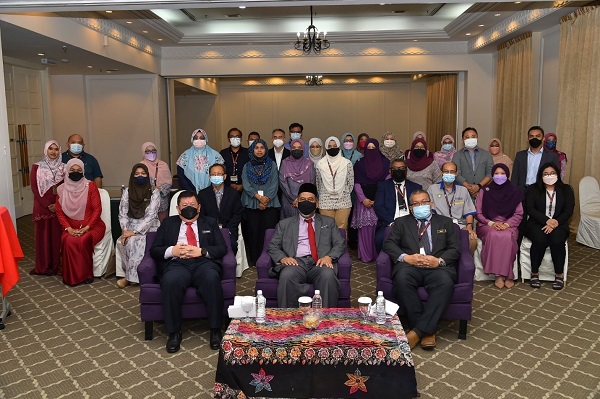 Augmenting Science and Technology Writing was the theme of the 13th seminar, which was also the first to be conducted in hybrid mode. This theme is pertinent to the idea that science and technology could not reach the audience without this form of written communication.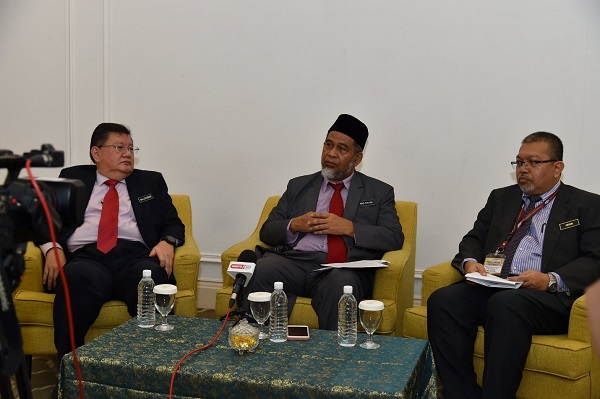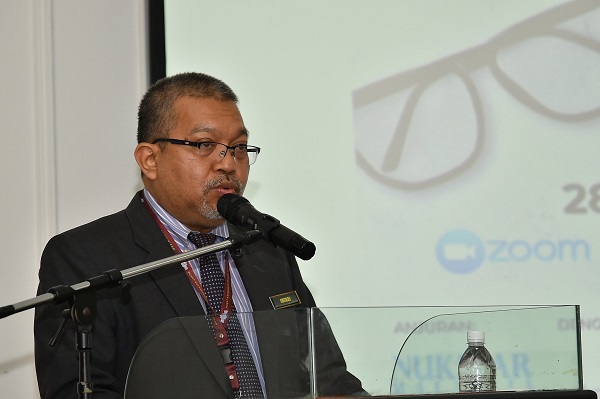 In the area of scientific publishing, Nuklear Malaysia and DBP have a long-standing partnership and mutual understanding. The resourceful DBP, collaborated with research institute such as Nuklear Malaysia has proven to be an outstanding combo.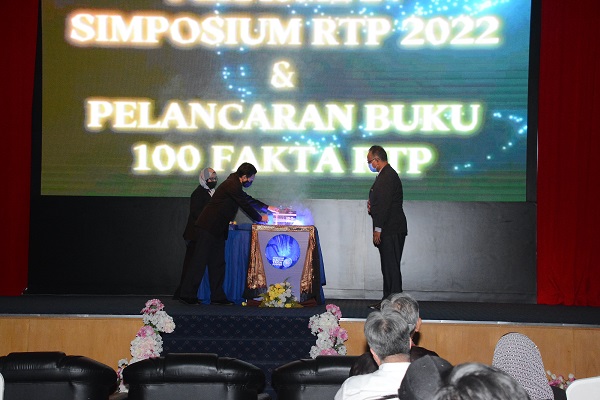 BANGI, JUNE 28th, 2022: The PUSPATI TRIGA Reactor Symposium was held in conjunction with the 40th anniversary of the PUSPATI TRIGA Reactor (RTP) from June 28 to June 29, 2022, at the Tun Dr. Ismail Hall, Malaysian Nuclear Agency. For the record, TRIGA stands for Training, Radioisotope production and General Atomic.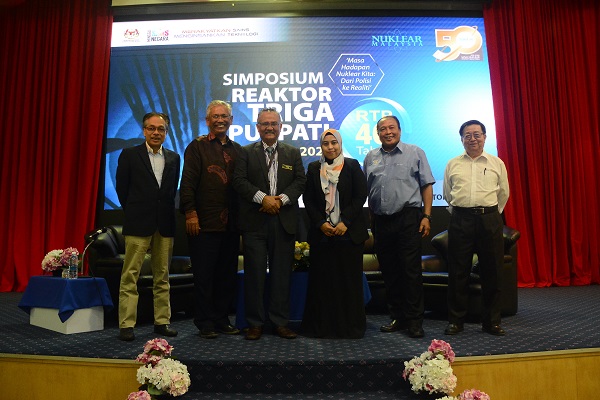 The RTP's strong commitment in assisting with the growth of the nation's STI is evident in the choice of the symposium theme, "Our Nuclear Future: From Policy to Reality". Dr. Rosli bin Darmawan, Deputy Director General (Research Programme And Technology Development), presided over the symposium's opening ceremony. Ts. Dr. Ishak bin Mansor, Director of Technical Support Division, and Dr. Julia binti Abdul Karim, Manager of PUSPATI Triga Reactor, also present.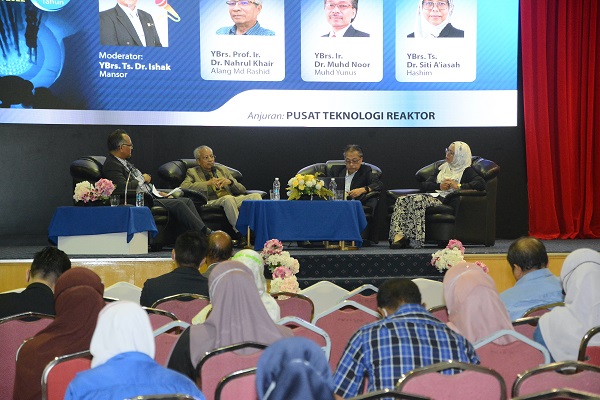 The RTP Symposium, which is held along with National Science Week, should be able to develop into a platform for dialogue and a network of research communities linked to events in RTP with the local community.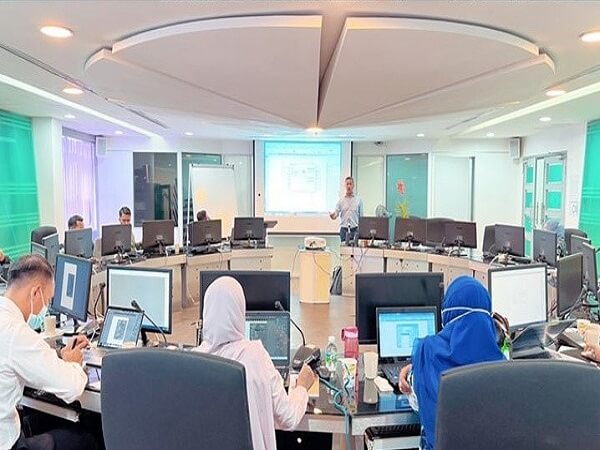 BANGI, JUNE 24th, 2022- Nuklear Malaysia has taken steps forward in creative industry by organizing the Indesign Graphic Workshop on 22nd and 23rd June. The workshop which was held in the computer room was officiated by the Director of the Information Management Division of Nuklear Malaysia, Ms. Habibah Adnan. For the record, a total of 20 participants participated and explored their creative ways in Indesign.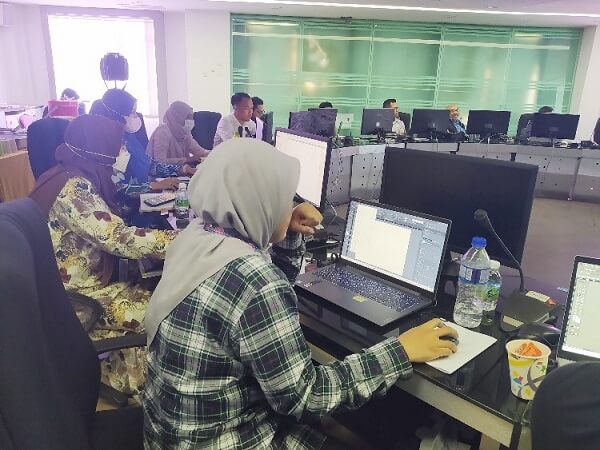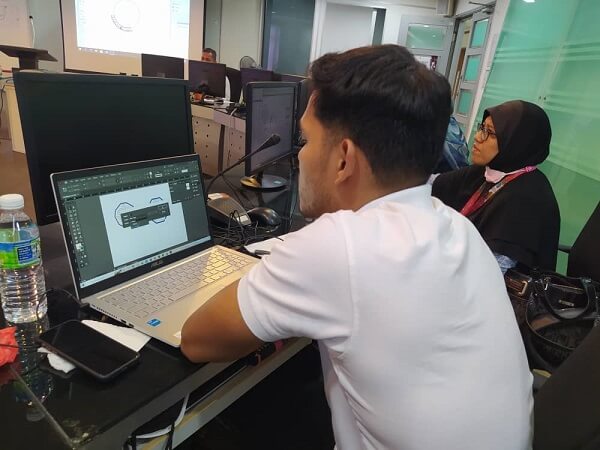 The workshop was aimed to provide space for creativity and exposure to staff at Nuklear Malaysia who are directly involved in the field of graphics. The need for knowledgeable and skilled staff in graphic design is ever growing, and with a lot of opportunities.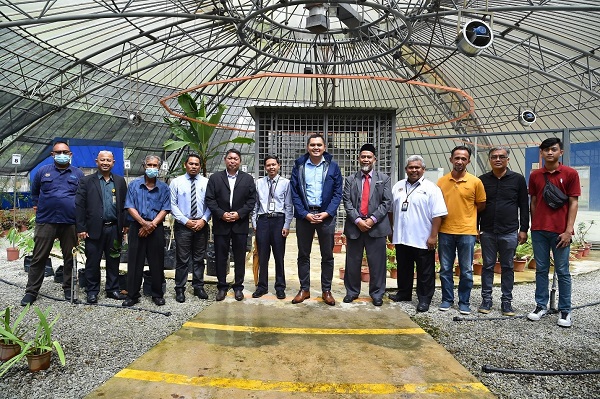 DENGKIL, JUNE 24th, 2022 - Dr. Muhamad Akmal bin Saleh, a state assemblyman from Merlimau, visited the Malaysian Nuclear Agency on June 24, 2022. The visit took place in Block 44 of Dengkil Complex.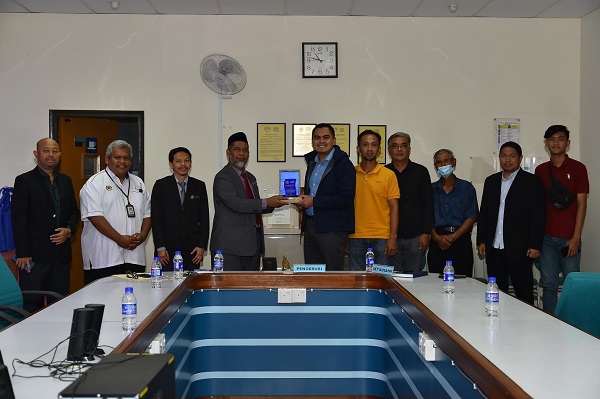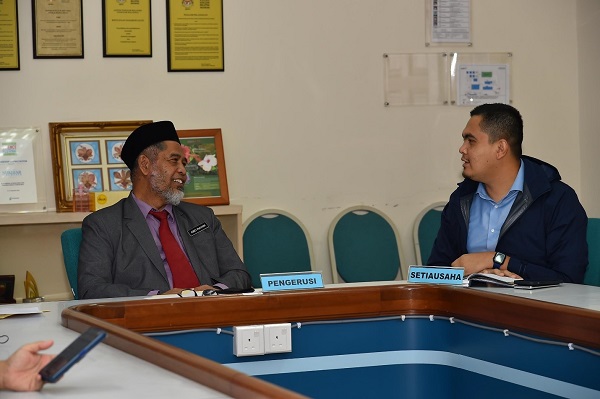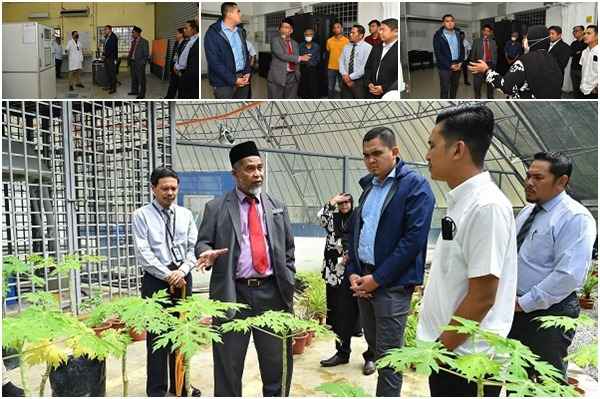 The assemblyman appearance was to forge a strategic collaboration between Nuklear Malaysia and the Merlimau State Assembly in Melaka, including reviewing and exchanging information on the usage of nuclear technology applications related to agriculture in general and the cultivation of IS21 rice in particular.
Also present were Dr. Rosli bin Darmawan, Deputy Director General of the Technology Research and Development Program, Ts. Dr. Azhar bin Mohamad, Director of the Agrotechnology and Bioscience Division.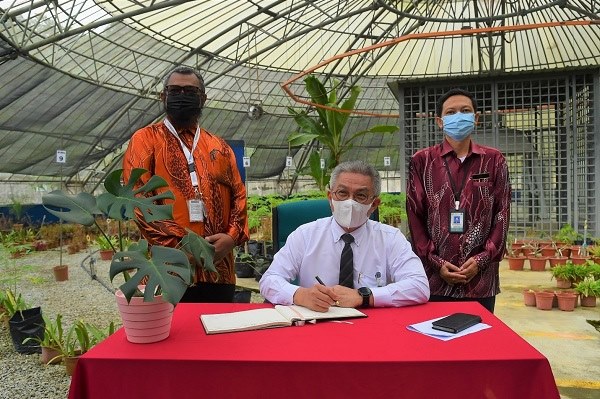 DENGKIL, JUNE 23rd, 2022 - The Minister of Science, Technology, and Innovation (MOSTI), YB Dato' Sri Dr. Adham Baba, visited the Gamma Green house (GGH) at the Dengkil Complex, Nuklear Malaysia, today for a working visit. The International Atomic Energy Agency (IAEA) has designated GGH as the IAEA Collaboration Center (ICC), making it the only greenhouse with chronic irradiation facilities in Malaysia.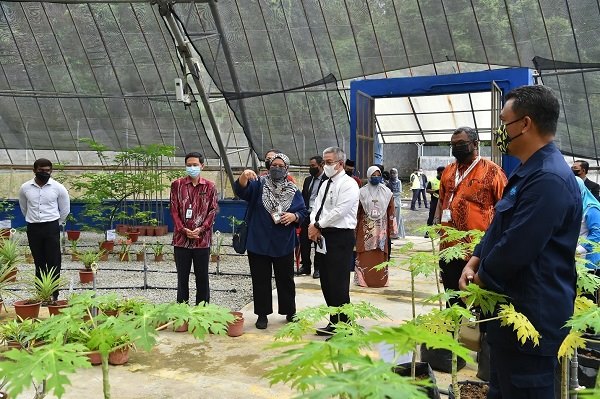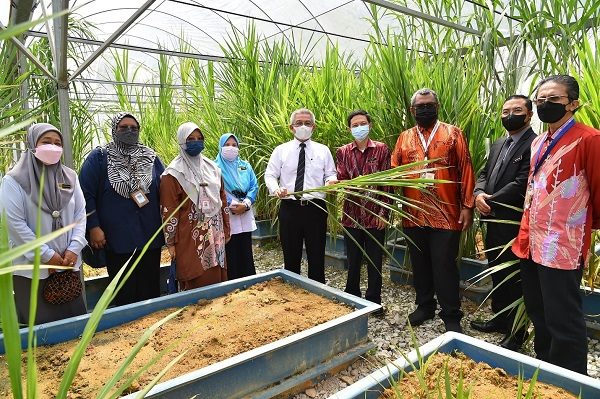 The caesium-137 radiation source used by this GGH, which has a radius of 15 metres, emits low-dose gamma radiation. In this GGH, plant samples were set up on isodose lines and exposed to light at low dose levels for a protracted length of time (chronic irradiation). There will be random genetic or mutagenic modifications. In order to find variations with the needed properties, these samples will be evaluated and screened.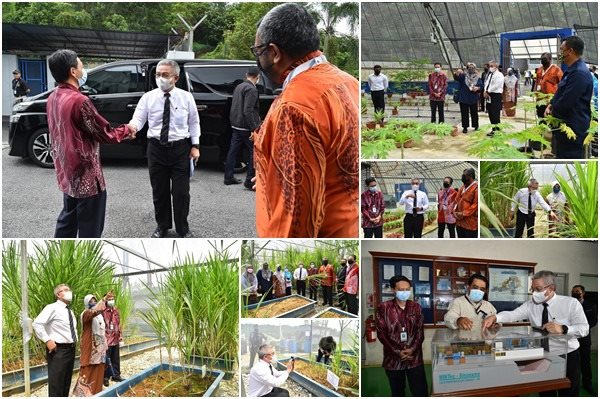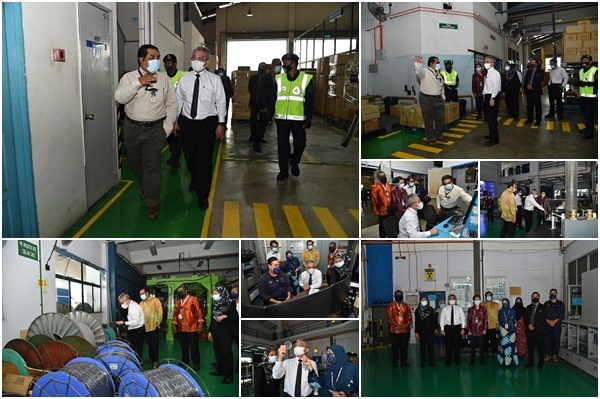 Researchers, university students, and instructors from local and abroad are concentrating on this GGH for their research-related work to advance their skills and understanding in the aberration of novel plant kinds employing mutagenesis methods.
The Minister was also taken to ;
Alurtron Irradiation Plant (ALURTRON), a facility for commercial and R&D electron groove irradiation services.
The MINTEc-Sinagamma Irradiation Plant, which employs gamma radiation, an ionising form of energy, from Cobalt-60. This radiation facility, known as the JS10000 (IR-219), is used in this irradiation plant and can be used to simultaneously expose variety of items requiring various dosages.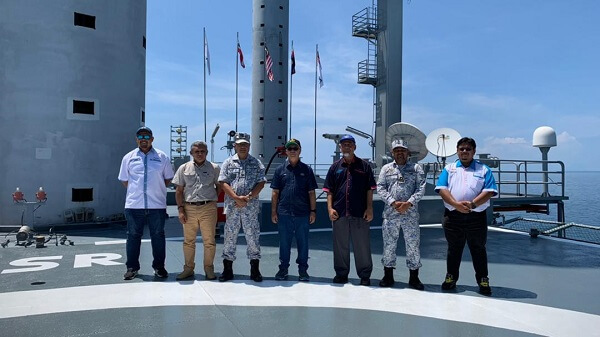 SEMPORNA, JUNE 11th, 2022- Datuk Zainal Abidin bin Abu Hassan, Secretary General of MOSTI, accompanied by Dr. Abdul Rahim bin Harun, Director General of Malaysian Nuclear Agency were seen attending for project monitoring to the Biocomposite Floating Project for the operational and logistical used of the Malaysian Armed Forces at Pengkalan Laut Tun Sharifah Rodziah. Semporna, Sabah. The delegation was welcomed by the Deputy Commander of Marine Region II, First Admiral Hj Jamaluddin bin Hj Sairi and Lieutenant Commander, Anis bin Abdul Khakim.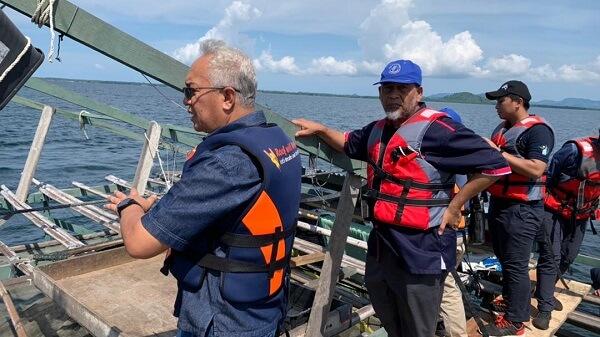 The delegations also visited:
SEAPLAST Project: Sustainable Eco-Remediation Via Aquatic Plastic Waste Recovery; one of the Aquatic Plastic Trap System Development Project and plastic recycling process to develop tiles and panel products. Local communities from Kampung Terusan Tanduk, Pulau Bum Bum, Semporna were closely involved.
Bagang Bilis Biocomposite Floating Jetty Project developed together with locals from Kampung Tanjung Kapor, Semporna employing biocomposite floating jetty components through the MOSTI's Social Innovation, a joint collaboration between Malaysian Nuclear Agency and Yayasan Inovasi Malaysia.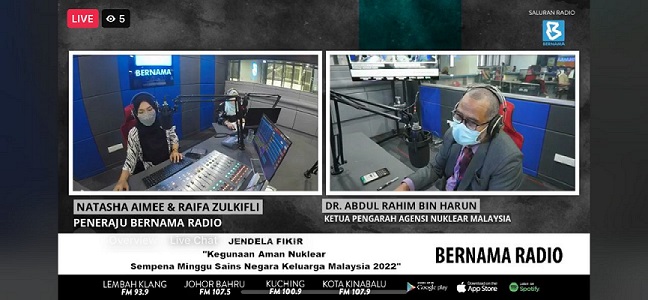 BANGI, JUNE 7th, 2022-Dr. Abdul Rahim bin Harun, Director General of the Malaysia Nuclear Agency was invited to Slot Jendela Fikir - Bernama Radio with a topic on the Peaceful Use of Nuclear Technology in conjunction with the Minggu Sains Negara Keluara Malaysia 2022 (MSNKM 2022).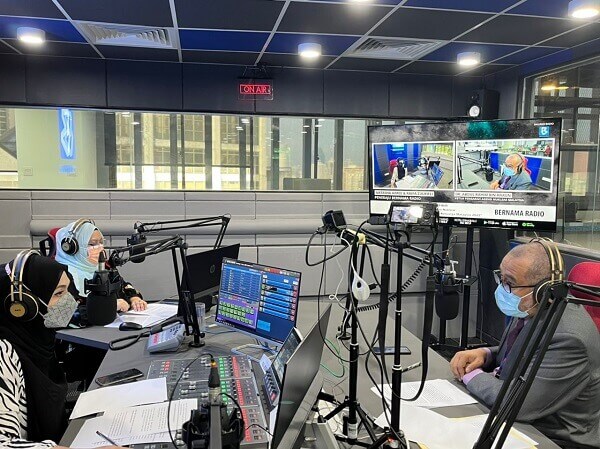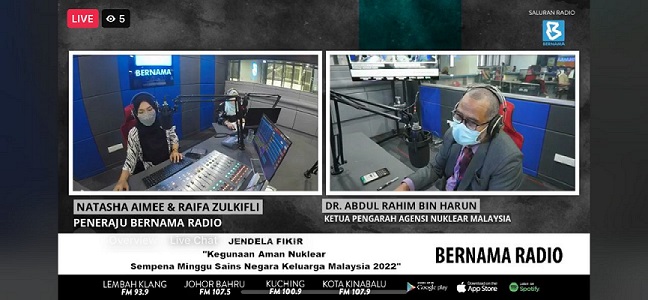 This slot is one of the promotional media for MSNKM 2022, an annual activity conducted jointly by Nuklear Malaysia and AELB as the organizer for June 2022. For the record, MSNKM 2022 is in its 5th year and expected to last until October 2022. Various spin-off programs as well as competition were held, all in accordance with science, technology and innovation themes.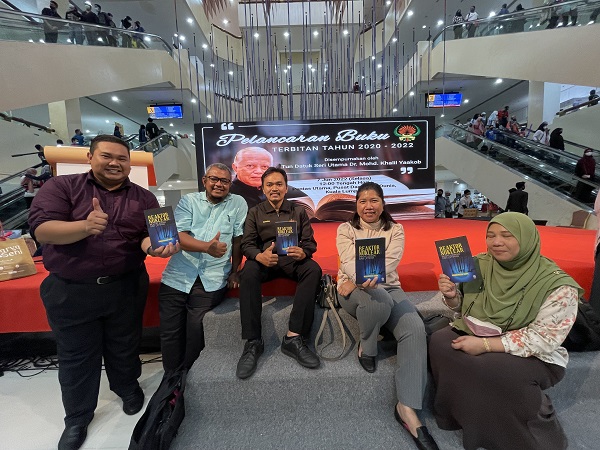 Kuala Lumpur, JUNE 7th, 2022- The Kuala Lumpur International Book Festival (PBAKL) 2022 witnessesa launching ceremony of published books organized by the Public Books Division, Dewan Bahasa dan Pustaka (DBP) at the grand stage here in WTC.
The launching was commemorated by Tun Datuk Seri Utama Dr. Mohd. Khalil Yaakob, Former Premier of Melaka, Prof. Datuk Seri Dr. Haji Awang Ariyan, Chairman of the Board of Board of DBP, Chief Executive of PWTC and book authors. Among the books launched were published for 2020-2022 from various fields such as human sciences, social sciences, religious book and science and technology. The ceremony aims to celebrate authors who have successfully published under DBP in malay.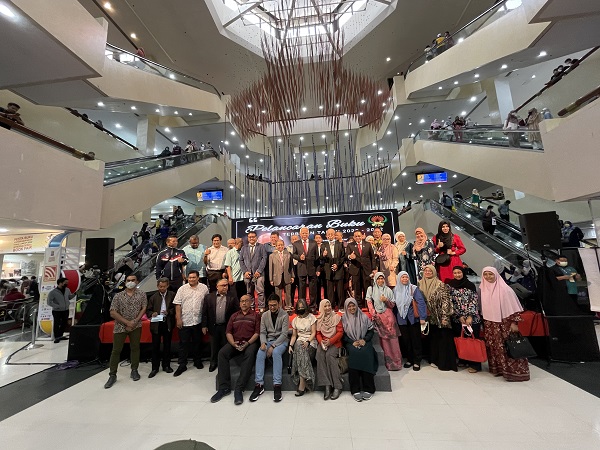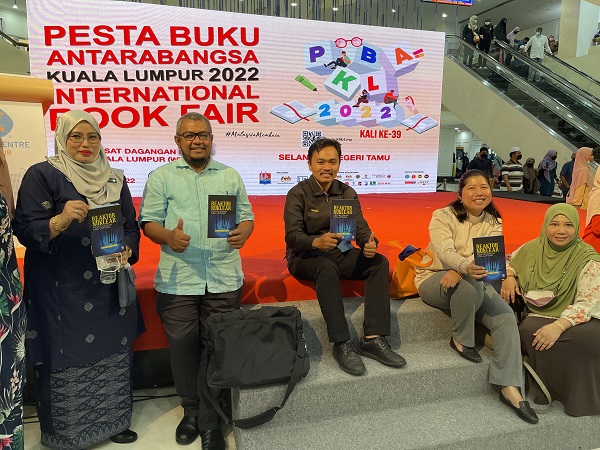 Published book have roles in building, enriching informative material for people. Moreover,quality books are made reference for science and technology as well as in social sciences and humanities.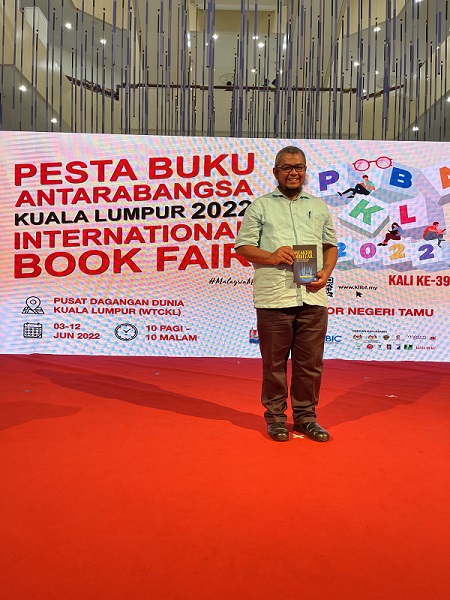 Congratulations to Dr. Muhammad Rawi bin Mohamed Zin, Senior Director of the Management Program of the Malaysian Nuclear Agency (Nuklear Malaysia), the author for "Nuclear Reactor Research and Training" who was also present at this ceremony. His book was ready since 2021 and may be obtained from DBP bookstore and selected bookstore.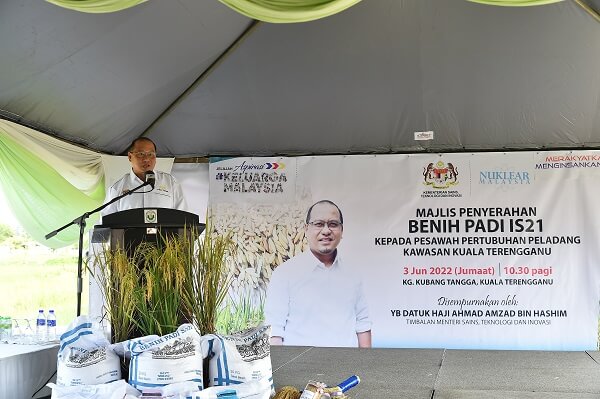 KUALA TERENGGANU, 3rd JUNE 2022– Datuk Haji Ahmad Amzad bin Hashim, Deputy Minister of Science, Technology and Innovations (MOSTI) has completed the handing over of IS21 rice seeds to the farmers of Lembaga Pertubuhan Peladang Kawasan Kuala Terengganu in Kampung Kubang Tangga. More than 200 bags of IS21 rice seeds Malaysia were distributed to 50 farmers which was a corporate social responsibility effort for the people in Kuala Terengganu.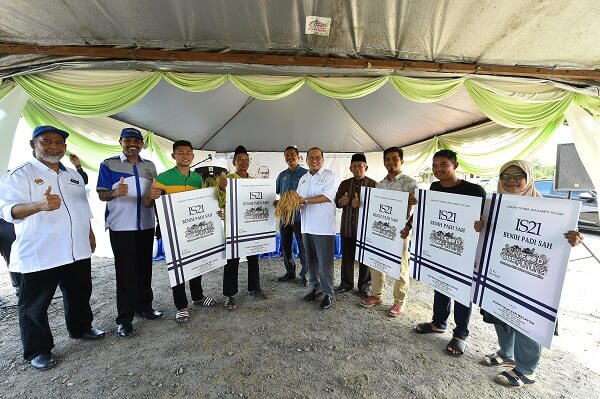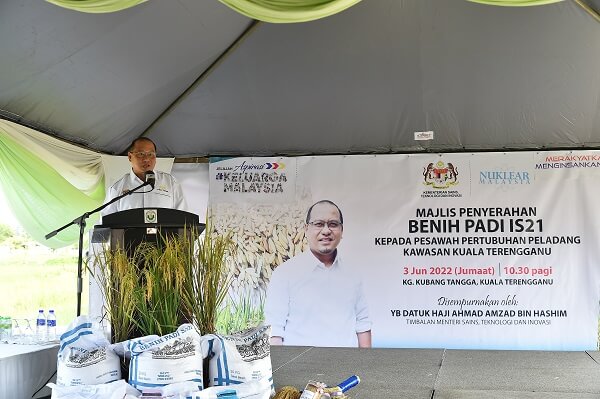 This contribution is expected to boost morale to the farmers, therefore establishing better rapport between Nuklear Malaysia and other collaborative partners. The event were also attended by several officers from MOSTI, Director General of Nuklear Malaysia and others.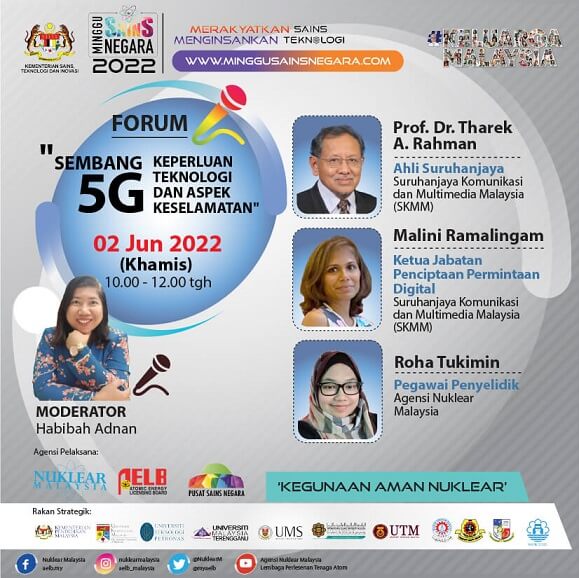 BANGI, JUNE 2nd,2022- In conjunction with Keluarga Malaysia National Science Week (MSNKM) 2022, one session Forum entitled Sembang 5G: Keperluan Teknologi dan Aspek Keselamatan Forum has been successfully conducted virtually today. Jointly organized by Nuklear Malaysia and AELB, the Forum featured distinguished panel members in the 5G Technology. Habibah Adnan (Director of Information Management Division, Nuklear Malaysia) as a Moderator, steer a discussion with three invited panelists Prof. Dr. Tharek Abd. Rahman (MCMC Commission Members), Malini Ramalingam (Head of Department Digital Demand Creation, MCMC) and Roha Tukimin (Research Officer, Nuklear Malaysia) on Malaysian 5G security, issues and challenges. One of the most important key points highlighted in this Forum was 5G technology was able to change the digital trajectory of the nation's economy as well as generating significant benefits by improving the communication quality, data transmission, research and even entertainment on a global scale for a modern lifestyle.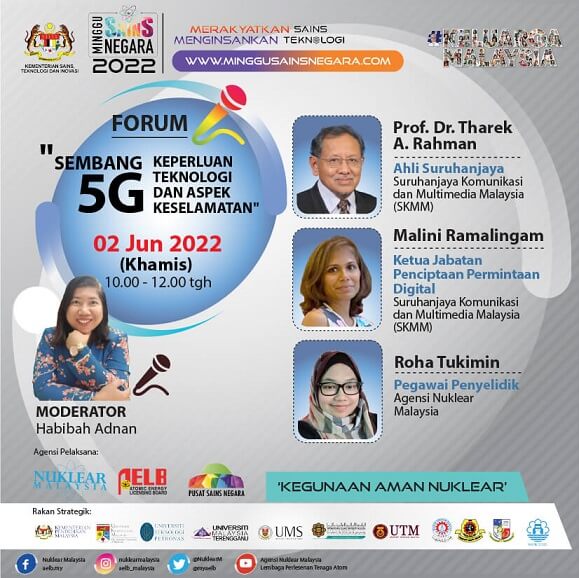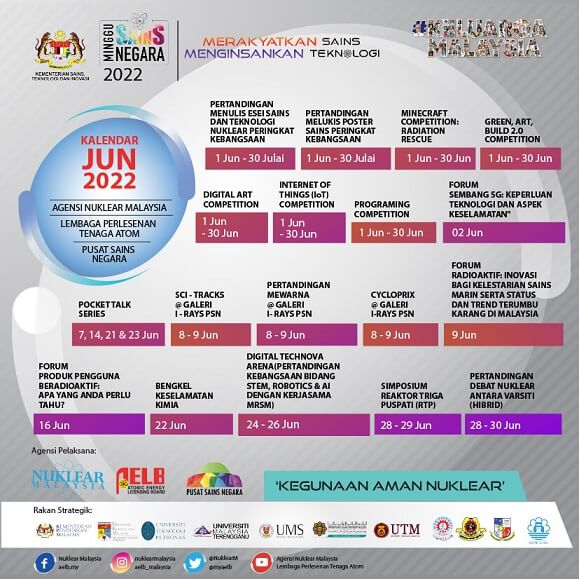 BANGI, JUNE 1st, 2022 - The National Science Week, commonly referred as MSN returned for 2022 aligned with "Keluarga Malaysia" branding, a concept introduced by the incumbent Prime Minister, Dato' Sri Ismail Sabri bin Yaakob. Themed "Merakyatkan Sains, Menginsankan Teknologi", the MSN focused on 7 cores element, with each element is allocated for the entire month. Among the chose cores are Planetary Health, Biotech and Chemistry, Peaceful Use of Nuclear Technology and Social Innovation. Other cores including Engineering, Space and Nanotech were also chosen, all in conjunction with prominent theme in science, technology and innovation (STI).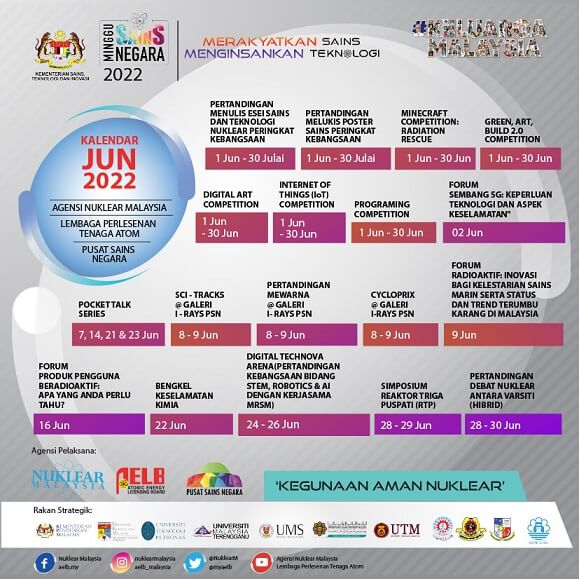 Malaysian Nuclear Agency (Nuklear Malaysia) along with AELB and National Science Center (PSN) was appointed to organize the MSN for June with Peaceful Use of Nuclear Technology. A variety of program were planned including Chemical Safety Workshop, Forums and Pocket Talk. A range of competition and exhibition were also held in several location. The MSN 2022 is expected to educate public on matters related to STI and the benefit of nuclear technology in general.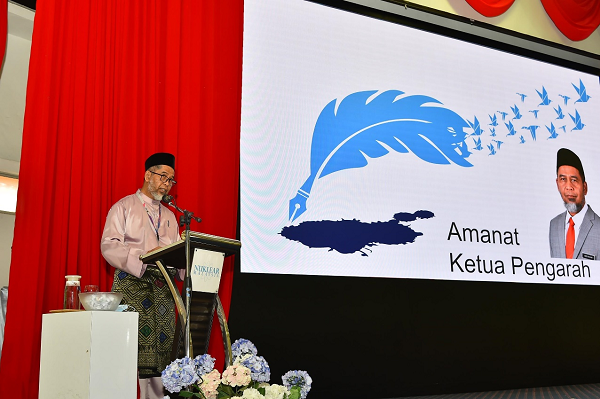 May 26, 2022 - Dr. Abdul Rahim bin Harun, Director General of Nuclear Malaysia, and the top management and Nuclear Malaysia staff gathered this morning at the Tun Ismail Hall, Block 11, Bangi Complex, for the Malaysian Nuclear Monthly Assembly for May 2022.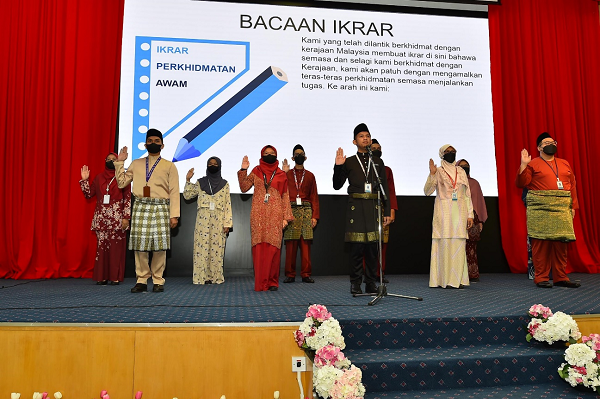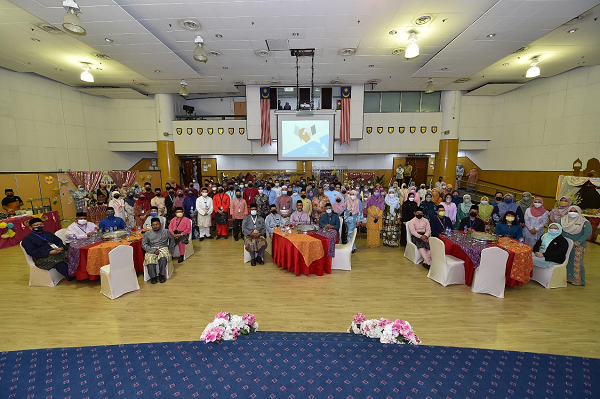 This is Dr. Abdul Rahim bin Harun's first Monthly Assembly since his appointment as Director General of Nuclear Malaysia on April 11, 2022. As a result, during his speech and mandate, he called on all Nuclear Malaysia staff to work as a team to ensure that what is planned is implemented well and that the goals set by the Ministry of Science, Technology, and Innovation (MOSTI) are met, and that the results of the research generated through the research carried out benefit the people and the country.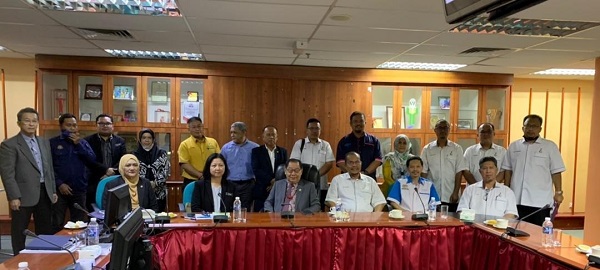 May 23, 2022 (KOTA KINABALU) - Dr. Rosli bin Darmawan, Deputy Director General (Research Programme Technology Development) of the Malaysian Nuclear Agency, led a courtesy visit to YB Datuk Seri Panglima Dr. Jeffrey Kitingan, Minister of Agriculture and Fisheries Sabah, at the Ministry of Agriculture and Food Industry Office, Wisma Pertanian, Kota Kinabalu, Sabah.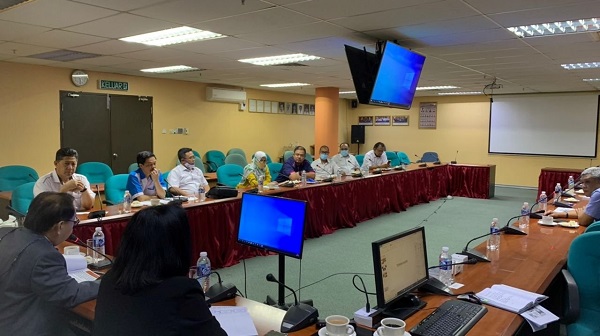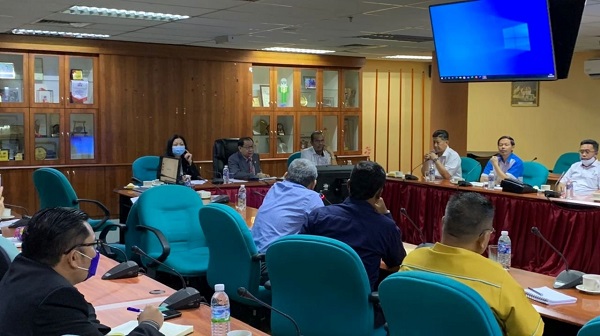 Participating in the courtesy visit were YBrs. Tuan Haji Ab Aziz Bin Ab Kadir, Chairman of the National Kenaf Tobacco Board (LKTN), as well as the top management of LKTN.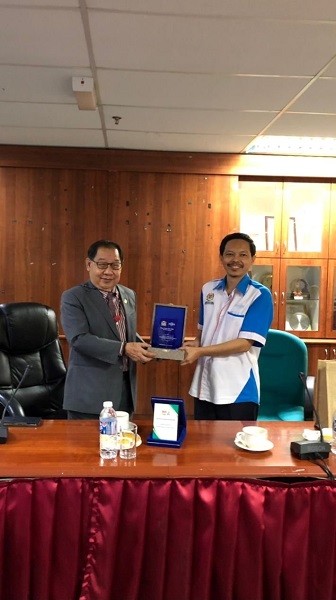 The goal of this joint meeting was to look at the joint venture projects between LKTN and the Malaysian Nuclear Agency, as well as to gain knowledge and share ideas for the planning of development projects that can be developed through joint ventures, as well as the sharing of expertise and technology between LKTN and Nuclear Malaysia for the benefit of the people of Sabah, particularly in the development of industries based on biocomposite materials.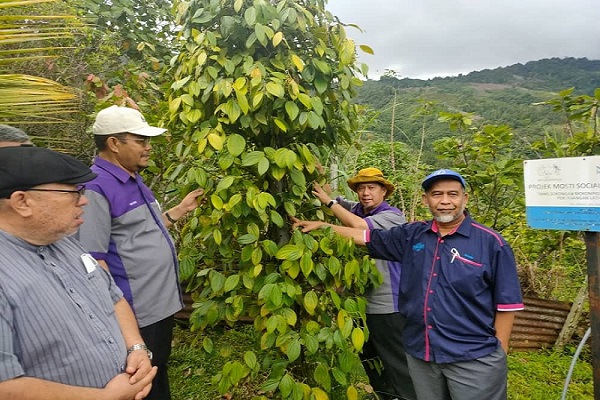 KOTA KINABALU, MAY 22, 2022: Dr. Abdul Rahim bin Harun, Director General of Nuclear Malaysia, as well as delegation paid an official working visit to Sabah from May 22nd to 23rd, 2022. During the visits, several cooperation projects and joint ventures with locals were visited to review the development of projects involving nuclear technology, all for the benefit of Sabahans.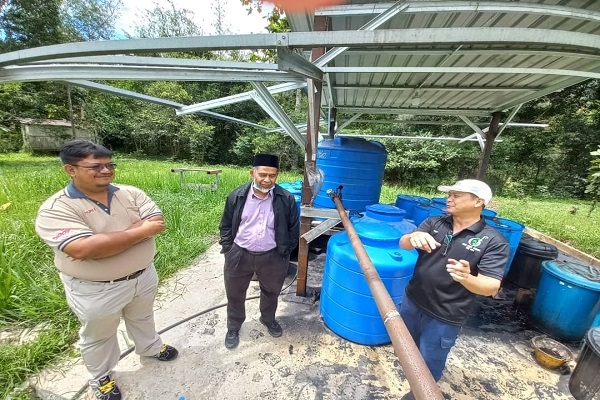 Among those visited were the Biocomposite Floating Anchovies Capture Project in Kota Belud, the Black Pepper Plant Support Pillar Project in Kg. Lokos, Tuaran, and the Liquid Smoke Development Project in Ranau.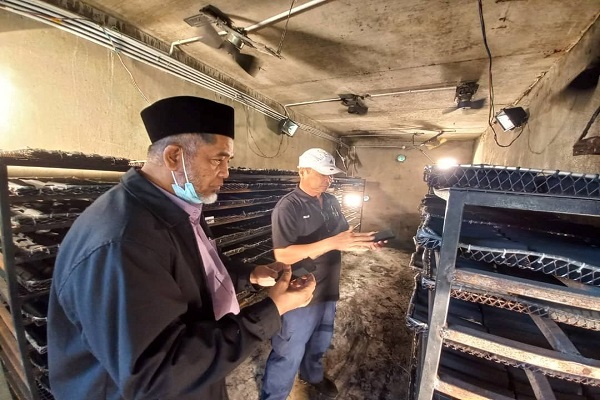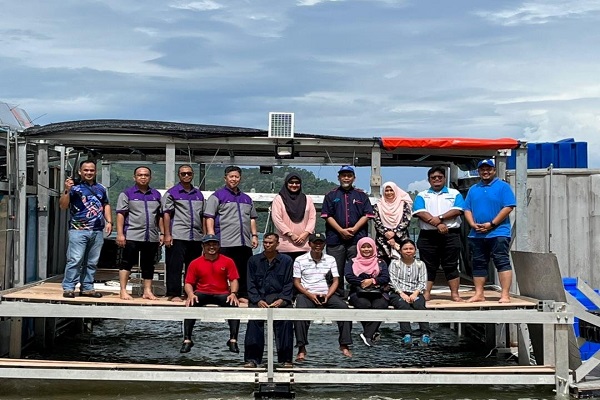 Ab Aziz bin Ab Kadir, Chairman of the National Kenaf and Tobacco Board (LKTN), with Idris bin Mohd Salleh, Director General of LKTN, and Baharuddin bin Dato' Mokhsen, Chairman of the Malaysian Pepper Board, with Vincent Sawat, Deputy Director, Malaysian Pepper Board, are also participating in this official working visit.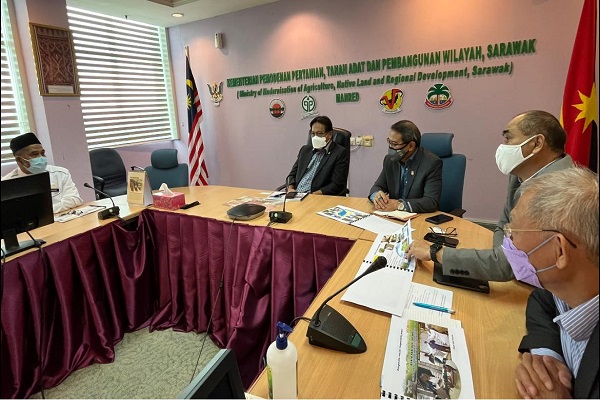 KUCHING, APR 27TH, 2022- Dr. Abdul Rahim Harun, Director General of Nuklear Malaysia, continued his tour in Sarawak with a courtesy visit to the Sarawak Ministry of Agriculture, Customs, Land, and Regional Development (MANRED). Datuk Dr. Haji Abdul Rahman bin Haji Ismail, Deputy Modernization of Agriculture and Regional Development (Modernization of Agriculture) was there to welcome the delegation. Datuk Edwin Abit, Permanent Secretary of the MANRED, Senior Ministry Officers, and the Director of the Sarawak State Agriculture Department were also present at the meeting.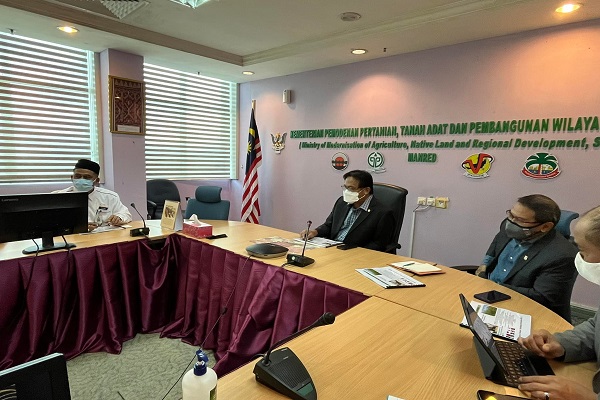 The goal of this visit was to forge further strategic collaboration between Nuklear Malaysia and the Sarawak State Government to produce and grow the new IS21 rice seeds.
During the visit, various opinions were exchanged in order to identify potential and opportunities in the rice industry for the benefit of Sarawak development as well as economy.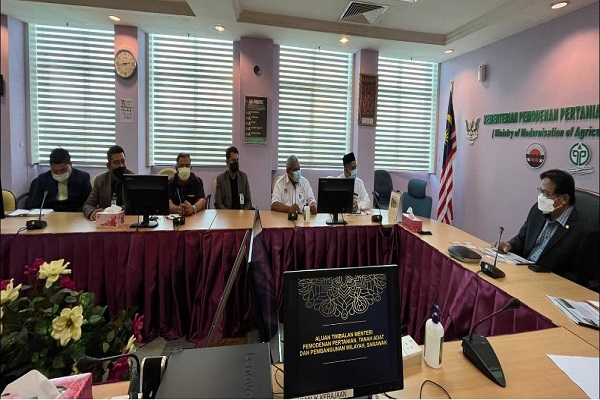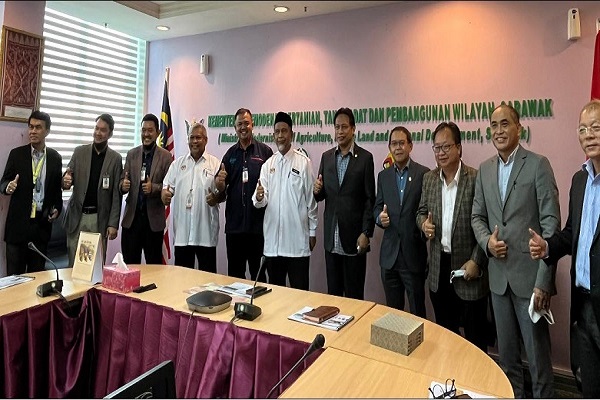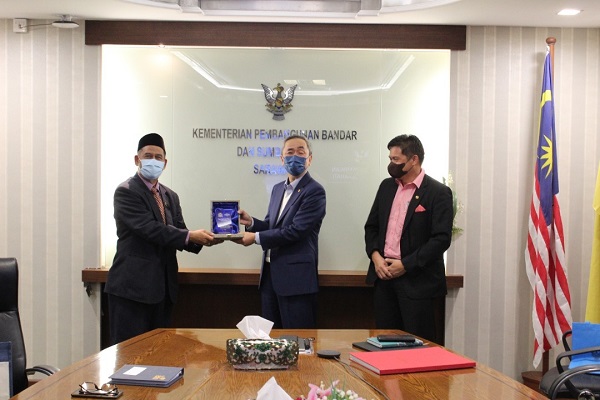 KUCHING, APR 26TH, 2022- Dr. Abdul Rahim bin Harun, Director General of Nuclear Malaysian Agency, paid a courtesy visit to Datuk Sri Zaidi bin Haji Mahdi, Permanent Secretary, Ministry of Natural Resources and Urban Development of Sarawak (MUDENR).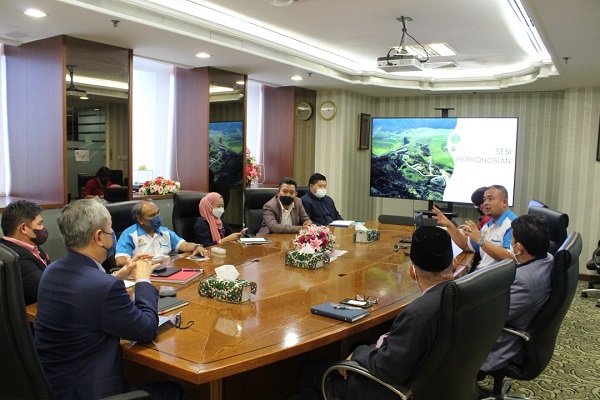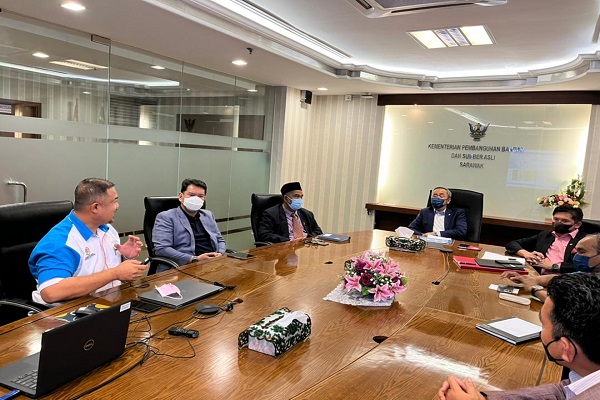 The visit was aimed to discuss technical issues and offering Nuklear Malaysia's expertise and facilities in the field of conducting preliminaries screening for rare earth elements exploration in potential areas. Such methods including safety assessment and radiological pollution to the environment and workers. Impact on soil structure and groundwater studies for potential areas, as well as the study of the rare earth extraction quality were also discussed.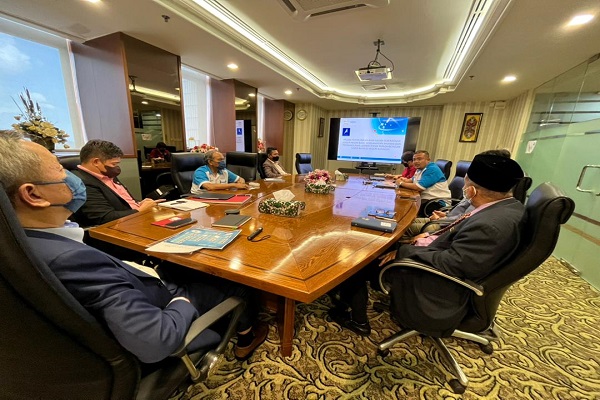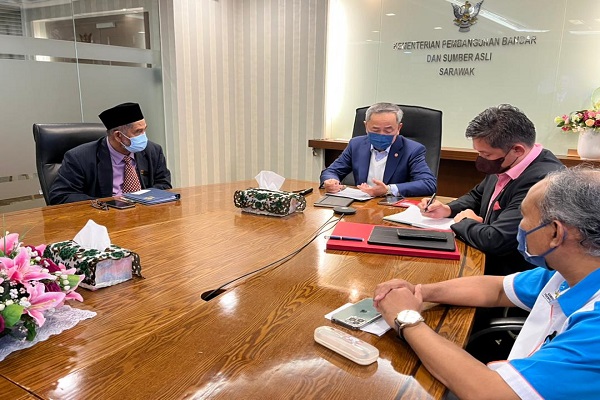 This meeting is expected to serve as a platform for Nuklear Malaysian to expand its strategic collaboration, while together promoting its expertise to key industrial players.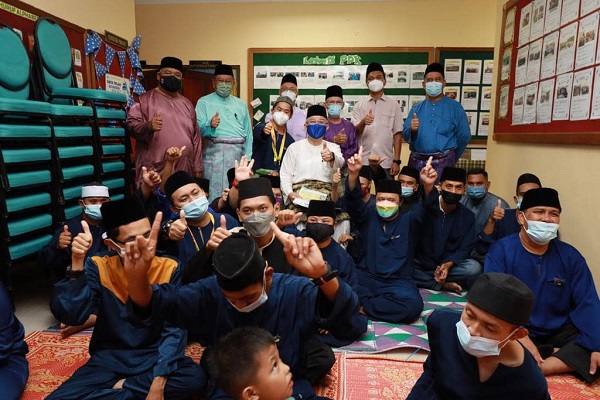 BANDAR TENGGARA, APR 24TH, 2022 - Dato' Sri Dr. Adham Baba paid a visit to 65 inhabitants of local community rehabilitation centre (PDK), Bandar Tenggara during Corporate Social Responsibility Programme (CSR) and Ihya' Ramadan jointly organised by the Malaysian Nuclear Agency and the Atomic Energy Licensing Board (AELB). PDK is a center providing development programmes for rehabilitation, training, education, equalisation of opportunities, and social integration of people with various special needs.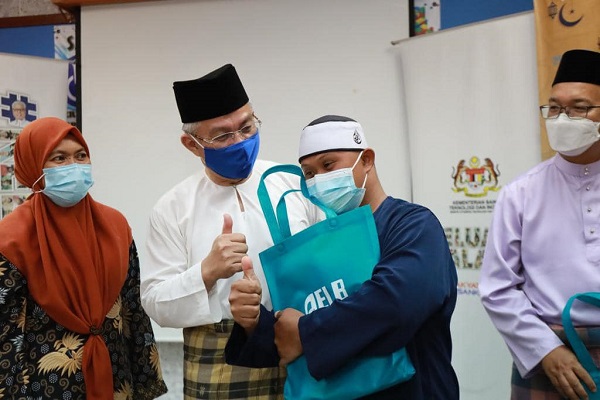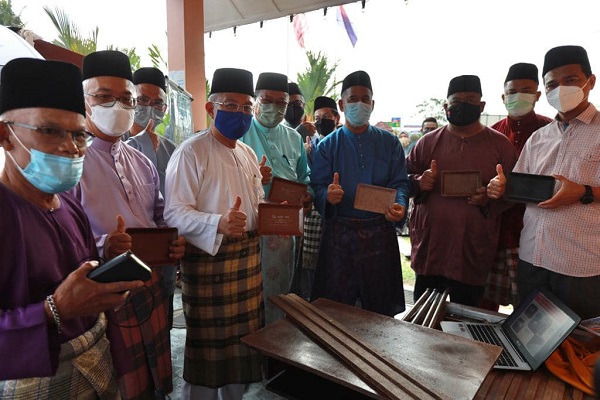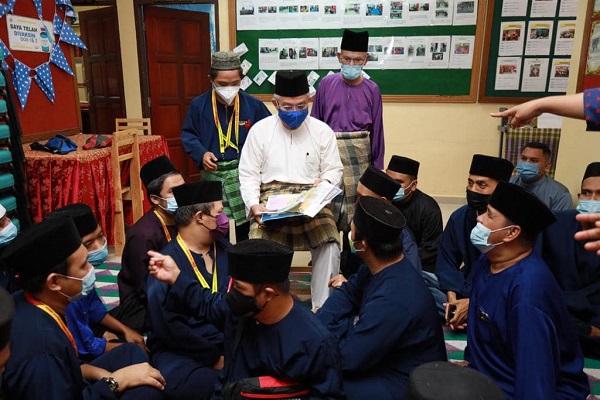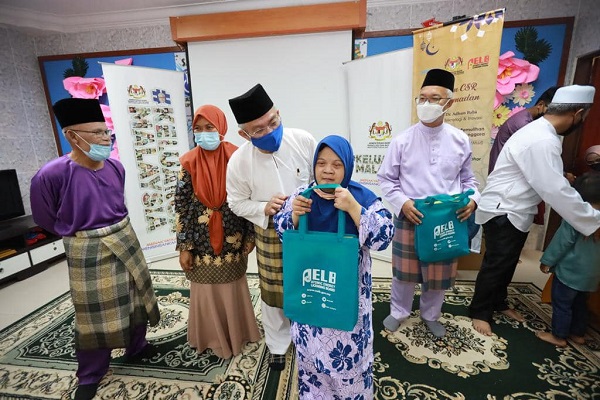 The programme was aimed as part of an effort to strengthen the rapport aligned with the concept of "Keluarga Malaysia", one of MOSTI's commitments, and as an informative delivery platform to reach all level regardless of their physical ability.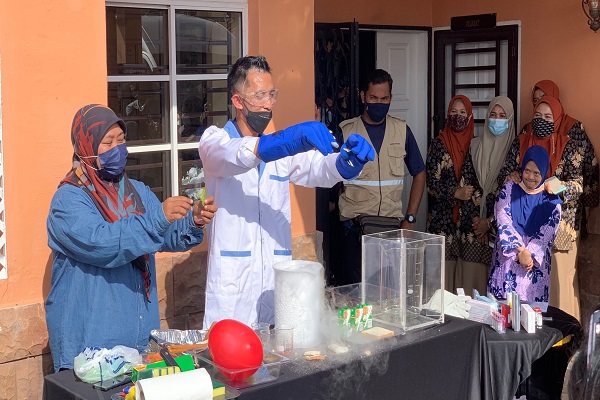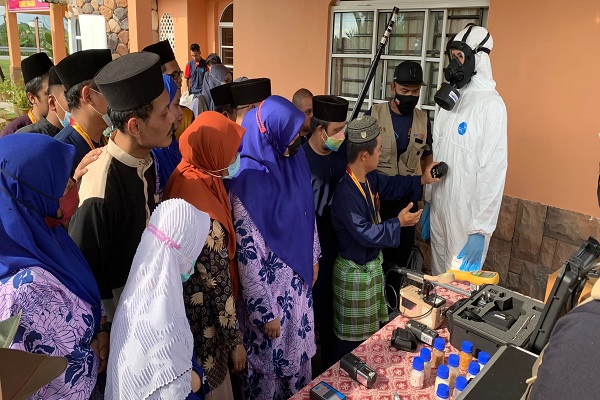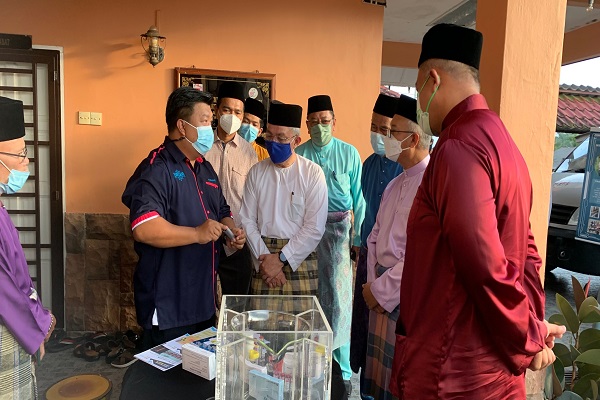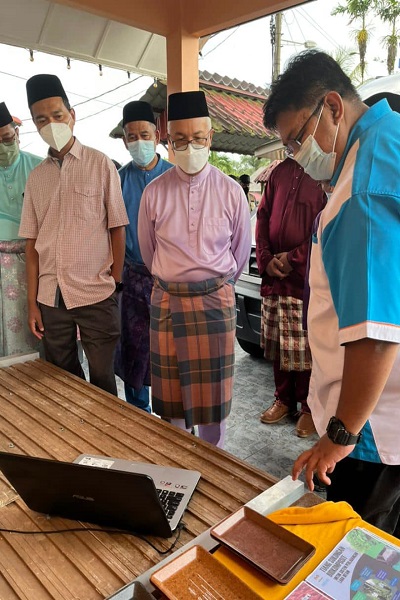 Also present were Datuk Zainal Abidin bin Abu Hassan, Secretary General of MOSTI; Datuk Ts. Dr. Mohd Noor Azman bin Hassan, Deputy Secretary General (Technological Development) MOSTI; Dr. Abdul Rahim bin Harun, Director General of Nuklear Malaysia; Ts. Hasmadi bin Hassan, Director General of AELB; and other senior officers.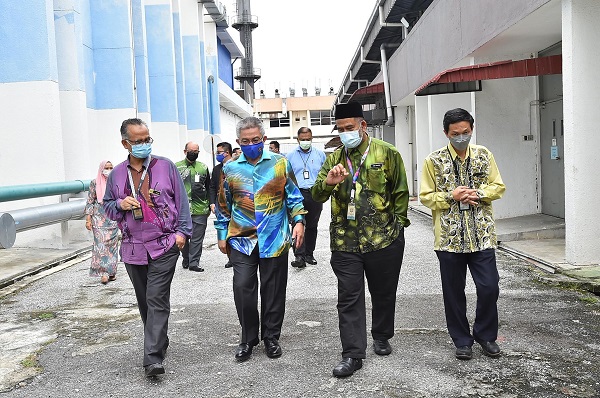 BANGI, APR 22ND 2022- Nuklear Malaysia welcoming Dato' Sri Dr Adham Baba for his visit to the Medical Technology Division on April 21, 2022. The MOSTI Minister was welcomed by Director General of Nuklear Malaysia, Dr. Abdul Rahim bin Harun.
Dr. Mohd. Azlan bin Zaharudin, Deputy Secretary (Strategic Technology and Applications), Dr. Rosli bin Darmawan (Deputy Director General of Technology Research and Development Programme), Dr. Ishak bin Mansor, and other Nuklear Malaysia officers were also present during the visit.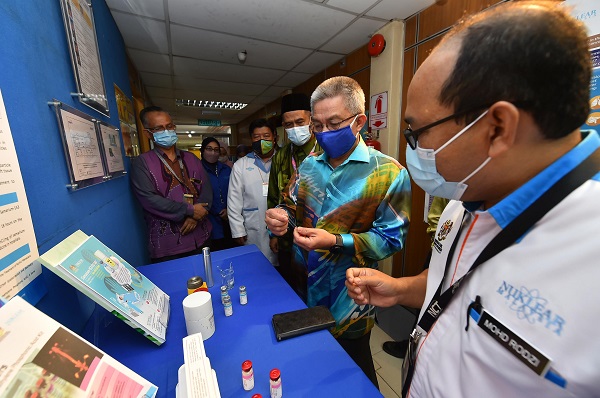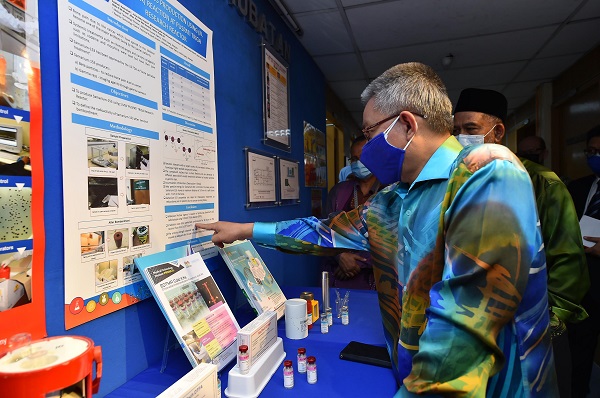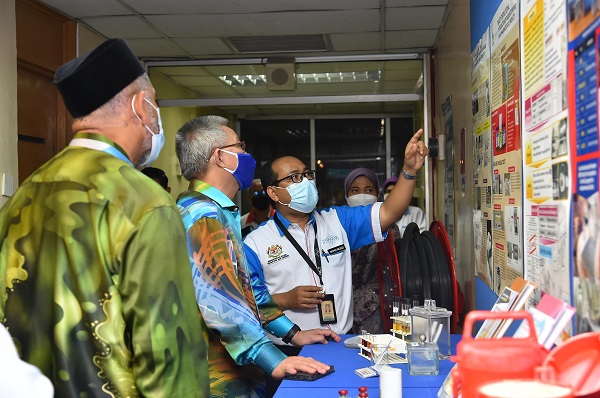 The purpose of the visit was to learn more on the role of nuclear applications in specialised medicine for disease detection and treatment. The Minister was taken to survey several facilities on site, including the Sm-153 production laboratory, the Tecnetium-99m production facility, and the Iodine-131 capsules manufacturing. Finally, the delegates were taken on a tour of the quality control laboratory.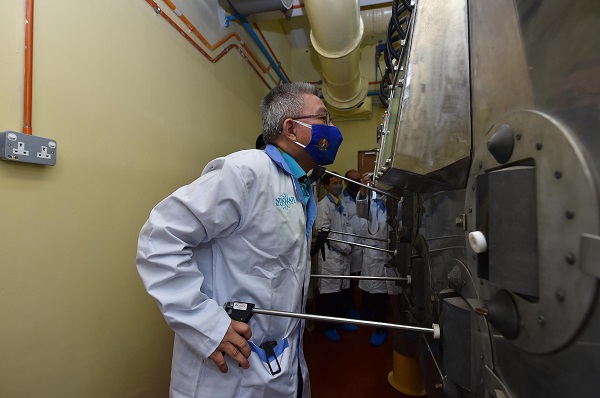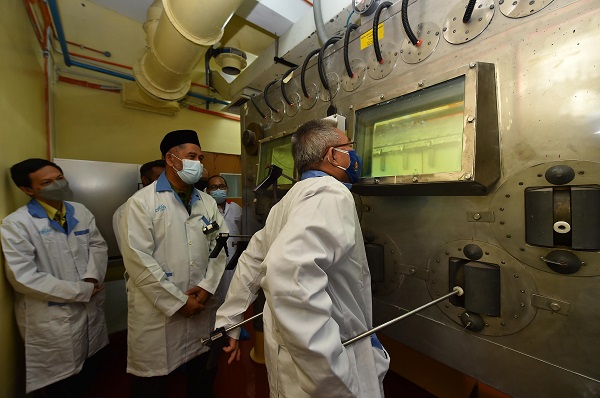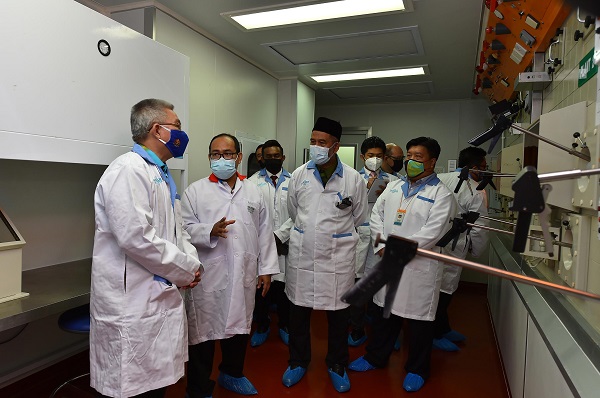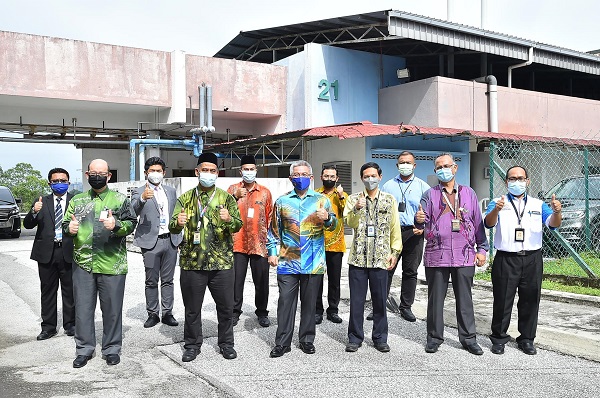 Nuklear Malaysia manufactures radioisotope and radiopharmaceutical products subjected to stringent quality control to ensure quality and its safety for medicinal use.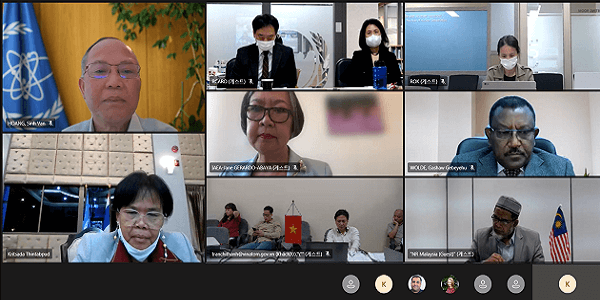 The 44th Regional Meeting of National RCA Representatives (NRM) was held on last 19-21 April 2022 virtually in the same manner as the previous NRM due to the prolonged Covid-19 pandemic. Malaysia was represented by Dr Abdul Rahim Harun, Director General of the Malaysian Nuclear Agency who acts as the National RCA Representative for Malaysia (RCA NR). Delegates from 22 RCA Government Parties, the Chair of the RCA Programme Advisory Committee and Working Groups, and representatives from the RCA Regional Office participated in the meeting. It was also attended by the Director-General of the IAEA, Deputy Director-General and Head of Technical Cooperation Department, Deputy Director-General and Head of Nuclear Sciences and Applications Department, Director and Section Heads of Asia and the Pacific Division, RCA Focal Person, and other relevant IAEA officers. Deputy Minister of the Ministry of Science and Technology of Vietnam and Director General of IAEA delivered their statements during the opening ceremony. The meeting was chaired by the RCA NR of Vietnam as the current RCA Chair to discuss issues relating to policies, overall management, and planning of the RCA Programme, including the upcoming RCA 50th anniversary celebration.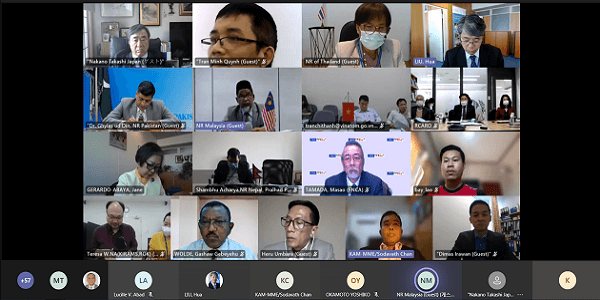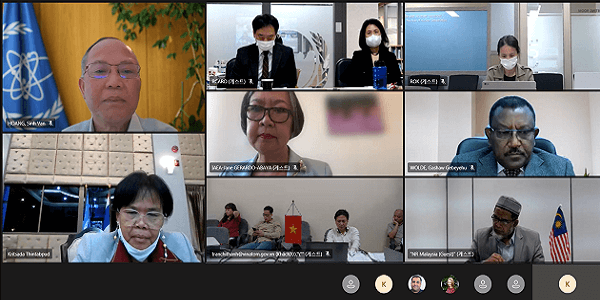 On-line participants of the 44th RCA Meeting of National RCA Representatives
(Bottom right: Dr Abdul Rahim Harun, Director General of Nuklear Malaysia).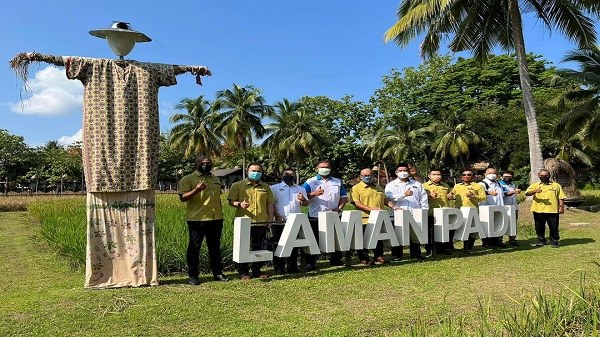 LANGKAWI, APRIL 10TH, 2022: Dr. Abdul Rahim bin Harun, Deputy Director General (Research and Technology Development), has paid a courtesy visit to Tuan Haji Nasaruddin bin Abdul Muttalib, CEO of the Langkawi Development Authority, (LADA) along with delegation from Nuclear Malaysia.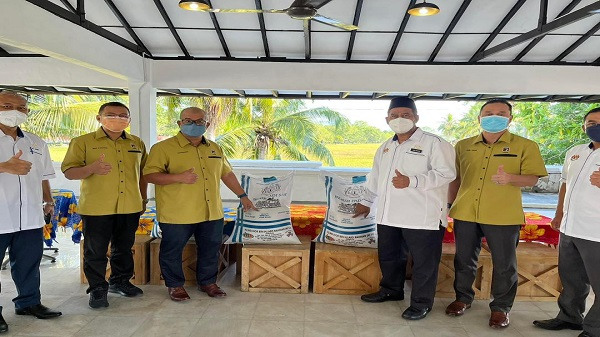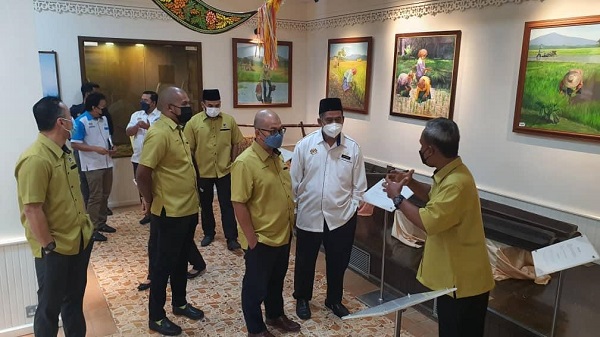 The delegation was taken to the Laman Padi site in Cenang, Langkawi, to explore the potential and opportunities of IS21 rice seeds being planted in the area as part of a promotion to introduce the new rice seeds to local and international tourists who visiting the attraction site.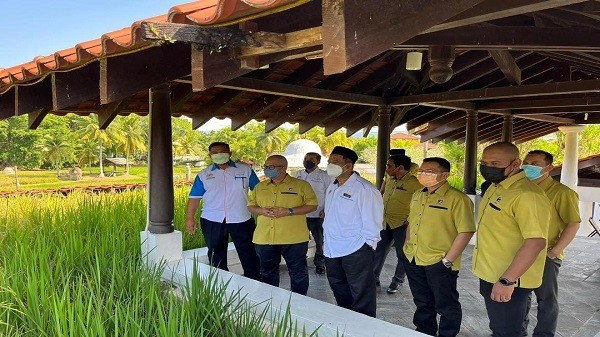 Throughout this visit, various perspectives, ideas, support, and proposals for future strategic cooperation between LADA and Nuclear Malaysia were shared. Future potential collaboration for the benefit of Langkawi Island's development and economy in the rice industry were also discussed.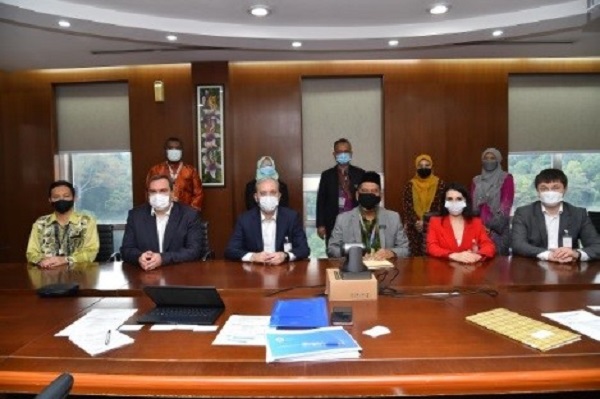 BANGI, APR 7th,2022 - Malaysian Nuclear Agency (Nuklear Malaysia) received a courtesy visit from the Rusatom Automated Control System (RASU) delegation last 7 April. The delegation consists of 4 representatives of RASU, namely Mr. Butko Andrei (CEO of RASU), Mr. Egorov Alexander (CEO Advisor), Ms. Kravchenko Yulia (Project Manager) and Dr. Anton Tyurin. The courtesy visit aims to explore opportunities for cooperation between RASU and Nuklear Malaysia in the field of nuclear instrumentation & control (I&C).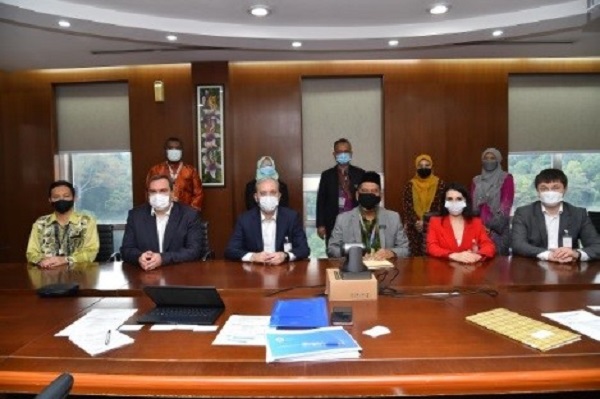 Courtesy call by the RASU delegation to Nuklear Malaysia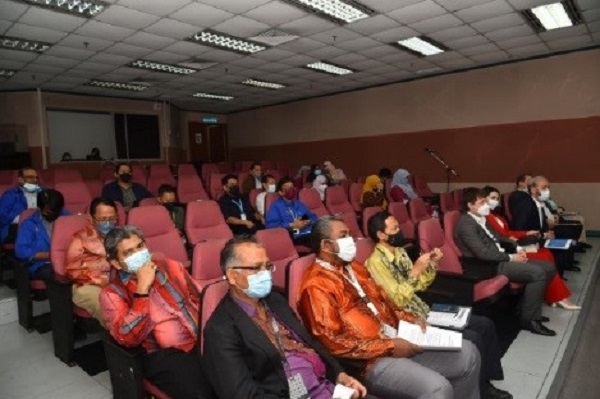 The seminar by RASU was attended by staff of Nuklear Malaysia
RASU is a subsidiary of State Atomic Energy Corporation Rosatom (ROSATOM) which is the foremost leader for I&C and electrical engineering industries in Russia. ROSATOM is one of the pioneers of the nuclear industry and has been at the forefront of the international nuclear market, with new high-tech products for hydrogen energy, nuclear medicine and composite materials.
In conjunction with the RASU visit, a seminar was also held for Nuklear Malaysia. Representatives of RASU presented their activities in RASU covering engineering, design, delivery and commissioning of I&C systems and electrical equipment related to nuclear industry in Russia as well as abroad.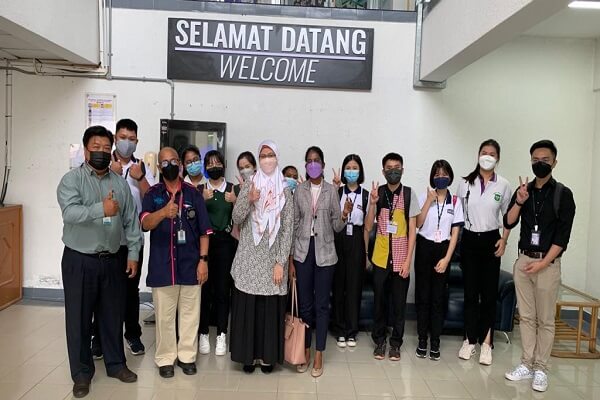 BANGI, APRIL 5TH, 2022 - Malaysian Nuclear Agency has received yet another visit from the Healthcare Management Programme, University Tunku Abdul Rahman (UTAR), led by Dr Hemaniswarri Dewi a/p Dewadas and Dr Nik Raihan bin Nik Mansor. A number of 10 students currently enrolled in the program were also participating.This visit is intended to expose students to the technology related to the use of radioactive materials in medicine, radiation safety, and radioactive waste management, all to fulfill the course requirements.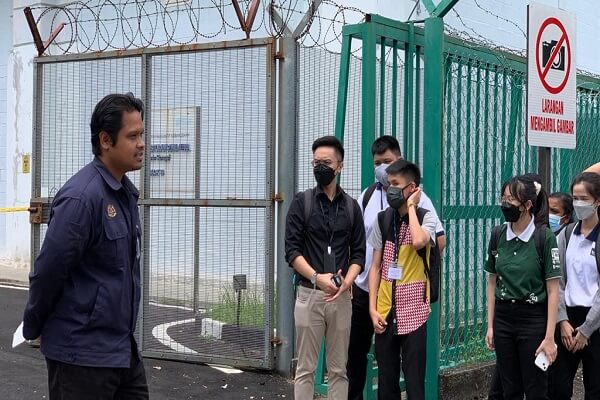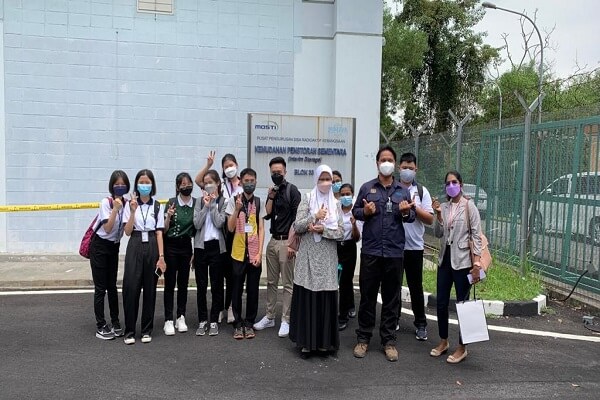 Prior to the visit, a briefing was delivered by Muhammad Asyraf bin Mat Siliji from the Corporate Communications Unit on matters related to the facilities and services offered. Dr. Siti Najilah binti Mohd Janib and Dr. Azahari bin Kasbollah, both prominent Research Officers from the Medical Technology Division (BTP) also delivered key points related to their products and services. Participants were also brought on a tour to several laboratories in the BTP and Waste Technology Development Center (WASTEC).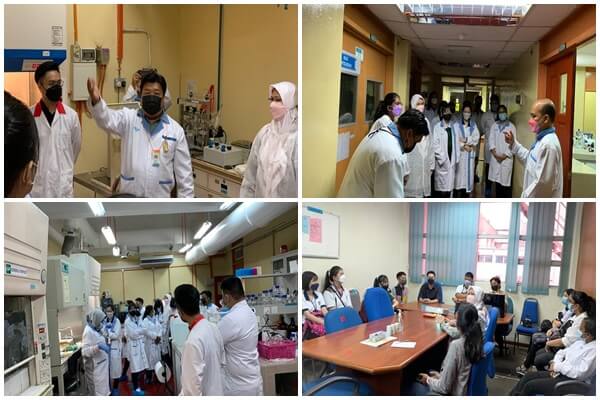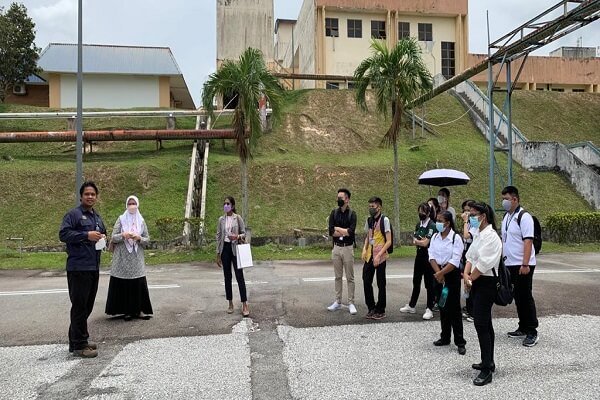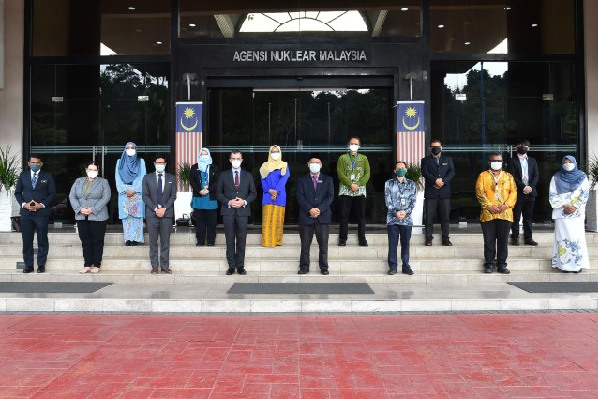 On 24 March 2022, the Malaysian Nuclear Agency (Nuklear Malaysia) received a visit from the Ambassador for Arms Control & Counter-Proliferation, Australia Mr. Ian Biggs. He is welcome by Dr. Abdul Rahim Harun, the Deputy Director General of the Research and Development Program. His visit to Nuklear Malaysia was to explore an opportunity for a strategic partnership between Australia and Malaysia in various fields related to nuclear science and technology, especially in the area connected to the non-proliferation of nuclear weapons.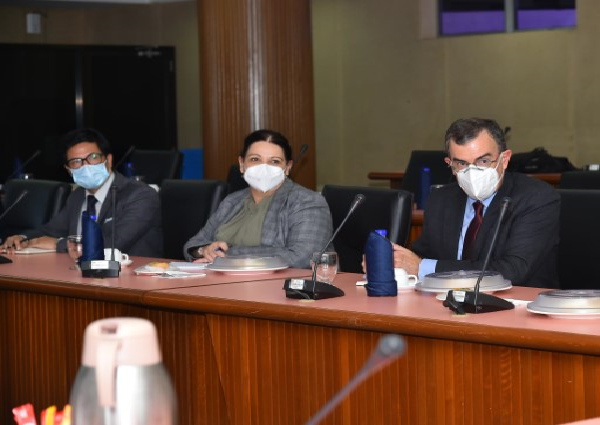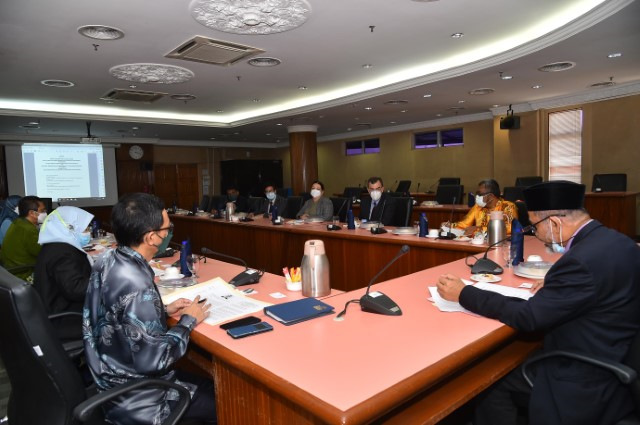 Nuklear Malaysia is the liaison agency between Malaysia and the International Atomic Energy Agency (IAEA) and the National Authority for the Comprehensive Nuclear Weapons Testing Treaty's (CTBT) implementation in Malaysia. Malaysia signed the Nuclear Non-Proliferation Treaty (NPT) in 1968, the Comprehensive Nuclear Weapons Testing Treaty (CTBT) in 1998, and the Nuclear Weapons Prohibition Treaty (TPNW) in 2017. Malaysia is among the countries that have proposed and developed the Weapons Free Zone Agreement. Nuclear Southeast Asia (SEANWFZ) or the 1995 Bangkok Agreement under the auspices of ASEAN. Nuclear Malaysia welcomed the visit and see it as the opportunity to strengthen collaboration between the CTBT Malaysia National Data Center (My-NDC) and the CTBT Australia National Data Center. This visit also as an opportunity to explore new strategic partnership in the relevant areas. Apart from areas related to the non-proliferation of nuclear weapons, Malaysia and Australia have also collaborated through the RCA/IAEA Project led by Australia as the Key Coordinating Country through the following projects:
• RAS7031 Assessing the Vulnerability of Coastal Landscapes and Ecosystems to Sea-level Rise and Climate Change
• RAS7037 Enhancing Wetland Management and Sustainable Conservation Planning
• RAS5091 Assessing and Mitigating Agro-Contaminants to Improve Water Quality and Soil Productivity in Catchments Using Integrated Isotopic Approaches
Representatives from the Ministry of Foreign Affairs (KLN) and the Ministry of Science, Technology & Innovation (MOSTI) also joined the visit.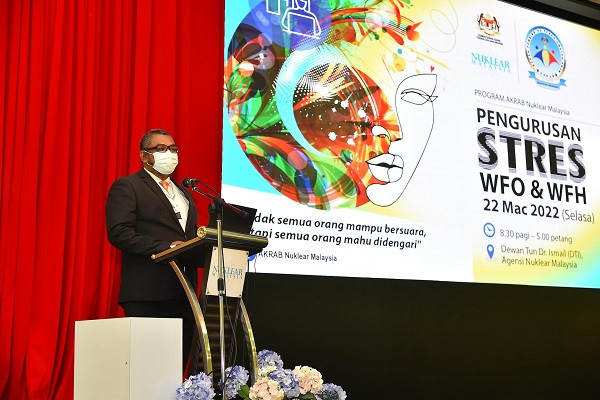 BANGI, MARCH 22ND 2022– AKRAB Nuklear Malaysia has organized a talk on Mental Health Management at Dewan Tun Dr. Ismail (DTI). The talk was opened with remarks from Dr. Muhammad Rawi bin Mohammad Zin and was attended by more than 71 participants from various divisions.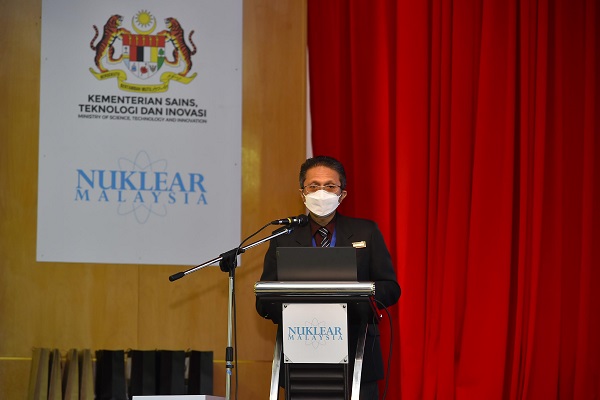 There were four modules delivered altogether; Introduction to Stress, Influence of Stress in the Work Environment and Performance. Additionally, Emotional Management and Self-Motivation for Excellence topics were also discussed by three speakers from Department of Women Development, Ministry of Women, Family & Community Development.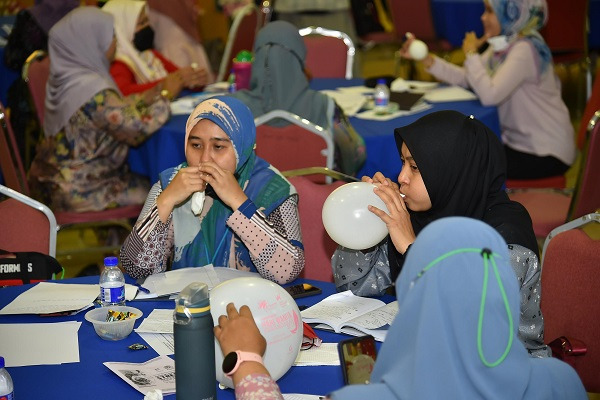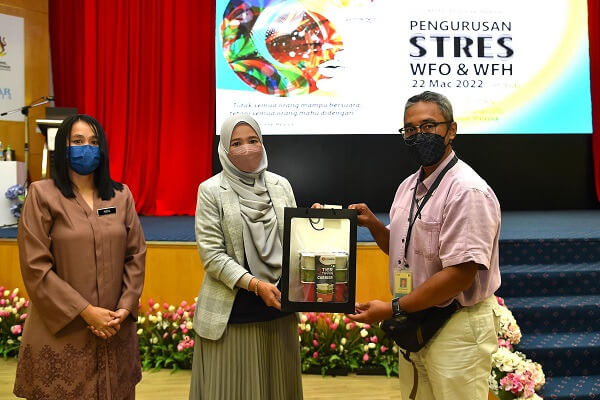 This program was aimed to help participants improving their skills in identifying causes, managing and maintaining their mental health as well as managing emotion, thus creating a more harmonious and conducive work environment.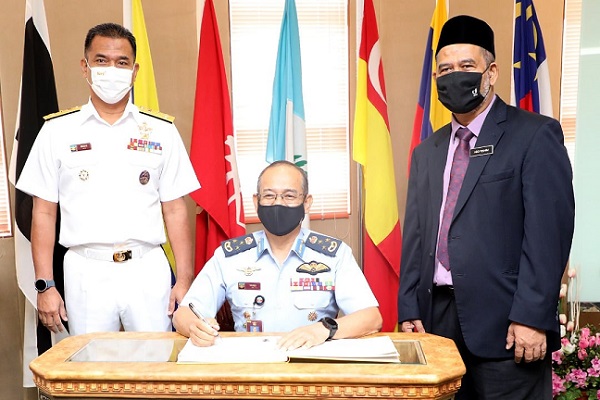 BANGI, MARCH 18TH 2022– Lt. General Dato' Indera Hj Yazid bin Hj Arshad, Commander of the Joint Forces Command, was present today to pay a courtesy call to Dr. Abdul Rahim bin Harun, Deputy Director General (R&D Programme), with the purpose to discuss on Biocomposite Jetty Project.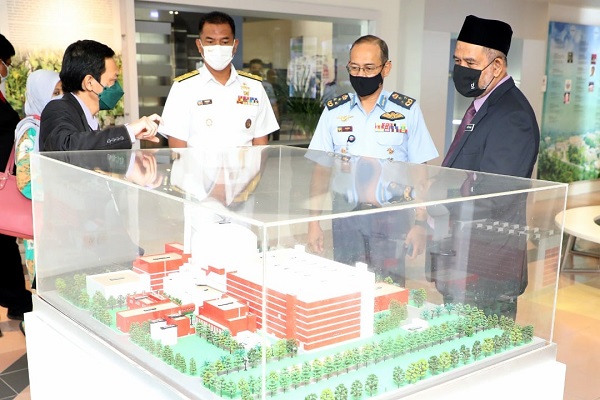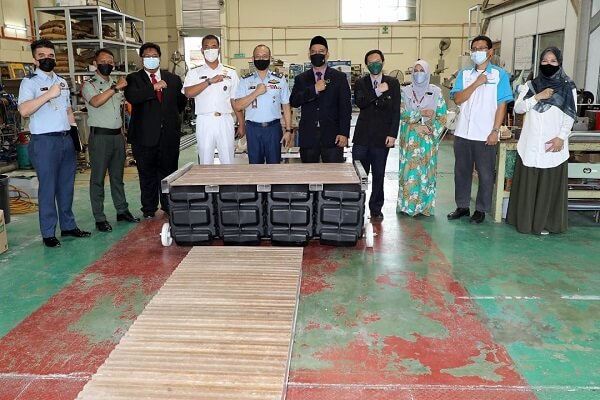 A briefing was commenced immediately upon arrival followed by discussion. Later, the delegation was taken to a tour of the floating jetty sample site and the polymer plant.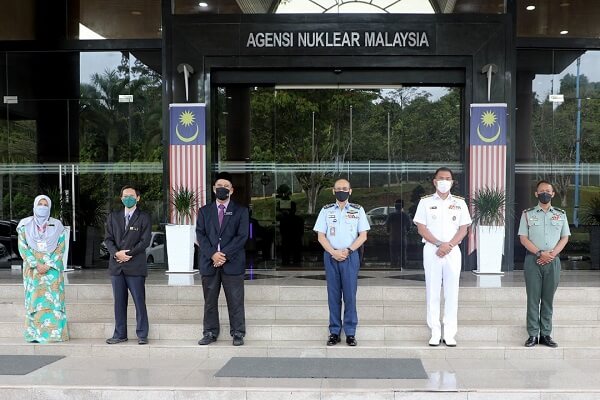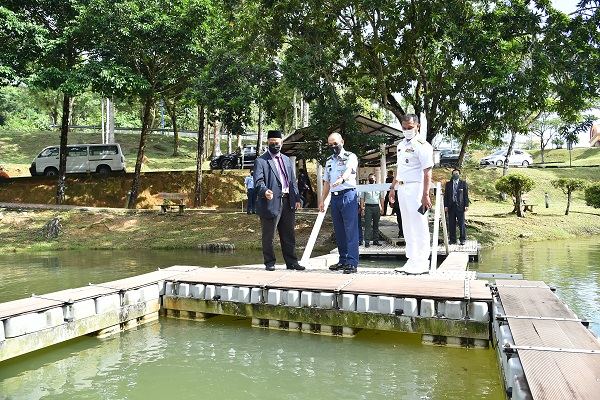 Also present were Dr Rosli bin Darmawan, Deputy Director General (Technical Service Programme), Dr. Hasni binti Hasan, Director of Radiation Processing Technology Division and related research officers.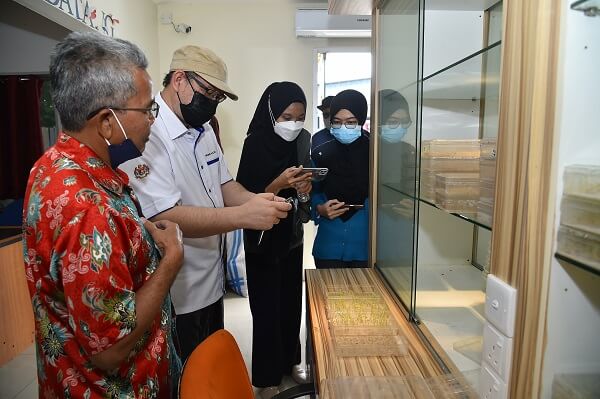 SEKINCHAN, MARCH 16TH, 2022– After a brief visit to the local plant in Nuklear Malaysia, The Strategic Planning Division of the Ministry of Science, Technology, and Innovation (MOSTI), continue to show their interest and paid a visit to a paddy seed production plant in Sekinchan, Selangor.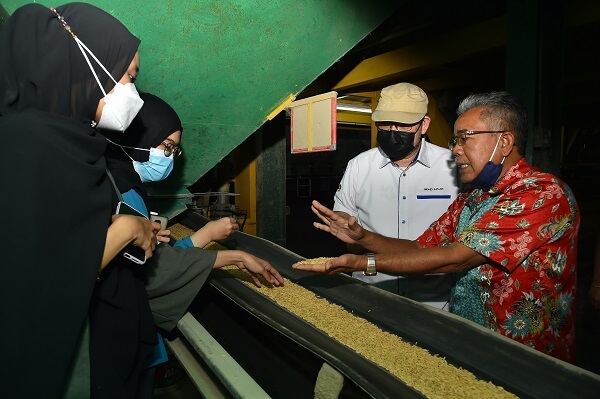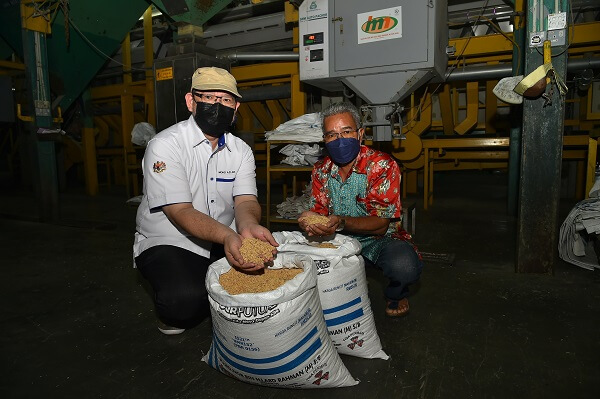 The site visit was held in response to Nuclear Malaysia's accomplishments in producing the NMR 152 rice seed variant through the induction mutation process using nuclear technology known as IS21, which officially launched in November 2021 by the Prime Minister, Dato' Sri Ismail Sabri Bin Yaakob.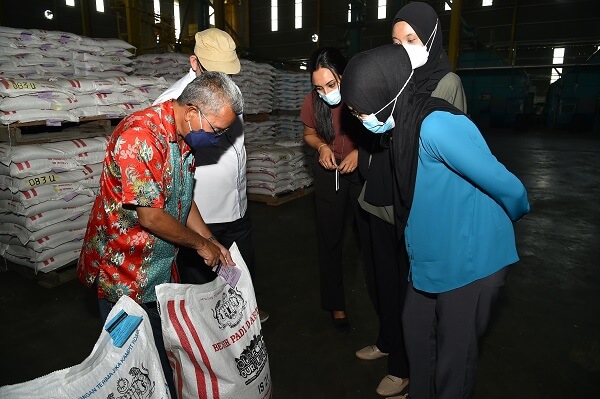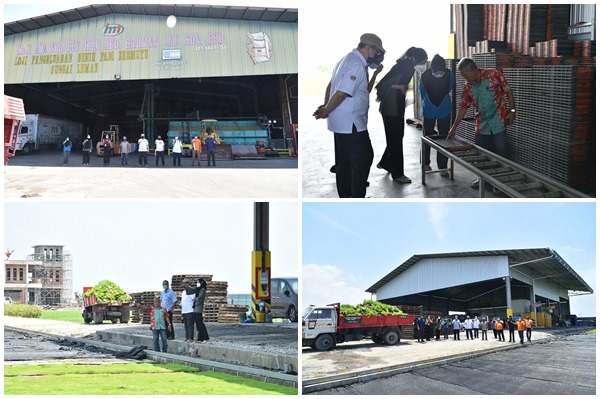 Dr. Sobri Bin Hussein, representing Nuklear Malaysia, as well as a representative from HMN Sdn. Bhd, were also present during the site visit.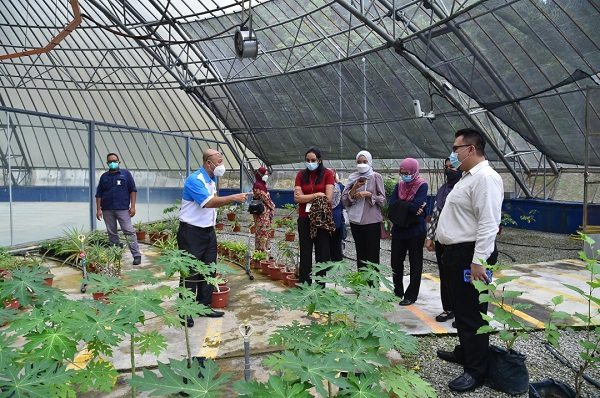 BANGI, MARCH 15TH, 2022 - Eight officers led by Ruziah Binti Shafie, Secretary of the Strategic Planning Division, of MOSTI has paid visit to Nuklear Malaysia. This visit was aimed to improve the understanding of the Strategic Planning Division, MOSTI as the coordinator in the planning and reporting of the strategic planning. The visit also provide understanding pertaining to the key functions of Nuklear Malaysia including but not limited to laboratory and testing facilities involved in the production of the new high-tech paddy seeds project. MOSTI's delegation were also directed to learn the scientific methods and equipment employed behind the scene.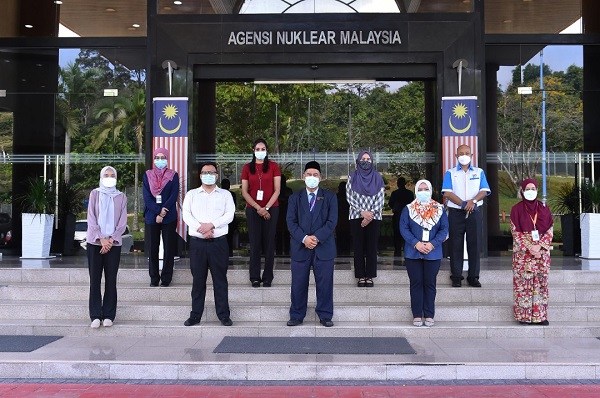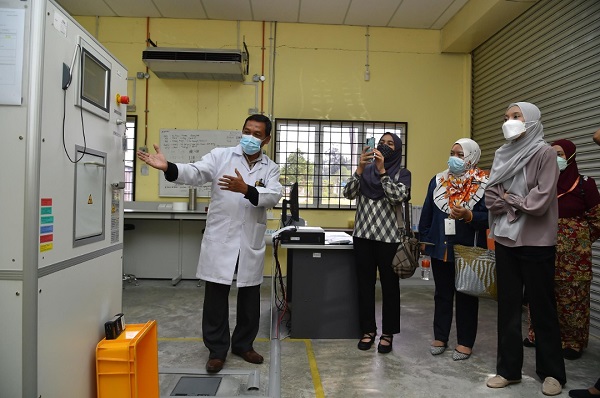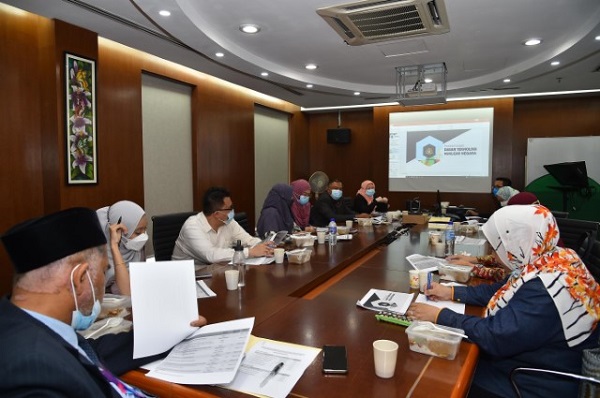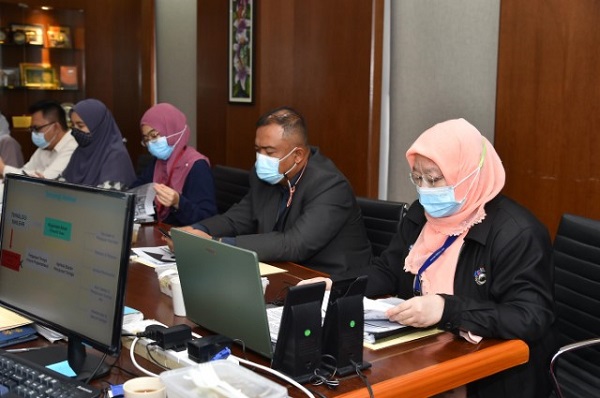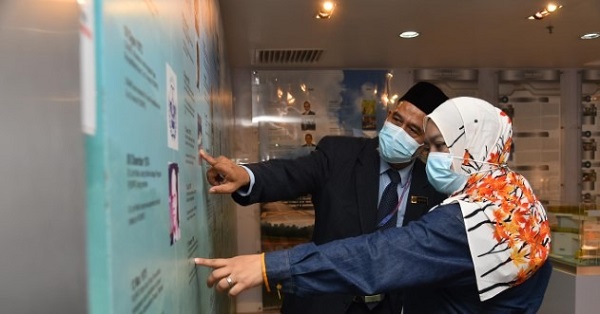 Dr. Abdul Rahim bin Harun, Deputy Director General (R&D Program), and other senior officers of Nuclear Malaysia welcomed the delegation. This visit is expected to foster the bilateral collaboration between MOSTI and Nuklear Malaysia to a new height.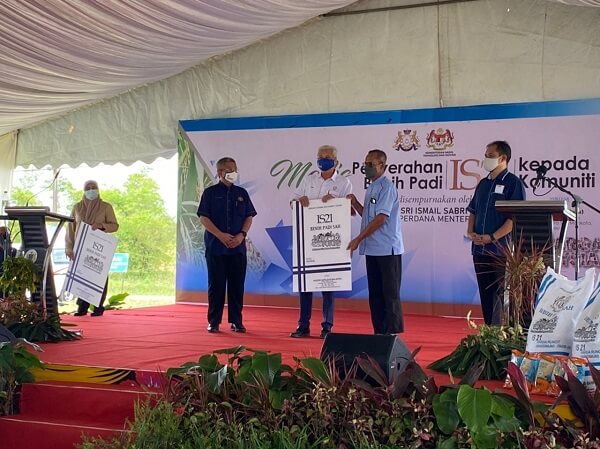 ENDAU, MARCH 9, 2022– The Prime Minister handed over 500 bags of IS21 paddy seeds weighing 20kg each to the farmers in Endau, Johor. The seeds were produced by Nuclear Malaysia through the use of nuclear technology. Precedingly, similar event was also completed by the Prime Minister on Nov 20th, 2021 in Sekinchan, Selangor.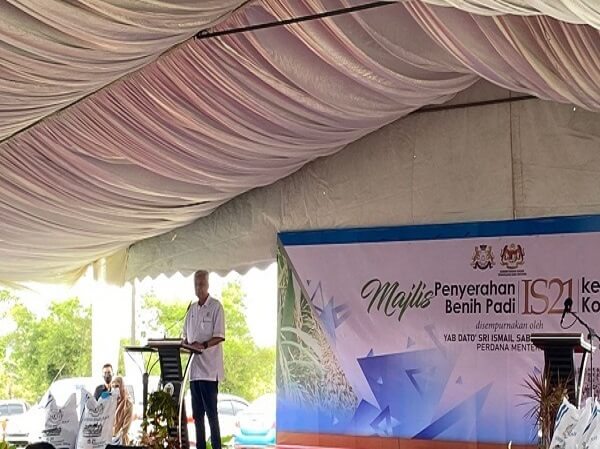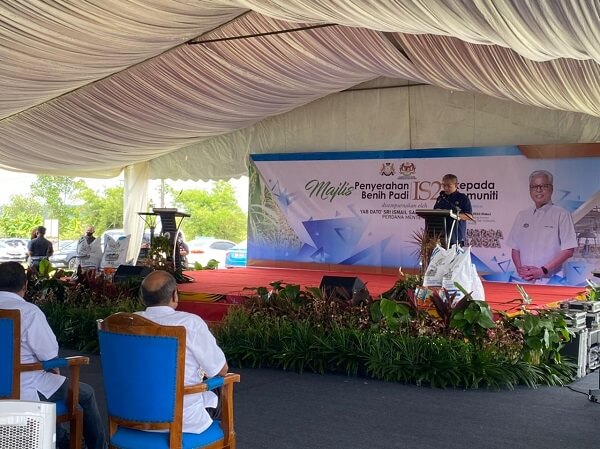 Also present at the ceremony was Dato' Sri Dr. Adham bin Baba, Minister of Science, Technology dan Innovation (MOSTI), as well as senior officers from MOSTI and Nuclear Malaysia.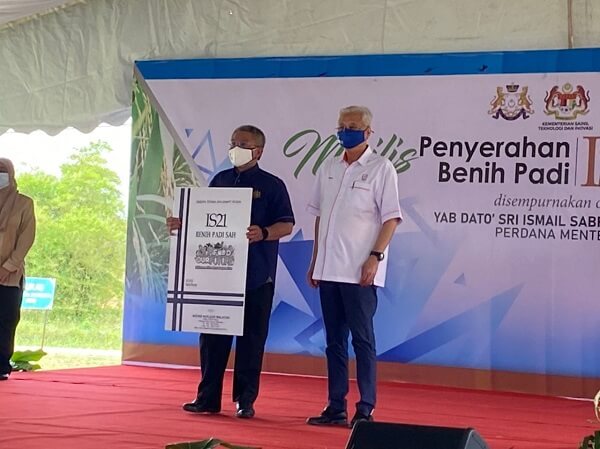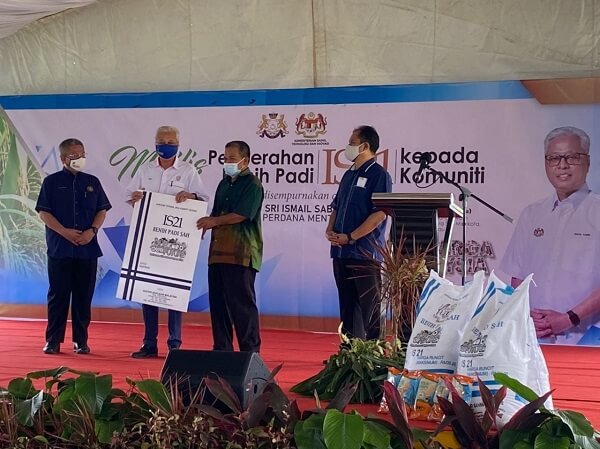 According to the report, the IS21 paddy is said to be 20% cost effective ratio in comparison with other seeds, while also yielding up to 9 tons for each harvesting season. The seed is expected to improve yield by up to 67% higher than the average national yield. Endau community as the recipient will benefit by earning more in the long run.
KUALA TERENGGANU, MAC 7TH, 2022- The INFLUENCER @ JAPEN recording session took place on February 7, 2022 at Kuala Kopi Lounge, Primula Beach Hotel, Kuala Terengganu. Ts. Dr. Husaini bin Salleh, Director of Radiation Safety and Health Division, participated in the interview, which was conducted with the cooperation of the Department of Information Malaysia, Terengganu, on the topic "Nuclear Technology Contribution to the Community."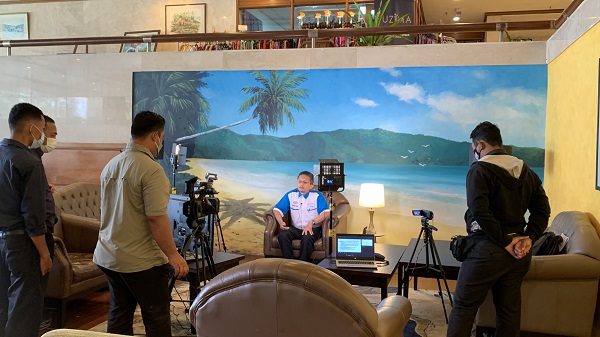 The initiative which was perceived by the Department of Information Malaysia (JaPen), became a platform for the rapid dissemination of information through social media and virtual face-to-face communication. The presentation was shared on JaPen's Facebook page, discussing topics related to government policies and current issues as well as involving works from strategic partners from ministries and federal agencies, state governments, public universities, and non-governmental organizations. Issues related were also covered in this programme involving panelists specialising in their respective fields.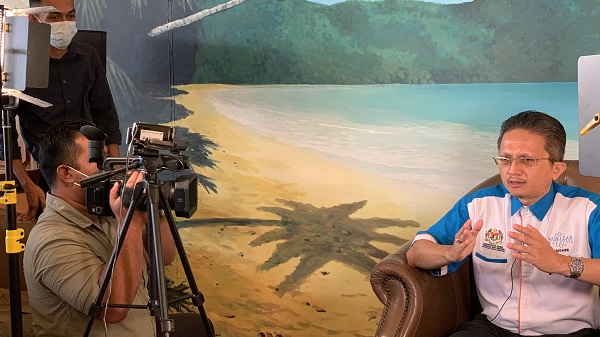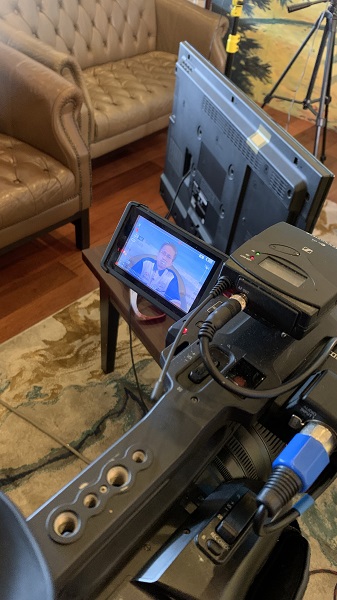 This platform is expected to convey messages and information to the public on the importance and contribution of nuclear technology.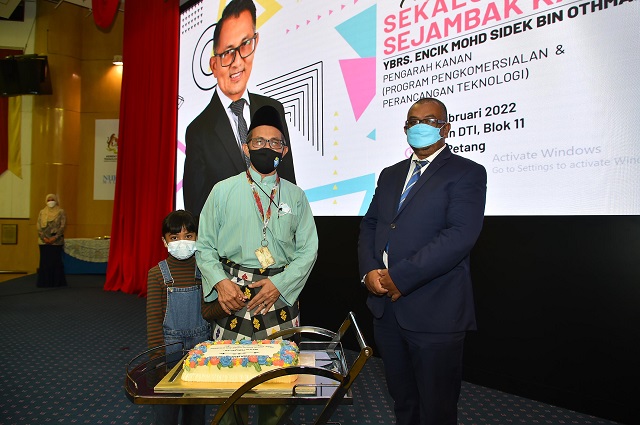 BANGI, FEB 25th 2022- Mohd Sidek bin Othman, Senior Director of Commercialization & Technology Planning Program marks his last day today on February 25, 2022. After being in service for almost 38 years, he finally steps down as a public servant at the Malaysian Nuclear Agency, ending his long prosperous career rather gallantly.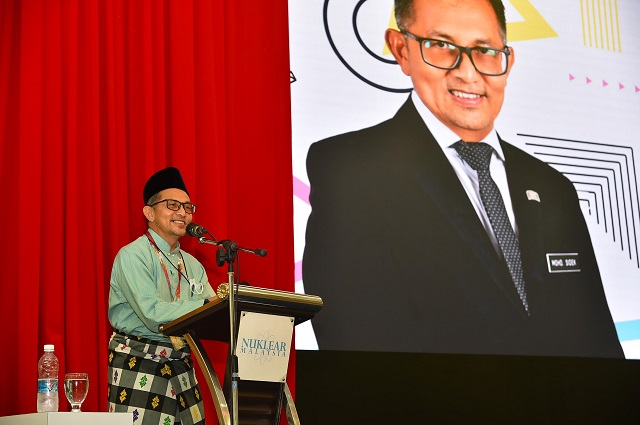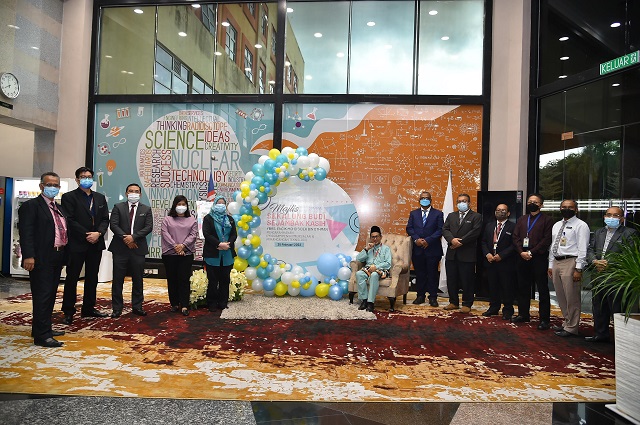 As the man who are responsible for the commercialization of product and service of nuclear technology, he was first experienced in the irradiation technology and developed current system implemented in Sinagama, an irradiation facility. Going beyond the call of duty, he always strive for customer satisfaction, particularly in the field of commercial and nuclear irradiation technology, making him popular among clients. The credibility demonstrated during his service has placed him in the highest management ranks of Nuclear Malaysia, by taking the position of Senior Director, Commercializing Program & Technology Planning.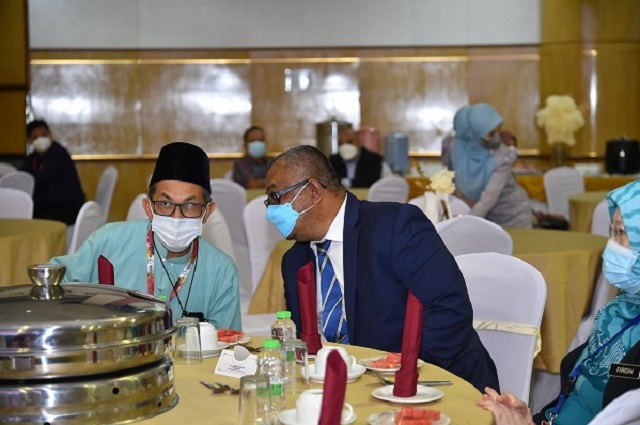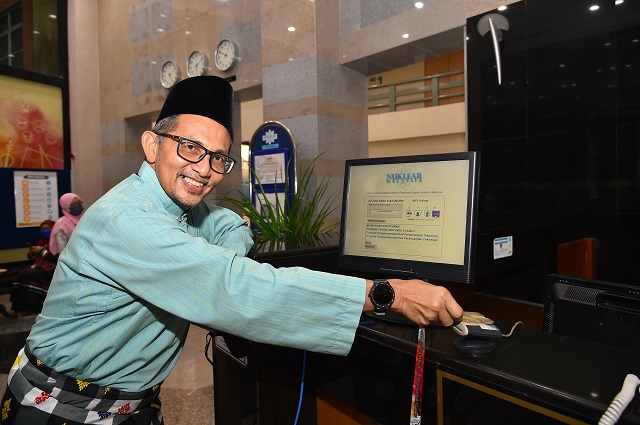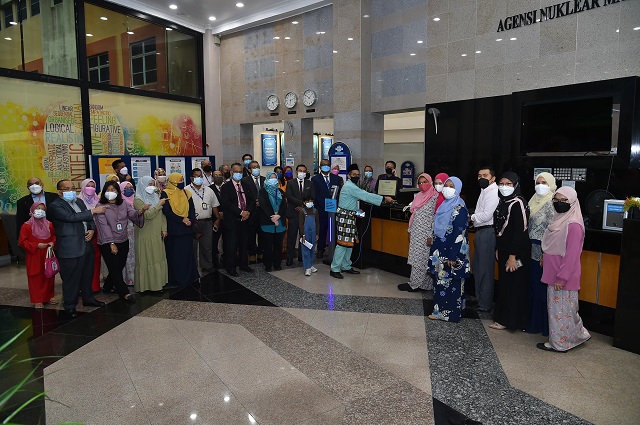 As a result of his effective service, Nuclear Malaysia has progressively advancing. His commitment has tremendously helped the country, particularly in the fields of nuclear research and technology.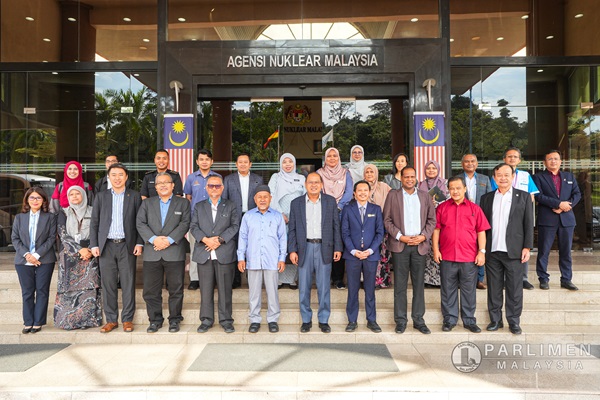 KUALA LUMPUR, FEB 24TH, 2022- Malaysian Nuclear Agency in collaboration with the Structural Forensic Service Division of the Public Works Department (JKR) had performed materials examination using non-destructive test (NDT) method on selected posts surrounding National Parliament building. Inspection works were carried out for four (4) days from February 21 to 24, 2022, led by Dr. Nor'Paiza bin Mohamad Hasan, the Director of Industrial Technology Division, with the involvement of research officers from Nuclear Malaysia.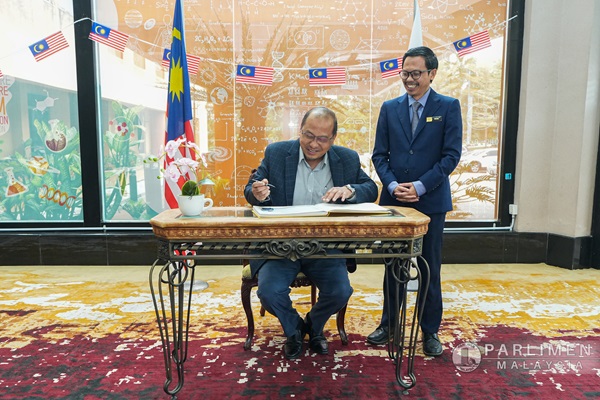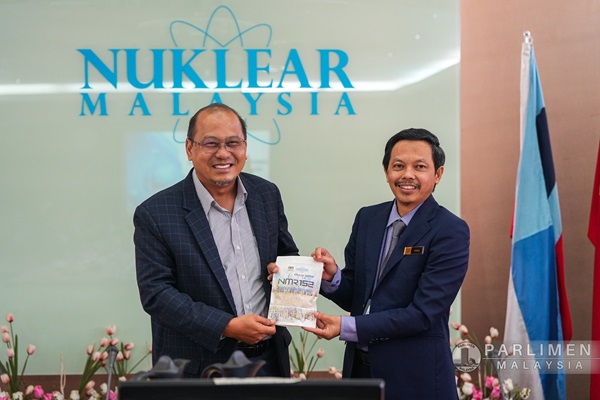 This material investigation work was carried out as part of strategic collaboration and CSR approach using nuclear technology to assist in the maintenance and conservation of the National Parliament building, which is considered a national heritage asset.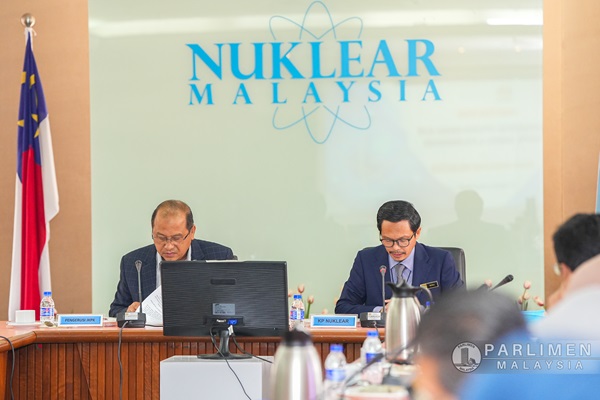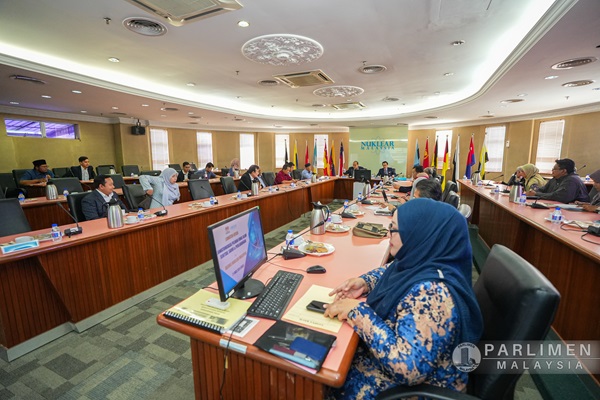 The NDT method utilised computed tomography (CT) to analyse the material composition and internal structure of building. The mobile gamma ray computed tomography system (Gamma CT) was used on the post to produce 2D cross-sectional images to assess material condition.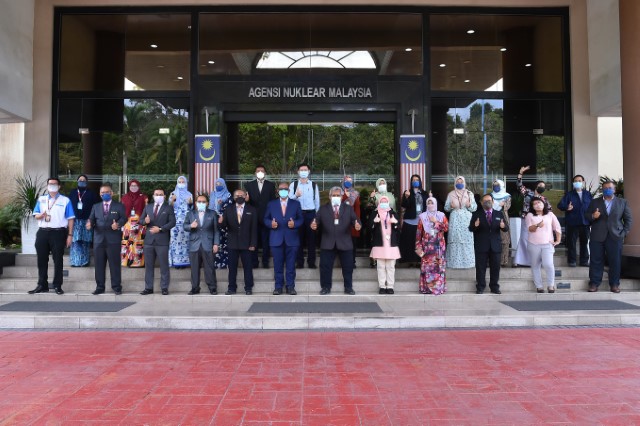 BANGI, FEB 17th, 2022– A workshop of MyPerformance 2022 (SKU) and KPI Workshop was successfully organized on the 16th and 17th February, involving representatives of directors and division as well as the presence of senior management. Opening remarks was delivered by Dr. Muhammad Rawi bin Mohamed Zin, Senior Director (Management Programme).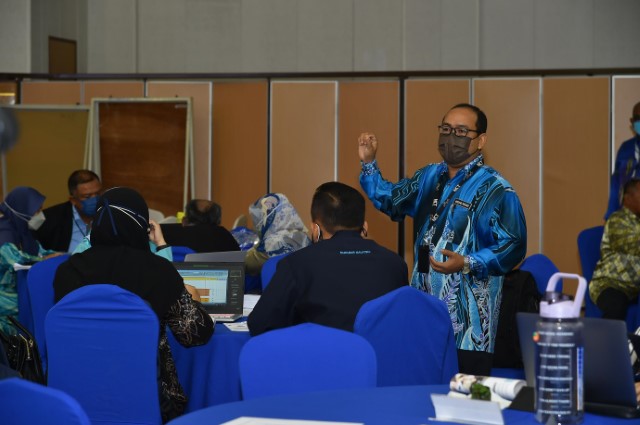 The workshop was organized with the goal to share, discuss and evaluate 2021 achievement and performance of Nuclear Malaysia. Afterward, discussions were also held to determine and setting up key performance indicator for 2022 which involving the implementation of the Nuclear Malaysia 2030 Vision.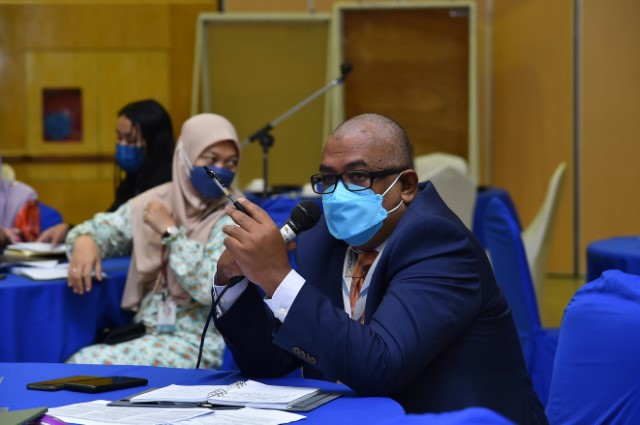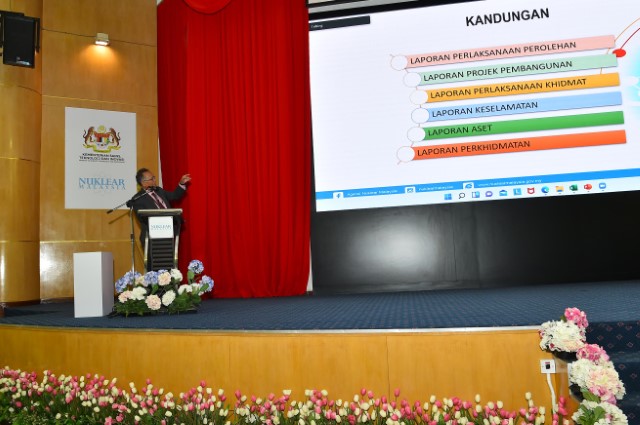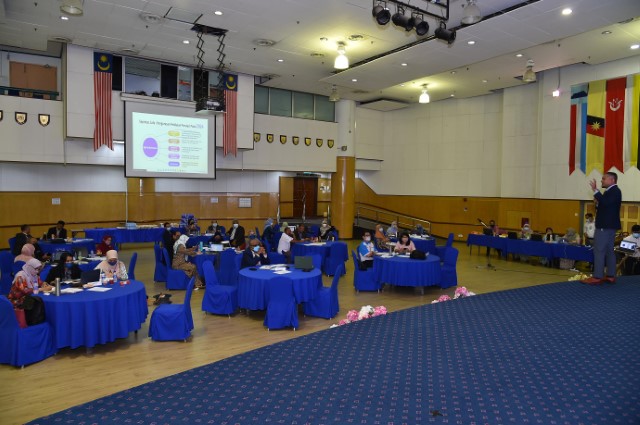 This annual workshop was specifically conducted to collectively review results of the discussion while calibrating potential actions should be taken in ensuring each targets and performance are achieved.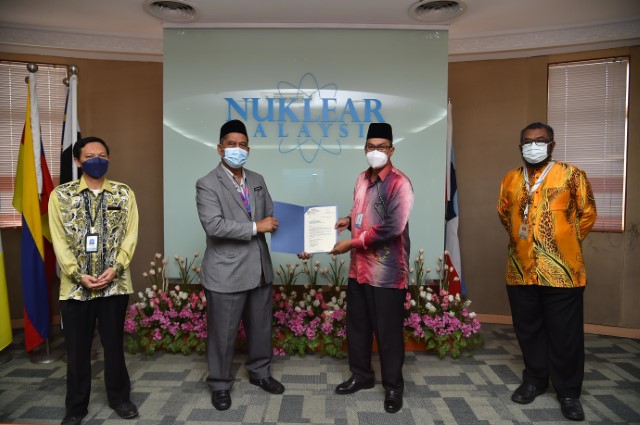 BANGI, FEB 10TH, 2022– A total of 13 staffs were conferred with their promotion last Thursday. Dr. Abdul Rahim bin Harun, Deputy Director General (Research and Technology Development) was present to personally deliver their promotion letters.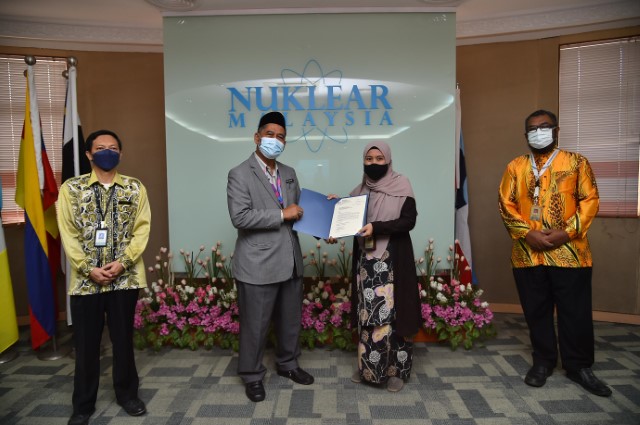 Also present were Dr. Rosli bin Darmawan, Deputy Director General (Technical Service Programme) and Dr. Muhammad Rawi bin Mohamed Zin, Senior Director (Management Programme), overseeing the ceremony to its end.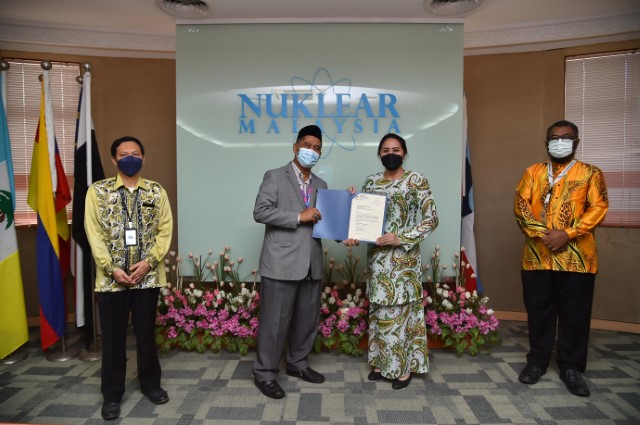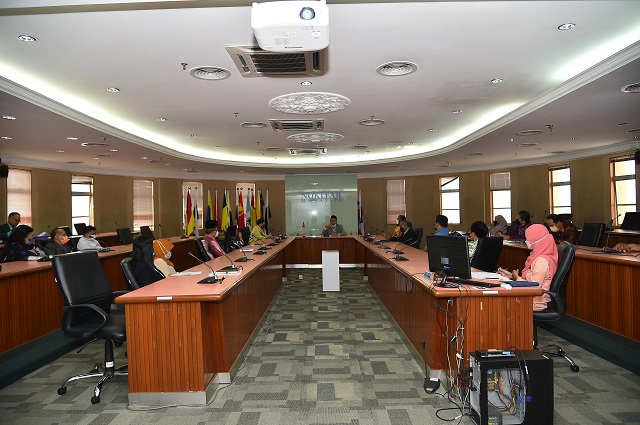 Heartiest congratulations are conveyed to all recipients for their achievement. May these momenta continue to soar in their future endeavour.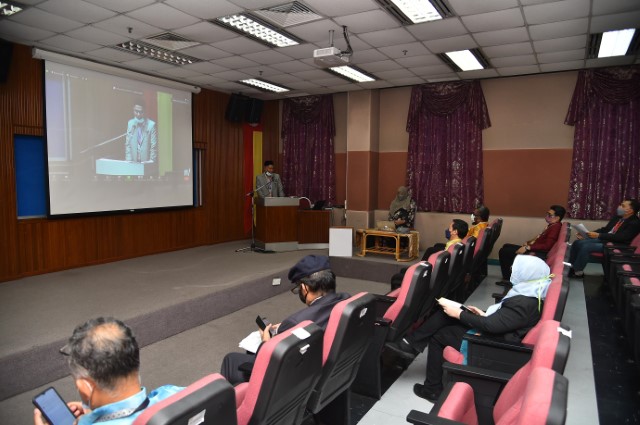 BANGI, FEB 10th, 2022–Technology and Data of The Comprehensive Nuclear Test-Ban Treaty (CTBT) talk has been organised by Malaysian Nuclear Agency last Thursday. The talk was seen to have taken a hybrid approach by organising it in physical as well as online concurrently. Dubbed as one of the Nuklear Malaysia outreach efforts, this colloquium was aimed to disseminate information on CTBT and the potential use of CTBT data for scientific and academic purposes.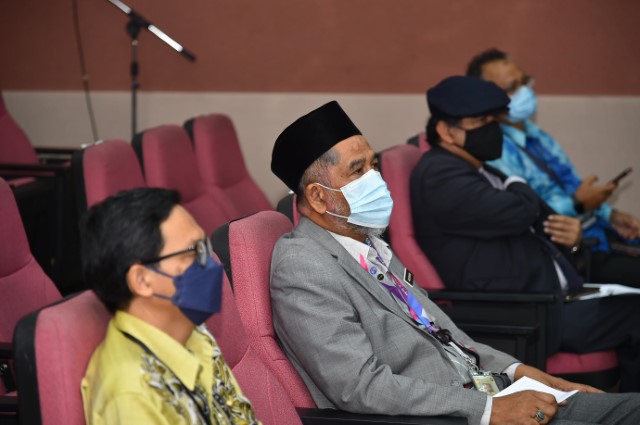 Opening remark was completed by Dr. Abdul Rahim bin Harun, Deputy Director General (Research and Development). In his speech, Dr Abdul Rahim continue to highlight the importance of collaborative effort between Nuklear Malaysia and other local researchers, to expand current knowledge and generate new one.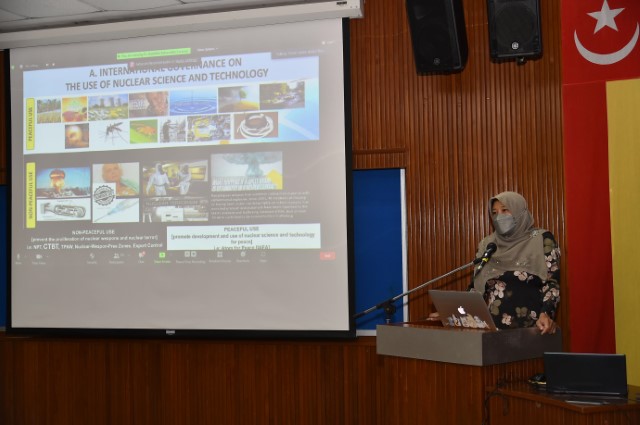 This colloquium is expected to benefits researchers and fellow scientists who wish to partake in the nuclear science & technology researches, particularly in CTBT field.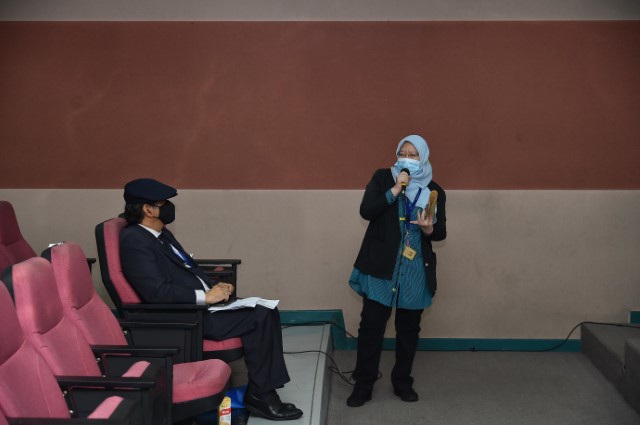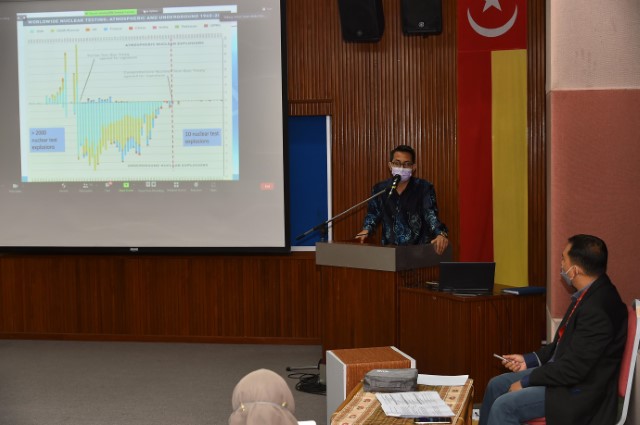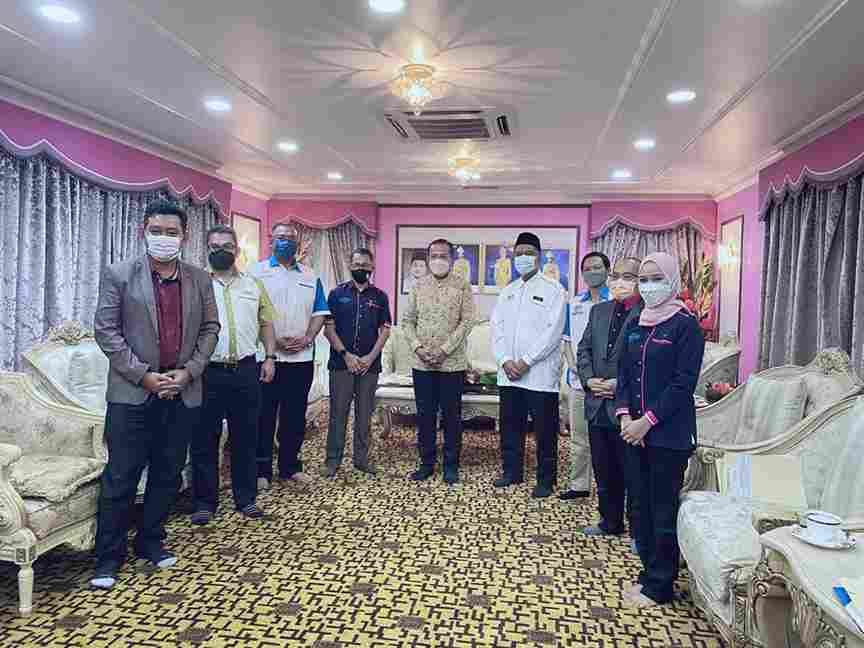 Kunjungan Hormat YBrs. Dr. Abdul Rahim bin Harun, Timbalan Ketua Pengarah (Program Penyelidikan dan Pembangunan Teknologi) ke atas YAB Dato' Seri Dr. Ahmad Samsuri bin Mokhtar, Menteri Besar Terengganu bagi membincangkan hala tuju dan peluang dalam kerjasama strategik terhadap teknologi nuklear yang boleh diguna pakai di Negeri Terengganu.

Menerusi kunjungan hormat ini juga pelbagai pandangan, idea, sokongan dan cadangan kerjasama pada masa akan datang telah dibincangkan demi manfaat untuk rakyat dan negara.

Turut hadir adalah YBrs. Dr. Rosli bin Darmawan, Timbalan Ketua Pengarah (Program Perkhidmatan Teknikal), Encik Mohd Sidek bin Othman, Pengarah Kanan (Program Pengkomersilan dan Perancangan Teknologi), Dr. Kamarudin bin Samuding, Pengarah Bahagian Teknologi Sisa dan Alam Sekitar dan beberapa pegawai dari Agensi Nuklear Malaysia.