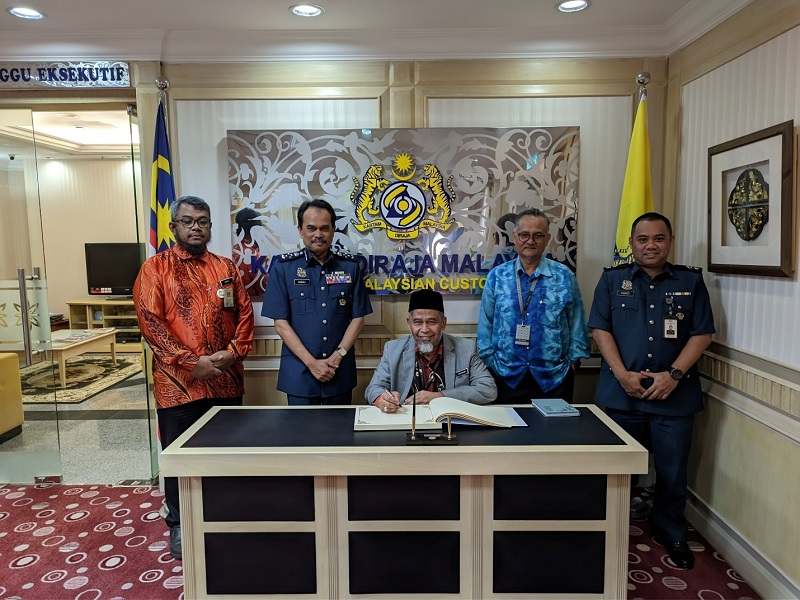 PUTRAJAYA, MARCH 23, 2023: Datuk Sazali Bin Mohamad, Deputy Director General of Customs (Enforcement and Compliance), was honored to receive a courtesy visit from Nuklear Malaysia delegation at his office. Nuklear Malaysia delegation was led by Dr. Abdul Rahim Bin Harun, Director General of Nuklear Malaysia, and Dr. Muhammad Rawi Bin Mohamed Zin, Deputy Director General (Technical Services), Ts. Dr. Ishak Bin Mansor, Senior Director (Commercialization and Technology Planning), division directors, and several other officers.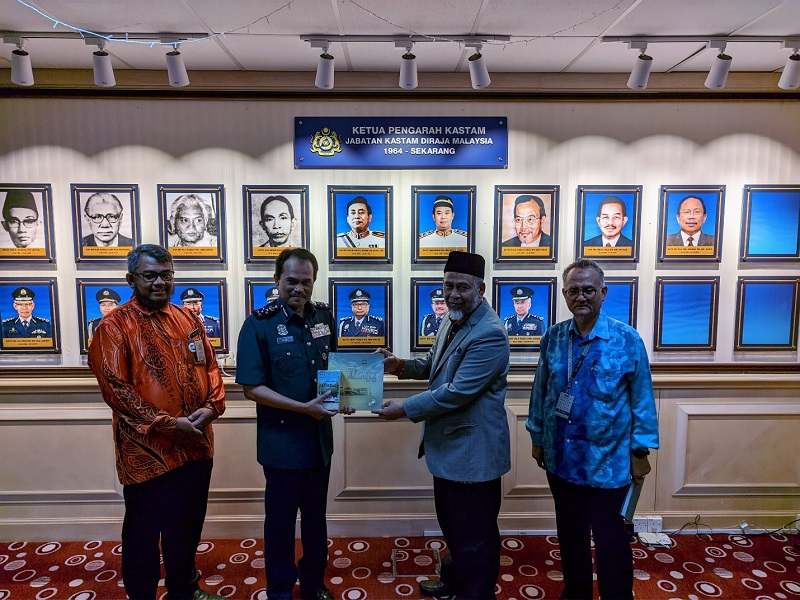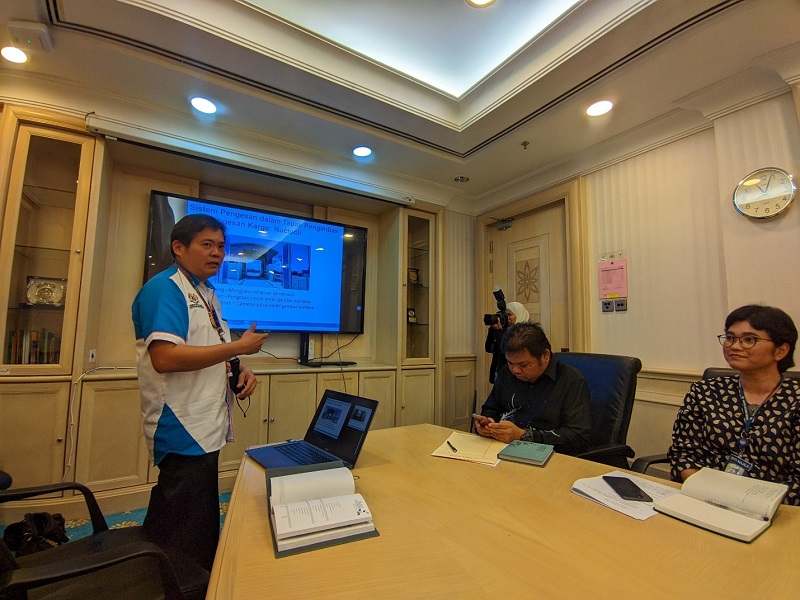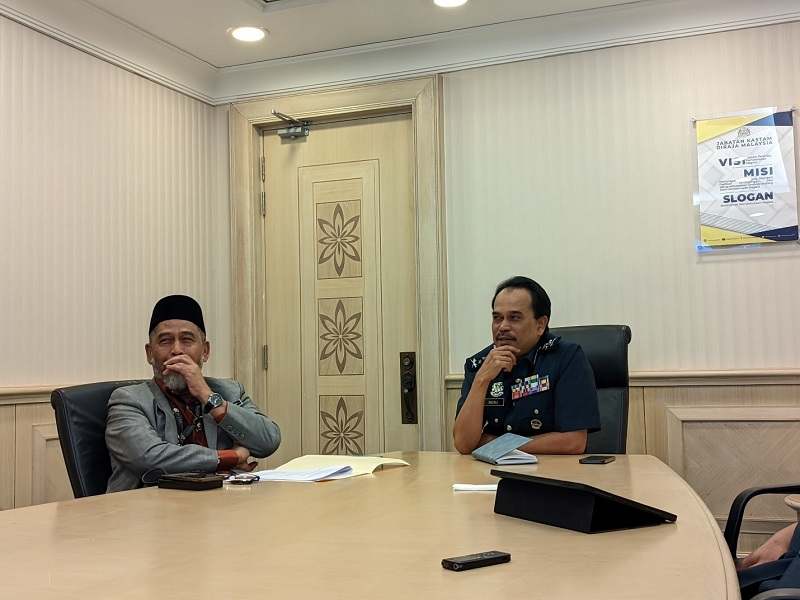 Among topics highlighted and discussed were including the relationship and potential collaboration for mutual benefits including but not limited to human capital development, technical support, and consultation, as well as strengthening ties and cooperation through the programs already established between Nuklear Malaysia and the Royal Malaysian Customs Department.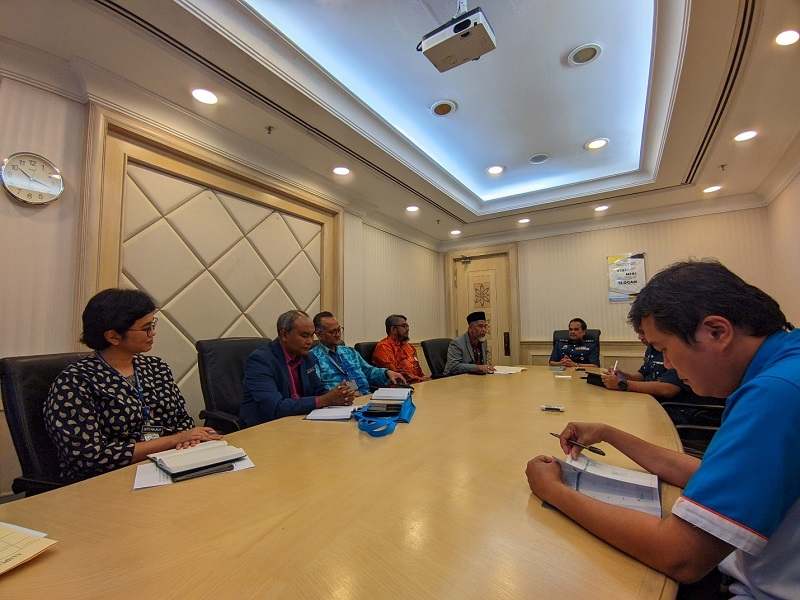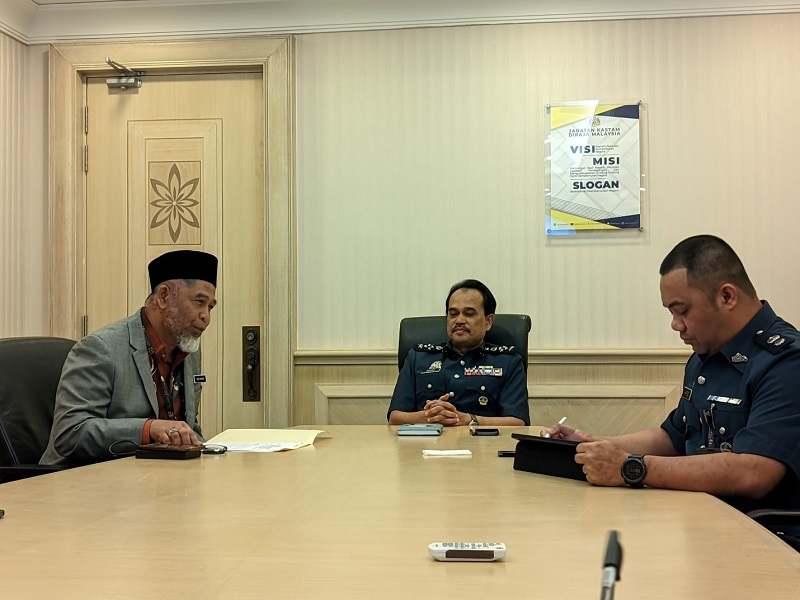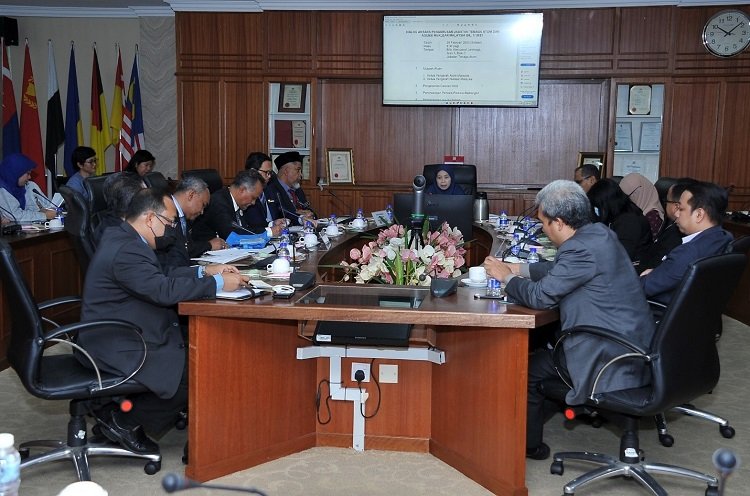 SEPANG, MARCH 1ST- The Malaysian Nuclear Agency and Atomic Energy Department's initiative to hold a Joint Dialogue Session was launched on February 28, 2023, at the Malaysian Atomic Energy Office in Dengkil to discuss relevant issues affecting these two agencies.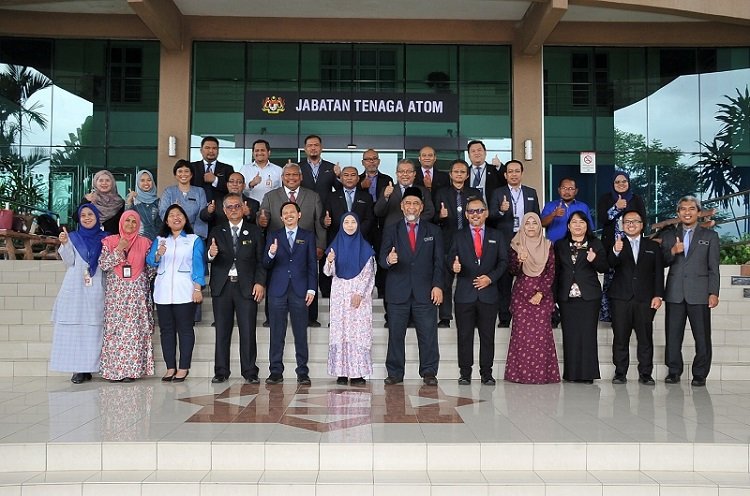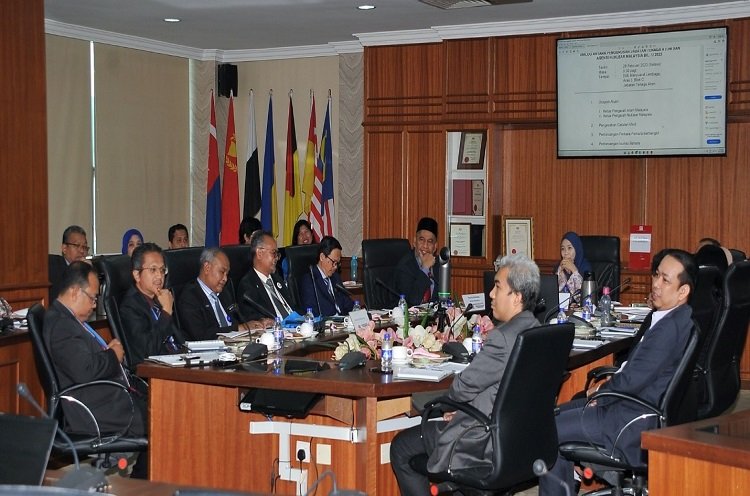 Dr. Abdul Rahim bin Harun, Director General of Nuclear Malaysia, as well as top management and department heads were present at the meeting. Hajah Noraishah binti Pungut, Director General of Atom Malaysia, was also present along with her management teams.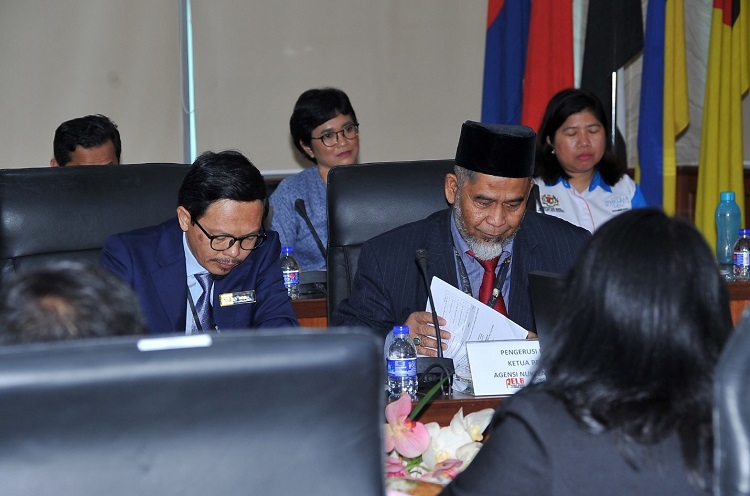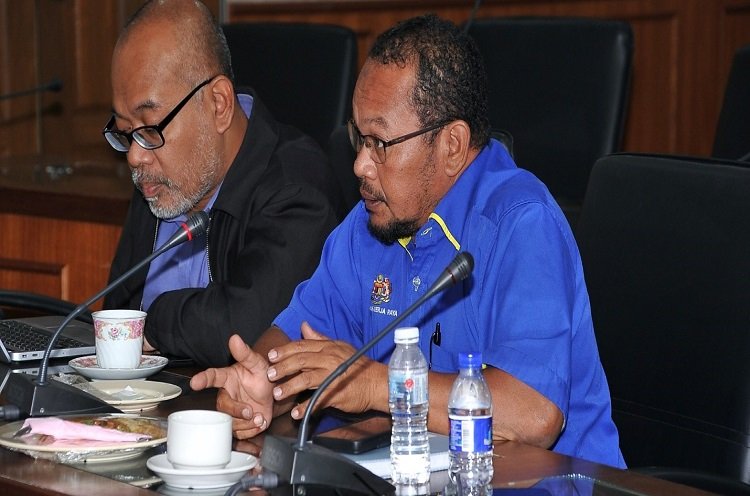 With the hopes of promoting collaboration and understanding between Nuklear Malaysia and Atom Malaysia, this session will provide a forum for the clarification of suggestions and new issues, as well as opinions that can act as a guide.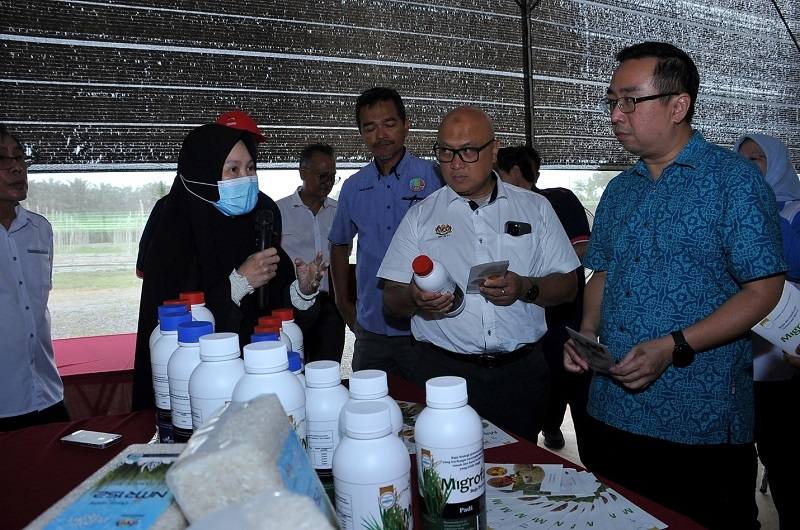 SUNGKAI, FEB 3rd 2023:Chang Lih Kang, Minister of MOSTI, was present for a working visit to the Malaysian Nuclear Agency's Migrofas M99 Biofertilizer Project on cucumber, luffa, musk lime, pumpkin, lemongrass, long beans, bananas, and oil palm at EGI Green Farm located in Sungkai, Perak.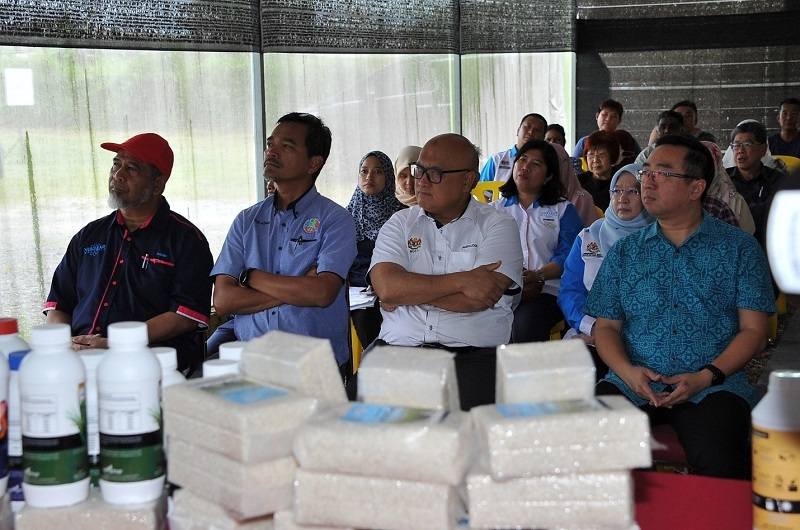 Biobaja Migrofas is another successful product made by Nuklear Malaysia containing a type of beneficial microorganism with multiple abilities which enable nitrogen binding from the atmosphere, while decomposing phosphate and potassium. This beneficial microorganism is Pseudomonas putida, a soil bacteria isolated from rice fields. The use of biofertilizers can increase the availability of macronutrients in the soil for crop use, reduce reliance on chemical fertilizers, environmentally friendly, easy to use, and support sustainable agriculture.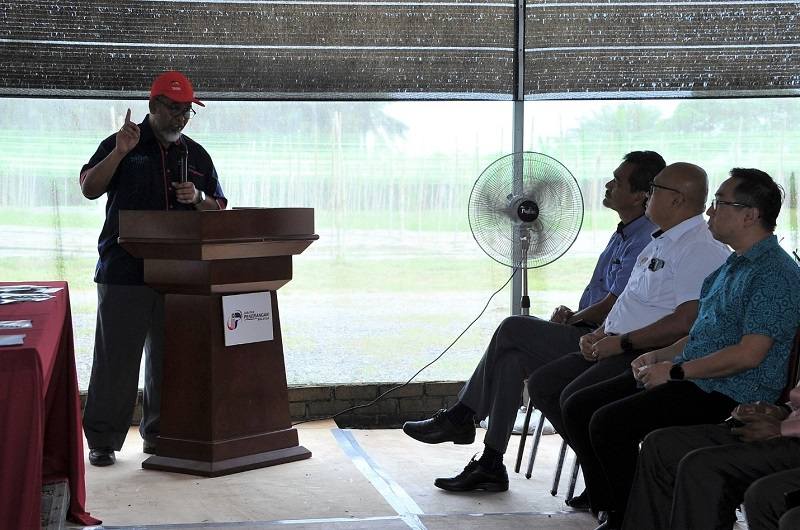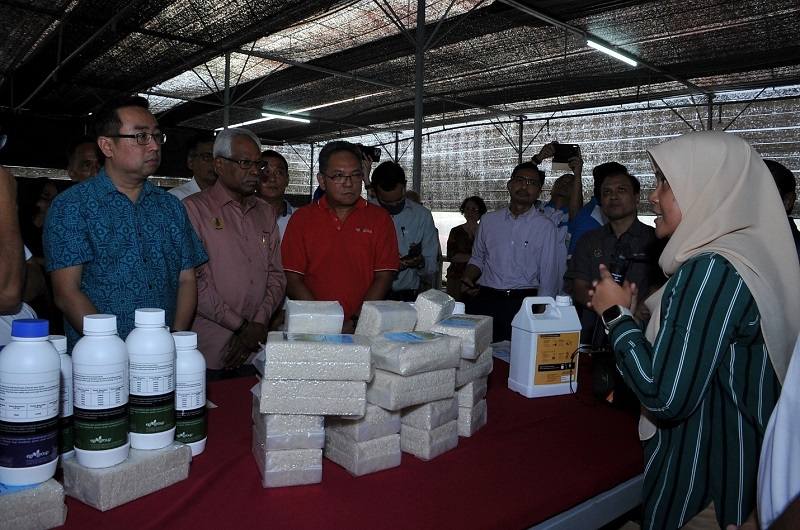 During this visit, the minister was also presented with other R&D products such as IS21 paddy seed (NMR152) and NM Oligo Chitosan. Also present were Datuk Ts. Dr. Hj. Aminuddin Bin Hassim, MOSTI Secretary General, Datuk Ts. Dr. Mohd Nor Azman Bin Hassan, MOSTI Deputy Secretary General (Technological Development), Dr. Abdul Rahim Bin Harun, Nuklear Malaysia Director General, Sivanesan A/L Achalingam, Sungkai Assemblyman, Mr. Neel Azwar Bin Abdul Karim, Chief Assistant District Officer (Land), representing Batang Padang District Officer; Iskandar Bin Abdullah, Village chief of Sungkai, Datuk Abdul Halim Bin Nawi, Chief Executive Officer, CEO of EGI Biotek Sdn. Bhd, and others from MOSTI and Nuklear Malaysia.
Nuklear Malaysia responded to MOSTI's hail of bridging the technological access gap between urban and rural areas, contributing to the development of the local economy, and improving public sector service delivery. Nuklear Malaysia continues to follow the 4K approach of community, cooperation, progress, and engineering to ensure that the use of nuclear technology is always relevant to progress and commercial value to the community and target groups.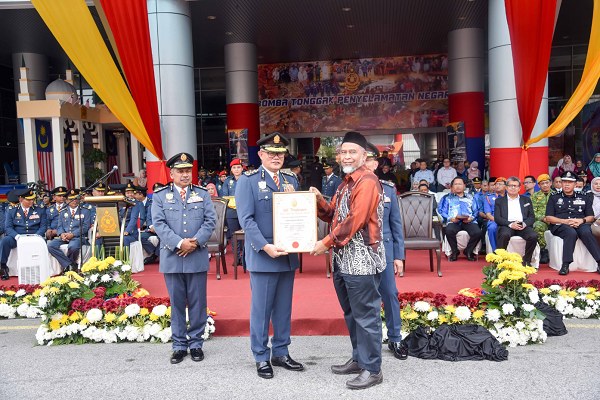 PUTRAJAYA, JAN 19th, 2023 - Malaysian Fire and Rescue Department today expressed their gratitude and appreciation for the contribution and service provided by the Ministry of Science, Technology, and Innovation (MOSTI) through the Malaysian Nuclear Agency, which jointly involved in the search and rescue operation (SAR) of the victims of the landslide tragedy at Father's Organic Farm, Batang Kali, Selangor.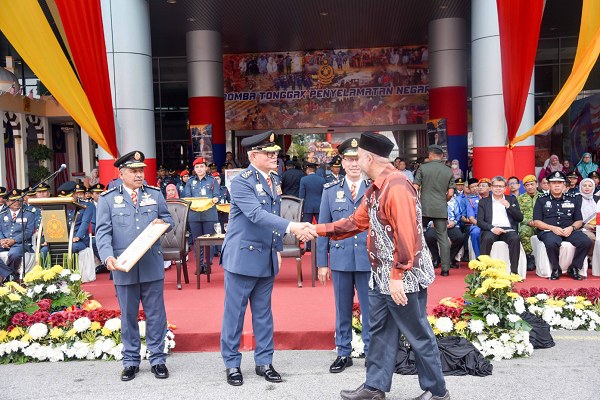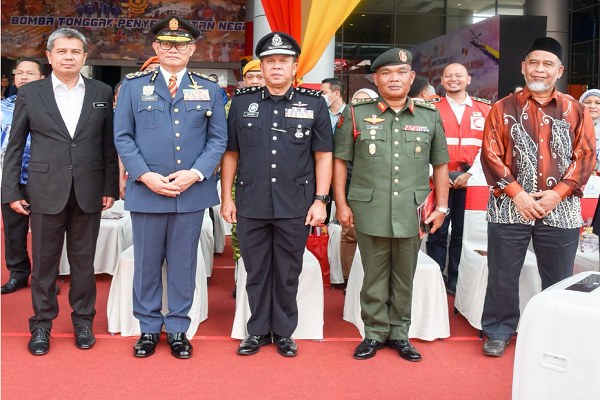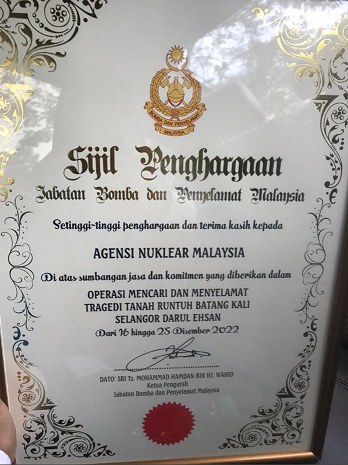 Dr. Abdul Rahim bin Harun, Director General of Nuclear Malaysia, received this certificate of appreciation during the annual parade of the Malaysian Fire and Rescue Department, 2023 at the Malaysian Fire and Rescue Headquarters in Putrajaya.
During the tragedy, Nuklear Malaysia through its Ground Penetrating Radar (GPR) innovation has assisted in locating victims, resulting in recovery of all fallen victims and brought about closure to the bereaved relatives.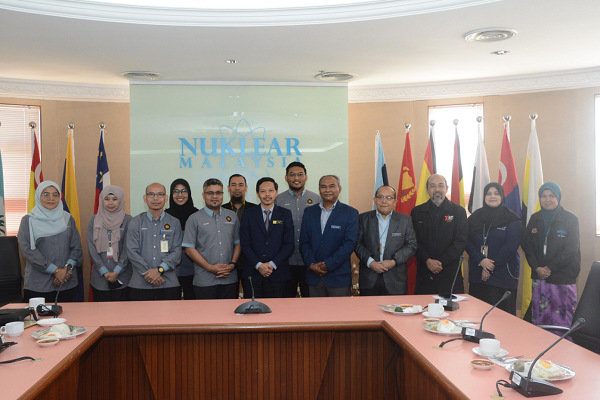 BANGI, JAN 17th, 2023: Malaysian Nuclear Agency today received a courtesy visit from Department of Museums Malaysia, led by Mr. Razaimi bin Hamat, Deputy Director General of Museums, and welcomed by Dr. Rosli Bin Darmawan, Deputy Director General of Research and Technology Development of Nuklear Malaysia. The interactive session and two-way discussion took place in the Conference Hall, Bangi Complex.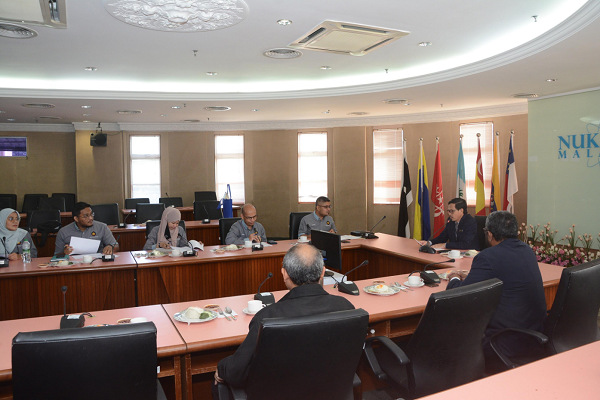 Dr. Muhammad Rawi Bin Mohamad Zain, Senior Director of Management Program, division directors, as well as research officer also attended the session.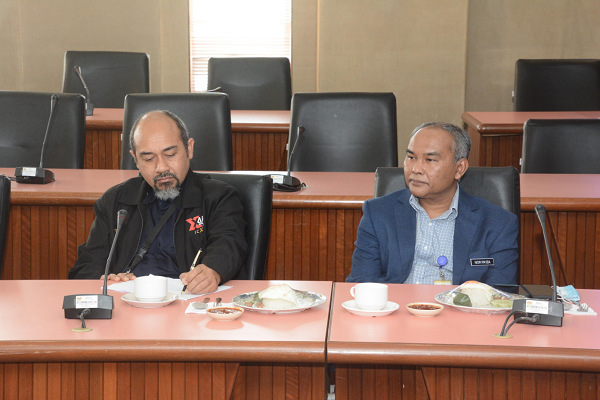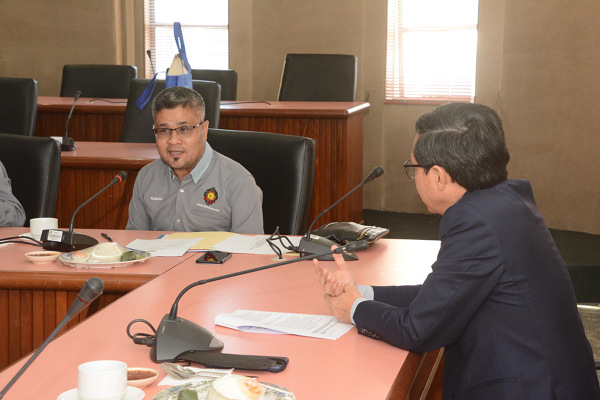 Various topics were discussed, particularly pertaining to collaboration between Nuklear Malaysia and Department of Museums Malaysia through artifact conservation projects involving research and outreach programs.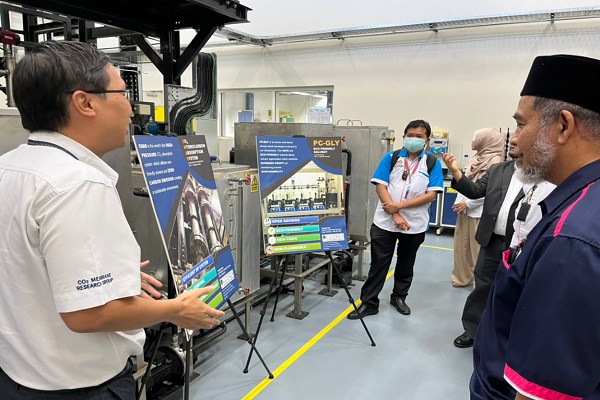 SERI ISKANDAR, JAN 12th, 2023 - Malaysian Nuclear Agency (Nuklear Malaysia) delegation, led by Dr. Abdul Rahim bin Harun, Director General of Nuclear Malaysia, made a courtesy visit to Prof. Ts. Dr. Mohamed Ibrahim bin Abdul Mutalib, Vice-Chancellor of Universiti Teknologi Petronas (UTP), at the UTP campus in Seri Iskandar. Also presence was Dr. Rosli bin Darmawan Deputy Director General of Nuklear Malaysia along with several officers.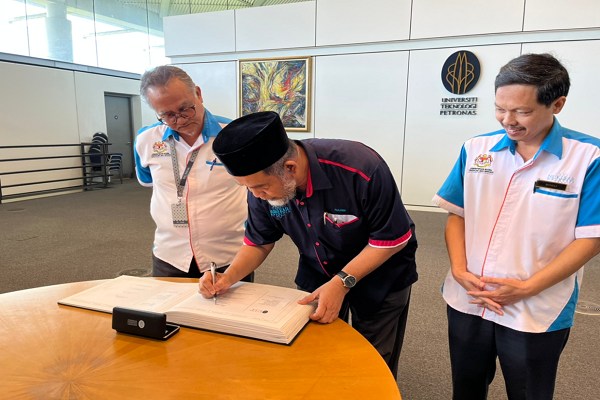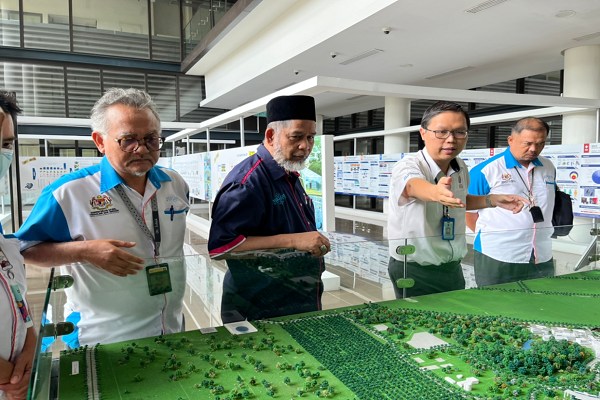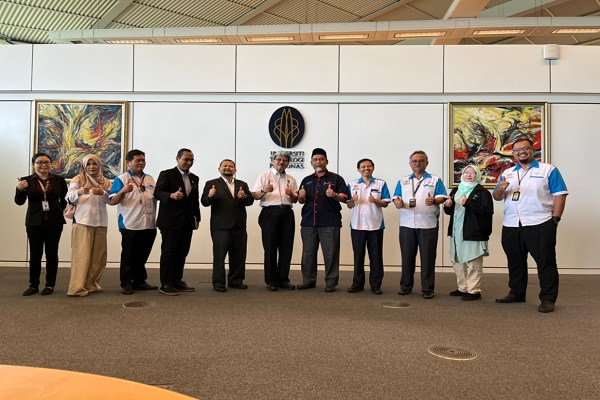 This courtesy visit was aimed to discuss the direction and opportunities of the ongoing strategic nuclear technology collaboration between Nuklear Malaysia and UTP.
Nuklear Malaysia is looking forward for this strategic partnership continue to expand and improve mutual benefit. The various points of view, ideas, support, and suggestions for future collaboration are expected to bloom, profiting the people and the nation.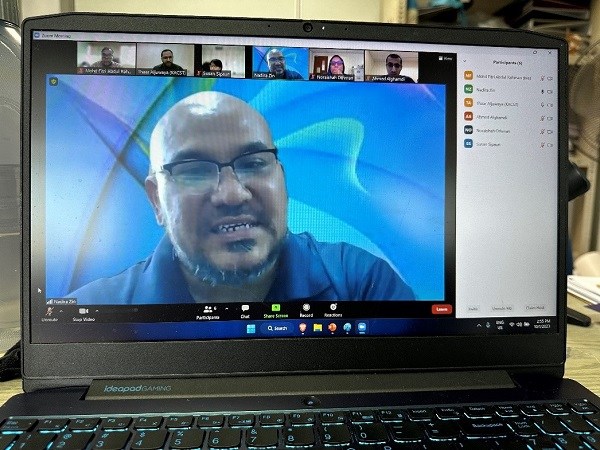 BANGI, 10th JANUARY 2023- An online meeting between Plant Assessment Technology (PAT) of Nuklear Malaysia and Nuclear Research Institute (NSRI),King Abdul Aziz City for Science and Technology (KACST) was held yesterday. PAT was represented by Dr. Mohd Fitri bin Abdul Rahman, Ts. Dr. Nazrul Hizam bin Yusoff, Dr. Susan Maria Sipaun and Dr. Noraishah binti Othman. Meanwhile, NSRI were represented by Dr.Thaar Aljuwaya and Dr. Ahmed Alghamdi.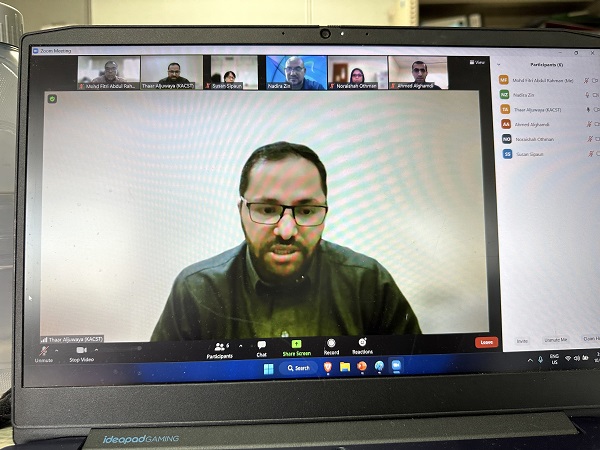 The topic discussed was the potential collaboration in radioisotope-based measurement. Dr. Thaar began the meeting with a brief overview of NSRI and KACST. Meanwhile, on behalf of PAT, Dr. Nazrul Hizam bin Yusoff introduces PAT R&Ds and activities as well as PAT achievements.
The meeting concluded with NSRI expressing an interest in visiting Nuklear Malaysiaespecially BTIfor further information and discussion about the area of collaboration, primarily on radioisotope-based measurementin Malaysia.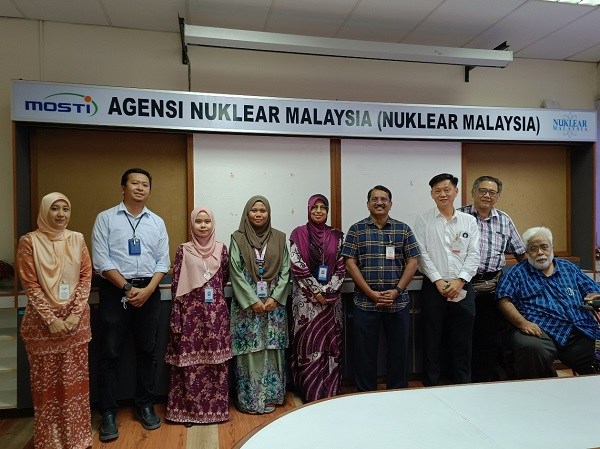 BANGI, 10th JAN 2023 - A discussion was carried out for future collaboration between Malaysian Nuclear Agency and Koperasi Pertanian St Thomas Kuantan Berhad (KOPERTANI). Chaired by ChM. Dr. Salmah binti Moosa, the Manager of Agroecosystem Management Group, Agrotechnology and Bioscience (BAS), while KOPERTANI represented by Dr. Redzuan bin Ibrahim, the discussion was held in Hibiscus's Meeting Room.
For the record, KOPERTANI has showing interest in the outcome from group research related to stable isotopes technology especially in the field of veterinary. Several other research officers from Nuklear Malaysia were also present during the visit.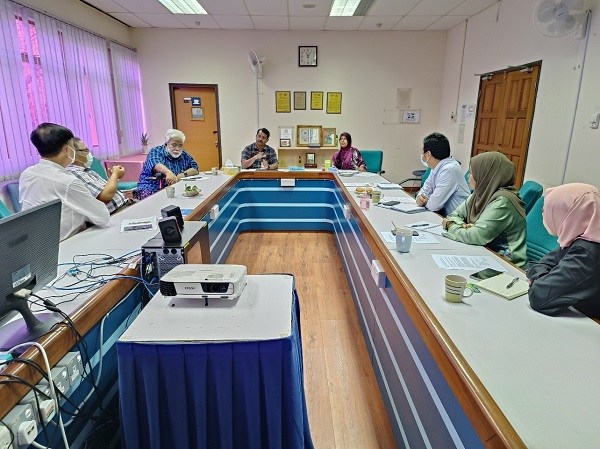 Among issues highlighted were infestation of flies in the poultry farming which provides an ideal breeding environment for flies, making them legally liable. Stable isotope technique is capable of identifying the origin of the infestations and therefore provide solution to KOPERTANI. Nuklear Malaysia also offering solution in verification technique for A2 cows which produces the A2 proteins milk. This collaboration is expected to benefit both parties and further expand the application of stable isotopes for peaceful use.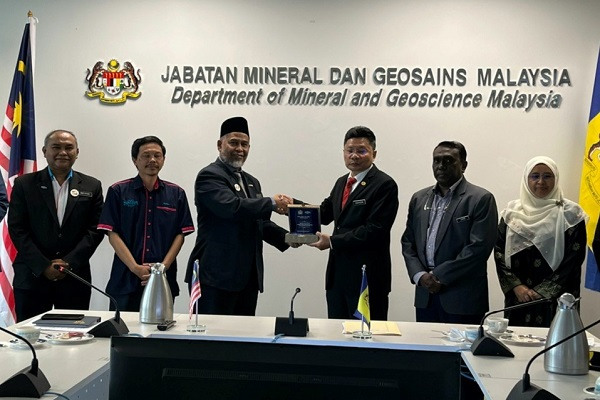 PUTRAJAYA, DECEMBER 19th 2022 - Nuklear Malaysia, led by Dr. Abdul Rahim bin Harun, Director General of Nuclear Malaysia, paid a courtesy call to the Director General of the Minerals and Geoscience Department of Malaysia (JMG), Hisamuddin bin Termidi, with the aim of strengthening strategic collaboration between Nuklear Malaysia and JMG.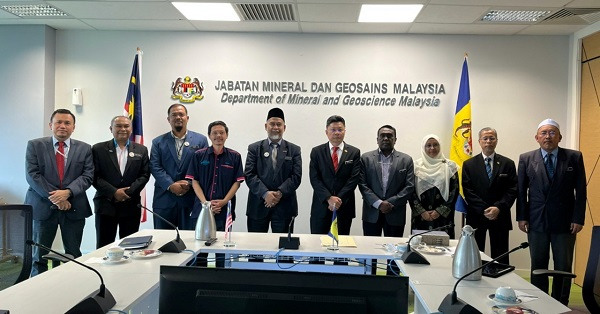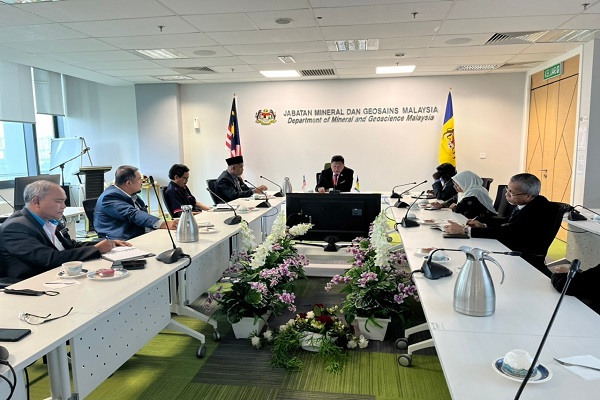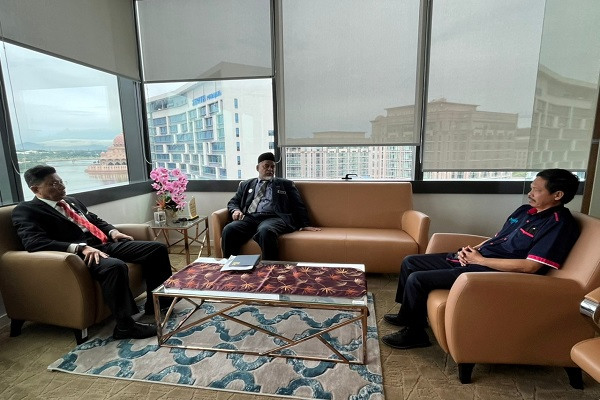 During this bilateral interaction session, various research proposals, as well as the scope of continuity of cooperation, were discussed among which are deep water resources for domestic and agricultural needs, economic mineral exploration works such as REEs Uranium and Thorium. Others including studies related to geohazard or geological disasters such as landslides, slope stability, soil deposits, surface mapping for cavity detection and underlying engineering as well as isotope studies were also discussed.