SCHEDULED TRAINING
INDUSTRIAL TRAINING AND RESEARCH STUDY
Since 1990s, Nuclear Malaysia has also offered places and expertise to students of IPTA, IPTS and public research institutions to carry out industrial training (LI) and research and attachment studies (KPS). Each year, around 100-200 students from Public and Private Universities have been placed to undergo industrial training at Nuclear Malaysia. Meanwhile, almost 50 students and researchers carried out research studies and attachments either at the First Degree (Final Year Project), Master's Degree and Doctor of Philosophy level.
In meeting the need to producea skilled workforce in various fields of employment as stated in the national education systemplanning, LI programme at Nuclear Malaysia has successfully contributed to the improvement of technical and soft skills to IPT students. Meanwhile, KPS contributes to the improvement of specific technical knowledge and skills in theparticular field, expertise and competence of students and researchers through the implementation of research projects at Malaysian Nuclear Agency.
PERSON INCHARGE
Noorlaily Binti Mat Natar

Noor Azreen Binti Maslan
email to bsm_latihan[at]nuclearmalaysia.gov.my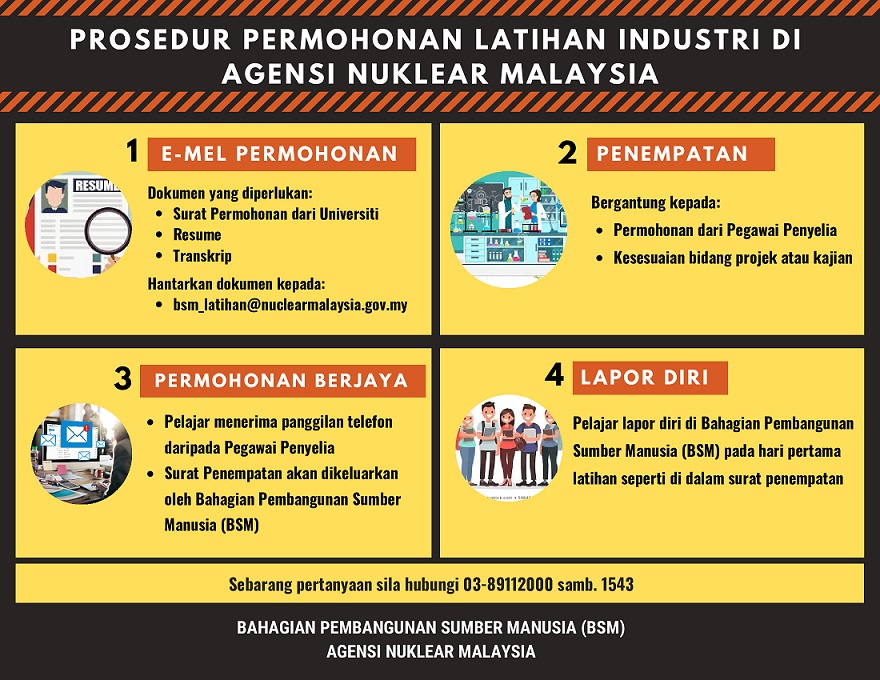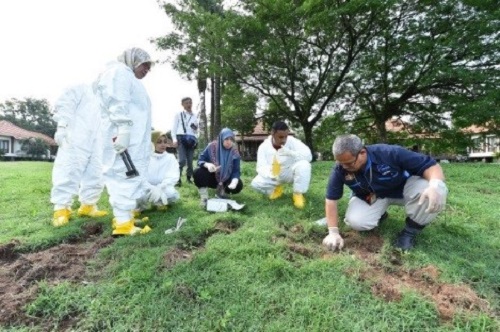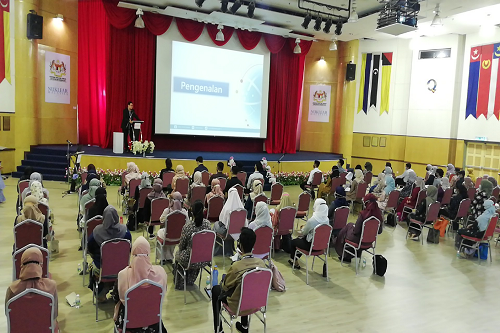 Areas of study offered are in the fields of nuclear technology application according to Nuclear Malaysia's research group as follows:-
Advanced materials and advanced manufacturing
Environment and waste
Radiopharmacy and biopharmacy
Natural bioresources based products
Medical imaging
Renewable energy
Plant and structural integrity
Industrial plants including mutagenesis, plant biotechnology, ornamental and agronomic aspects
Natural polymers and synthetic polymers
Engineering development including research reactor
Radiation safety and health
Alternative electrical power generation - nuclear power
Nanotechnology and nanomaterials
Electrical, electronics, mechanical and mechatronic engineering
Information technology and communication
Number of places available at any one time depends on the capacity, suitability and can be managed by taking into account the following aspects such as:
the number of existing supervisor,
field of training or research required,
usability of tools and equipment,
nature of training or supervision of research,
safety and health during training and
inline with Nuklear Malaysia's priority area
Student Placement Application Flow Chart for Industrial Training / Research Study at Malaysian Nuclear Agency
Documents required upon application of industrial training / research study in Nuklear Malaysia are:
Official application letter to undertake industrial training / research study through the HEI / institution
Resume / C.V. with latest photograph
Academic transcripts
Research project proposal (for applications to carry out research studies / attachment only)
These documents are required by the secretariat to facilitate placement for industrial training student and as a basis for the management of Nuklear Malaysia in considering applications. Only COMPLETE APPLICATIONS are considered for placement and approval.
Official application letter and supporting documents must be submitted by post to the following address:
Director General
Agensi Nuklear Malaysia
Block 11, Bangi Complex
43000 Kajang, Selangor Darul Ehsan
(Att. to: YM. Raja Jamal Abdul Nasser Bin Raja Hedar,
Director of Human Resource Development Division)
The deadlines for submission of applications for industrial training students are as follow:
| Registration Session | Jan/Feb/Mac/Apr | May/Jun/Jul/Aug | Sept/Oct/Nov/Dec |
| --- | --- | --- | --- |
| Deadlines for applications submission | 31 October | 28 February | 30 June |
Application for industrial training will be informed to the IPT by letter for further action as date below:
| Registration Session | Jan/Feb/Mac/Apr | May/Jun/Jul/Aug | Sept/Oct/Nov/Dec |
| --- | --- | --- | --- |
| Deadline Notification to IPT | 15 December | 15 April | 15 August |
Whereas, the deadline for submission of applications for research studies by attachment in Nuklear Malaysia is at least SIX (6) WEEKSbefore the student/researcher starts the research study in Nuklear Malaysia.
Successful application of industrial training / research studies will be informed to the students / researchers through a formal reply letter that will be sent by mail to the HEI / institutions.
ADDITIONAL INFORMATION
Nuklear Malaysia does not provide accommodation and transportation to student/researcher who will undergo industrial training or carry out research studies. Nuklear Malaysia also does not provide training allowances to industrial training students due to limited allocation. Whereas, for students / researchers conducting research under a project funded by the science-fund / techno-fund, allowance claim can be made through the project leader and subjected to the approved budget. Please refer to the Student Placement Application Flow Chart for Industrial Training / Research Study at Agensi Nuklear Malaysia for the complete placement procedure.
For further information related to student placement for industrial training and research study, please contact:
For more infomation, please contact SISPA.
Garis Panduan Pengambilan Pelajar Latihan Industri dan Kajian Penyelidikan Agensi Nuklear Malaysia
Guideline for Industrial Training Placement and Research Study
FOLLOW-UP TRAINING COURSE (FTC)
Since 2012, Malaysia has been cooperated with Japan Atomic Energy Agency (JAEA) to develop human resource capabilities in nuclear technology and related technologies. Research Officers from Nuclear Malaysia who have been sent to attend the Instructor Training Course (ITC) in Japan are responsible for disseminating the knowledge and skills to the public and train the educational and research institutions and other government agencies in related fields via the Follow-up Training Course (FTC) programme.

There are three main areas offered in the FTC Course recognized by JAEA. There are Reactor Engineering (RE), Radiology & Nuclear Emergency Preparedness (NREP) and Environmental Radioactivity Monitoring (ERM). Through the FTC courses, the expertise, knowledge and experience gained in Japan can be transferred and able to develop human capital in these three areas for the needs of other sectors involved.

PERSON INCHARGE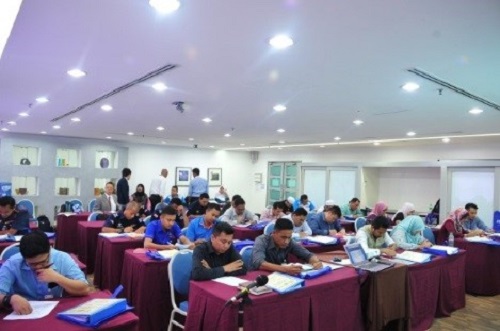 SCIENTIFIC ATTACHMENT
NUCLEAR EDUCATION OUTREACH (NEO) PROGRAMMES
The Malaysian Nuclear Agency (Nuklear Malaysia) began implementing Nuclear Education Outreach (NEO) programmes in the 1980s. The programme focuses on the role and responsibility to disseminate information, provide exposure and educate the public on the importance and contribution of nuclear science and technology to the country's progress. Nuklear Malaysia keeps up with current trends and always be creative and innovative to give a wide range of NEO programmes to various levels of society to remain relevant and competitive in this industry. It also emphasizes the skills aspect of STEM education on topics related to nuclear science and technology in each activity implemented.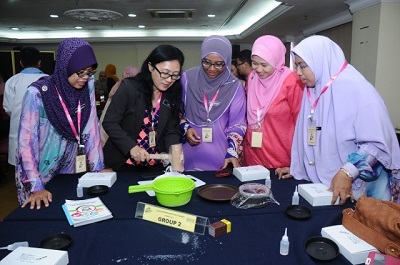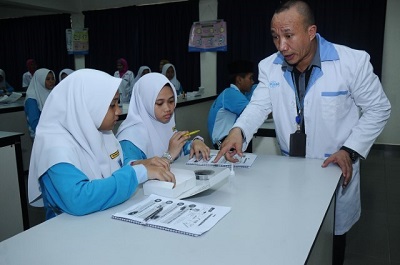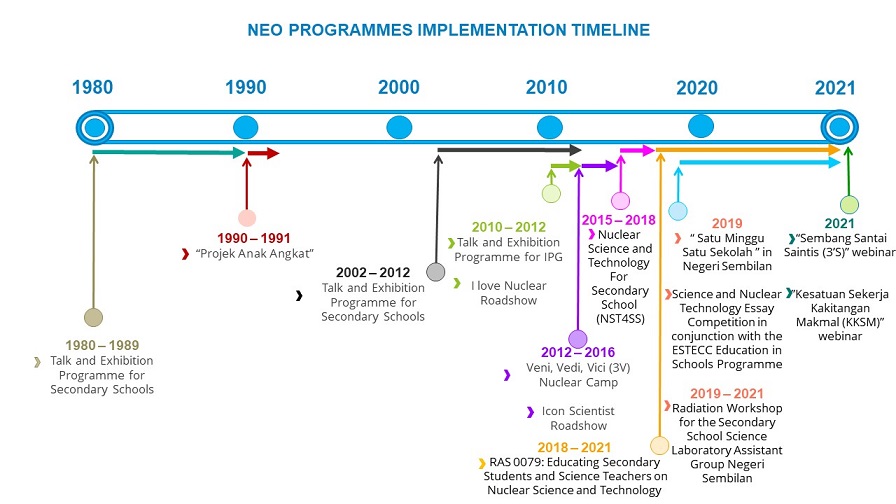 In strengthening the implementation of NEO, Nuklear Malaysia has established strategic collaboration with the Ministry of Science, Technology, and Innovation (MOSTI), Ministry of Education Malaysia (MOE), Japan Atomic Energy Agency (JAEA), and International Atomic Energy Agency (IAEA).
This collaboration adds value to the implementation of the NEO programmes by referring to the current needs of the Malaysian community and the successful outreach programmes conducted by other countries under the IAEA.
Hands-on activities, facility tours, experiments, activities in the Nuklear Malaysia's laboratory, and sharing sessions by experts who are directly involved in nuclear science and technology research are the formats employed in NEO programmes.
The expected outcome of Nuklear Malaysia through the emphasis on the NEO programmes is a society that can think logically, understand, and accept the benefits of nuclear science and technology while contributing to the development of a competitive human resource to drive the country's economic progress.
IAEA/TC/RAS0065: Supporting Sustainability and Networking of National Nuclear Institutions in Asia and the Pacific Region".
Malaysia was selected as a pilot country for the pilot project RAS0065: Supporting Sustainability and Networking of National Nuclear Institutions in Asia and the Pacific Region by the International Atomic Agency (IAEA) in 2015. In Malaysia, this project was entitled Nuclear Science and Technology for Secondary Schools (NST4SS). Support modules developed by Japan and India have become the core for NST4SS as it is compatible with the Malaysian science learning curriculum. These support modules were able to assist the existing syllabus and enrich the teaching techniques on science subjects. The target participants for the NST4SS program are teachers and secondary school students. As a result, the synergy of collaboration between Nuclear Malaysia, Ministry of Science, Technology, and Innovation (MOSTI), and Ministry of Education Malaysia (MOE) through this program has successfully increased the participant's understanding of science and technology (S&T) and STEM. The NST4SS program included:
Radiation Workshop for Secondary School Students
Malaysia has conducted a pilot study of the nuclear education modules developed by Japan to see its practicability among school students. The three schools were choose based on criteria such as urban daily school, rural daily school, and boarding school. Results of the study found that all of the students from those three schools reacted positively to the learning materials provided.
Radiation Workshop for Science Teachers
The goal of this workshop is to disseminate knowledge and promote the nuclear technology and safety, enriching the techniques and creativity in the teaching of nuclear science at the secondary school level as well as providing science teachers as a communicator of science and nuclear technology to students, colleagues, and the public.
National Level Nuclear S&T Essay Competition
This essay competition aims to improve secondary school students' understanding of the safe use of nuclear technology, pique students' interest in science and nuclear technology, and promote the use of the Malay language in science and technology.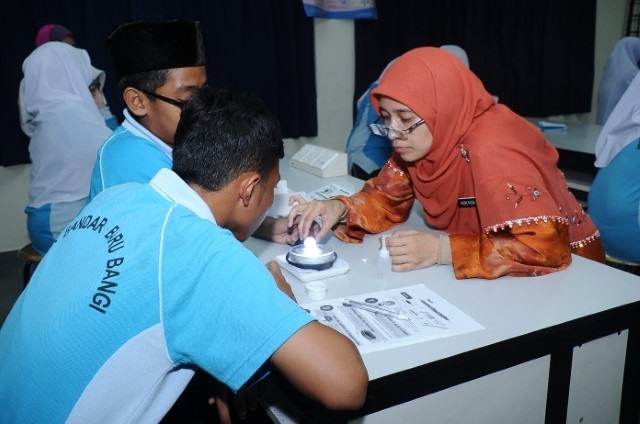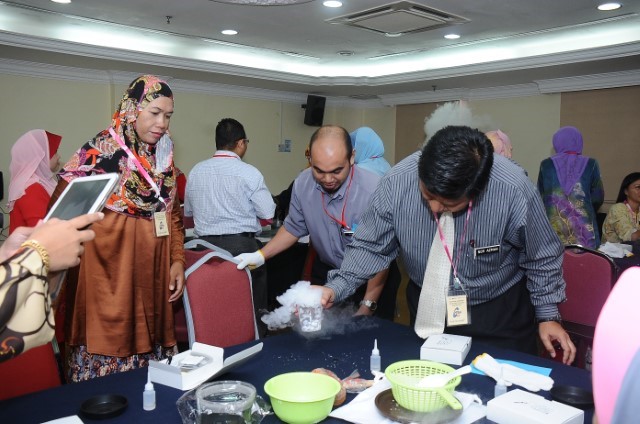 IAEA/TC/RAS0079: REGIONAL TRAINING COURSE FOR TEACHERS TO INTRODUCE NUCLEAR SCIENCES IN SECONDARY SCHOOLS THROUGH INNOVATIVE APPROACHES
A new TC project "RAS 0079: Educating Secondary Students and Science Teachers on Nuclear Science and Technology" has been initiated to now expand the project to all the Member States in the Asia-Pacific region. The time frame for this project is four years which is from 2018 until 2021 with the focus of teachers' empowerment.
RAS 0079 is specifically designed for science teachers to provide essential information related to the basics, applications of nuclear sciences, and risk management of nuclear technology. The approach introduces teachers to new and innovative methods to deliver the information to students through academic as well as extracurricular approaches.
The training course was held for two weeks with the provided modules divided by week. Week one was comprised of technical information on NST and its applications. While week two of the course focused on the expansion of teaching skills, lesson plans, extracurricular activities, and national action plans. Different sets of experts and lecturers delivered the lecture, according to their expertise.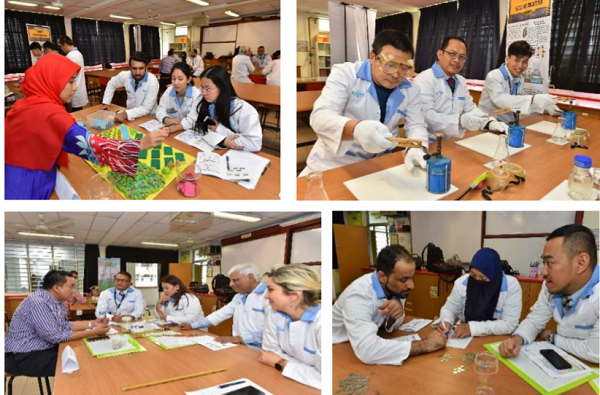 For further details, please contact SISPA.
| | | | |
| --- | --- | --- | --- |
| | | | |
| Modul Program Jangkauan Luar Pendidikan Nuklear (NEO) | Pembelahan & Pelakuran Nuklear | Kita & Radioaktif | Jenis Sinaran Mengion |
| | | | |
| Jadual Berkala | | | |
| | | | |
Nuclear Education Webinar is one of the key cores in NEO. There are three main objectives of the programme, namely the first is to disseminate knowledge on the latest progress of nuclear technology and nuclear safety. Second, to increase the confidence and the reliability level of target group on the importance of nuclear S&T for Human Capital Development. Third, motivates the target group to joined S&T field. The programme is implemented as follow:
WEBINAR SEMBANG SANTAI SAINTIS (3S)
"Sembang Santai Saintis (3'S)" is an online knowledge sharing programme from selected Nuklear Malaysia scientist that targets participation from teachers and secondary school students throughout Malaysia. The 3'S webinar series is open for booking to schools that are interested in enhancing their understanding of science and nuclear technology. Talks, interactive quizzes, Q&A sessions, and several other interactive activities were included in the programme. This webinar is organised from time to time as requested by the schools.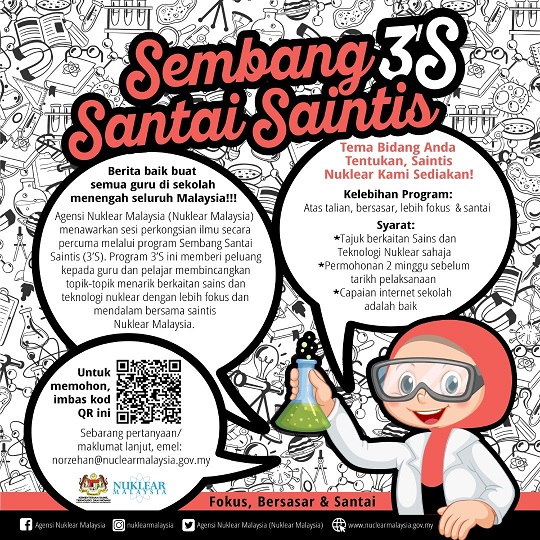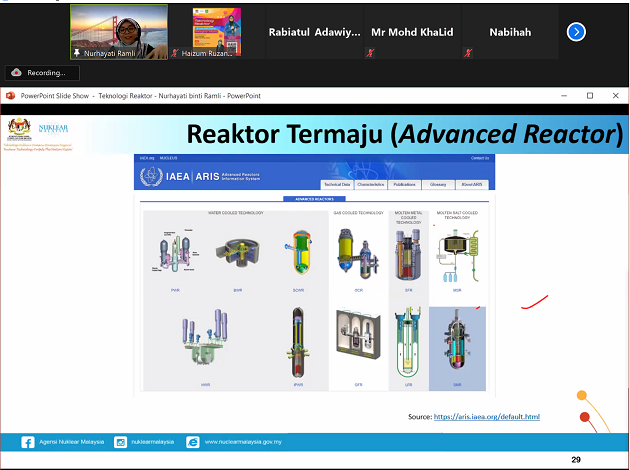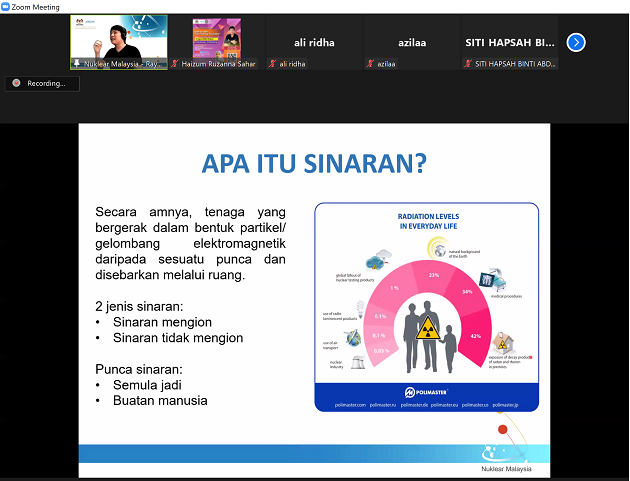 KESATUAN SEKERJA KAKITANGAN MAKMAL (KKSM) WEBINAR
The "Kesatuan Sekerja Kakitangan Makmal (KKSM)" webinar is an online knowledge-sharing programme delivered by selected Nuklear Malaysia scientists to the target group of laboratory assistants. This webinar is implemented to enhance the understanding of the participants regarding safety supervision and proper maintenance of the laboratory. Not only that, but it also aimed to equip the laboratory assistant's knowledge of nuclear safety as well as to be a science and nuclear technology mediator (communicator) to students, colleagues, and the public. The programme includes interactive talk, quiz, online assessment, and Q&A session.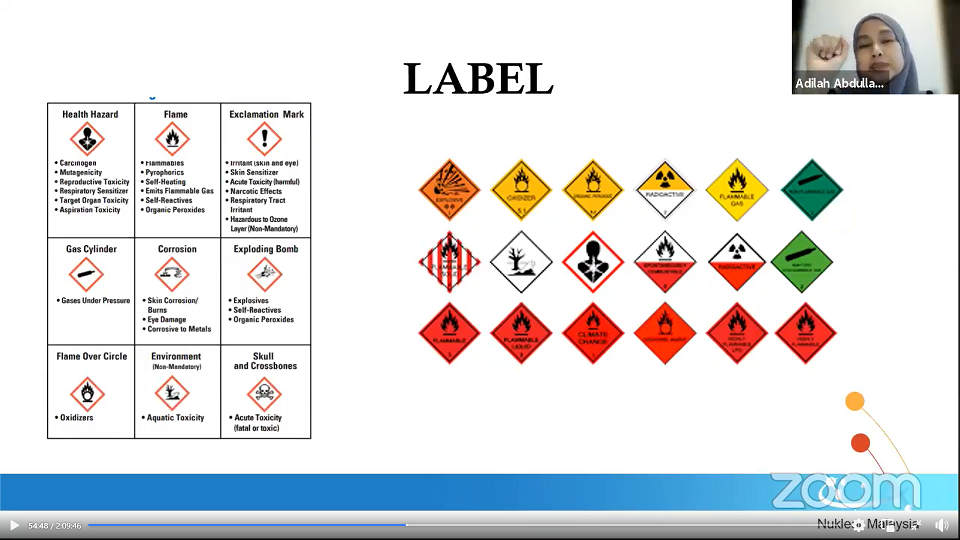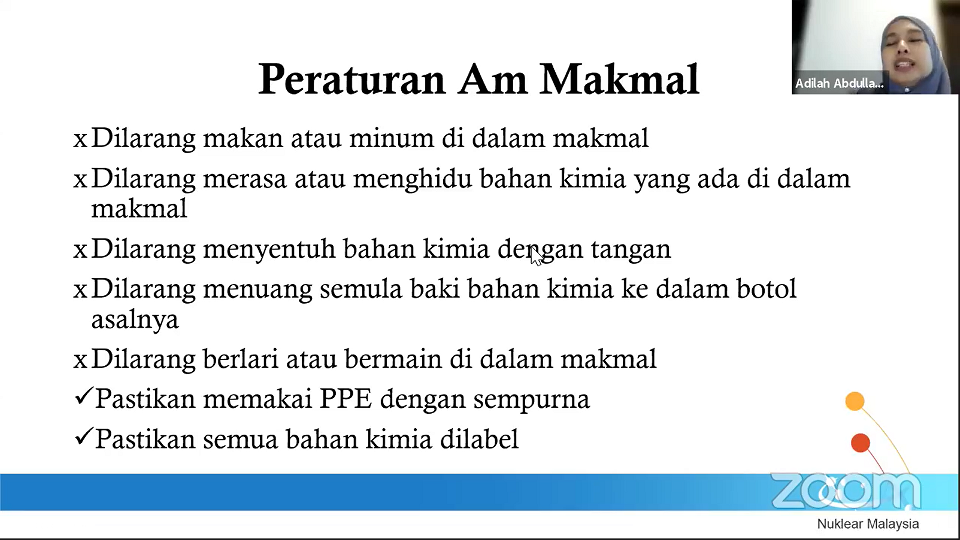 For further details, please contact SISPA.
For schools interested in implementing the outreach programme, Nuklear Malaysia offers Nuclear Education Loan Kits programme. The science concepts will be easier to understand by teachers and students through these services.
For further details, please contact SISPA.
PENGUMUMAN KEPUTUSAN RASMI PEMENANG PERTANDINGAN MELUKIS POSTER SAINS PERINGKAT KEBANGSAAN SEMPENA MINGGU SAINS NEGARA (MSN) 2023 ANJURAN AGENSI NUKLEAR MALAYSIA
Agensi Nuklear Malaysia (Nuklear Malaysia) mengucapkan tahniah dan syabas kepada para pemenang Pertandingan Melukis Poster Sains Peringkat Kebangsaan yang telah diadakan sempena penganjuran Minggu Sains Negara 2023, dengan tema "Kegunaan Aman Nuklear".
Sekalung penghargaan dan terima kasih kepada semua peserta, guru dan ibu bapa yang menyokong pertandingan ini. Segala usaha dan sokongan padu daripada semua amat kami hargai.
Semoga dengan penganjuran pertandingan ini akan dapat meningkatkan lagi kesedaran dan kefahaman semua mengenai sains dan teknologi nuklear serta kegunaannya secara aman.
Sekian, terima kasih.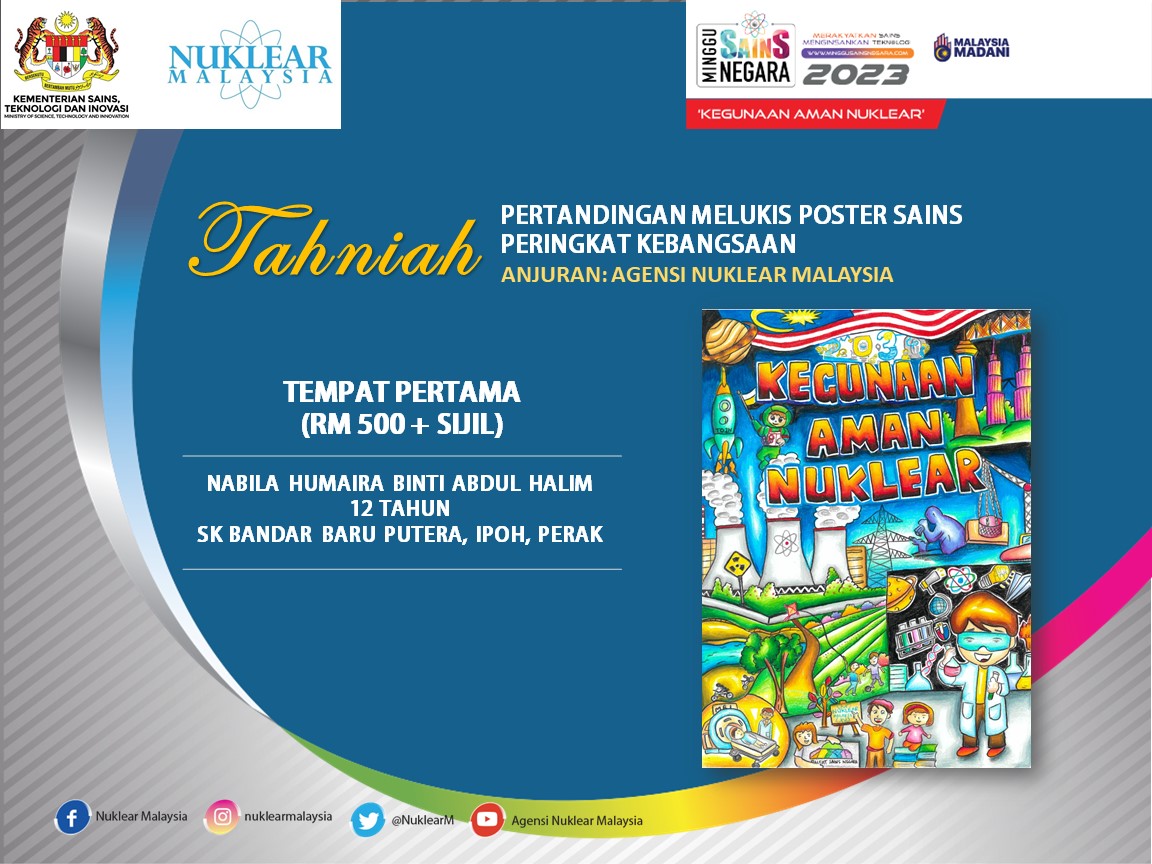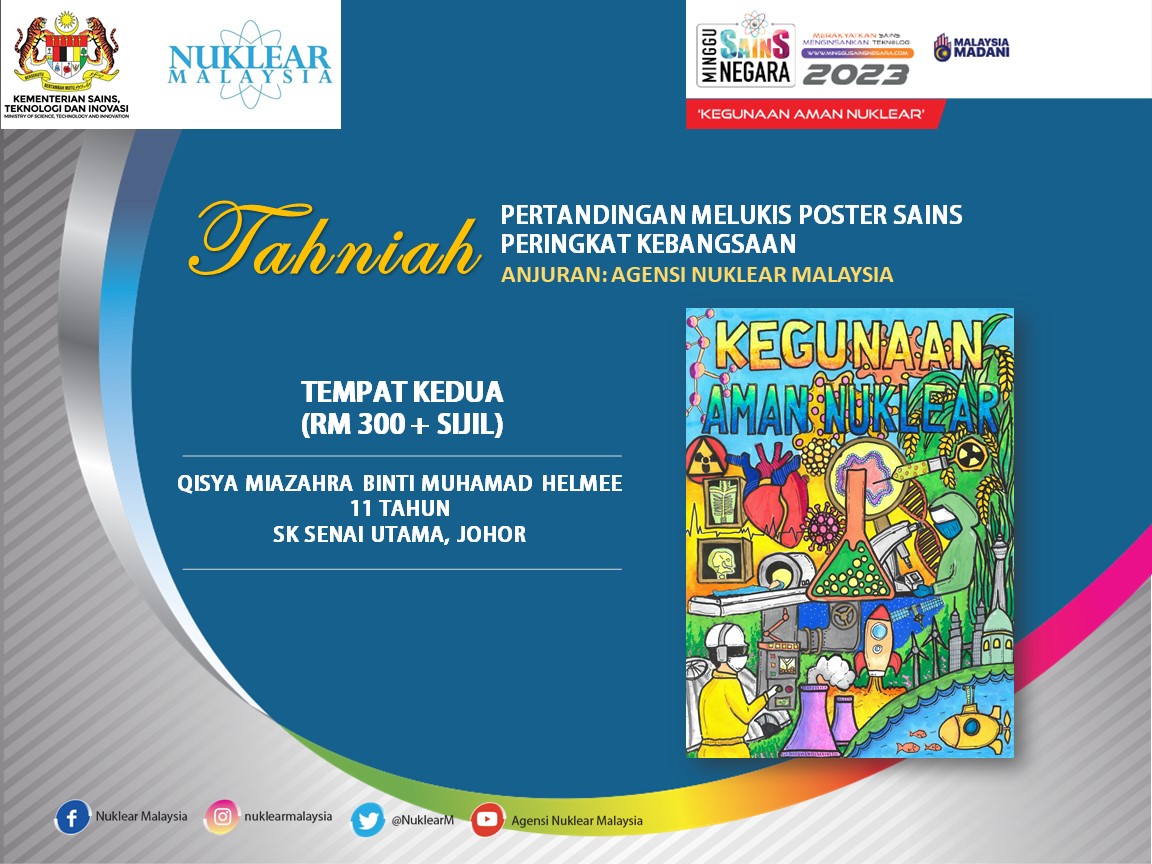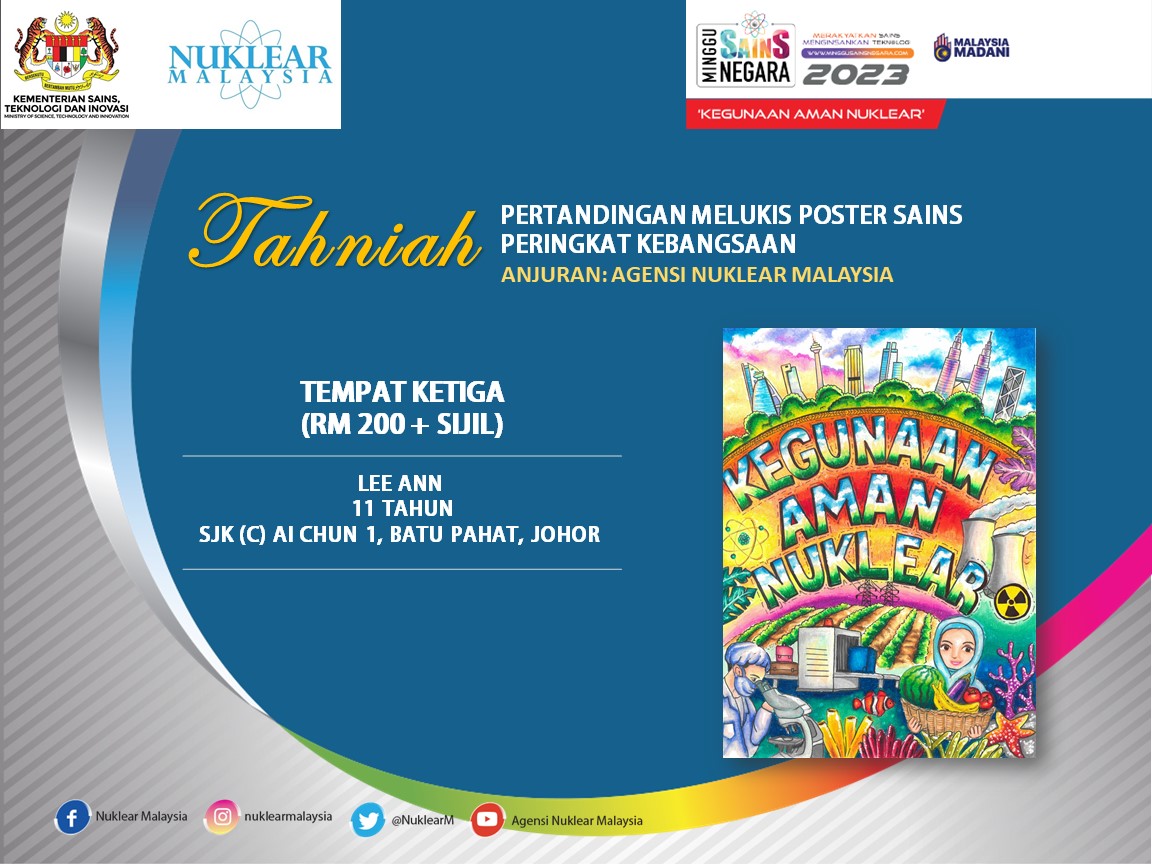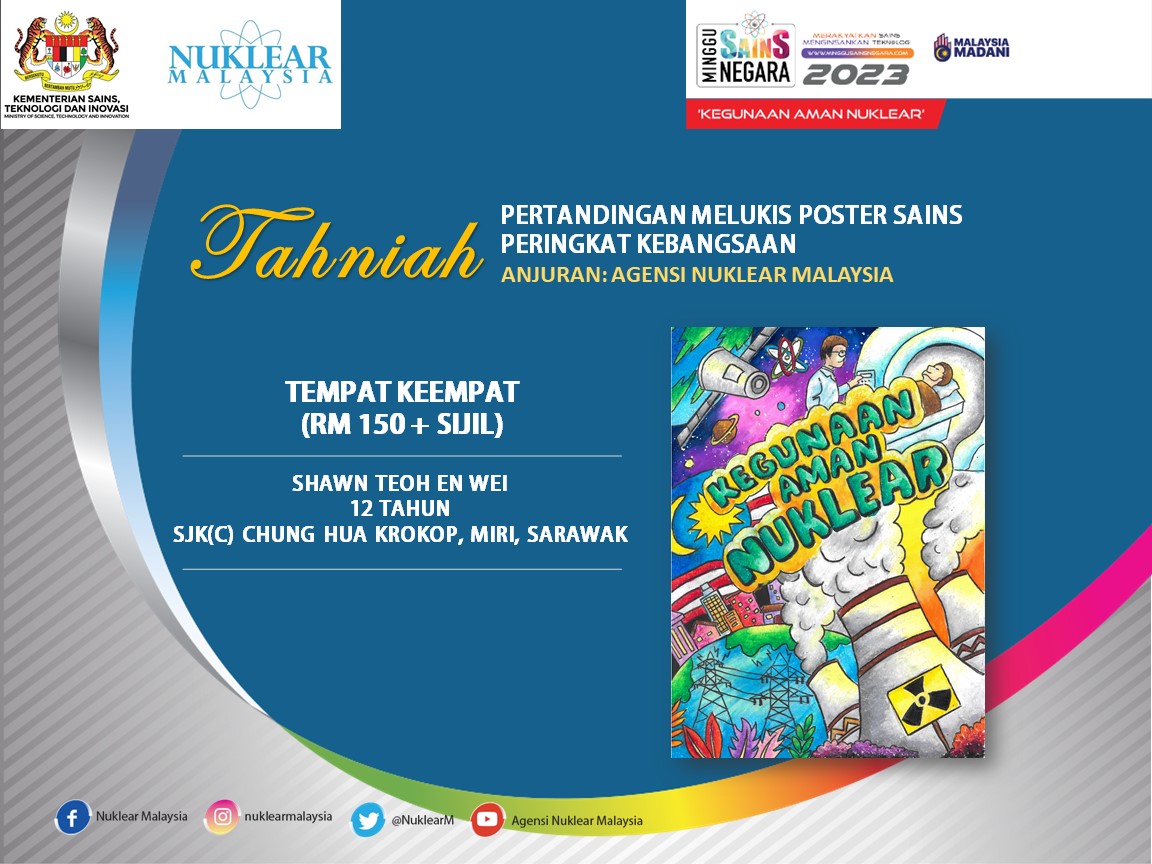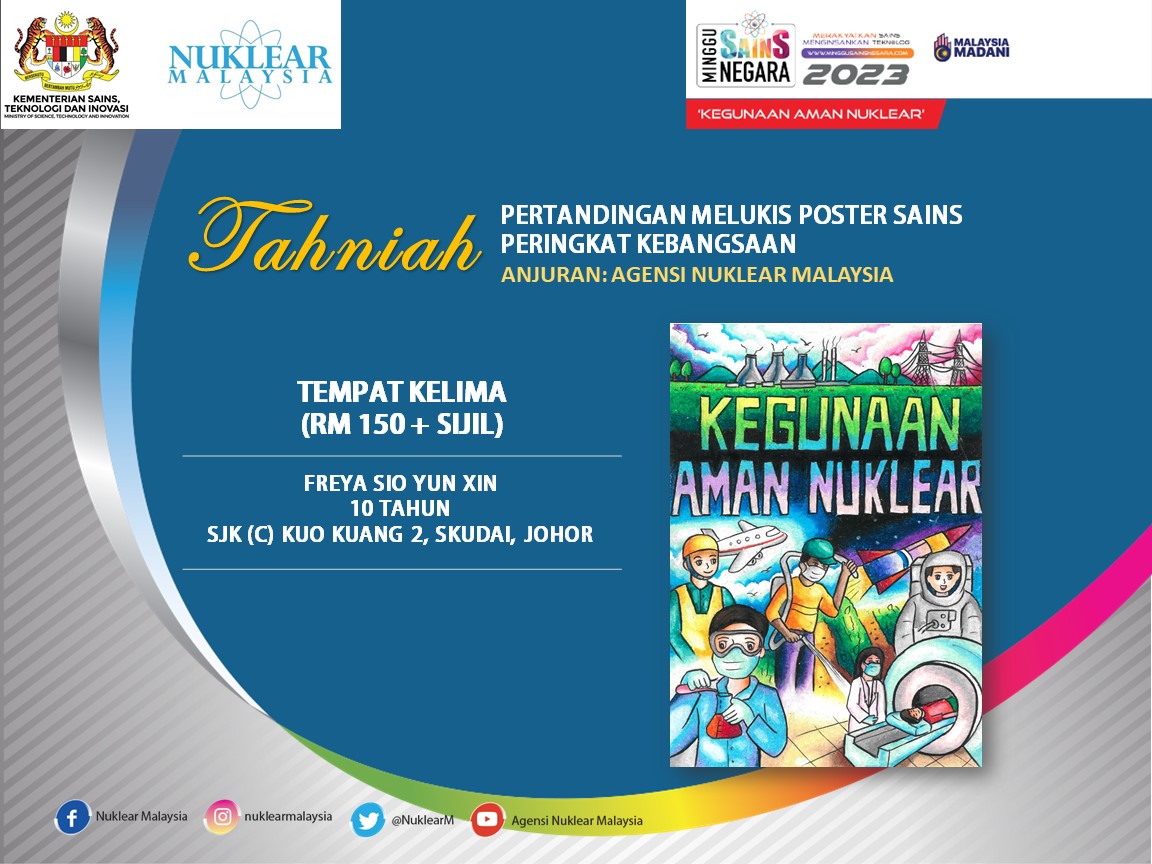 TAHNIAH & SYABAS NUKLEAR MALAYSIA
Pertandingan Melukis Poster Sains Peringkat Kebangsaan (Kegunaan Aman Nuklear) yang diadakan bersempena Minggu Sains Negara (MSN) 2023 bagi bulan Jun telah menerima sejumlah 37,105 penyertaan daripada 1,114 buah sekolah rendah di seluruh Malaysia.
Rekod penyertaan bagi pertandingan ini dalam tempoh dua bulan pelaksanaanya adalah suatu angka di luar jangkaan dan amat membanggakan.
Terima kasih atas sokongan padu anda semua!