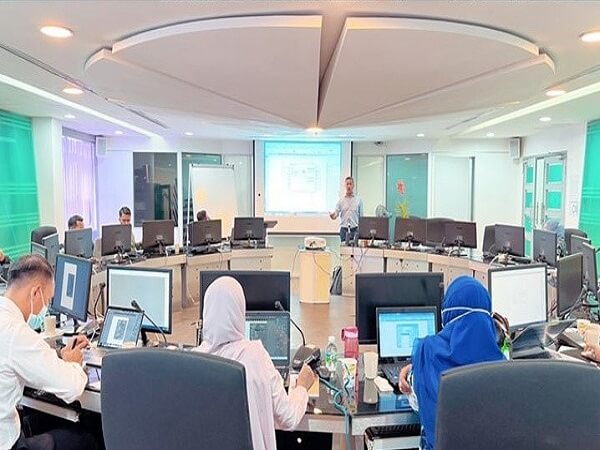 BANGI, JUNE 24th, 2022- Nuklear Malaysia has taken steps forward in creative industry by organizing the Indesign Graphic Workshop on 22nd and 23rd June. The workshop which was held in the computer room was officiated by the Director of the Information Management Division of Nuklear Malaysia, Ms. Habibah Adnan. For the record, a total of 20 participants participated and explored their creative ways in Indesign.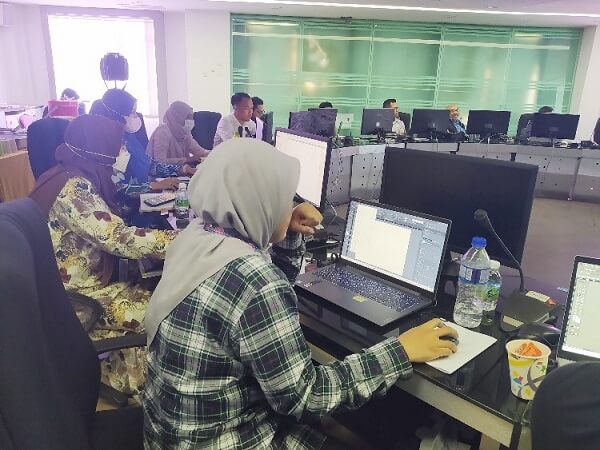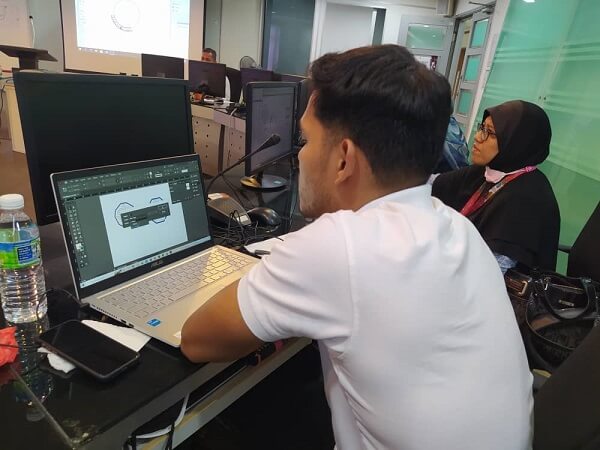 The workshop was aimed to provide space for creativity and exposure to staff at Nuklear Malaysia who are directly involved in the field of graphics. The need for knowledgeable and skilled staff in graphic design is ever growing, and with a lot of opportunities.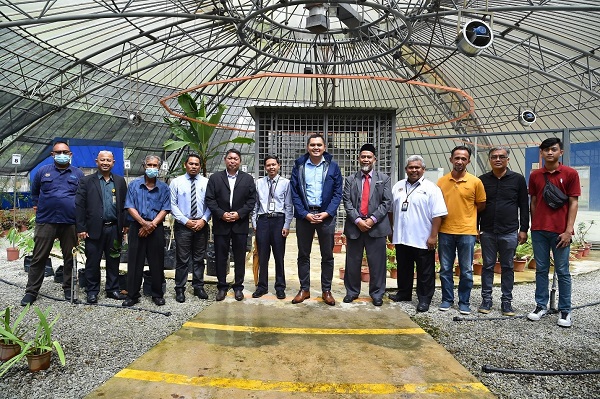 DENGKIL, JUNE 24th, 2022 - Dr. Muhamad Akmal bin Saleh, a state assemblyman from Merlimau, visited the Malaysian Nuclear Agency on June 24, 2022. The visit took place in Block 44 of Dengkil Complex.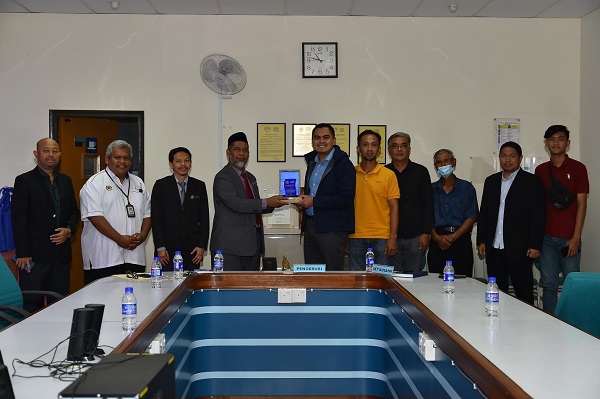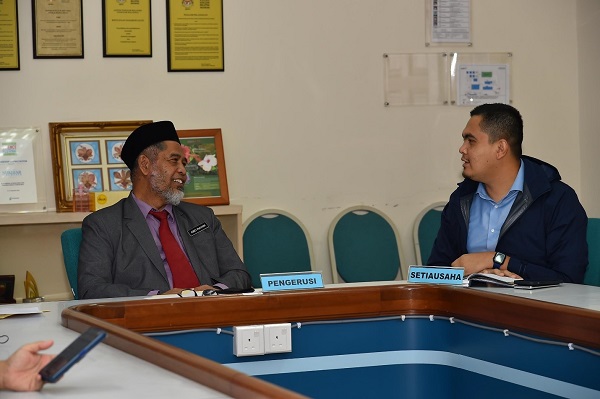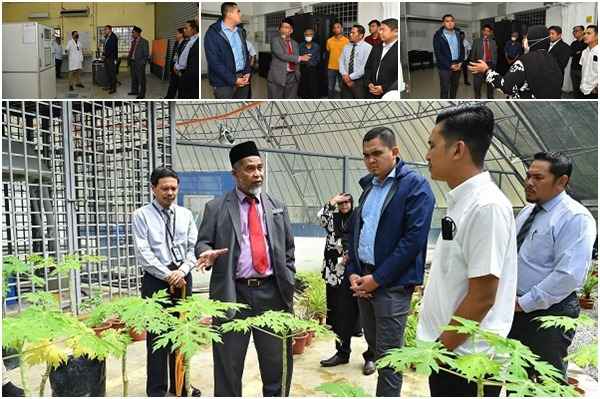 The assemblyman appearance was to forge a strategic collaboration between Nuklear Malaysia and the Merlimau State Assembly in Melaka, including reviewing and exchanging information on the usage of nuclear technology applications related to agriculture in general and the cultivation of IS21 rice in particular.
Also present were Dr. Rosli bin Darmawan, Deputy Director General of the Technology Research and Development Program, Ts. Dr. Azhar bin Mohamad, Director of the Agrotechnology and Bioscience Division.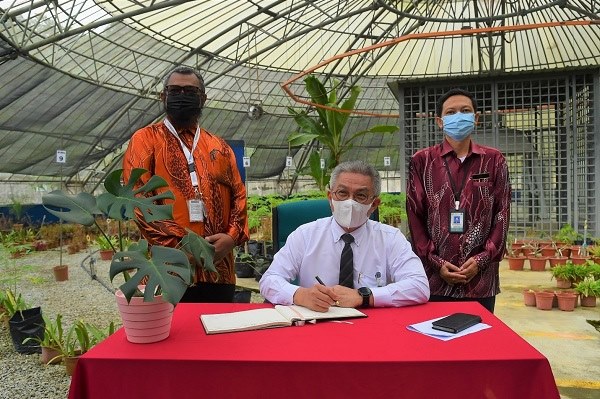 DENGKIL, JUNE 23rd, 2022 - The Minister of Science, Technology, and Innovation (MOSTI), YB Dato' Sri Dr. Adham Baba, visited the Gamma Green house (GGH) at the Dengkil Complex, Nuklear Malaysia, today for a working visit. The International Atomic Energy Agency (IAEA) has designated GGH as the IAEA Collaboration Center (ICC), making it the only greenhouse with chronic irradiation facilities in Malaysia.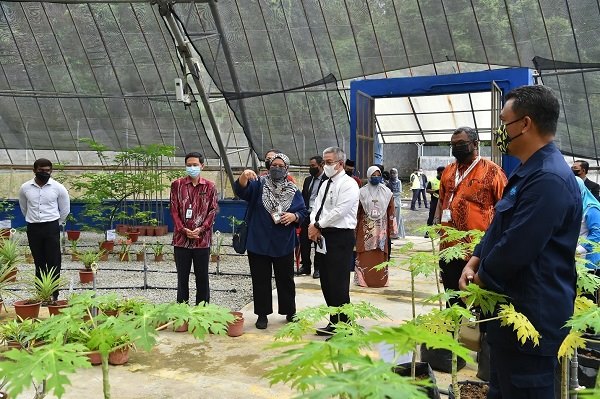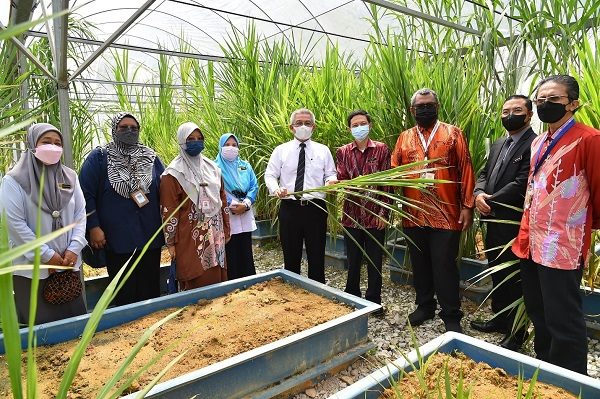 The caesium-137 radiation source used by this GGH, which has a radius of 15 metres, emits low-dose gamma radiation. In this GGH, plant samples were set up on isodose lines and exposed to light at low dose levels for a protracted length of time (chronic irradiation). There will be random genetic or mutagenic modifications. In order to find variations with the needed properties, these samples will be evaluated and screened.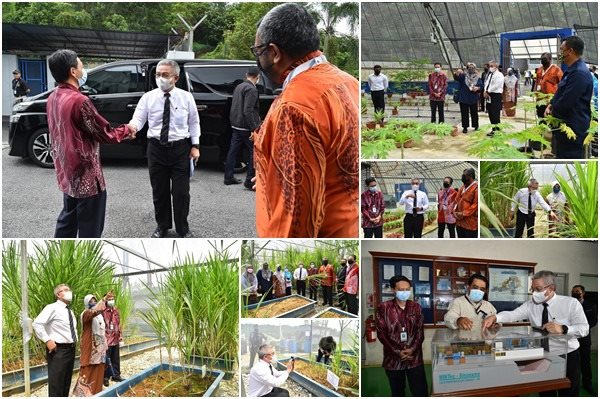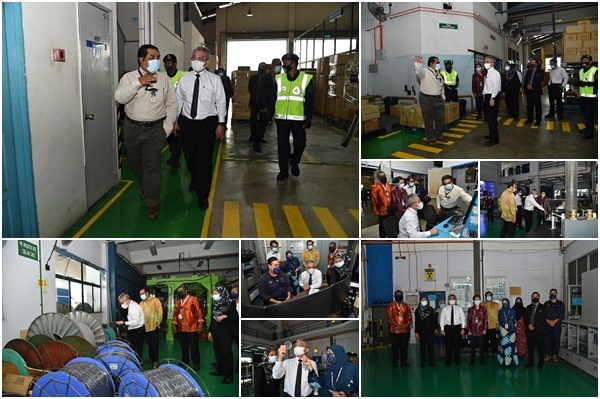 Researchers, university students, and instructors from local and abroad are concentrating on this GGH for their research-related work to advance their skills and understanding in the aberration of novel plant kinds employing mutagenesis methods.
The Minister was also taken to ;
Alurtron Irradiation Plant (ALURTRON), a facility for commercial and R&D electron groove irradiation services.
The MINTEc-Sinagamma Irradiation Plant, which employs gamma radiation, an ionising form of energy, from Cobalt-60. This radiation facility, known as the JS10000 (IR-219), is used in this irradiation plant and can be used to simultaneously expose variety of items requiring various dosages.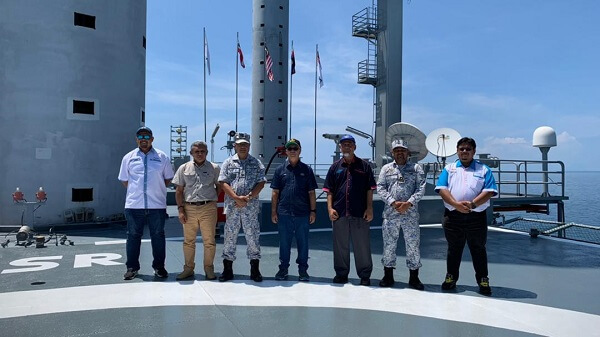 SEMPORNA, JUNE 11th, 2022- Datuk Zainal Abidin bin Abu Hassan, Secretary General of MOSTI, accompanied by Dr. Abdul Rahim bin Harun, Director General of Malaysian Nuclear Agency were seen attending for project monitoring to the Biocomposite Floating Project for the operational and logistical used of the Malaysian Armed Forces at Pengkalan Laut Tun Sharifah Rodziah. Semporna, Sabah. The delegation was welcomed by the Deputy Commander of Marine Region II, First Admiral Hj Jamaluddin bin Hj Sairi and Lieutenant Commander, Anis bin Abdul Khakim.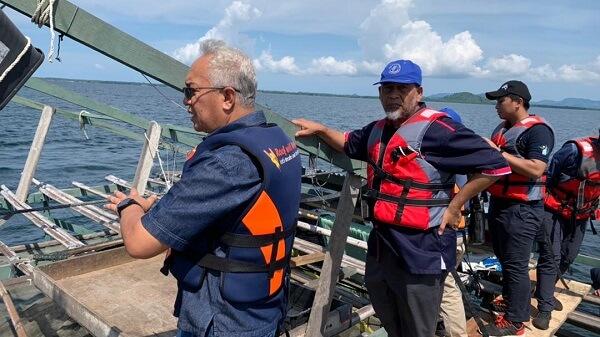 The delegations also visited:
SEAPLAST Project: Sustainable Eco-Remediation Via Aquatic Plastic Waste Recovery; one of the Aquatic Plastic Trap System Development Project and plastic recycling process to develop tiles and panel products. Local communities from Kampung Terusan Tanduk, Pulau Bum Bum, Semporna were closely involved.
Bagang Bilis Biocomposite Floating Jetty Project developed together with locals from Kampung Tanjung Kapor, Semporna employing biocomposite floating jetty components through the MOSTI's Social Innovation, a joint collaboration between Malaysian Nuclear Agency and Yayasan Inovasi Malaysia.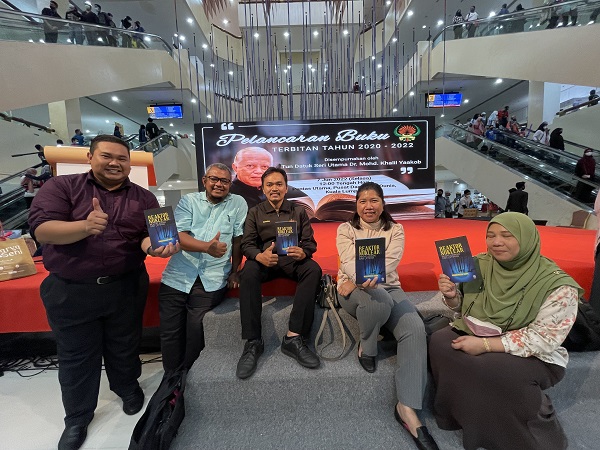 Kuala Lumpur, JUNE 7th, 2022- The Kuala Lumpur International Book Festival (PBAKL) 2022 witnessesa launching ceremony of published books organized by the Public Books Division, Dewan Bahasa dan Pustaka (DBP) at the grand stage here in WTC.
The launching was commemorated by Tun Datuk Seri Utama Dr. Mohd. Khalil Yaakob, Former Premier of Melaka, Prof. Datuk Seri Dr. Haji Awang Ariyan, Chairman of the Board of Board of DBP, Chief Executive of PWTC and book authors. Among the books launched were published for 2020-2022 from various fields such as human sciences, social sciences, religious book and science and technology. The ceremony aims to celebrate authors who have successfully published under DBP in malay.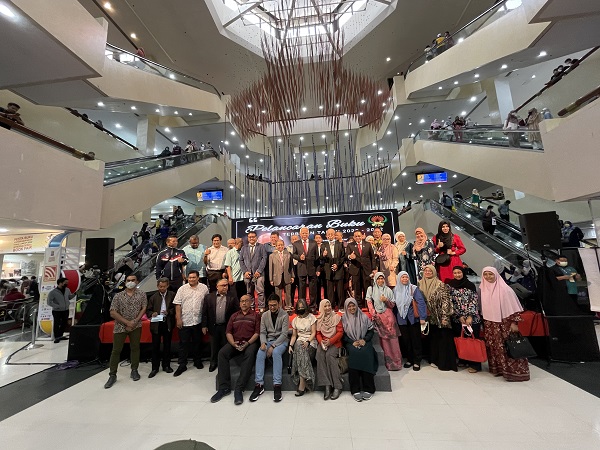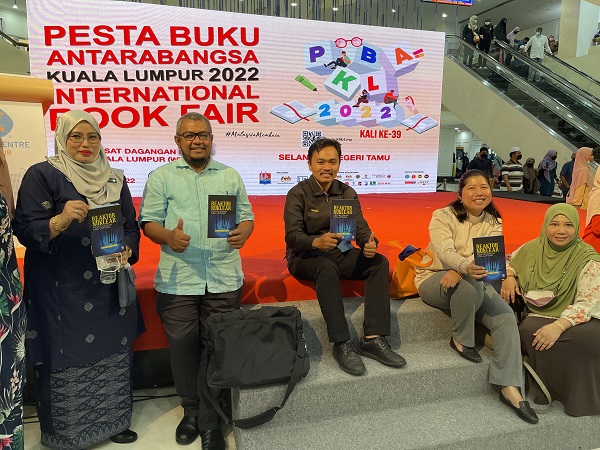 Published book have roles in building, enriching informative material for people. Moreover,quality books are made reference for science and technology as well as in social sciences and humanities.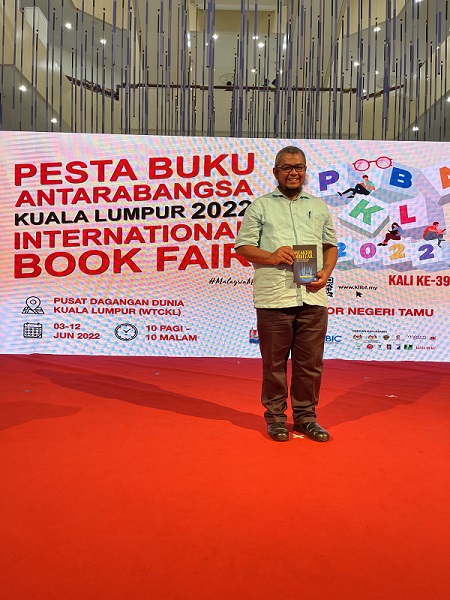 Congratulations to Dr. Muhammad Rawi bin Mohamed Zin, Senior Director of the Management Program of the Malaysian Nuclear Agency (Nuklear Malaysia), the author for "Nuclear Reactor Research and Training" who was also present at this ceremony. His book was ready since 2021 and may be obtained from DBP bookstore and selected bookstore.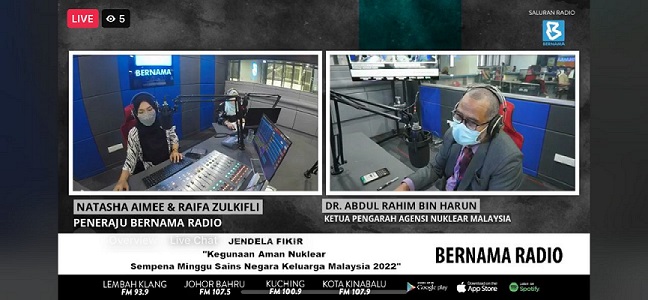 BANGI, JUNE 7th, 2022-Dr. Abdul Rahim bin Harun, Director General of the Malaysia Nuclear Agency was invited to Slot Jendela Fikir - Bernama Radio with a topic on the Peaceful Use of Nuclear Technology in conjunction with the Minggu Sains Negara Keluara Malaysia 2022 (MSNKM 2022).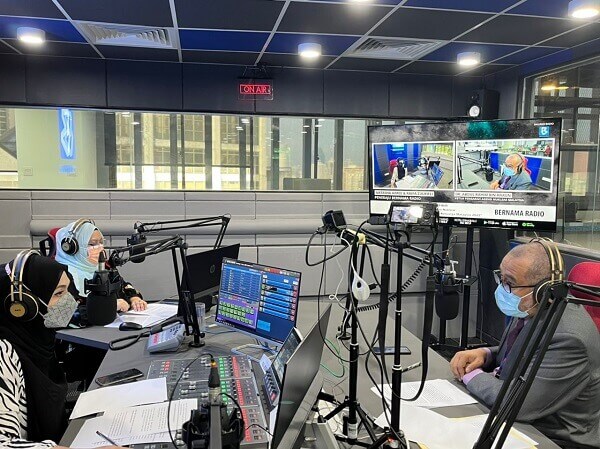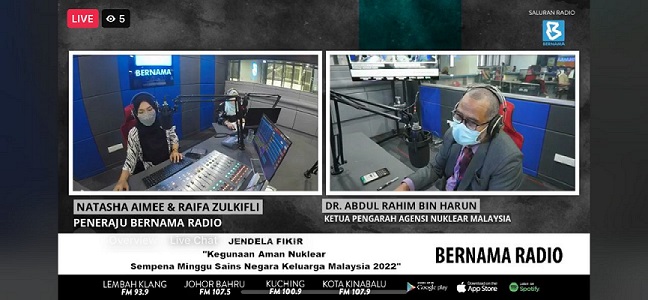 This slot is one of the promotional media for MSNKM 2022, an annual activity conducted jointly by Nuklear Malaysia and AELB as the organizer for June 2022. For the record, MSNKM 2022 is in its 5th year and expected to last until October 2022. Various spin-off programs as well as competition were held, all in accordance with science, technology and innovation themes.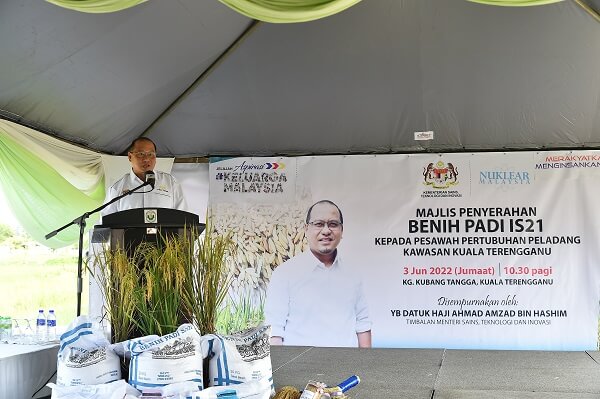 KUALA TERENGGANU, 3rd JUNE 2022– Datuk Haji Ahmad Amzad bin Hashim, Deputy Minister of Science, Technology and Innovations (MOSTI) has completed the handing over of IS21 rice seeds to the farmers of Lembaga Pertubuhan Peladang Kawasan Kuala Terengganu in Kampung Kubang Tangga. More than 200 bags of IS21 rice seeds Malaysia were distributed to 50 farmers which was a corporate social responsibility effort for the people in Kuala Terengganu.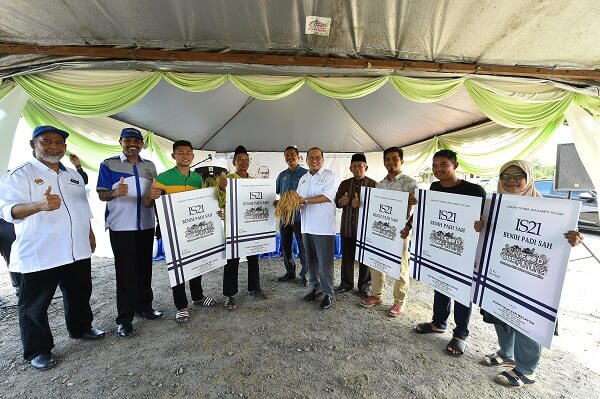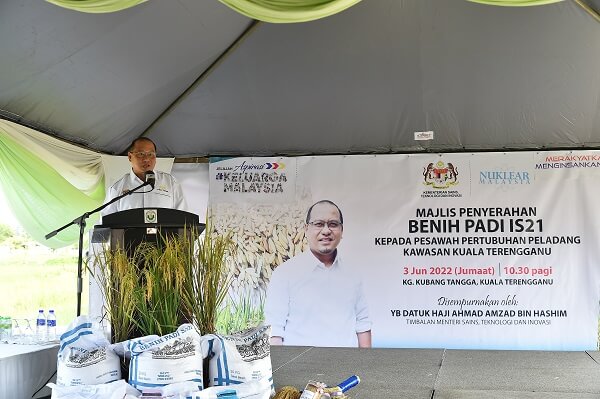 This contribution is expected to boost morale to the farmers, therefore establishing better rapport between Nuklear Malaysia and other collaborative partners. The event were also attended by several officers from MOSTI, Director General of Nuklear Malaysia and others.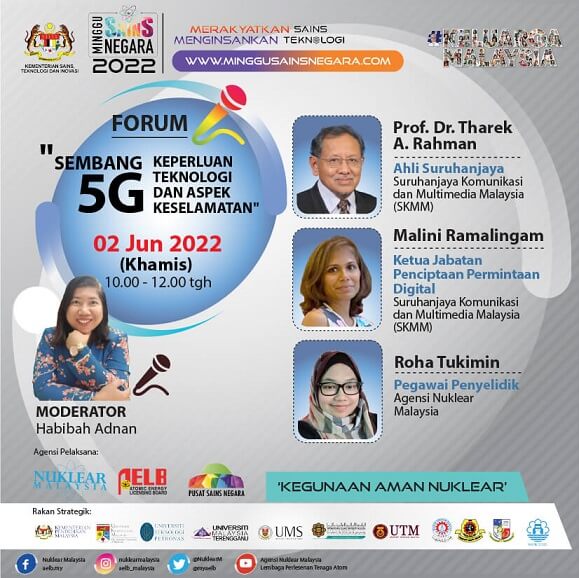 BANGI, JUNE 2nd,2022- In conjunction with Keluarga Malaysia National Science Week (MSNKM) 2022, one session Forum entitled Sembang 5G: Keperluan Teknologi dan Aspek Keselamatan Forum has been successfully conducted virtually today. Jointly organized by Nuklear Malaysia and AELB, the Forum featured distinguished panel members in the 5G Technology. Habibah Adnan (Director of Information Management Division, Nuklear Malaysia) as a Moderator, steer a discussion with three invited panelists Prof. Dr. Tharek Abd. Rahman (MCMC Commission Members), Malini Ramalingam (Head of Department Digital Demand Creation, MCMC) and Roha Tukimin (Research Officer, Nuklear Malaysia) on Malaysian 5G security, issues and challenges. One of the most important key points highlighted in this Forum was 5G technology was able to change the digital trajectory of the nation's economy as well as generating significant benefits by improving the communication quality, data transmission, research and even entertainment on a global scale for a modern lifestyle.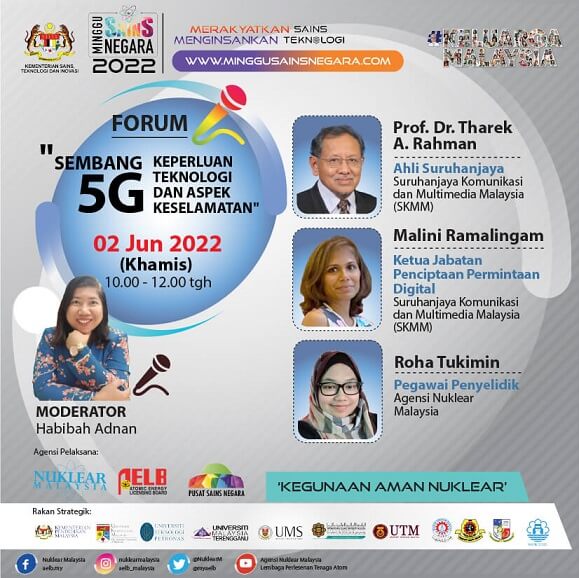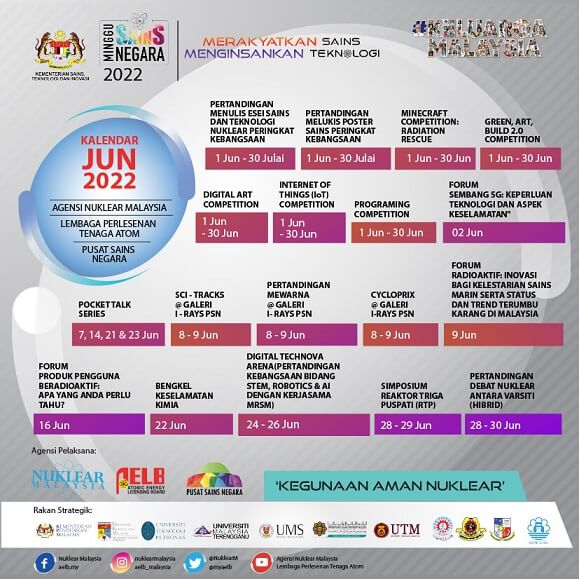 BANGI, JUNE 1st, 2022 - The National Science Week, commonly referred as MSN returned for 2022 aligned with "Keluarga Malaysia" branding, a concept introduced by the incumbent Prime Minister, Dato' Sri Ismail Sabri bin Yaakob. Themed "Merakyatkan Sains, Menginsankan Teknologi", the MSN focused on 7 cores element, with each element is allocated for the entire month. Among the chose cores are Planetary Health, Biotech and Chemistry, Peaceful Use of Nuclear Technology and Social Innovation. Other cores including Engineering, Space and Nanotech were also chosen, all in conjunction with prominent theme in science, technology and innovation (STI).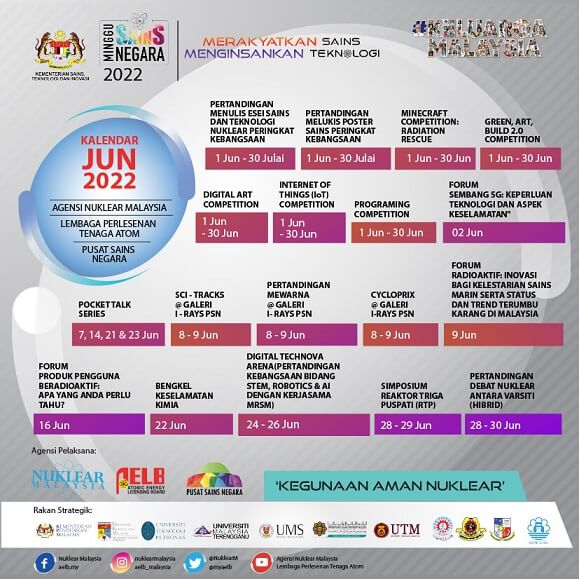 Malaysian Nuclear Agency (Nuklear Malaysia) along with AELB and National Science Center (PSN) was appointed to organize the MSN for June with Peaceful Use of Nuclear Technology. A variety of program were planned including Chemical Safety Workshop, Forums and Pocket Talk. A range of competition and exhibition were also held in several location. The MSN 2022 is expected to educate public on matters related to STI and the benefit of nuclear technology in general.